Star Wars: The High Republic Phase 2 Will Dive Even Deeper Into The Past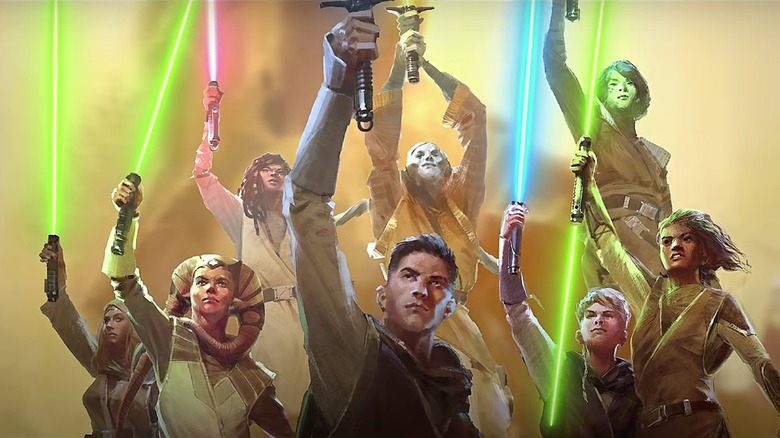 Lucasfilm
"Star Wars: The High Republic" officially turns one today, as today marks the anniversary of "The Light of the Jedi," the first novel in Lucasfilm's massive publishing initiative set within a galaxy far, far away. Thus far, we have had three phases of stories set 200 years before the events of "The Phantom Menace" when the Jedi were at the height of their powers. This was not some small, cute gimmick. This is a gigantic undertaking that has been planned out as meticulously (if not more meticulously) than a movie trilogy. Now, we have learned some major details about Phase II, titled "Quest of the Jedi," which kicks off in October. The biggest reveal? This phase will be going an additional 150 years into the past. Let's dig into what we've learned and what to expect.
The High Republic Phase 2: A Prequel to the Prequel
A special episode of the "Star Wars: The High Republic Show" was released on YouTube in honor of the anniversary. You can check it out above in its entirety, but host Krystina Arielle gathered the five architects of this era, including Claudia Gray, Justina Ireland, Daniel José Older, Cavan Scott, and Charles Soule, to discuss what is coming in Phase 2. The biggest reveal is that we will be going backward, not forward, in time. This means we will be roughly 350 years before the events of "The Phantom Menace," and far removed from The Great Disaster that kicked off this new phase of storytelling, and threats such as the Nihil and the Drengir.
Aside from that, Soule confirmed that he is writing a new book about a Jedi named Porter Engle who we first met in "Light of the Jed." But we are going to see him in his younger days, rather than Old Man Engle we came to know in Phase 1.
As announced on The High Republic Show, in Phase II of the initiative I will be writing a story about Jedi saber-slinger Porter Engle in his younger days.

You met him in LIGHT OF THE JEDI when he was a kindly old cook. In this new tale, Porter is… what's the word?

Certain. pic.twitter.com/KeMSfctfnI

— Charles Soule (@CharlesSoule) January 4, 2022
While many of the authors will be returning, the team is growing in Phase 2, with Zoraida Córdova, George Mann, Tessa Gratton, and Lydia Kang contributing books and/or comics to the lineup. Scott, meanwhile, will pen a new comic book series published by Marvel as the flagship comic title for this new wave. One of the bigger stories is that Older will be moving to Dark Horse Comics to tackle "The High Republic Adventures," officially bringing "Star Wars" back to Dark Horse after several years away. Additionally, Justina Ireland will be teaming up with Tessa Gratton for a new YA book, while Gray remained tight-lipped on what she's up to. In short, there is a lot coming and a lot to process.
The High Republic's Increasing Importance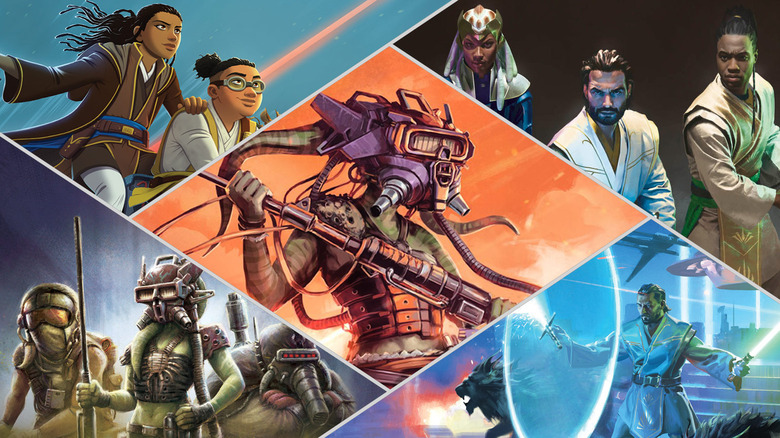 Lucasfilm
While I have not read everything "The High Republic" has to offer, I have read several titles, as well as the Marvel Comics series, and as a huge "Star Wars" fan, I have been delighted with it. What's nice is that readers can sort of pick and choose, as the stories largely stand on their own, while also being tied together. It's a tough balance to strike, but this group of authors has pulled it off.
Aside from my personal feelings, Lucasfilm has made it clear that "The HIgh Republic" is here to stay. Not only do we have two more phases of books on the way, but we recently learned about "Star Wars: Eclipse," a new game that looks just as cinematic as anything we've ever seen in the franchise. Plus, the upcoming Disney+ series "The Acolyte" will be taking place in this era as well. All of this to say, this is important and hardcore fans would do well to begin exploring it.
"Quest of the Jedi" kicks off in October 2022.