The Daily Stream: Halt And Catch Fire Teaches Us How To Live With Failure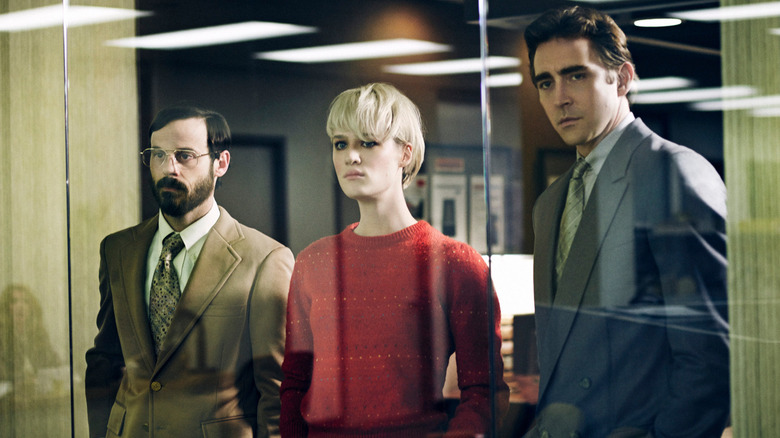 AMC
(Welcome to The Daily Stream, an ongoing series in which the /Film team shares what they've been watching, why it's worth checking out, and where you can stream it.)
The Series: "Halt and Catch Fire"
Where You Can Stream It: AMC+
The Pitch: "Halt and Catch Fire" explores the early days of the personal computer market in the 1980s and the rise of the World Wide Web in the '90s. The show centers on five characters: entrepreneur Joe MacMillan (Lee Pace), married computer engineers Gordon (Scoot McNairy) and Donna Clark (Kerry Bishé), computer programmer prodigy Cameron Howe (Mackenzie Davis), and business person John "Bos" Bosworth (Toby Huss), who starts out the series as Gordon, Joe, and Cameron's boss. You should know going in that "Halt and Catch Fire" takes place in the real world — meaning, because none of the show's leads are secretly Steve Jobs, they will ultimately fail to revolutionize their industry the way they want to. But this isn't a series about those few people who truly change the world with their creations. It's a show about the rest of us and how we live with failure. (There's a reason my roommates and I call this series, which we love, "Sad Computer People.")
Why It's Essential Viewing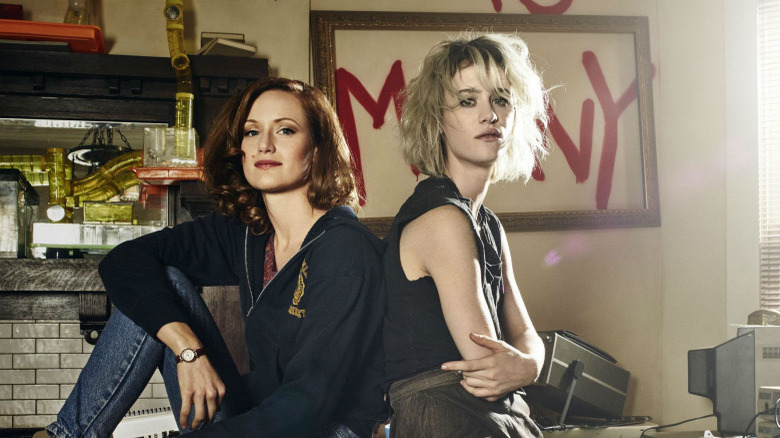 AMC
I won't lie: "Halt and Catch Fire" is uneven in its first season. The show debuted on AMC in 2014, at a time when the network was trying in vain to replicate the success of "Breaking Bad" (which had ended the year before) and "Mad Men" (which wrapped up the year after). You can really tell "Halt and Catch Fire" creators Christopher Cantwell and Christopher C. Rogers started out chasing the ghosts of those series. Season 1 introduces Joe as an antihero strictly in the mold of Don Draper; his inspirational pep talks and playboy exterior mask a mysterious, tragic side that he keeps hidden from those close to him, like the scars on his chest. The show also loads up on heavy-handed metaphors (some of which, fair warning, involve either dead animals or, in one case, a nameless person) and would-be shocking twists in the early going, which is a little tedious.
Then, over the course of season 1, something happens. Much like the show's characters stop trying to sell the lie of who they are and what they want out of life (not just to others, but to themselves), the series' writers gradually stop trying to reverse-engineer the next "Mad Men" and start to fashion "Halt and Catch Fire" an identity of its own. (One closer to "Six Feet Under," as the AV Club noted in 2017.) In doing so, it shifts its focus away from Joe and Gordon — the de facto protagonists in season 1 — and more onto Donna and Cameron, as the pair evolve beyond being the archetypical frustrated wife and "broken" rebellious young woman they were in the show's pilot and become fully realized, multi-dimensional, and deeply flawed people. Their relationship, in turn, becomes the beating heart of the series, and "Halt and Catch Fire" is all the better for it.
The Thing That Gets Us To The Thing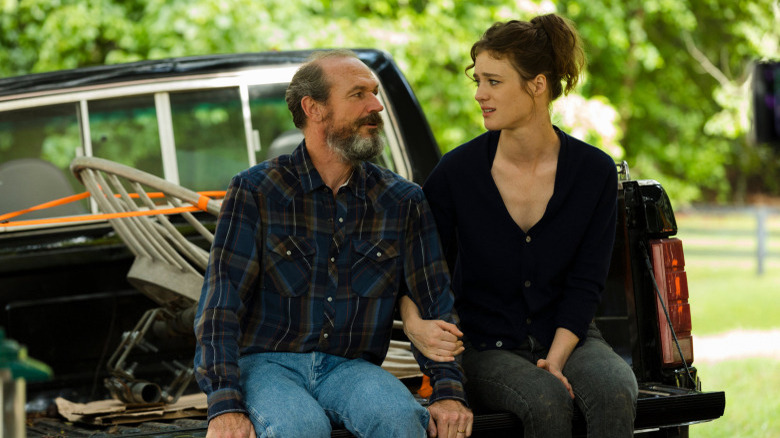 AMC
From season 2 on, "Halt and Catch Fire" just keeps getting stronger and stronger. I realize asking you to watch a whole season of TV to get to the truly great stuff is a real commitment in an age where are way too many new shows competing for our attention. With that in mind: season 1 is only 10 episodes, and there's a lot of worthwhile material amidst all the things that don't work. "Halt and Catch Fire" is also one of those series that rewards you for following its characters over the course of their entire journey. Plot points and story threads that are only sorta effective in season 1 get built upon and paid off in fully satisfying ways in later episodes. (Also, Joe is queer. I don't want to oversell that aspect because it's introduced in season 1 and then mostly ignored in season 2 before becoming a more integral part of the plot in seasons 3 and 4. But again, this is a prestige drama where queer Lee Pace is canon.)
More than anything, "Halt and Catch Fire" is a show that speaks to the now, perhaps more than it did when it premiered in 2014. It's a series where characters are constantly failing at fully achieving their goals, be they personal or professional in nature, yet have to keep on going because, not to get overly dramatic, but that's what life is: one continuous process of trying to do better, over and over. "Halt and Catch Fire" isn't afraid to let its leads come across as unlikeable or pathetic, either. Emotional betrayals aren't just magically fixed over night, and the show's characters are constantly dealing with the aftermath of their screwups. So yes, "Halt and Catch Fire" is basically the TV equivalent of the "Well, well, well, if it isn't the consequences of my own actions" meme, the further along it goes.
Therein lies the beauty of "Halt and Catch Fire." It's a show where things inevitably go wrong for its leads, whether that means they come up with a technical innovation (a game, software, etc.) too soon or too late, or meet what could be the right person but at the wrong point in their lives. But "Halt and Catch Fire" isn't a series about finding success; it's about addressing the question that comes after things don't work out as planned: "What now?" After the last two years, I think just about everyone could get something meaningful out of a show (particularly a handsomely-shot and well-acted one with a killer soundtrack of '80s and '90s tunes) that tries to give an honest answer.