The 15 Best TV Shows Of 2021 Ranked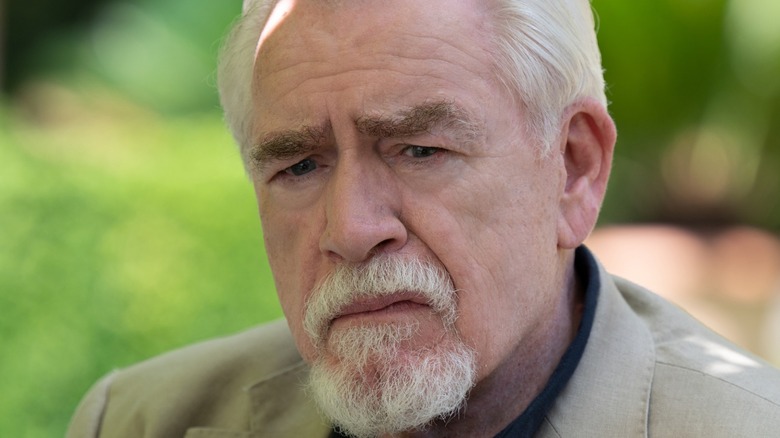 HBO
After a year of Zoom episodes, pandemic-shortened seasons, and a number of dry spells, television came roaring back to life in 2021. While TV discourse in 2020 was mostly just different people in your life getting around to binging "Tiger King" and "The Queen's Gambit," it seemed as if each month in 2021 brought a show that you couldn't miss because the conversation surrounding it was just too juicy.
Many of the year's best shows were new series. That may be due to continuing efforts to resume production on shows that were shut down during the early days of the pandemic, or the fact that many shows that were meant to debut in 2020 had to share space with 2021's new class. It may also be due to the streaming landscape, which prioritizes events over serialized storytelling — although I always prefer a show that is undeniably episodic, even if those involved want to tell you that it's more of a "six-hour movie." So, keeping in mind that this was still a strange year for television, these are the 15 programs that rose above and captured our hearts in 2021.
15. Yellowjackets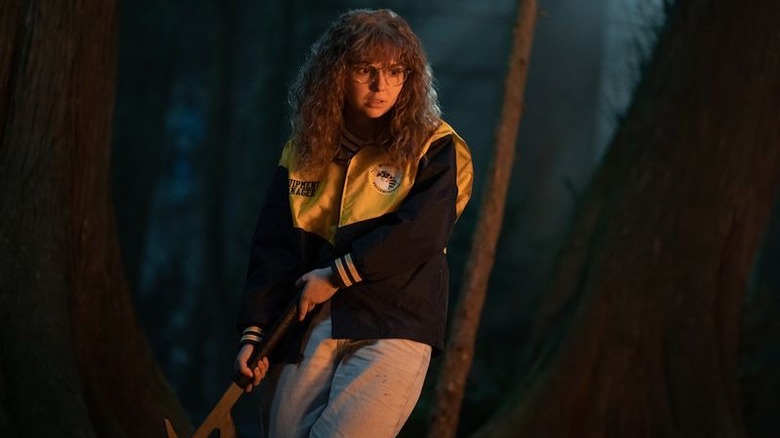 Showtime
This one's for everyone who smugly put down their copy of "Lord of the Flies" and proclaimed that this would never happen to girls. Sliding in right under the wire is the Showtime series "Yellowjackets." If you haven't caught it yet, now's your chance to get in on one of the best shows of the year. Two timelines, very unlike in dignity, tell the story of a high school girls' soccer team whose private plane crashes in the woods of Ontario and, 25 years later, the adults that the survivors grow up to become. Week to week, the mystery of what really happened to the girls is slowly explored. Spoiler alert: It is heavily implied early on in the pilot that the kids eventually performed ritual sacrifice and engaged in cannibalism. 
The present-day timeline, anchored by performances from Christina Ricci, Juliette Lewis, Tawny Cypresss, and Melanie Lynskey, is every bit as suspenseful as the creepy wilderness stories of the past. Can you really go on to have a normal adulthood after going through so much trauma? Seemingly not, but it looks like the "Yellowjacket" girls made a decent attempt to return to society, growing up and growing apart, which somehow makes the terrifying things these girls became in the wood all the spookier.
14. Mythic Quest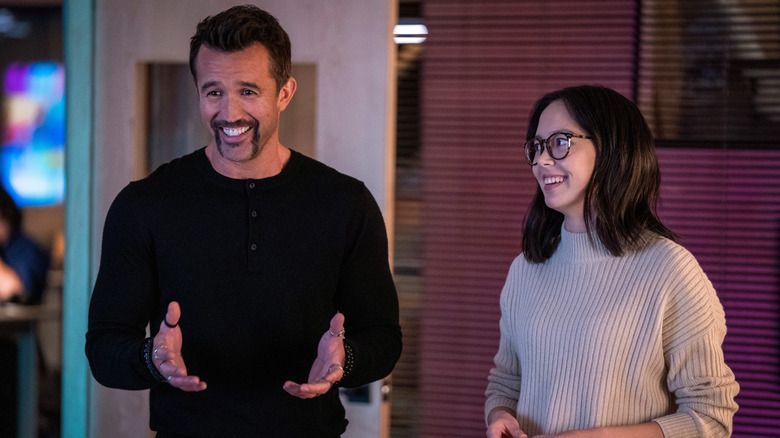 Apple TV+
Rob McElhenney is worried that people like "Mythic Quest" for the wrong reason, as he told Seth Meyers back in May. (There's a possibility that he was being facetious. Tone is difficult to read over a Zoom interview.) "Mythic Quest" is a comedy, but we're living in an age of prestige television, where the stigma that comedy is a lower form of entertainment is alive and well. So, a lot of the praise that "Mythic Quest" receives calls out the Apple TV+ series as important, relevant, or uplifting. But it doesn't need those things to be a good comedy. It just needs to be funny. And it is.
Not to tell on myself too much, but "Mythic Quest" is one of the only shows that has made me laugh at myself through the characters. Let "Mythic Quest" show you how to make fun of toxic girlboss feminism. It's way funnier than the pumpkin spice latte joke you tweet every September. In season 2, "Mythic Quest" staged a perfect sneaky homage to the comedy "Broadcast News." The tribute was set up in one episode and paid off in the next, much like a punchline — you know, something you do in a comedy. The reason that the show's dramatic beats hit so hard and warm or break your heart is that you have spent so much time laughing at and with these characters that you actually care. Sorry to sneak my way into praising the drama. It's not the reason I watch, I promise.
13. Sex Education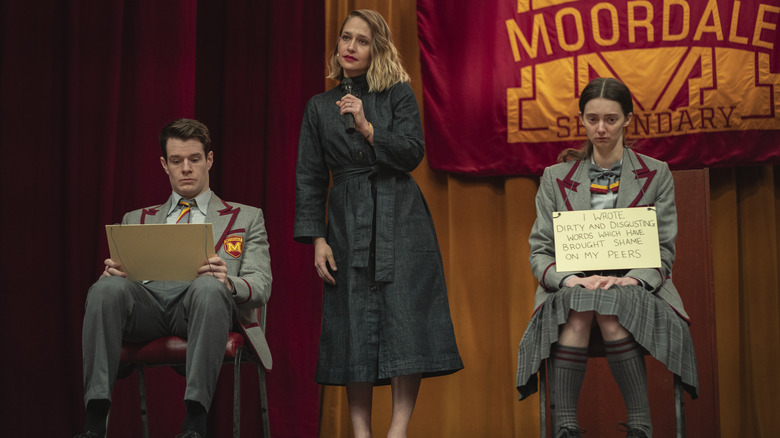 Netflix
For a couple of years, "Sex Education" has quietly been one of the best YA series on television, but 2021's 3rd season knocked it out of the park by introducing a real villain and pushing back on the healthy sex-positive environment created by the students and faculty at the Moordale Secondary School. 
The first episode of the season introduced Hope, played by Jemima Kirke, a new headmistress who, if I may be so bold, reminded me of both the Harry Potter character Dolores Umbridge as well as her creator. Seemingly young and hip, she ultimately attempts to control the school using reactionary reforms that undoes every bit of goodwill that Otis and his peers built up over the last two seasons, to the point where she causes genuine harm. As someone who was forced to sit through abstinence-only sex education in high school, it burned to see these characters get thrown into the same nonsense after two seasons of envy. 
It was an impressive arc for the 3rd season of an already impressive show, which was additionally packed with angsty teen drama and laugh out loud comedic moments. My only critique of this season is that I was frustrated by Jean and Jakob's wheel-spinning pregnancy storyline — but, thankfully, I wasn't deprived of impeccable Gillian Anderson moments on television this year, courtesy of "The Great."
12. Shadow and Bone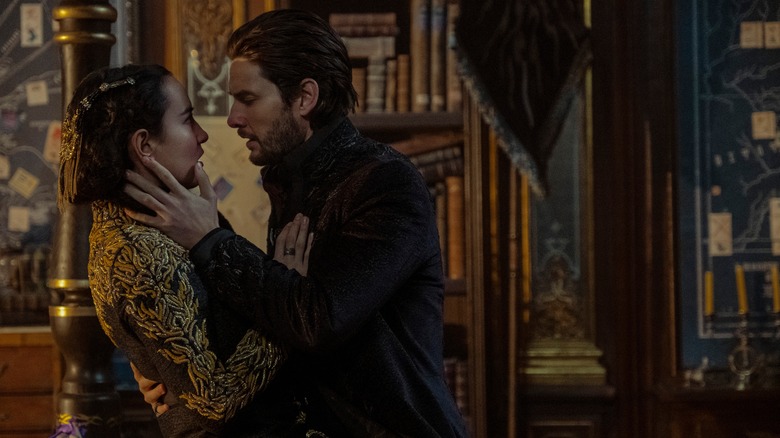 Netflix
"Game of Thrones" left a gap in fantasy television that other networks struggled to fill. Maybe your chosen replacement is "The Witcher," which returned to screens in the final weeks of 2021, "The Wheel of Time" on Prime Video (hey, that rhymes), or the more subdued "His Dark Materials." My personal favorite of the bunch is "Shadow and Bone." The Netflix series, based on Leigh Bardugo's novel series, has a lot of maps, a lot of rules, and a lot of goofy proper nouns for fantasy fans to geek out over ... as well as a lot of feelings. This show is incredibly horny, but unlike "Game of Thrones," that's manifested as wistful yearning, angst, missed connections, and unresolved sexual tension, rather than gratuitous nudity and sexposition. This is a show for people who love to yell "Kiss already!" at their TVs. There's also magic, war, some heist hijinks, and a goat. 
Jessie Mei Li made one of the year's best debuts as Alina, the Grishaverse's chosen one and the protagonist of the series. But, in its first season, the legacy of "Shadow and Bone" is Ben Barnes' performance as the Dark One we "hate" to love. Just a few months before "Loki" premiered, "Shadow and Bone" allowed us to celebrate the hot villain.
11. Reservation Dogs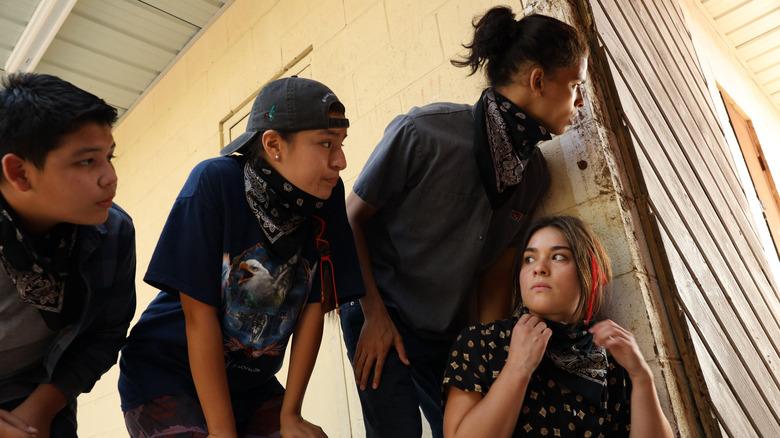 FX on Hulu
One of the most surprising new shows of 2021 is FX's "Reservation Dogs," a hangout comedy created by Sterlin Harjo about a group of friends who live on an Indian reservation in Oklahoma. They want nothing more than to leave their hometown and go to California. It's a simple goal that makes for effective storytelling. Devery Jacobs, for what it's worth, also had one of the year's best debuts as Elora Danan. If you don't watch the show, then yes, that's a "Willow" reference. 
The show is co-created and produced by Taika Waititi, and while it might not remind you of the director's genre work in "Thor Ragnarok" and "What We Do In The Shadows," it bears a striking resemblance in tone and dry humor to his earlier films, "Eagle vs. Shark," "The Hunt for the Wilderpeople," and "Boy," which is about an indigenous family in New Zealand. However, I'm only saying that to tempt you into watching. Harjo and Waititi are longtime friends who bonded over mutual experiences in their respective families and communities, but ultimately the show belongs to Harjo, with Waititi in a supporting role. Would that more creators with Disney money would produce indie projects like this.
10. Search Party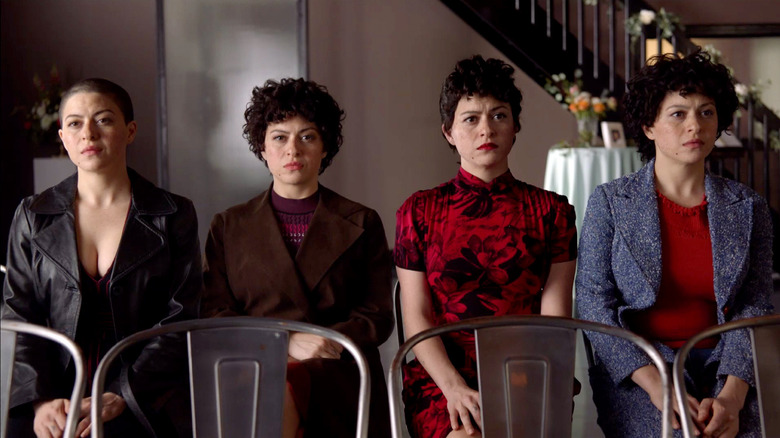 HBO Max
"Search Party" moved to HBO Max for its most recent seasons and is thriving on the streaming network. Season 4, which dropped at the beginning of 2021, saw Dory in real danger for the first time after being kidnapped by Cole Escola's character, Chip. But even after the events of the season tore the millennial nightmare down to her lowest point yet, Dory is still the cause of anguished groans at the end of the season. It's becoming more and more common for female characters to be charming rogue antiheroes who leave paths of destruction in their wakes while still holding the audience's attention. Thank goodness, because Alia Shawkat is really good at it. I wouldn't be caught dead at brunch with Dory in real life, but I'm 100% committed to her story. 
It's been a great time for dark comedy recently, with shows like "I Hate Suzie," "Made for Love," "The White Lotus," "Kevin Can F*** Himself," "Black Monday," and "The Flight Attendant" all making waves. But "Search Party" helped blaze the trail, and four seasons in hasn't had a single misstep. Season 4, episode 7, "The Infinite Loop," stands out as one of the year's best episodes, with gut-busting pieces of mistaken identity comedy and a chase scene to rival anything accomplished by Vin Diesel's beloved familia.
9. The Great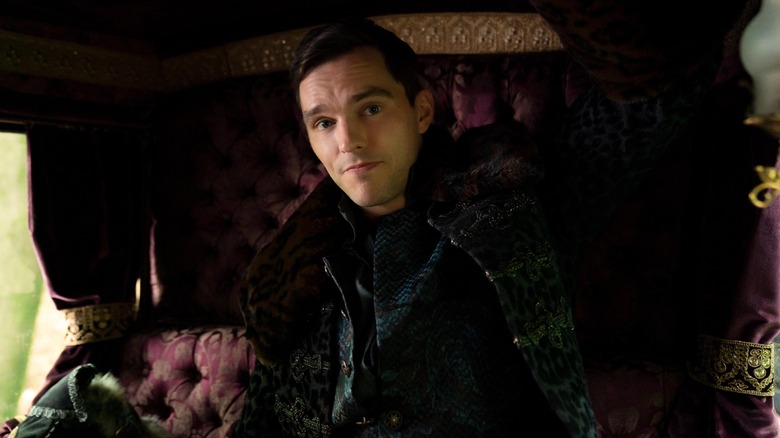 Gareth Gatrell/Hulu
If televised spin-offs of Star Wars and Marvel films aren't for you, could I interest you in a spiritual successor to 2018's "The Favourite" about Catherine the Great? A show this sharp, mean, sexy, and outlandish should not exist. It's "Succession," but as a costume drama, satirizing the upper class of the Russian court in the 18th century instead of the contemporary 1%. However, unlike another hip period piece on this list, "The Great" is unconcerned with facts. Season 1 was subtitled "an occasionally true story," and season 2 was downgraded to "an almost entirely untrue story." 
There's something so immensely satisfying about seeing a performer at the height of their powers. That's how I feel about Nicholas Hoult in "The Great." Creator Tony McNamara, who also wrote "The Favourite," has figured out how to show off every single tool in Hoult's kit, proving that he's one of the best actors of his generation and friggin' hilarious to boot. On a personal note, I also enjoy that Elle Fanning is crushing this complex and sometimes vulgar role without patronizing critics claiming that it's "uncomfortable to watch" because she's been on our screens since she was a child. Or at least, if they are, I haven't seen it. Don't let me see it!
8. The Other Two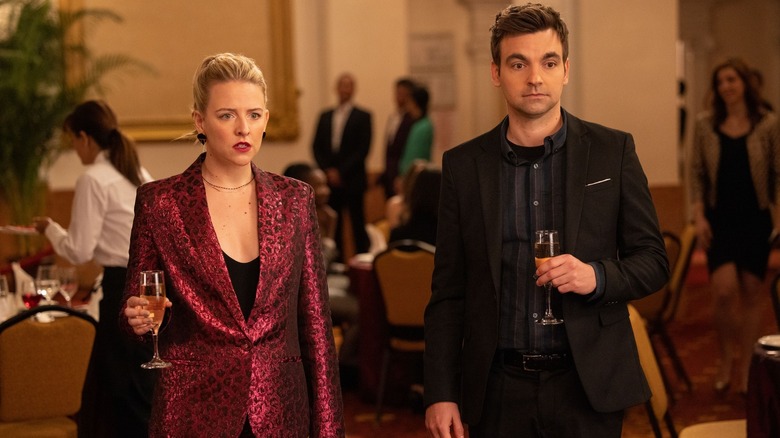 Greg Endries /HBO
Comedy Central's hidden gem moved to HBO Max in 2021, a brilliant move by the fledgling streaming service that brought more eyes to an already hysterical series. This is a sitcom for folks who listen to the "Who Weekly" podcast. It's a pitch perfect satire of contemporary fame and modern society. While the 1st season was all about Brooke and Cary living in the shadow of their younger brother, who unexpectedly achieved viral fame, the 2nd season saw them try to get a piece of pie for themselves ... and get overshadowed by their infinitely more likable mother at every step. 
"The Other Two" is also one of the funniest pieces of LGBTQ+ storytelling in pop culture right now. While other shows are stuck telling the same old coming-out story and tentpole blockbusters try to prove their allyship with underbaked gay moments, "The Other Two" has an episode where a couple pretends to be father and son for five minutes of fame, one where Cary discovers that his "Instagay" friends have tossed aside their promiscuous life for PG-rated domesticity, and one where Cary dates a gay-baiting celebrity who wants to be photographed with other men while "not commenting on his sexuality" officially. 
It passes the "that reminds me of what happened on" test, meaning that "The Other Two" is so hilariously true to life that I'm forever on the brink of explaining entire plots to my friends as if they were my personal anecdotes.
7. Ted Lasso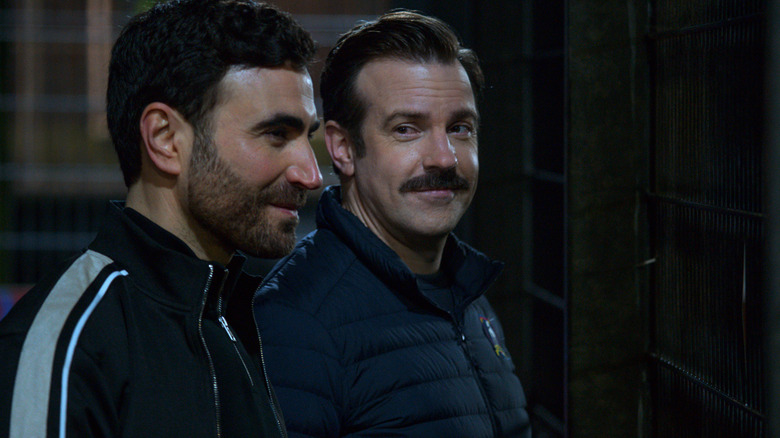 Apple TV+
Nice sells. Just ask Mike Schur, the people behind "Schitt's Creek," or Paddington Bear. It's no surprise that audiences want to be comforted. When the real world gets more cynical than ever, we crave fantasy worlds where empathy wins — and the way cynics popped up during "Ted Lasso" season 2 to call fans soft proves why. 
But, despite some critical backlash, "Ted Lasso" is more than a feel-good show about being nice. "Ted Lasso" is a sports show that sports lovers and the sports agnostic can both enjoy. It can pack an episode with romantic comedy tropes one week, chip away at toxic masculinity and the stigmas surrounding mental wellness the next, turn a funeral into a Rick Roll, and finish off the season with a well-earned heel turn. Despite the naysayers, there's a tonal balance there. "Ted Lasso" knows what it is. It wants to be a dramedy. 
Season 2 expanded the world of "Ted Lasso" and allowed us to get to know some of the players a little better. Sure, there was plenty of Jamie, Keeley, Rebecca, Nate, Beard, and Roy in the 1st season, but in the 2nd the show became a true ensemble comedy by letting other characters take the lead and introducing some memorable new folks. It proved that "Ted Lasso" is good television, not just a good character.
6. WandaVision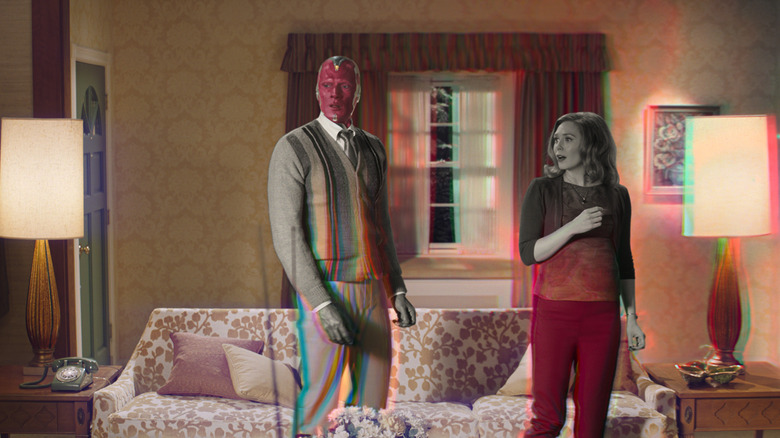 Disney+
After a quiet 2020 for the MCU (save the stand-alone series "Helstrom" and the stellar final season of "Agents of SHIELD") we were thrown head-first into the Disney+ era of Marvel television in 2021. Just about every series felt like an event. "The Falcon and the Winter Soldier" was, in my opinion, the most underrated, and the most frustrating viewing experience when it came to online discourse week to week. "What If...?" was the most underwhelming, and unfortunately the most forgettable. "Loki" was the most surprising, and "Hawkeye," squeaking in at the end of the year, the most promising.
But "WandaVision" was a viewing experience unlike any other. The show was a burst of geeky energy. It was fun to theorize about "WandaVision." It was a television show that loved being a television show. It was an entry into the Marvel Cinematic Universe that took creative risks and wasn't afraid to alienate an audience devoted to looking for clues about characters like Mephisto and Reed Richards, and who demanded that the "Big Bad" be revealed up until the week she finally was ... in song! 
Culturally, "WandaVision" hit at just the right moment, too. Here was a show about self-medicating by binging television and immersing ourselves in fictional worlds when the real world is too scary — remind me again what most of us had just been doing for nine months?
5. Dickinson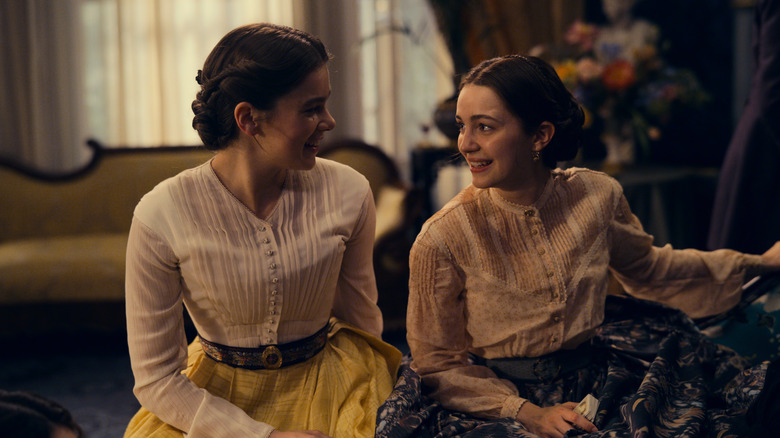 Apple TV+
Apple TV+ is quietly and consistently putting out the best streaming television series. I'm not surprised. It's shiny, new, and still open to letting creators take big swings. Remember how enamored we were with the first prestige shows from AMC, and then Netflix? What sets Apple TV+ apart from the rest of the "next class" (Disney+, HBO Max, etc.) is that its programming is largely original. These shows aren't spun off of existing franchises. We don't know what to expect, which makes what we get that much sweeter.
"Unexpected" does not begin to describe "Dickinson," which in my humble opinion is the best of the Apple TV+ bunch. I keep expecting the trendy allure of the period piece that loosens its corset with dry humor and modern language to dwindle, but it hasn't happened yet, and certainly not with Alena Smith's biting series. "Dickinson" is an exclusively feminine satire of white heteronormative society and cozy cottagecore comedy rolled into one. Few shows are better at knocking you sideways with an unexpected joke. 
Even better, because of pandemic delays, 2021 blessed us with two seasons. In the 2nd season, Emily debates whether or not to seek fame. In the 3rd and final, she grapples with a country and family at war. The only downside to the embarrassment of riches is that it now feels like "Dickinson" is gone too soon. Poetic, one might call it.
4. Only Murders in the Building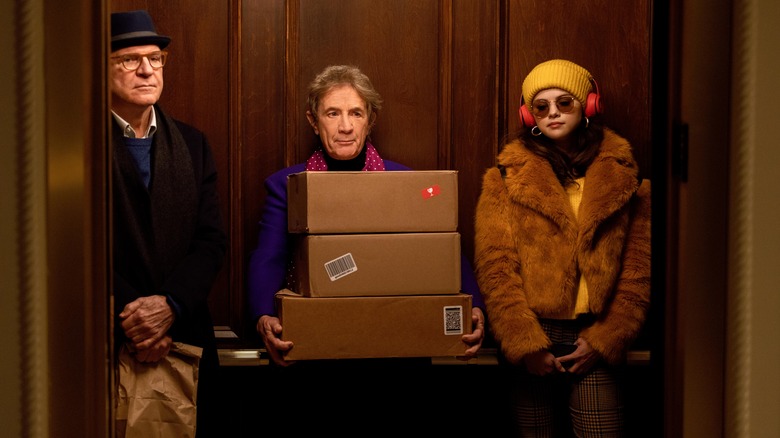 Hulu
Who could have anticipated that the missing secret ingredient to Steve Martin and Martin Short's well-established comedic chemistry was a bone-dry Selena Gomez? Each of the actors on "Only Murders in the Building" proved their chops 10 times over, but special shoutout to Steve Martin, who performed some of the best physical comedy I've seen in years in the season finale. 
While the show isn't as good a spoof of new media and the true crime craze as "American Vandal," it is a pitch-perfect sitcom and a thrilling mystery to boot. In just 10 episodes, the Hulu series creates a whole world out of the Arconia apartment building and its quirky residents. With so many suspects and the intertwining drama behind the central trio, it's no surprise the show was an instant hit.  
Plus, the 1st season ended on a cliffhanger! Television shows, especially during their debut season, are so skittish to do that these days. They're all about the ambiguous ending that tells audiences (and, more importantly, studios with money), "We're a limited series ... haha, unless?" It's so satisfying to see a season go out with an honest to goodness cliffhanger that leaves you wanting more. Season 2 can't come soon enough.
3. Succession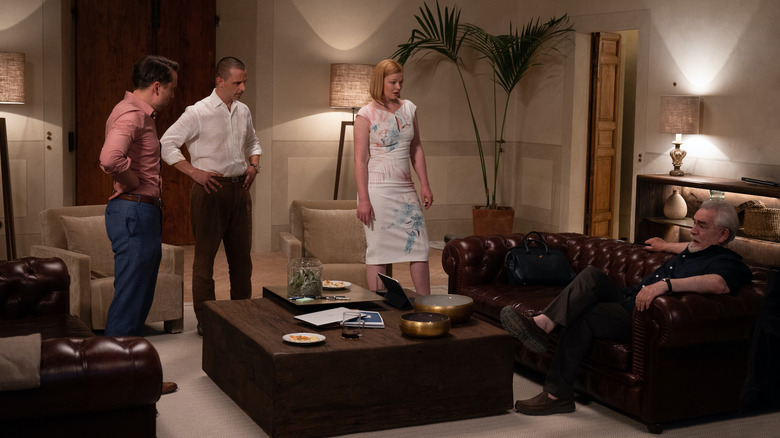 HBO
The third chapter of "Succession" was worth the wait. The long-anticipated season absolutely flew by, and somehow delivered a finale even more shocking and satisfying than the last. During a few moments, it felt like "Succession" was flirting with fan service, as if the writers were a little too aware of the viewers' favorite 'ships and the memes the show generates week after week. But all that can be forgiven when the show still manages to pay off even the smallest moments of foreshadowing while providing plenty of surprises and delicious new characters, including the trio of men courted by the Roy family, played by Adrien Brody, Justin Kirk, and Alexander Skarsgård. 
While the Roy siblings are at their lowest point at the end of season 3, the performances from the "Succession" cast were better than ever. Their characters were pushed to both their most despicable and their most sympathetic places this season. There's never any doubt that the Roy family and their various hangers-on are bad people. They're just bad people who we happen to be deeply invested in and are maybe — don't tell — kind of rooting for. It's impossible to imagine how the show will continue to top itself going forward, but my faith won't waver for a second.
2. Blindspotting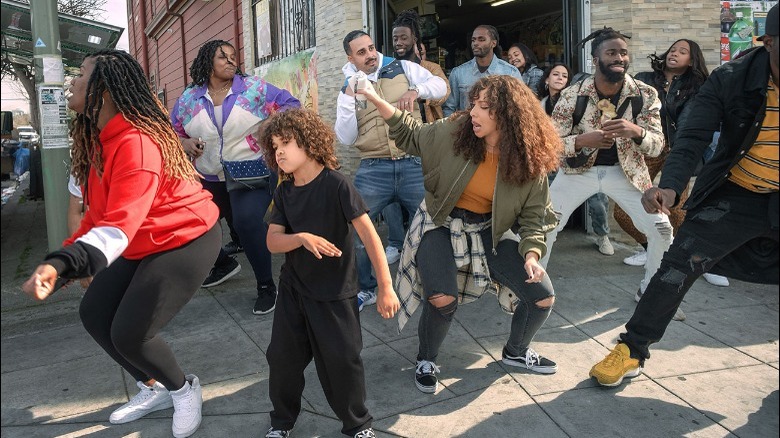 Starz
You don't need to have seen Rafael Casal and Daveed Diggs's 2018 film "Blindspotting" to follow the Starz spin-off, though I do recommend it. The series follows Ashley, Jasmine Cephas Jones' character from the film, as she and her son move in with her long-term partner's mother and younger half-sister after he's incarcerated. So, Ashley has her own feelings as well as new parenting challenges to navigate, in addition to moving back to the neighborhood where she grew up and trying to figure out whether or not she fits in there. Are there eccentric characters in her new environment? You better believe there are.
What makes "Blindspotting" top-tier television is not just the writing, the performances, or the characters. It's the way it uses music and modern dance to bend reality and let us inside those characters' minds. It's a sitcom and a performance art piece rolled into one. This was a great year for magical realism in pop culture. It provided the foundation for films like "Encanto" and added an extra spark to "In the Heights." It creeped into "Dickinson" and "The Underground Railroad," and it's all over "Blindspotting." The fantasy and musical sequences in the show are breathtaking and unlike anything else you see on television today.
1. Mare of Easttown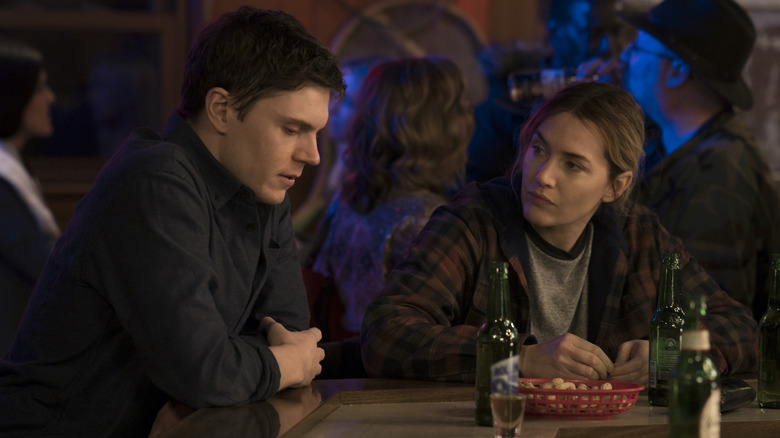 HBO
While other networks try to find the next "Game of Thrones," the network that launched the epic fantasy series has, in turn, been trying to find the next "True Detective" or "Big Little Lies." HBO's quarterly whodunnit almost always grabs an audience and becomes the subject of proverbial water cooler talk (at the very least, it trends on Twitter), but none were as successful as "Mare of Easttown." The show was more than a mood. It was an event. It was the "Queen's Gambit" of 2021, but experienced weekly instead of both sporadically and all at once.
Many initially tuned in out of morbid curiosity about Kate Winslet's western Pennsylvania accent, vape pen, and unconventional name. But the show soon swept the audience into a multi-faced mystery, yet another meditation on grief, and a well-drawn world with complex and compelling characters. 
Remember how good Evan Peters was on this show, cut free from the bounds of the Ryan Murphy-verse? Remember how, between this and "Hacks," there were two brilliant and diametrically opposed Jean Smart performances on HBO at the same time? Even the many red herrings of "Mare of Easttown" felt worthwhile,  because from start to finish the show delivered in a way few can.