Space Force Season 2: Release Date, Cast, And More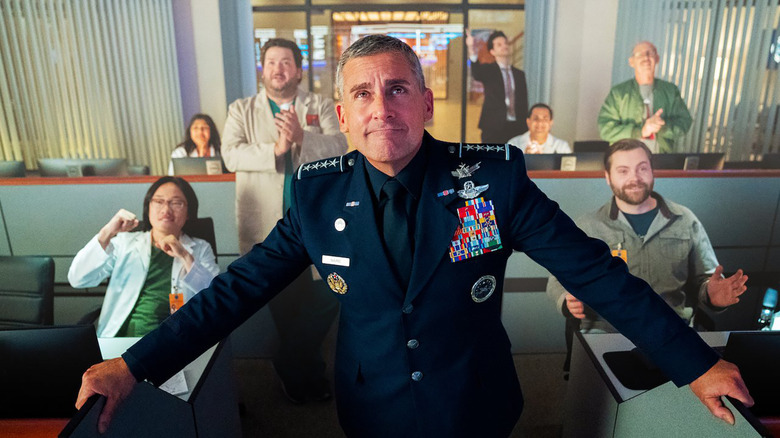 Netflix
(Welcome to ...And More, our no-frills, zero B.S. guide to when and where you can watch upcoming movies and shows, and everything else you could possibly stand to know.)
General Mark Naird and the rest of the "Space Force" are on their way back to television screens, with season 2 just beyond the wild, blue yonder. The show was renewed in November of 2020, and centers on a decorated pilot who has been re-assigned to lead the newly formed sixth branch of the United States Armed Forces, the Space Force. General Naird is immediately skeptical of the position, but he and his family relocate to the remote Space Force base in Colorado anyway, where he joins a group of scientists who are all tasked by the White House to *checks notes* achieve total space dominance and get "boots on the moon" by 2024.
The workplace comedy was released in spring of 2020 to mixed reviews, but the second season has been projected to have a bit of a creative makeover, likely inspired by the change in presidential administration as the twice-impeached former President Trump's buffoonery in establishing a Space Force in the first place was a punchline that wrote itself. Before season 2 arrives, here's everything you need to know to prepare, and more.
Space Force Season 2 Release Date and Where You Can Watch It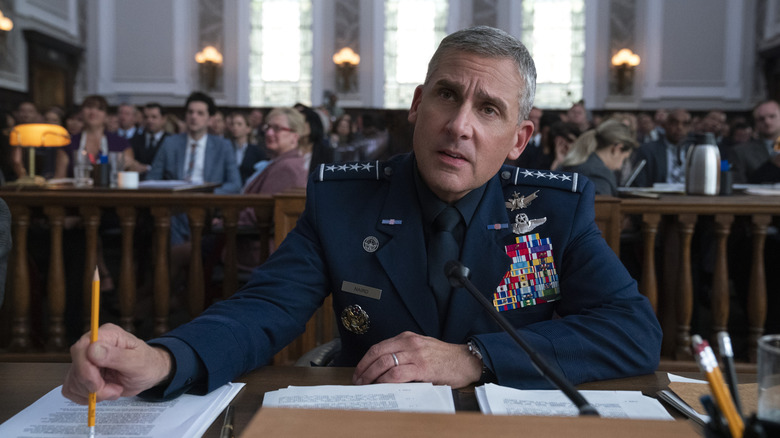 Netflix
"Space Force" remains a Netflix original, and will be available to stream on February 18, 2022. The season will feature seven 30-minute episodes, and since it's a Netflix release, will likely be binged in one sitting by fans of the show. The show also marks star Steve Carell's big return to television, earning a reported payday of over $1 million per episode. Here's hoping the second season pulls better reviews than the first because an investment like that from Netflix was one hell of a risk.
What is Space Force Season 2 About?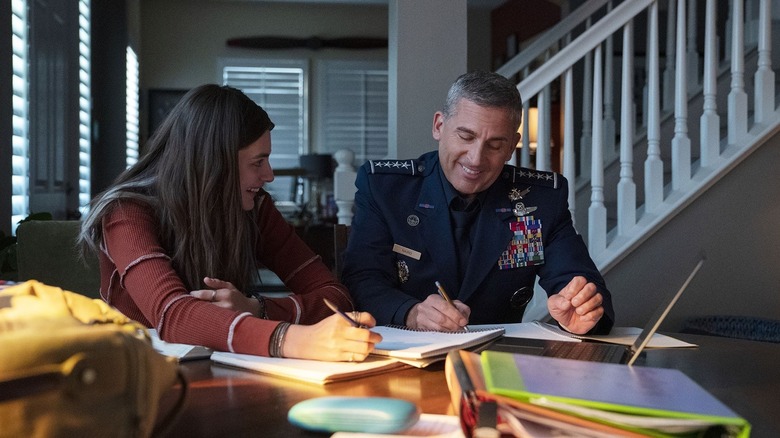 Netflix
The second season was greenlit allegedly with the caveat that the production would move from Los Angeles to Vancouver to reduce the show's large budget, so it'll be interesting to see what else will change regarding the show's setting due to cost-cutting. While "Space Force" comes from the same minds as "The Office," the show feels like it's trying to emulate something like "Veep," but wasn't able to quite catch the same energy. Hopefully these shortcomings were the result of working out the first season kinks, and season 2 will come back stronger than before. Co-star Ben Schwartz seems to think so, at least.
And that's a wrap on Space Force Season 2. It's gonna be such a special & funny one. Can't wait for everyone to see it. Thank you Greg Daniels, @SteveCarell, @normhiscock, Ken Kwapis, the writing staff, producers, editors, Netflix, this incredible crew DURING COVID and this cast! pic.twitter.com/8YSeQn4PzI

— Ben Schwartz (@rejectedjokes) July 2, 2021
The first season ended on a cliffhanger putting the lives of every astronaut on the moon in danger after General Kick Grabaston took over the Space Force command and ordered an attack on the moon's Chinese space lab, unaware that the retaliation was a similar plan, and both of the living spaces were now destroyed. Remember when I said this was a comedy?
Space Force Season 2 Cast, Crew, and More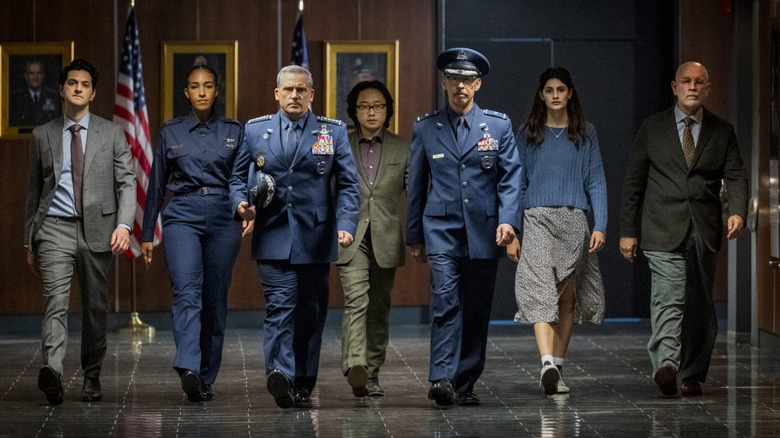 Netflix
Space Force has a star studded cast including Steve Carell as General Naird, and joining him is his wife Maggie (Lisa Kudrow), Dr. Mallory (John Malkovich), F*** Tony (Ben Schwartz), daughter Erin (Diana Silvers), Angela (Tawny Newsome), Chan (Jimmy O Yang), Naird's assistant Brad (Don Lake), Bobby (Alex Sparrow), General Kick Grabaston (Noah Emmerich), Kelly (Jessica St Clair). Duncan the guard (Spencer House), who has a crush on Erin, Fand if we're lucky, return performances from Jane Lynch and Patrick Warburton who appeared last season. Unfortunately, veteran actor Fred Willard who played General Naird's father will not be returning, as Fred Willard sadly passed away in May of 2020.
Greg Daniels ("The Office") is returning as series showrunner, but will be joined by Norm Hiscock ("Parks and Recreation," "Brooklyn Nine-Nine") as a co-showrunner. Additionally, Jimmy O. Yang who already plays Dr. Chan Kaifang has joined the writing staff.