Who Narrates The Harry Potter Reunion Special?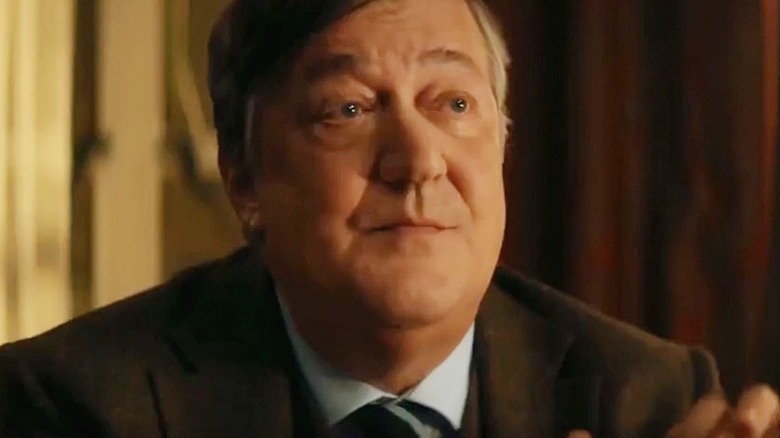 BBC Studios
The HBO Max special, "Harry Potter 20th Anniversary: Return To Hogwarts" has a lot of familiar faces, but it also has a familiar voice. After a magical opening sequence captures the return of the series' main cast members, we see Daniel Radcliffe walking down a snowy, shop-lined street. It's then that the special's voiceover narration kicks in, reading lines from "Harry Potter and The Sorcerer's Stone."
So whose voice is that, anyway? It's none other than British actor, comedian, and writer Stephen Fry. "Harry Potter" fans likely know Fry's voice well, despite him not actually having a role in any of the movies. The actor provided narration for the U.K. version of the "Harry Potter" audiobooks, along with several of the official "Harry Potter" video games. Fry is no stranger to audiobook narration; he's also the voice behind "The Hitchhiker's Guide To The Galaxy" (both film and audiobook), plus classic children's books including the "Paddington" and "Winnie the Pooh" series.
A Familiar Voice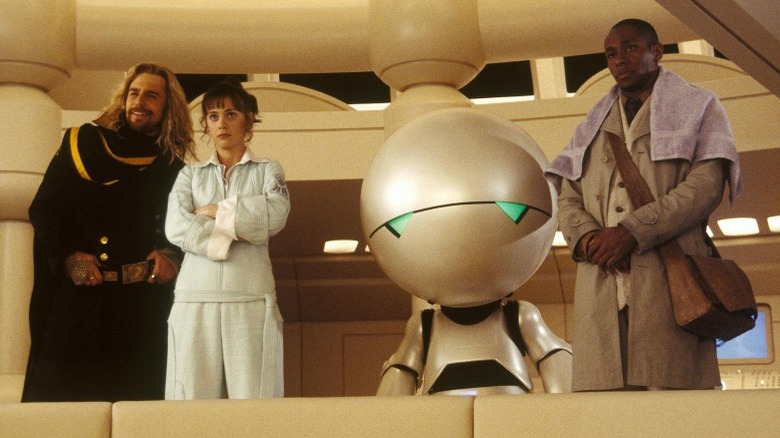 Touchstone Pictures
You'd be forgiven for confusing the BAFTA-nominated actor for Jim Dale, who narrates the American version of the "Harry Potter" audiobooks along with the TV show "Pushing Daisies" and another beloved fantasy book, "The Night Circus." For millions of kids, one or the other of these actors was likely their first introduction to audiobooks as a format. Dale and Fry both have dazzling, captivating voices that are tough to describe as anything other than "magical," as their particular narration is so formative and, for many, fundamental to the series.
Stephen Fry is much more than just a narrator. He's a ubiquitous figure in the UK entertainment scene, appearing on everything from "Doctor Who" to "Blackadder." He's earned praise for his roles in Robert Altman's "Gosford Park" and the 1997 film "Wilde." Despite his dramatic turns, his breakthrough was in comedy, on the series "A Bit of Fry & Laurie," which ran from 1989 to 1995. Fry made the sketch show with Hugh Laurie, who would go one to achieve fame in America playing the title role in "House, M.D."
Fry's work outside the "Harry Potter" universe is extensive. For over a decade, he hosted the popular quiz show "Q.I.," and he's also had memorable turns in films like "V For Vendetta" and "The Hobbit" franchise. He's a Tony-nominated stage actor, a novelist, a documentarian, and even a wildlife conservationist.
Has Fry Weighed In On The JK Rowling Controversy?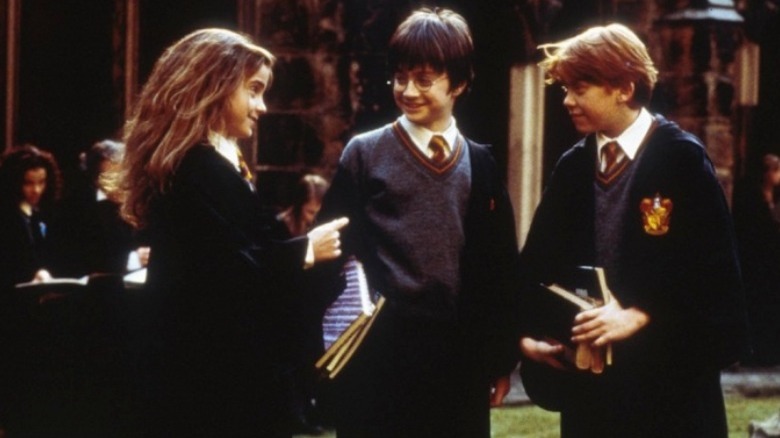 Warner Bros.
Fry, who is gay, caused a stir in 2021 when he guested on "The Jordan B. Peterson Podcast" and insisted "Harry Potter" author J.K. Rowling will "remain a friend" despite her consistently alarming and controversial statements about the rights of transgender people. Fry told Peterson the following (per Attitude):
"I don't have to break links with J.K. Rowling to say that I have huge sympathy and I endorse the efforts of trans people everywhere to live the lives that they feel they want to lead."
The actor addressed the issue after questions arose surrounding his choice to narrate the audio edition of Rowling's latest book, "The Ickabog." Most anyone who grew up with "Harry Potter" has been forced to reckon with Rowling's recent public actions, and make an extremely personal decision about how best to interact with the popular franchise moving forward.
With this anniversary special featuring nearly every key cast member hitting HBO Max, there's certain to be much more discussion to come about the boy wizard, the woman who wrote him, and the people who brought him to life.
"Harry Potter 20th Anniversary: Return To Hogwarts" is currently streaming on HBO Max.