Superhero Bits: Stan Lee's Birthday, The Batman Plot Details & More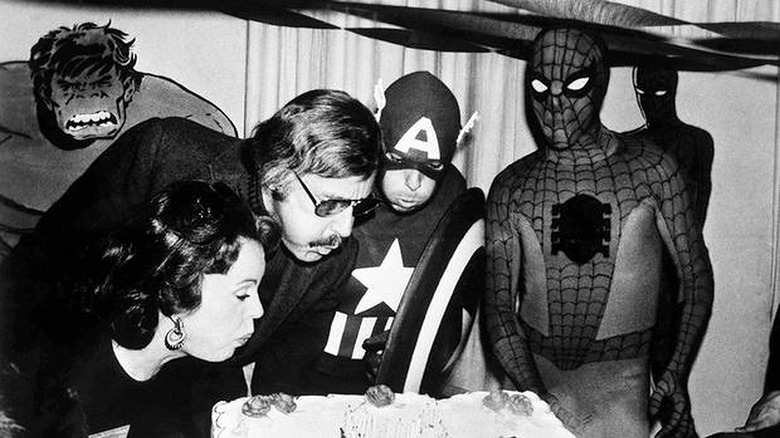 Stan Lee's Twitter
(Superhero Bits is a collection of stories, updates, and videos about anything and everything inspired by the comics of Marvel, DC, and more. For comic book movies, TV shows, merchandise, events, and whatever catches our eye, this is the place to find anything that falls through the cracks.)
In this edition of Superhero Bits:
It's Stan Lee's 99th birthday.
Brie Larson shares behind-the-scenes photos from "The Marvels."
A new synopsis for "The Batman" reveals an intriguing detail.
"Morbius" runtime has been revealed.
Artist Ryan Bodenheim Has Passed Away
We are deeply saddened to hear of the passing of artist Ryan Bodenheim. His talent and passion for storytelling through art shined at Marvel and beyond. This is a tremendous loss, and our thoughts are with his family and loved ones. pic.twitter.com/KNqf4fWNvw

— Marvel Entertainment (@Marvel) December 27, 2021
Unfortunately, today kicks off with some sad news. Artist Ryan Bodenheim, known for his work on titles such as "Immortal Hulk" and, more recently, "The Death of Doctor Strange," has passed away. As we can see in the above tweet, Marvel mourned his passing by sharing some of his artwork. He was mostly known as a cover artist, inker, and penciler. Bodenheim passed on far too young at the age of 44. Rest in peace, good sir. You will be missed.
DC Beyond the Panels: Deathstroke Inc.
DC has released a new installment of its "Beyond the Panels" series highlighting "Deathstroke Inc." which, as the title implies, centers on the assassin also known as Slade Wilson. The monthly series is currently running and comes from writer Joshua Williamson. For those who might be interested in checking it out, this video gives a great overview of what to expect.
The Batman's Batmobile Was Inspired by Stephen King's Christine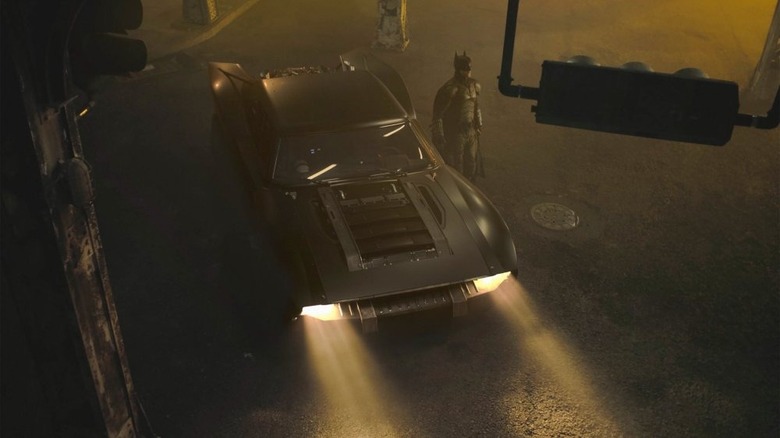 Warner Bros.
We recently got a new trailer for director Matt Reeves' "The Batman," which is shaping up to be one of the most anticipated movies of 2022. The trailer contained lots of emo Robert Pattinson, but it also showed a whole lot of the new Batmobile. Speaking to Empire Magazine, Reeves revealed that the inspiration for this iteration of the vehicle actually comes from none other than Stephen King, specifically "Christine."
"[The Batmobile] has to make an appearance out of the shadows to intimidate, so I thought of it almost like Stephen King's 'Christine.' I liked the idea of the car itself as a horror figure, making an animalistic appearance to really scare the hell out of the people Batman's pursuing."
That is certainly a unique take, but one that makes sense given the grounded world that Reeves appears to be crafting. "The Batman" hits theaters in March.
Spider-Man: No Way Home Official Clip
Since "Spider-Man: No Way Home" has already been in theaters for nearly two weeks, and since seemingly everyone in the world has already seen it, Marvel has decided to release a new, official clip from the film. It sees Peter Parker and Doctor Strange working on a spell that will fix the young hero's problems. Only, things don't go so well. Is this enough to entice those who haven't seen the movie yet to finally get to a theater? Maybe, maybe not. But it's here for those who wish to see it.
A New Synopsis for The Batman Reveals An Intriguing Detail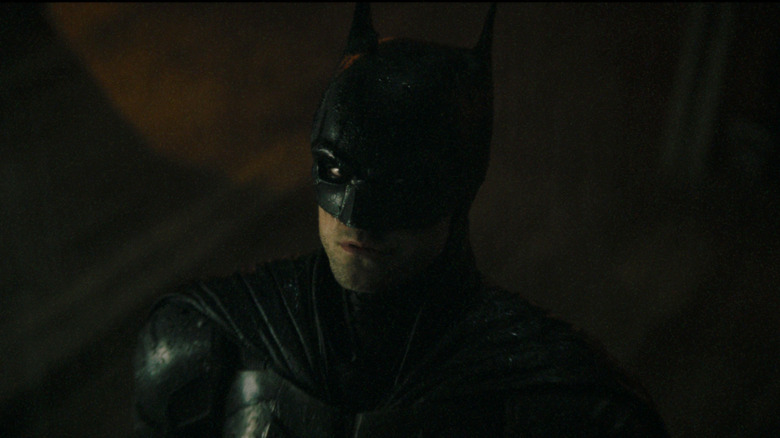 Warner Bros.
A German cinema chain named Cinemaxx has revealed a new synopsis for "The Batman." Though translations to other languages can be a bit messy, the translation of this particular synopsis reveals an intriguing detail for the upcoming movie. Namely, Robert Pattinson's Bruce Wayne and Zoe Kravitz's Selina Kyle were friends when they were kids!
Dark, stylish retelling of the dark knight's fight against the crime in Gotham. Gotham is being hit by a gruesome series of crimes that the police have long been unable to cope with. Bruce Wayne aka Batman does what he can, but also reaches his limits. The penguin has a hand in it, but he is only one in the all-encompassing swamp of the city. The appearance of his childhood friend Selina Kyle alias Catwoman creates additional emotional confusion in the angry fighter for justice.
This will seemingly add a unique layer to the dynamic between these two characters, one that we haven't seen play out on screen before. Whether or not that's for the better remains to be seen, but this is certainly curious.
The Marvels Behind the Scenes Photos Shared by Brie Larson
Marvel fans, start your theories 😉 pic.twitter.com/gpvkD2Ob7c

— Brie Larson (@brielarson) December 27, 2021
"Captain Marvel" star Brie Larson has shared a few behind-the-scenes photos from the upcoming sequel "The Marvels." The images feature Larson alongside her co-star Zawe Ashton, who is on board in a mystery role, though it is rumored that she is playing the villain. Larson decided to stir the pot a bit by saying "start your theories" in the caption provided with the photos. Speculate wildly amongst yourselves. Directed by Nia DaCosta, the movie is set to hit theaters on February 17, 2023.
Morbius Runtime Has Been Revealed, and It's Not Too Long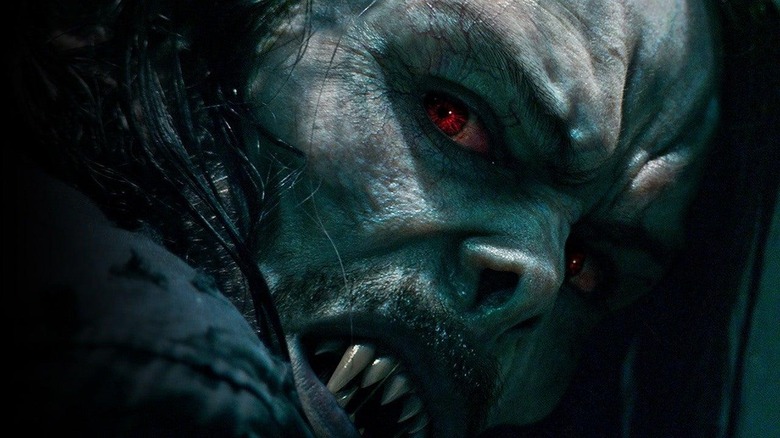 Sony Pictures
As reported by Collider, the official runtime for Sony's "Morbius," which stars Jared Leto as the so-called "Living Vampire," has been revealed. The Marvel flick clocks in at 108 minutes, or one hour and 48 minutes. That is a little longer than "Venom: Let There Be Carnage," but a whole lot shorter than many blockbusters these days. It appears Sony wants to keep these "Spider-Man" spin-off movies lean and mean. "Morbius" is set to hit theaters on January 28, 2022.
Shang-Chi Star Simu Liu Says He's Not In Doctor Strange 2 (Sort Of)
"Shang-Chi and the Legend of the Ten Rings" star Simu Liu recently participated in GQ's "Actually Me," which sees him going undercover online to answer fan questions. One fan asked if he is going to appear in "Doctor Strange in the Multiverse of Madness" and, while Liu answered the question in a definitive manner, he did leave some room for interpretation.
"Even if I were in that movie, which I'm not, there is no way in hell that I would ever say it out loud. That's all I can really say, right?"
As we've learned (looking at you, Andrew Garfield), these Marvel actors aren't always going to tell the truth in the press. Though, for what it's worth, Liu does seem pretty genuine here. He just seems to be making the point that, even if he were in it, he wouldn't be able to say anything.
Happy 99th Birthday, Stan Lee
Today, Stan would have turned 99. The colorful characters & thrilling tales he created captivate & entertain fans & will do so for generations to come. To celebrate his birthday, share your favorite Stan story, sighting, cameo or comicbook with us & we'll retweet a few!#StanLee pic.twitter.com/E8XO2Z9uTa

— Stan Lee (@TheRealStanLee) December 28, 2021
Lastly, we celebrate an icon of pop culture as today marks what would have been Stan Lee's 99th birthday. Unfortunately, we lost the Marvel Comics legend back in 2018. Be that as it may, Lee's contributions to pop culture are immeasurable and immortal. The work he did with other geniuses such as Steve Ditko and Jack Kirby, among many others, gave us some of the most popular fictional characters of any kind that mankind will ever know. Plus, Lee was a generally positive force in fandom, even decades before comic book movies took over the world. Happy birthday, Stan. Excelsior!