Doctor Strange In The Multiverse Of Madness Images And Poster Tease Multiverses, Madness, Etc.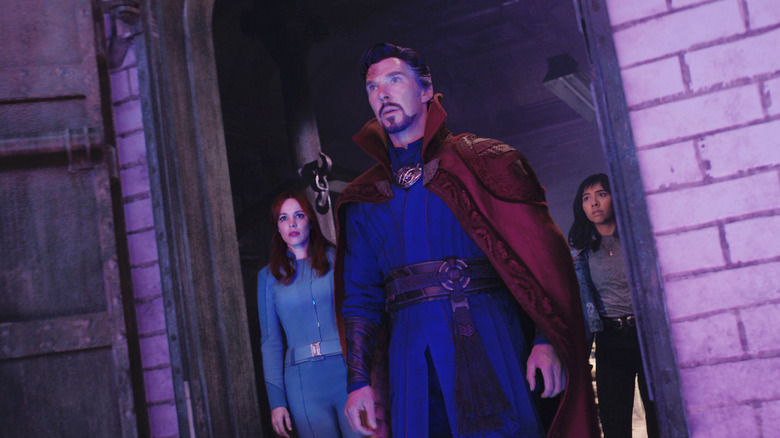 Marvel Studios
If you thought the MCU's multiverse shenanigans were over after "Spider-Man: No Way Home," you either haven't looked at Marvel Studios' release calendar in a hot minute or missed the teaser trailer for "Doctor Strange in the Multiverse of Madness" that played at the end of the credits for "No Way Home." That teaser is now online and brings with it several images from the "Doctor Strange" solo film, along with a poster that further hints at the troubles that lie ahead for Stephen Strange (Benedict Cumberbatch) and his allies.
Calling "Multiverse of Madness" a solo movie is, admittedly, a bit of a lie. The film also stars Elizabeth Olsen as Wanda Maximoff, having finally completed her transformation into the Scarlet Witch at the end of "WandaVision," and introduces Xochitl Gomez to the MCU as America Chavez, a superhero known for her superhuman strength, flying powers, and, most importantly for the "Doctor Strange" sequel, her ability to hop from one reality to the next. Also along for the ride is Dr. Christine Palmer (Rachel McAdams), seen above (with Strange and Chavez) wearing an outfit that suggests she may be getting a super-powered upgrade of her own. That's assuming it's the Christine Palmer from the main MCU reality and not somewhere else in the multiverse.
Doctor Strange in the Multiverse of Madness Images & Poster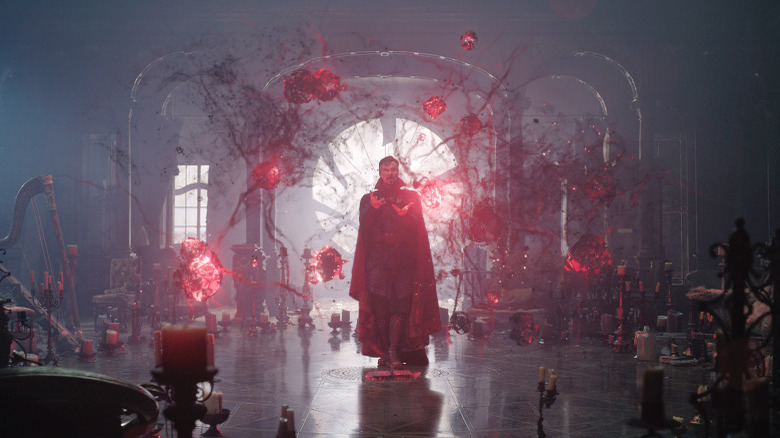 Marvel Studios
The question of which characters are from the main MCU timeline and which ones are from another reality looks to factor heavily into "Doctor Strange of the Multiverse of Madness." Case in point: both the film's teaser trailer and the below image show the Doctor Strange we know and love (if also the one we want to lovingly smack up the head sometimes for being an arrogant jerk) coming face to face with a Doctor Strange variant who's clearly been through the ringer, judging by his unkempt goatee and creepy demeanor.
Is this a live-action version of Strange Supreme, aka the variant of Doctor Strange who destroyed his own universe after absorbing the powers of various monsters from across the multiverse, all in a failed effort to prevent Christine (the one from his reality, that is) from dying, in "What If...?" season 1? It absolutely could be, given how integral the events of the MCU's Disney+ series look to be to its movies going forward. Then again, the multiverse is a big ol' place (hence the name), and this spooky Strange variant (who's also featured on the poster for "Multiverse of Madness" seen below) could be yet another one who messed things up badly in his reality. Being hubristic is kind of Doctor Strange's defining trait, after all.
Wanda and Stephen Team Up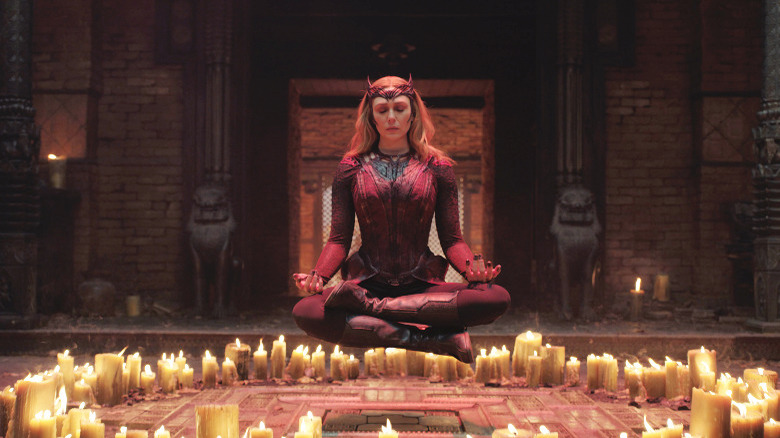 Marvel Studios
Between making a mess of the multiverse and having to deal with Karl Mordo (Chiwetel Ejiofor), who's back to teach Strange a lesson about screwing with the fabric of reality (he has a valid point), it's no wonder the eponymous wizard turns to Wanda for a helping hand in "Doctor Strange in the Multiverse of Madness." And now that's Wanda's got a stronger grip on her Scarlet Witch powers post-"WandaVision," as shown by the above photo, she might be the key to saving the day.
Then again, the film's poster features what could be two different variants of Wanda. Is it possible she will serve as both a hero and a villain in "Multiverse of Madness" in a manner of speaking? Anything's fair game when you're dealing with an infinite number of realities, so one only hopes that director Sam Raimi (yes, as in the mind behind the original "Evil Dead" and "Spider-Man" trilogies) and co-writer Michael Waldron (who previously got to play in the MCU's multiverse as the head writer on "Loki") really go wild with the concept and deliver a movie that lives up to its title.
"Doctor Strange in the Multiverse of Madness" recently underwent extensive reshoots but remains scheduled to arrive in theaters on May 6, 2022.