Movies Like Moneyball You Definitely Need To See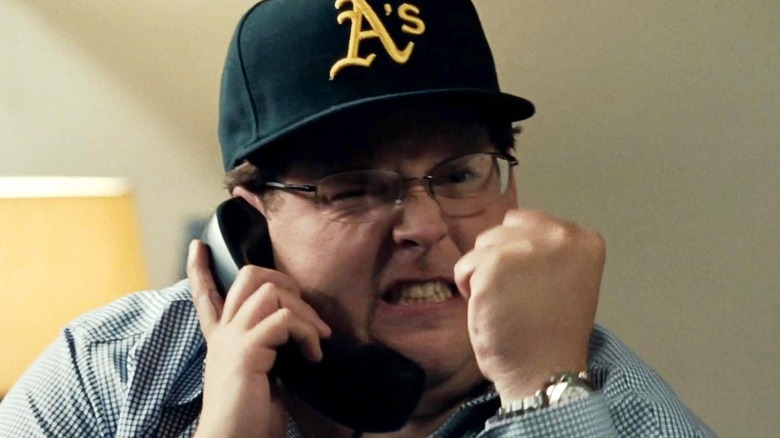 Sony Pictures
A decade after its release, "Moneyball" remains one of the best sports films of the 21st century. A story centered on a general manager who analyzes statistics in order to build a championship-caliber baseball team may not inherently seem exciting, but Bennett Miller's emotional rollercoaster ride defied expectations by showing how this new strategy impacted players, managers, and fans.
"Moneyball" tells the incredible true story of the Oakland Athletics baseball team and their groundbreaking 2002 season under their new GM, Billy Beane (Brad Pitt). Beane was once expected to be a great baseball player and had tremendous promise as a young man, but failed to live up to those expectations. So, he seeks a comeback and works with geeky assistant manager Peter Brand (Jonah Hill) to develop a strategy where undervalued players could be combined to form a perfect team. His new strategies bring him into conflict with the older generation of baseball executives, including Art Howe (Philip Seymour Hoffman).
Despite the skepticism, Beane's strategy changes the entire sport. Aaron Sorkin's meticulous screenplay delivers the details of Beane's nuanced strategy, while co-writer Steven Zailian adds emotional depth to the events by flashing back to Beane's younger days. Pitt delivers one of the most powerful performances of his career, and the scenes with his younger daughter are touching without being too saccharine.
"Moneyball" was nominated for six Academy Awards, including best picture. If you loved "Moneyball," then you should definitely watch these movies as well.
Foxcatcher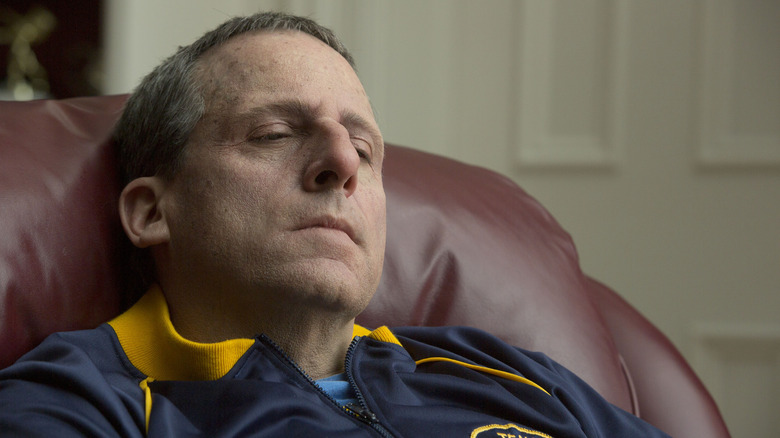 Sony Pictures
Bennett Miller is perhaps one of the most undervalued filmmakers working in Hollywood right now. Despite his limited filmography, nearly every one of his films is a modern classic that earned tremendous critical acclaim and featured subversive and interesting roles for Hollywood's most famous leading men. Miller's breakthrough feature "Capote" won future "Moneyball" co-star Philip Seymour Hoffman an Academy Award. With "Moneyball," he took on the challenging task of merging Sorkin's meticulous wordplay with the star power of performers like Pitt and Hill, and delivered one of the most fascinating sports movies in recent memory.
For his follow up feature, Miller returned to the sports genre with another emotional and challenging biographical film. "Foxcatcher" tells the true story of the eccentric millionaire John Eleuthère du Pont (Steve Carrell), who recruited Olympians Mark (Channing Tatum) and Dave Schultz (Mark Ruffalo) to help train wrestlers shortly after they won gold medals at the 1984 games. In real life, du Pont murdered Dave at the end of the 1996 season, and Miller crafts a haunting aura of suspense in the moments leading up to the shocking crime.
Like "Moneyball," "Foxcatcher" explores the emotional cost of an athlete's dedication to their sport. Mark is desperate to be seen as his brother's equal, and as a result he's vulnerable to the strange suggestions by du Pont. Tatum delivers a very sensitive performance, and Carrell is downright unrecognizable due to the heavy amount of makeup and prosthetics as he explores why du Pont is fascinated by the nature of championships.
Draft Day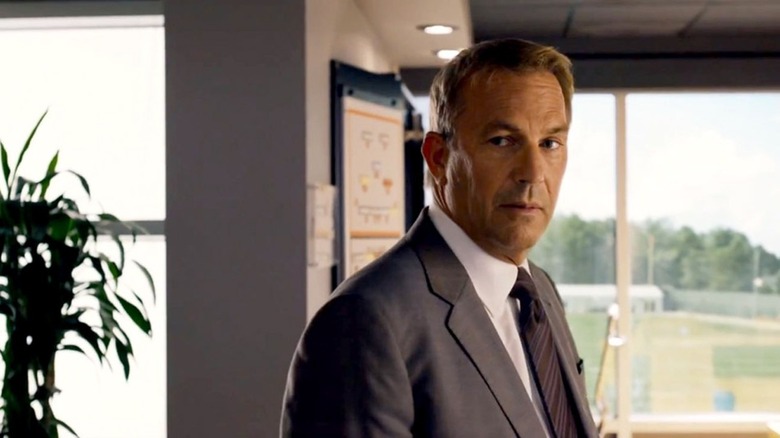 Lionsgate
"Moneyball" was a subversive baseball film because it focused on the general manager and behind-the-scenes talent, as opposed to the players themselves. More traditional baseball films focus on inspirational stories about the glories of athletic achievement, while "Moneyball" shows how managing a team can be rewarding in its own right. Beane isn't only defined by his intelligence, and his relationships with his players become quite complex as they question his leadership. He must also deal with a challenging home life as he attempts to reconnect with his daughter.
Kevin Costner's character, Sonny Weaver Jr., shares many of these characteristics in the 2014 sports film "Draft Day." The fictional story focuses on Weaver's leadership of the Cleveland Browns ahead of the 2014 National Football League Draft, where he must craft a perfect team using strategy. Like Beane, Weaver focuses on undervalued players and makes unusual picks that lead to skepticism from other managers and owners. Weaver must also deal with his emotional ties to the players themselves, particularly Ohio State University prospect Vontae Mack (Chadwick Boseman).
Like Beane, Weaver has a turbulent personal life as he struggles to connect with his longtime lover Ali Parker (Jennifer Garner), who is also the team's financial manager. Weaver and Parker consider having a daughter, but they're unsure about bringing a child into the stresses of their profession. It's not all serious, though — director Ivan Reitman incorporates a good deal of comedy into the fast-paced storyline.
The Way Back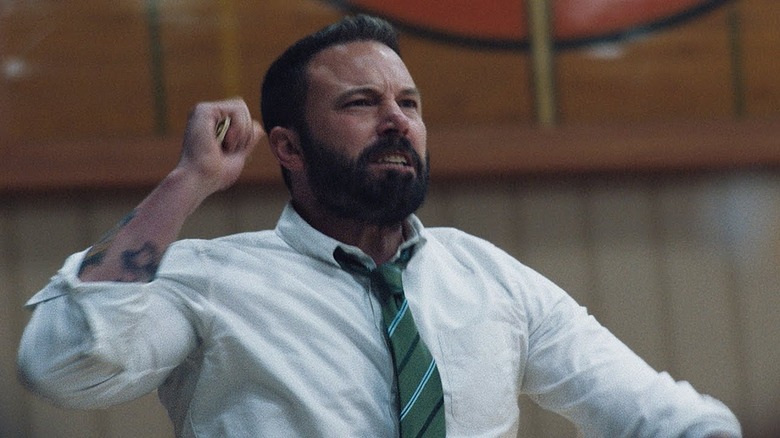 Warner Brothers
"Moneyball" isn't just a great and inspirational sports movie, but a harrowing drama about mismanaged expectations and the emotional hardships that former athletes inflict on themselves. Beane starts off with something to prove; he was once thought of as a potential star, but never lived up to the high expectations and was largely forgotten by the industry. The film explores how this leads to depression, anxiety, and trauma, paving the way for one of the greatest performances of Pitt's career.
The 2020 sports film "The Way Back" explores a similar story about a former athlete who makes a comeback as a manager. The film focuses on Jack Cunningham (Ben Affleck), who was once a star basketball player at his Catholic high school. Cunningham's potential was destroyed due to his alcoholism and his challenging relationship with his father, and he now lives as a recluse working in the construction industry. Cunningham's alcoholism hasn't waned in his older years, either.
Cunningham receives an unexpected call from his former alma mater, as the previous high school basketball coach suffered a heart attack and died. Cunningham is asked to coach the team in his place, and faces the demons of his past as he returns to the school he had once made proud.
Cunningham and Beane have very similar character arcs; they both leverage their skill as players into successful management careers, with Cunningham becoming a fatherlike figure to young players who face the same hardships that he did.
High Flying Bird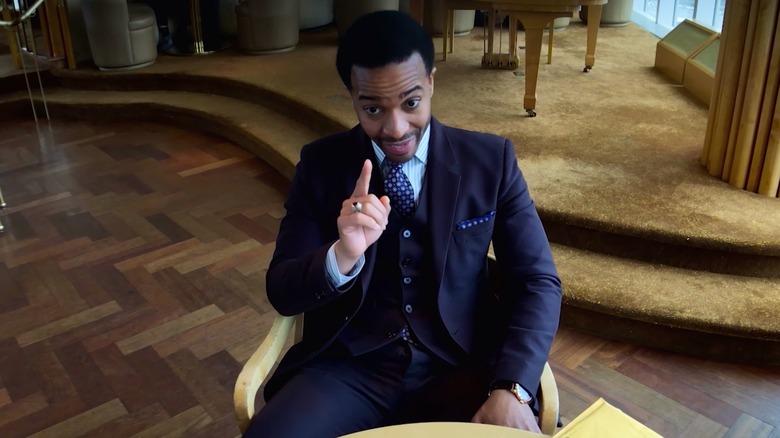 Netflix
Before Bennett Miller took on the directing duties on "Moneyball," the film was slated to be directed by Steven Soderbergh. Soderbergh eventually exited the project due to last minute conflicts with Sony over the direction of the screenplay. Although Miller proved to be an excellent replacement and the rest of the film's production went by without many challenges, it would have been interesting to see what a filmmaker like Soderbergh would have done with the material.
Soderbergh is a fascinating auteur who likes focusing on dense material and the intersections between various industry players. It's no surprise that he was interested in taking on a story like Beane's. Thankfully, Soderbergh was eventually able to tell a similar story about the behind-the-scenes politics of a popular sport. His 2019 Netflix film "High Flying Bird" tells the fictional story of NBA agent Ray Burke (Andre Holland) who, in the wake of a player lockout, launches an ambitious plan to bring matches directly to fans.
"High Flying Bird" is a fascinating meta text about the nature of distribution, ownership, and technology. The film focuses on live streaming and innovative technology, and was shot on an iPhone and released on a streaming service. Like Beane, Burke faces skepticism from the other professionals in the industry, and Holland delivers an emotional performance similar to Pitt's, as he attempts to honor his relationships with his clients during a fraught 72-hour window.
Concussion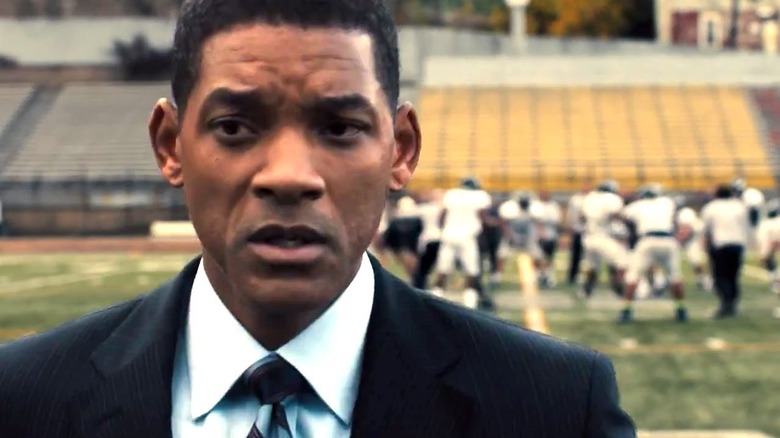 Sony Pictures
One of the most interesting elements of "Moneyball" is the relationship that Beane has with the players that he manages. Beane's strategy treats the baseball players like statistics, but in his eyes they are also individuals. Cutting a player or forcing them to play a different position can be challenging, and as a former athlete himself Beane knows how difficult it is when the direction of your career isn't clear. Sports movies often focus on big moments of victory or defeat, but "Moneyball" is far more intimate.
The 2015 film "Concussion" tells a similarly emotional story about the hardships that players in a highly popular sport face outside of the public spotlight. Based on a true story, the film follows forensic pathologist Dr. Bennet Omalu (Will Smith) as he researches injuries incurred by various NFL players. In the process, Omalu notices that many players suffer from the same side effects after their careers have concluded.
Omalu continues his research into chronic traumatic encephalopathy brain degeneration and how concussions can permanently debilitate football players. While Beane's peers weren't sure about his embrace of statistics, Omalu faced actual suppression. In an effort to save face, the National Football League attempted to bury and stigmatize Omalu's findings. Smith conveys the complex emotional state that this puts Omalu in; he believes that his research is critical and urgent, and knows that the issue will persist if his insights aren't published, but struggles with many social interactions.
Mississippi Grind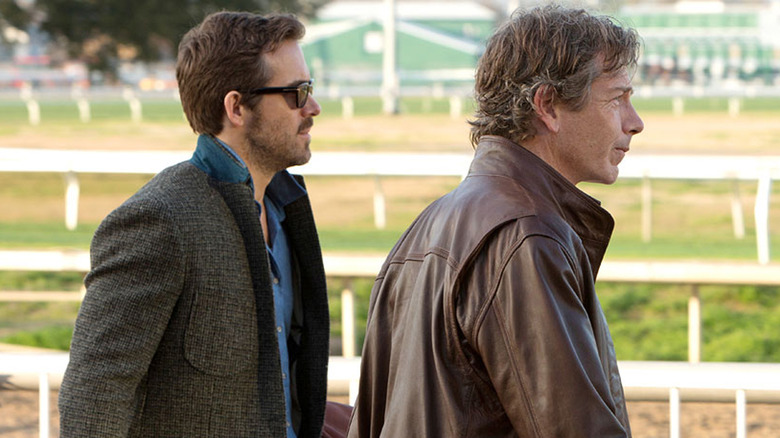 A24
"Moneyball" derives much of its excitement from the unpredictable nature of Beane's pursuits, as he's essentially betting on his players and whether or not they will be successful in combining their talents to form the perfect team. Watching Beane await the results from the sidelines may not initially seem as exciting as watching the players compete themselves, but "Moneyball" becomes unexpectedly gripping. It helps that Beane has a personal stake in defying the odds with his ambitious pursuit.
The 2015 film "Mississippi Grind" explores a similar narrative, one centered on men who rely on gambling to make a comeback. An old-fashioned two-hander in the vein of classics like "California Split," the film focuses on Gerry (Ben Mendelsohn) and Curtis (Ryan Reynolds) as they team up for a cross-country road trip to attend a series of card games. The two men seemingly have opposite problems: Gerry can never succeed without ultimately losing everything, while Curtis doesn't have any real goals in life outside of his next victory. Mendelsohn gives a stripped-down performance, and Reynolds is cast in a much more dramatic role than we normally see him play.
Like Beane, both men struggle to manage their familial priorities with their professional ones. Gerry has lost touch with his ex-wife and daughter, and Curtis is cagey about starting a relationship given the unpredictable nature of his life. The film gets particularly emotional as Gerry tries to convince Curtis not to go down the same path that he did.
The Color of Money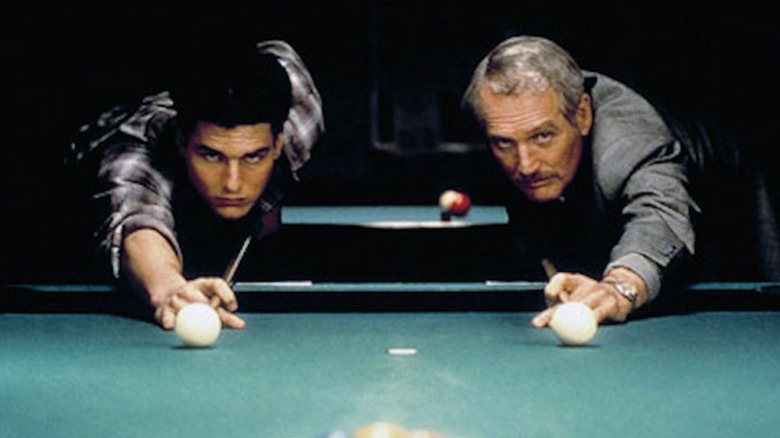 Buena Vista Pictures
Beane faces seemingly insurmountable odds in "Moneyball" because he is living in the shadow of his former life. Key flashbacks in the film show his younger days and the potential he had, and Beane can't help but wonder if his entire life has been an epic failure, and if his younger self would be ashamed of how he ended up. However, reorganizing the Oakland Athletics re-energizes him. It's a different type of comeback than he might've initially hoped for, but it's a comeback nonetheless.
In the 1986 film "The Color of Money," Paul Newman's character, a pool player known as Fast Eddie, goes on a similar journey of self-discovery The film is a sequel to the 1961 classic "The Hustler," in which the young Eddie succumbs to the addictive nature of gambling, but eventually decides to leave his destructive ways behind. Martin Scorsese's 1986 sequel picks up with an older, yet not necessarily wiser Eddie, who looks to team up with the young hotshot Vincent (Tom Cruise). Like Beane, Newman offers sage advice to younger players; he understands how all-consuming the sport can be.
It's fascinating to see the emotional journey that Eddie goes on after returning to his old life. He finds many of the same joys that he did 25 years earlier, but faces them with a grizzled skepticism. Newman is captivating in the same way that Pitt is; his sensitive yet charismatic performance finally won him an Academy Award for best actor.
The Wrestler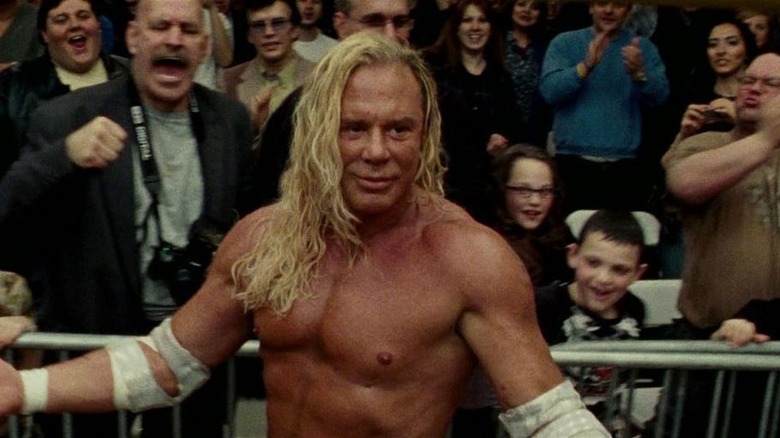 Fox Searchlight
Pitt's performance in "Moneyball" shows the depths of a complex character who struggles to balance his personal and professional responsibilities. He's fighting to succeed in a sport that has taken him for granted, and knows that his future depends on the immediate decisions that he's making. However, he's also a father, and isn't sure how to communicate the stresses of his life to a child. Beane doesn't always know how to explain why he can't be present; he needs the work in order to provide for his daughter, but that also means missing key moments in her life.
The combined stress of sports and fatherhood is something that Mickey Rourke's character, Robin "The Ram" Ramzinski, faces in Darren Aronofsky's gripping 2008 sports drama "The Wrestler." Once a former pro wrestling star, Robin has long since left the spotlight. He now competes in smaller promotions with few safety precautions, which take a toll on his physical and mental health. Robin is still recognized by fans, but he's embarrassed to explain the dire nature of his circumstances.
That embarrassment becomes more severe as Robin tries to connect with his daughter Stephanie (Evan Rachel Wood). He was never very present in her life, but Robin hopes that his career comeback will help him bond with her. When facing the dueling options to attend more matches and spend time with his daughter, Robin wonders what his priority should be, while Stephanie begins to fear for her father's safety given his many injuries.
The Program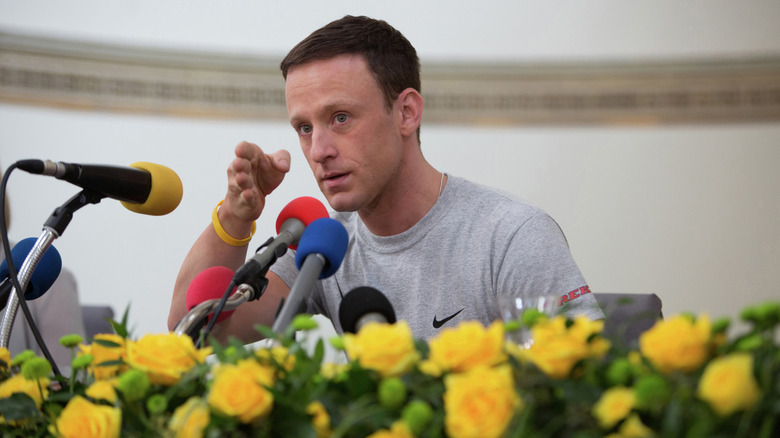 StudioCanal
"Moneyball" explores the complex intersections between competing factions that exist in modern sports, and how Beane must deal with the various organizations and institutions that attempt to influence his decisions. Not only is he facing players and colleagues who scoff at his strategy, but the media predicts a doomed season for the Oakland A's. The screenplay by Sorkin and Zaillian pays close attention to the real story, and as a result the film goes into greater depth about the business side of baseball than an average sports movie.
The 2015 biographical film "The Program" pays similarly close attention to a well-known sporting event — and, in this case, it's a real-life scandal. Stephen Frears' film focuses on the downward spiral of Lance Armstrong (Ben Foster) as he suffers from disease, rebuilds his body, launches a comeback, and goes through a public controversy when it's revealed that he's been cheating. The story is told from the perspective of reporter David Walsh (Chris O'Dowd) and is based on Walsh's book "Seven Deadly Sins."
The film explores how the media narrative is essential in defining Armstrong's journey. He's initially lauded as a success and is beloved by fans, and Walsh must face the challenging task of exposing the truth behind a public hero. Like Beane, Walsh is up against an industry that doesn't take him seriously, as his initial investigation into Armstrong is only scoffed at. O'Dowd shows the hardships of being routinely ignored.
A League of Their Own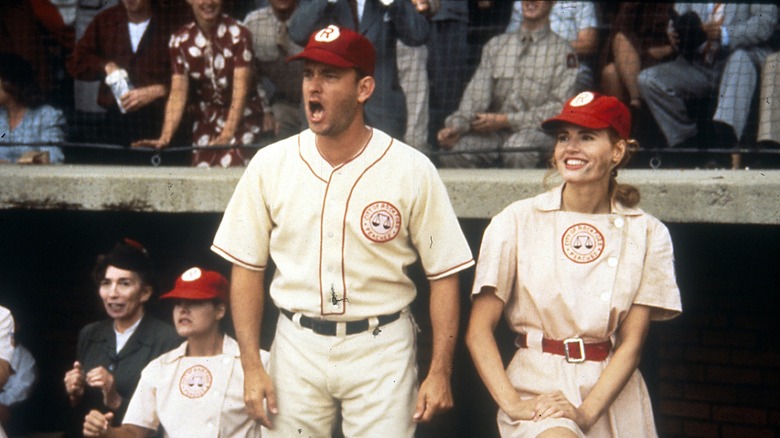 Columbia Pictures
Baseball films are popular, but rarely focus on the managers. As such, "Moneyball" presents an interesting and unusual protagonist in Beane, who must strategize on how to best utilize his team given the limited resources at his disposal. Beane's approach towards team-building doesn't take any of the excitement away from the games themselves, but introduces a new level of complexity to the sport, since the audience ends up rooting for heroes both on and off the field.
Few cinematic baseball managers are more iconic than Tom Hanks' Jimmy Dugan in "A League of Their Own." Like Beane, Dugan turns to managing as a result of his own professional failures, and is tasked with leading an unlikely and underestimated team. Dugan is recruited to be the manager of the Peaches in the emerging All-American Girls Professional Baseball League in the 1940s, and Hanks gives a hilarious, yet heartfelt performance as an alcoholic who gradually grows to respect the players he's responsible for.
Borg vs. McEnroe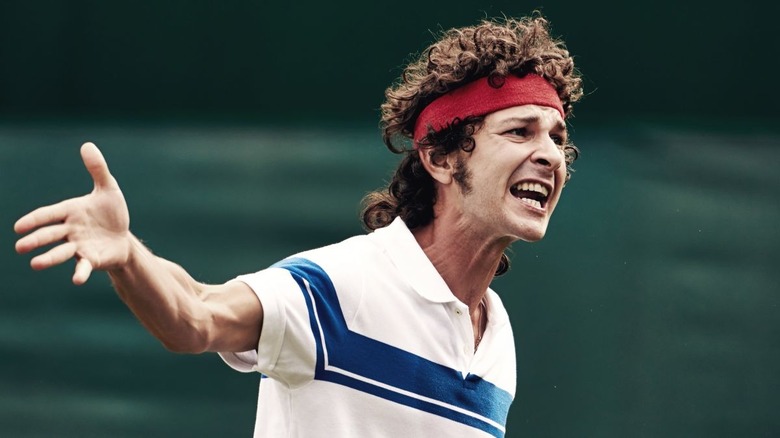 Nordisk Film
"Moneyball" gave fascinating new insights into a case that is well known by the public and was covered extensively by the news media. It posed an interesting challenge for Miller and his team, as they had to contend with the expectations that audiences had about their recollections of these real-life events. Thankfully, Sorkin and Zallian's screenplay managed to go into more depth about Beane's innovations than you're likely to find in a standard documentary.
The 2017 biopic "Borg vs. McEnroe" covers a well-known moment in sports history in similar depth. The film chronicles the famous rivalry between the fiery American tennis player John McEnroe (Shia LaBeouf) and the reclusive Swedish champion Björn Borg (Sverrir Gudnason), culminating in their climactic match at the 1980 Wimbledon Championships. Similar to "Moneyball," the film does a great job at showing how the media crafted the narrative; Borg is competitive, but is particularly drawn into the rivalry after it becomes a major news story.
Fat City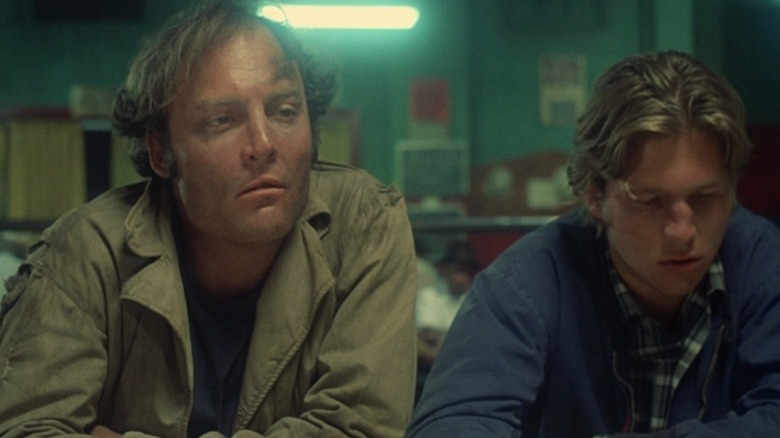 Columbia Pictures
"Moneyball" doesn't shy away from the unglamorous side of professional sports, as it depicts the various emotional struggles that Beane goes through as he attempts to relate to his players. While there's value in having a high-profile victory that can be celebrated, fleeting moments of success are usually found between the ongoing hardships of life on the road.
Few films depict the grueling nature of the life of a pro athlete better than the 1972 classic "Fat City," directed by the great John Huston. The film centers on the relationship between the former boxing champ-turned-trainer Billy Tully (Stacy Keach) and his protege, Ernie Munger (Jeff Bridges). Tully now lives in desperate conditions in Stockton, California, where he runs a gym, and sees a potential in Ernie that reminds him of his younger days. However, as he attempts to teach the young man, Tully risks leading Ernie down the same path that he followed to less than ideal results.