Steven Soderbergh's 'High Flying Bird' Sells To Netflix, Will Premiere In 2019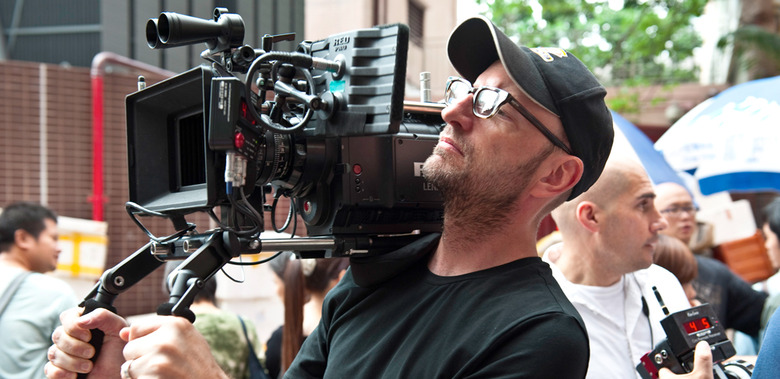 Steven Soderbergh has been busier than ever since coming out of his short-lived "retirement." In the past two years, he's released two feature films (Logan Lucky and Unsane) and seven episodes of the experimental HBO series Mosaic, and thankfully he's showing no signs of slowing down.
In fact, he's taking another unprecedented step in his career by working with Netflix for the first time. The streaming service has just purchased global distribution rights for Soderbergh's next movie, a sports drama called High Flying Bird, which stars actors like Andre Holland, Zazie Beetz, and Kyle MacLachlan. Learn more about the new project below.
According to Deadline, Netflix has scooped up the rights to High Flying Bird, the second movie in a row that Soderbergh shot on an iPhone. Here's the quick description of what the story, written by Moonlight's Tarell Alvin McCraney, is about:
The anticipated drama, set during a pro basketball lockout, follows a sports agent who pitches a rookie basketball client an intriguing and controversial business proposition.
I was already excited about this project because of Soderbergh's involvement, but I'm extra curious about what this controversial business proposition could be. Andre Holland (Moonlight, Castle Rock) plays the agent, Zazie Beetz (Deadpool 2, Atlanta) plays his right-hand woman, and UnREAL actor Melvin Gregg plays the basketball player. Kyle MacLachlan (Twin Peaks, Blue Velvet), Zachary Quinto (Star Trek, American Horror Story), Sonja Sohn (The Wire, The Chi), and Bill Duke (Predator, Mandy) round out the talented cast.
Netflix is reportedly planning to release High Flying Bird in 2019. Here's a quote from Soderbergh about the project going to Netflix:
"We had several strong options for distributing High Flying Bird, but to borrow the patois of the movie itself, this deal felt like a slam dunk and the perfect way for me to begin my relationship with Netflix as a director."
The director's wording at the end there, about beginning a relationship with Netflix as a director, sounds like this will be the first of many projects the two will collaborate on together. Back in May, Netflix showed interest in picking up the rights to Soderbergh's next film, a drama about the Panama Papers called The Laundromat that has Meryl Streep, Antonio Banderas, and Gary Oldman circling the starring roles. Last we heard, that project was aiming to begin filming sometime this fall and the Netflix deal hadn't gone through yet; maybe this official start of their relationship will make that deal easier to close soon.