20 Underrated Animated Movies You Need To Watch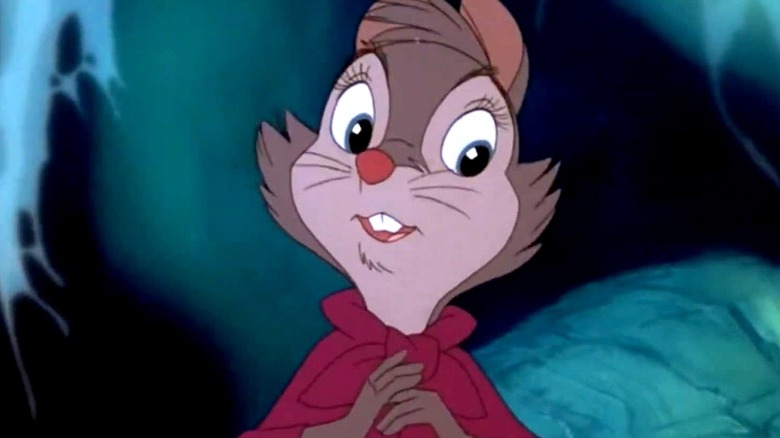 MGM/UA Entertainment Co.
The world of animation can be a vast one. With films that tackle adventure, romance, slice-of-life drama, and everything in between, the medium can open viewers' eyes to new perspectives in a variety of imaginative ways. Creators from around the world have turned to animation to tell their stories, resulting in some of the most beloved works in cinema history. And with the industry constantly inventing new techniques and technologies, even more unique and essential tales can be told to audiences across the globe.
Yet, even with the acclaim that many animated films receive, quite a few fall through the cracks. That's why it's time to give some much-needed respect to these underrated animated movies. Some come from big studios, others from independent filmmakers. But, no matter their origins, these movies should be seen not just as distractions for small children, but as impressive and crucial pieces of art that should be watched by all different types of audiences. Let's take a look at some underrated animated feature films that deserve your time.
Metropolis (2001)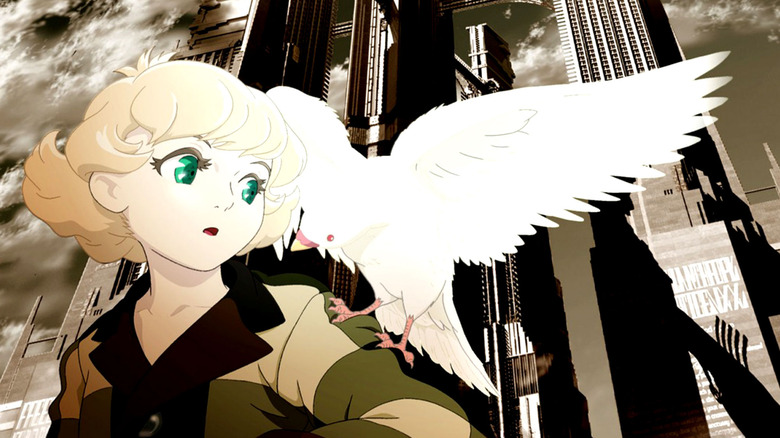 Toho
Based on the work of Osamu Tezuka, "Metropolis" focuses on a futuristic society where robots are blamed for taking all of the humans' jobs. There, Detective Shunsaku Ban and his young nephew, Kenichi, are on a mission to arrest Dr. Laughton, a scientist known for stealing organs. However, when Kenichi finds a mysterious girl inside Laughton's destroyed laboratory, Tima, his life is changed forever. The film follows the two young protagonists as they attempt to discover Tima's true purpose, along with her connections to the powerful Duke Red and his giant superweapon, the Ziggurat.
Directed by the legendary Rintaro, "Metropolis" was hailed as an impressive achievement back in 2001. It pioneered the use of CGI in anime and stood as a beautiful tribute to both Tezuka's work and Fritz Lang's groundbreaking movie of the same name. However, since its release 20 years ago, this beautiful film has fallen into obscurity. While that's partially due to its unavailability on streaming services, this under-appreciated gem also evokes a long-passed era of anime — "Metropolis" doesn't have the same flashy character designs and action sequences that new fans are accustomed to. Regardless, "Metropolis" deserves to be seen and respected for its achievements.
Vampire Hunter D: Bloodlust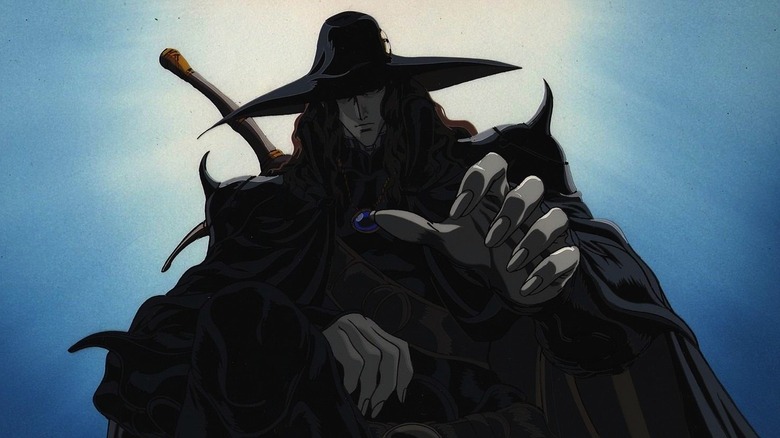 Nippon Herald Films
Helmed by the great Yoshiaki Kawajiri ("Nina Scroll", "Wicked City"), "Vampire Hunter D: Bloodlust" exists not only as an excellent sequel to the original "Vampire Hunter D" film but also as a stunning homage to the great westerns and anti-hero stories of cinema's past. The movie follows D, a half-human, half-vampire bounty hunter searching for a girl named Charlotte, who has been kidnapped by Meier Link, a powerful vampire. But when Charlotte and Meier's romantic connection is discovered, D finds himself at a moral crossroads that complicates everything.
With stunning art direction and fantastic character designs by Yutaka Minowa, this adaptation of Hideyuki Kikuchi's novel continues to impress over 20 years later. Not only is it the gold standard of "Vampire Hunter D" movies, but it shows Kawajiri's understanding of the action and horror genres perfectly. From some narrative and visual nods to Clint Eastwood films to some incredibly memorable on-screen battles, "Bloodlust" is an animated film that respects the history of the films that came before it while setting a new standard for the heights that anime can achieve.
The Book of Life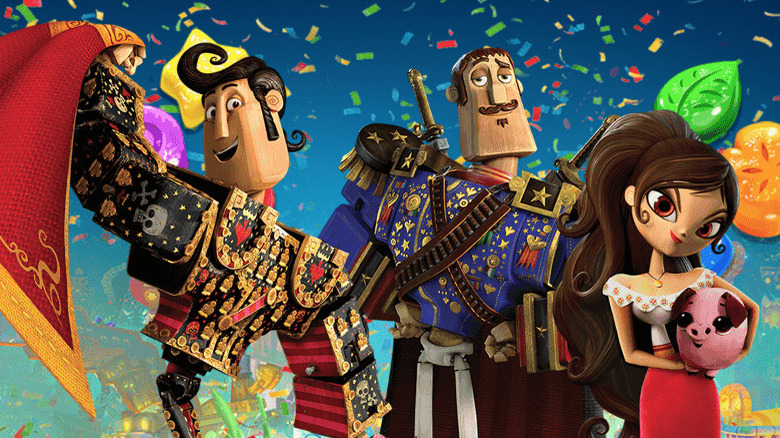 20th Century Fox
Released before Disney and Pixar's "Coco," 2014's "The Book of Life" is a quirky, visually engaging movie that tells a grand story.  A musically inclined bullfighter, Manolo (Diego Luna), and a sword-fighting hero, Joaquín (Channing Tatum), are both in love with their childhood friend, María (Zoe Saldana.) Two gods, La Muerte (Kate del Castillo) and her husband, Xibalba (Ron Perlman), decide to wager on which of the two men Maria will choose to marry. However, when Xibalba sees that Manolo and Maria are falling for each other, he dispatches a snake to kill Manolo, sending the young musician on a wild journey through the afterlife to prove himself.
While the score is not as memorable as that in "Coco," and the voice cast isn't as authentic, "The Book of Life" deserves a lot more credit than it gets. Not only does it sport an impressive array of talent behind the scenes, including writer-director Jorge R. Gutierrez, producer Guillermo del Toro, and musicians Gustavo Santaolalla and Paul Williams, but it tells a refreshingly romantic story that marches to the beat of its own animated drum. "The Book of Life" takes big risks that pay off, and should be respected for its unique visual achievements.
The Road to El Dorado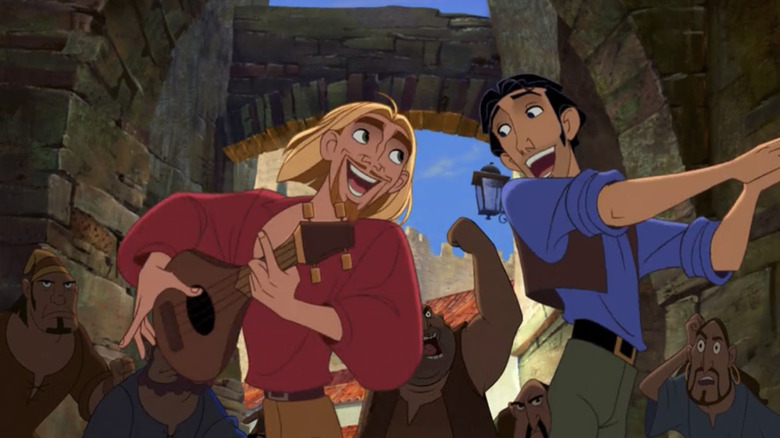 Dreamworks
One of the few hand-drawn animated films from Dreamworks Animation, "The Road to El Dorado" is an adventure story with exciting visuals and memorable characters. The story centers around the dynamic duo of Miguel (Kenneth Branagh) and Tulio (Kevin Kline), two con artists who find themselves on a mysterious island with the map to the city of El Dorado in their hands. Following various clues, they eventually find themselves in the legendary city of gold, where they are greeted as prophesied gods. With the help of the fast-thinking local Chel, the boys must keep up appearances so that the evil high priest, Tzekel-Kan, doesn't discover their true identities.
With luscious art direction and catchy music by Elton John, "The Road to El Dorado" evokes the best of classic Hollywood buddy films, especially those of the Bob Hope and Bing Crosby variety. Yet, the best aspect of this Bibo Bergeron and Don Paul-directed flick is its perfect balance of laughs and heart. "The Road to El Dorado" knows when to turn the dial up on the swashbuckling action, and when to slow down to focus on the emotions felt by its brilliant ensemble of characters. When combined with the efforts of its talented voice cast, "El Dorado" remains one of those movies that will always bring a smile to the viewer's face.
A Journey Through Fairyland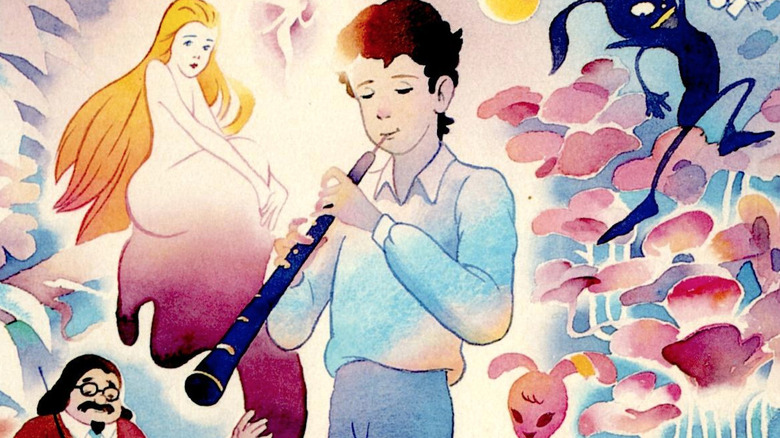 Sanrio
While most people know Sanrio for creating marketable characters like Hello Kitty, it also has a pretty fascinating history of producing animated films. One such project goes by many names, but western viewers likely know it best as "A Journey Through Fairyland." Directed by Masami Hata, this pastel fever dream is truly a sight to behold. Taking inspiration from Disney's "Fantasia," "A Journey Through Fairyland" focuses on a young man, Michael, who becomes consumed by doubt when it comes to his musical aspirations. When he meets a beautiful fairy, Florence, he's taken on a wild adventure on which he must confront both the forces of evil and his inner demons.
"A Journey Through Fairyland" is simple in its dialogue, but complex in its visual design. It represents the best of the '80s anime industry, while also showcasing the changing aesthetic styles of the time. With intense moments of genuine drama and the bizarre inclusion of Sanrio's cast of kawaii characters, it is a movie that must be seen to be believed. And yet, despite its weirder moments, "A Journey Through Fairyland" is an important piece of anime history that deserves a place alongside other classics.
Balto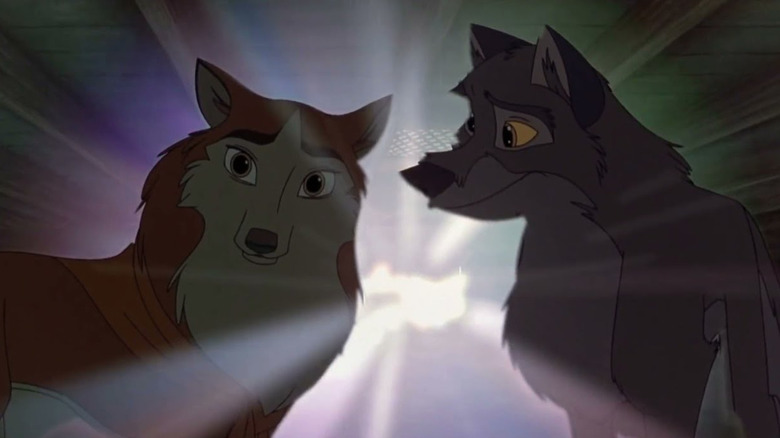 Universal Pictures
Forgotten by many, Amblimation was the short-lived passion project of Steven Spielberg. Starting with the moderately successful "An American Tail: Fievel Goes West" and followed by the flawed "We're Back," Amblimation wouldn't survive past 1997, but its last feature film, "Balto," is arguably its most under-appreciated on a technical level (even though it spawned many direct-to-video sequels). The film adapts the real-life story of the heroic sled dog who helped get the diphtheria antitoxin to Nome, Alaska, and while the narrative is full of typical '90s flourishes, it has a down-to-earth nature that still sticks with audiences.
Featuring a talented voice cast that includes Kevin Bacon, Bob Hoskins, and Phil Collins, "Balto" is often remembered for its heartwarming characters. However, it makes this list for two simple reasons: its memorable, emotionally charged, and almost dialog-free sequences, and its underrated James Horner score. The animation is top-notch, Horner's melodies swell, and everything comes together wonderfully. Sure, it might not be the most mature film on this list, but "Balto" is more than just a distraction for kids — it's also a compelling piece of art.
Atlantis: The Lost Empire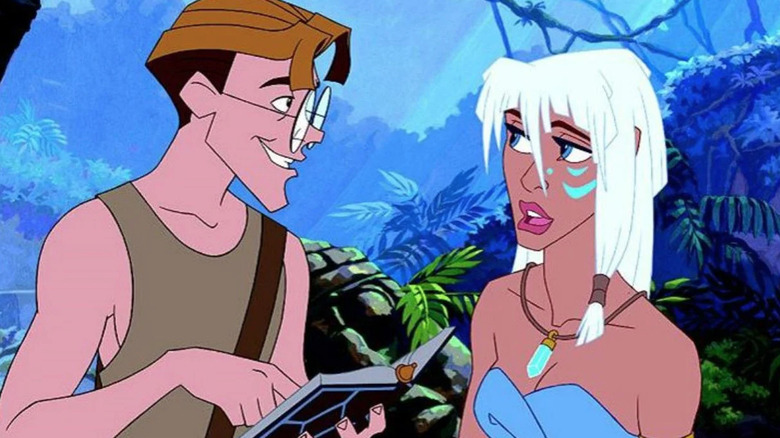 Disney
Considered one of Walt Disney Animation's riskiest productions, "Atlantis: The Lost Empire" is a pulp-inspired adventure that takes inspiration from the great action films of the past. The film tells the story of Milo James Thatch (Michael J. Fox), a nerdy linguist who is determined to find the lost city of Atlantis. When his late grandfather's friend, Preston B. Whitmore (John Mahoney), finances his expedition, Milo finds himself on a grand journey, during which he meets quirky crew members and a warrior princess and discovers the true power behind Atlantis.
Though flawed in its pacing and in certain character arcs, "Atlantis: The Lost Empire" is one of Disney Animation's most mature films. It's a story that could have been told using live-action, but that somehow looks even more beautiful when animated. It combines the talents of Disney's best artists at the time, taking inspiration from both anime and comic books ("Hellboy" creator Mike Mignola even served as a character design consultant). But the best aspect of "Atlantis" is how it evokes the best elements of classic adventure tales, making it a beautiful tribute to the genre.
The Iron Giant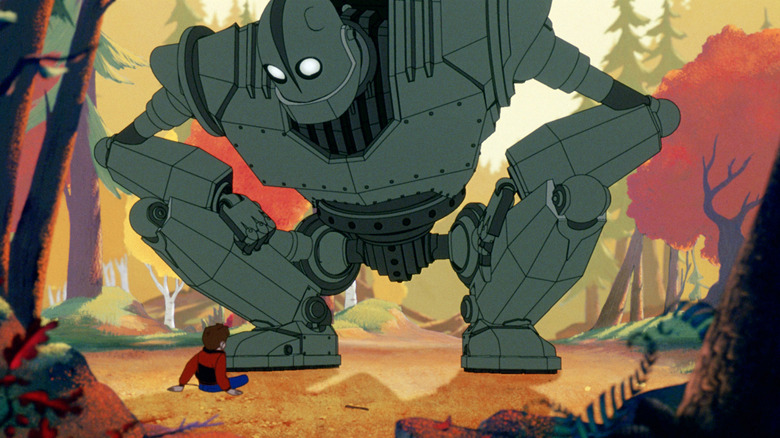 Warner Bros.
Loosely based on the 1968 children's book "The Iron Man," Brad Bird's "The Iron Giant" is an animated gem that has gained a significant cult following. It details the adventures of Hogarth Hughes (Eli Marienthal), a young boy who discovers a mysterious metal-eating robot (Vin Diesel) in the woods. What follows is a fairly typical story of the friendship that blossoms between the pair, complete with parental anxieties, intervention by the military, and plenty of other drama. And yet, "The Iron Giant" stands above many similar tales because of the maturity of its themes.
From the Iron Giant's vague, militaristic origins to the movie's powerful exploration of death and Cold War paranoia, Brad Bird's masterpiece is far from a typical family film. While many might argue that "The Iron Giant" isn't really underrated, this is still a movie that not enough people have seen — it's a film that should be ranked among the greatest animated classics of all time.
Batman: Mask of the Phantasm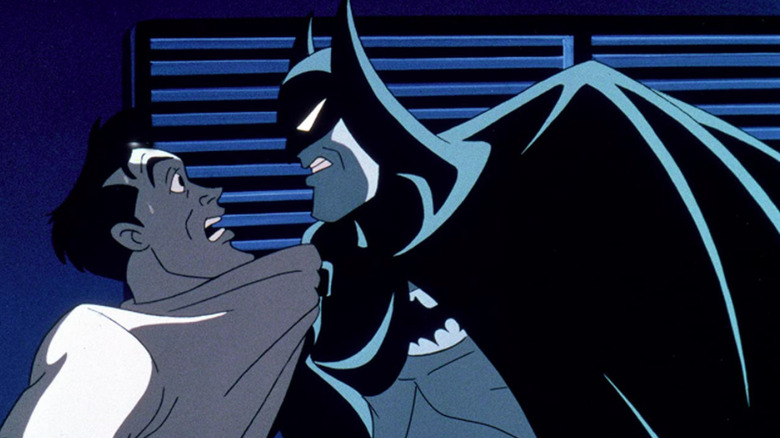 Warner Bros.
Only a few comic book movies are criminally underrated. "Batman: Mask of the Phantasm" is absolutely one of them. Not only does it contain magnificent visuals, a stunning musical score, and a delicate use of CGI, but it's also one of the most superb Batman stories to ever exist. In the film, the Dark Knight gets mixed up with a series of mob-related murders in Gotham. Simultaneously, a figure from Bruce's past returns, making his already complicated life more complex than ever. Romance, drama, and more Gothic vigilante mayhem ensues.
Eric Radomski and Bruce Timm's beautifully directed film takes Batman on a much more down-to-earth journey than his live-action theatrical films. Much of the action (aside from the bold finale) is intimate and small-scale, reflecting the emotional journey that Bruce Wayne goes on throughout "Mask of the Phantasm." When mixed with the art deco aesthetic perfected by "Batman: The Animated Series" and the haunting melodies of Shirley Walker, it really is the ultimate Batman movie.
Kubo and the Two Strings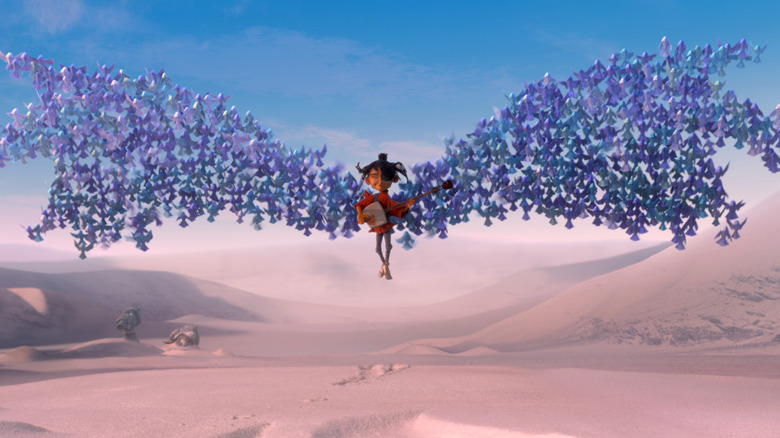 Focus Features
When it comes to stop-motion animation, there are a number of classics, but Laika's "Kubo and the Two Strings" holds a unique and special place in animation history. Filled with jaw-dropping images and a classic story structure, the movie follows the titular hero on his quest to battle his evil, all-powerful family members. Along the way, he befriends unlikely allies and unlocks aspects of his past. The end result is nothing short of pure movie magic.
Keep in mind that the plot description above is simplified. "Kubo and the Two Strings" weaves an inventive tale of family drama, which would require many more words to detail correctly. In this case, though, the less information you have going in, the better. It's also a film full of tiny visual details. From the leaf-covered boat to the intricate monsters, this is a production that deserves to be examined frame by frame. Considering how laborious stop-motion animation is, the handcrafted world is nothing short of awe-inspiring.
The Secret of NIMH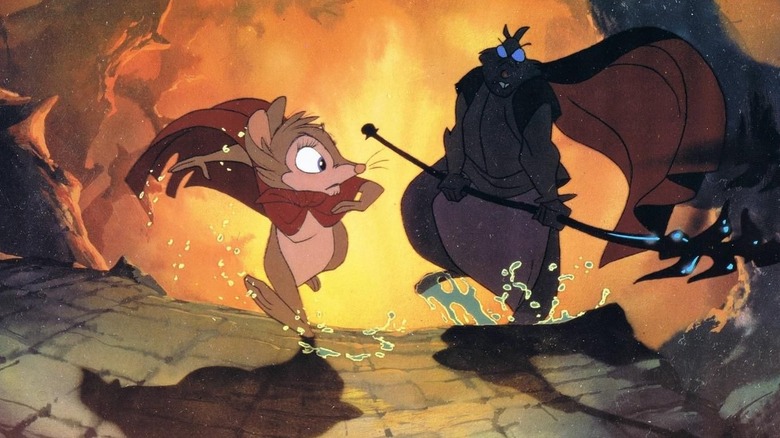 MGM/UA Entertainment Co.
Considered by many to be animator Don Bluth's crowning achievement, "The Secret of NIMH" weaves a tale of adventure, mystery, science, and magic that is still beloved to this day. Mrs. Brisby, a field mouse, goes on a quest to seek the help of the rats of NIMH, a secret society of hyper-intelligent creatures. There she hopes that the rodents can protect her family, and keep their home from being destroyed. However, before that happens, Mrs. Brisby must prove her courage and save the ones she loves from danger.
Bluth's directorial debut is a masterpiece filled with haunting yet beautiful imagery from beginning to end. Although it has its weak points, it excels when it is allowed to be a dramatic piece, rather than a distraction for children. While "The Secret of NIMH" has a devoted fanbase among viewers of a certain age, it is still a film that not nearly enough people have enjoyed, making it a clear candidate for this list.
Rise of the Guardians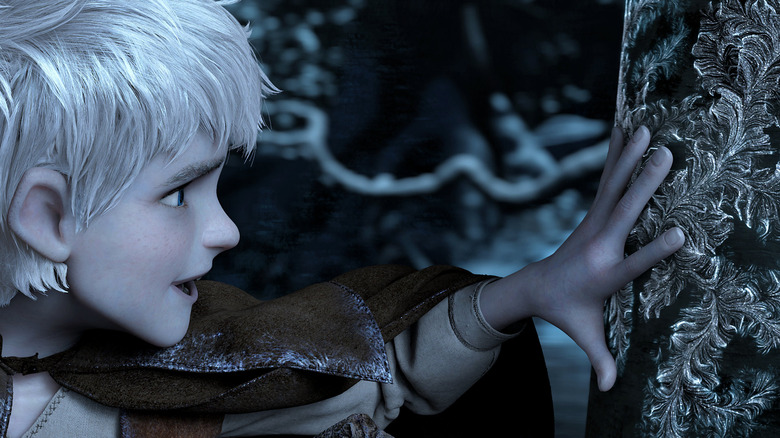 Dreamworks
Serving as a sequel to William Joyce's "Guardians" stories, Peter Ramsey's "Rise of the Guardians" is a heartwarming tale that's full of whimsy, with just a touch of drama. The film focuses on Jack Frost, a mischievous character who's reluctant to become a new Guardian. But when the evil Pitch Black returns to give nightmares to the world's children, Jack must join Nicholas St. North, Bunny, the Tooth Fairy, and the Sandman to protect kids' dreams while also discovering his true purpose.
Though it's a silly concept on paper, "Rise of the Guardians" is one of the few Dreamworks movies that's earnest from top to bottom. Unlike the "Shrek" franchise, for example, it never mocks itself, and it wears its heart on its sleeve. Plus, it has one of the best casts of any of the movies on this list — Chris Pine's performance as Jack in particular doesn't get anywhere near the amount of recognition it should. When paired with a ravishing score by the magnificent Alexandre Desplat, "Rise of the Guardians" never fails to deliver just the right amount of sweetness, drama, and genuine emotion.
The Hunchback of Notre Dame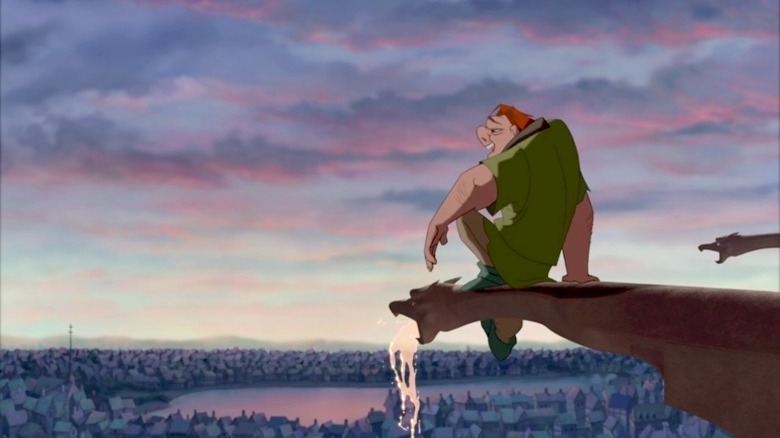 Disney
Though its reputation has improved as the decades have passed, Disney's "The Hunchback of Notre Dame" is easily one of the most underrated films in the studio's animated catalog. Serving as a vague adaptation of the classic Victor Hugo novel, the House of Mouse's take on the material is a mixed bag. It's hard to ignore the wisecracking gargoyles and the out-of-place (and increasingly dated) pop culture references. However, when those awkward elements are pushed to the side, "The Hunchback of Notre Dame" is a powerful examination of themes like acceptance, inclusion, and understanding.
The true star of the movie is, of course, the animation. From the unforgettable visuals during the "Hellfire" musical number to the sweeping vistas as Quasimodo saves Esmeralda, "Hunchback" proved the scope of what Disney could accomplish when its hand-drawn animation program was at its peak. With a cast of believable human characters, the narrative's real-world elements only become more poignant as the years pass, too. Sure, some will argue that this movie is too adult for children and too childish for adults, but if you're willing to give this flawed yet fascinating film a chance, the finished product is truly a sight to behold.
Little Nemo: Adventures in Slumberland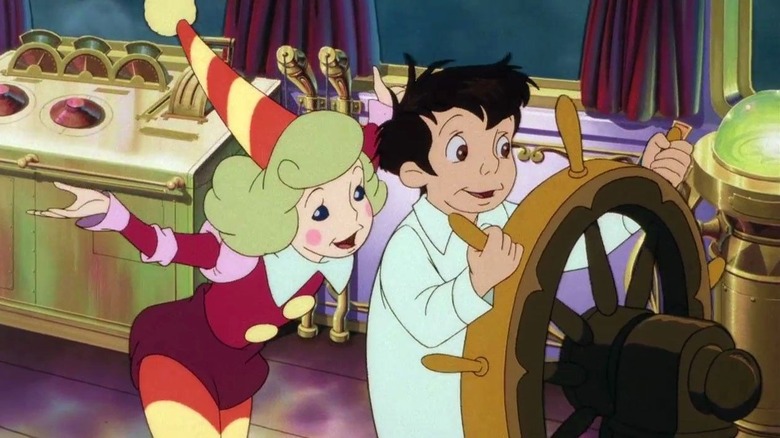 Hemdale Film Corporation
A Japanese-American co-production, "Little Nemo: Adventures in Slumberland" is a collaborative effort like none other. The film, directed by both Masami Hata and William Hurtz, depicts the adventures of the titular protagonist as he journeys to Slumberland to become the heir to the kingdom's throne. He meets new friends, fights off the evil Nightmare King, and learns important lessons along the way. With stunning narration and a somewhat clumsy structure, this fascinating movie has gained quite the cult following over the years.
From its majestic set designs to its pastel-filled art direction, "Little Nemo" is about as dreamy as it can get. Sure, the film had a bumpy road to the finish line, with talent dropping from the project left and right. But even with these famous hurdles, this charming slice of late-'80s nostalgia proves that hand-drawn animation has no limits, able to take you to luscious, well-realized fantasy worlds while also telling messy (but adorable) stories.
The Last Unicorn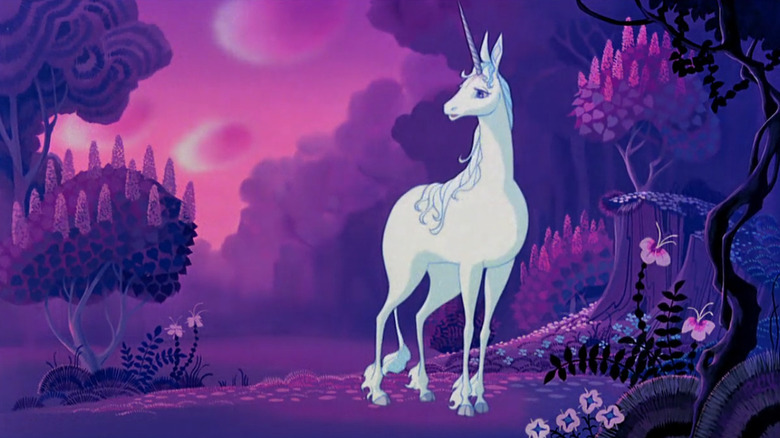 Lions Gate Films
With many talented folks behind it, "The Last Unicorn" is a treasure. Via a screenplay written by the original novel's author, Peter S. Beagle, the film tells the story of a unicorn who believes that she is the last of her kind, only to set out on a quest when she learns that she may not be as alone as she thinks she is. Along the way, she gains new allies and fearsome foes, learns of love and loss, and discovers aspects of herself that she never could have imagined.
Brought to life by Topcraft, which would later go on to become part of Studio Ghibli, "The Last Unicorn" is one of the most unique-looking films ever produced. From its curvy lines to its pastel hues, there's really no animated movie on this list (or any other) that has the same visual flair. Yet none of that would work without the beautiful, mature tale at its center, which breaks the demographic barrier in more ways than one. No matter what age you are when you see "The Last Unicorn," this haunting yet lovely tale of fantasy and heartbreak should make you quite emotional.
The Great Mouse Detective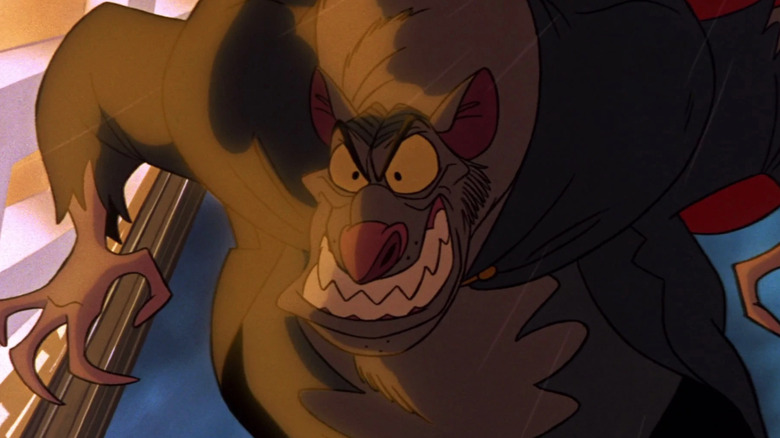 Disney
Inspired by the tales of Sherlock Holmes, Disney's "The Great Mouse Detective" is the definition of cozy. With its cushion-covered set design and cheese-crumpet-filled details, it is a film as pleasing as a cup of hot cocoa. But don't let that description fool you — this adaptation of Eve Titus' novels doesn't hold back when it comes to action or snark, particularly when it comes to the interactions between its hero and its villain.
In the movie, the famous Basil of Baker Street (Barry Ingham) must go on a mouse-sized quest to save a young girl's missing father from the clutches of his arch-enemy, Ratigan (Vincent Price), and it's the banter between the two that makes for the film's most entertaining moments. But the action is quite good, too — there's nothing quite as thrilling as the film's groundbreaking clock tower fight, which revolutionized the animation world by using CGI to create a massive and memorable set piece. This, alongside its other remarkable elements, makes "The Great Mouse Detective" a significant part of Disney history.
The Prince of Egypt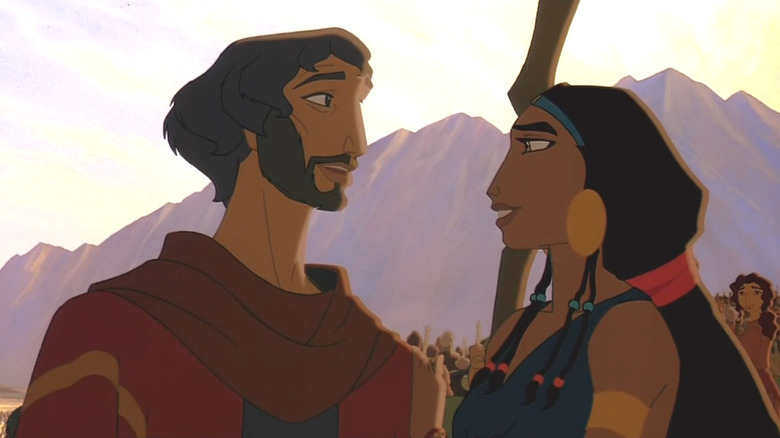 Dreamworks
Though some would argue it is far from an underrated film, Dreamworks' "The Prince of Egypt" deserves more credit. While it has recently gained some TikTok fame and remains a significant piece of millennial nostalgia, this remarkable movie stands the test of time. Adapting the Book of Exodus, the film explores the complex tale of Moses as he famously leads the Jews out of Egypt. With its breathtaking art direction and luscious animation, this is a film that respects its source material in the most beautiful of ways.
Featuring a remarkable voice cast that includes Ralph Fiennes, Michelle Pfeiffer, and Val Kilmer and a stunning score by Hans Zimmer, with songs by Stephen Schwartz, "The Prince of Egypt" is a project filled with talent from top to bottom. But it's the way that the filmmakers combine jaw-dropping spectacles with more down-to-earth touches that remains the most significant element of this already great movie. From the parting of the Red Sea to the tender moments between Moses and Tzipporah, each frame of this movie could be hung in an art gallery. It is that impressive.
Only Yesterday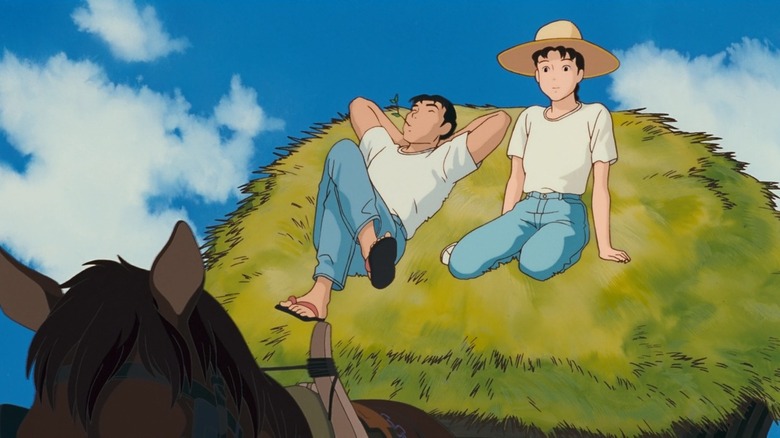 Studio Ghibli
Helmed by the lesser-known Studio Ghibli director, Isao Takahata, "Only Yesterday" is a journey through the forests of nostalgia for both its lead character and its audience. Based on the manga by Hotaru Okamoto and Yuko Tone, the film follows Taeko Okajima, a 27-year-old, unmarried businesswoman. As Taeko travels from the big city to the rural countryside during the summer, she reflects on her youth, wondering if her younger self would be impressed with the woman she's become. The answer she finds is one filled with love, tears, and a Japanese version of the famous song, "The Rose."
Though many would consider "Only Yesterday" a story more suited for live-action, Takahata and the team at Studio Ghibli make Taeko's hilarious and relatable stories a delight to watch. Takahata perfectly realizes the dreamlike world of memories and the bitter regret that one sometimes feels when recalling past experiences. With its tear-inducing finale, there's no denying that "Only Yesterday" is a unique slice-of-life film that brings the complicated process of growing up to life in some remarkable ways.
Cats Don't Dance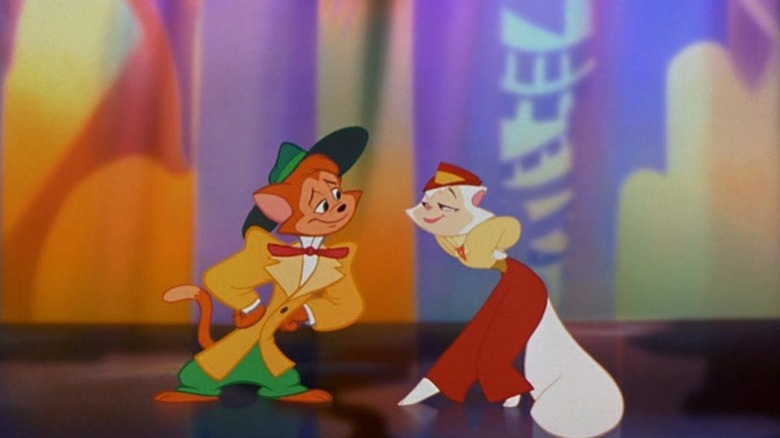 Warner Bros.
Inspired by the musicals of the '30s and '40s, the Turner Feature Animation film "Cats Don't Dance" was way ahead of its time. In the movie, a wide-eyed cat named Danny comes to Hollywood with dreams of becoming a star, but when he encounters Hollywood's biggest celebrity, Darla Dimple, Danny realizes that Tinseltown is more brutal than the movies made it out to be. And yet, even with Darla throwing every obstacle in his way, Danny is determined to prove that "nothing's gonna stop" him and his animal friends from showcasing their talents.
With a story that depicts the struggles around inclusion and discrimination in Hollywood, "Cats Don't Dance" walked so that "Zootopia" could run. But even with that obvious comparison point, this Mark Dindal-directed film stands on its own toe-tapping feet. It features a color palette as bright as its lead characters' personality, clever lighting, and some of the most inventive musical sequences in any animated movie of its era. Ultimately, though, it's the film's sense of humor and heart of gold that viewers will treasure for decades to come.
Millennium Actress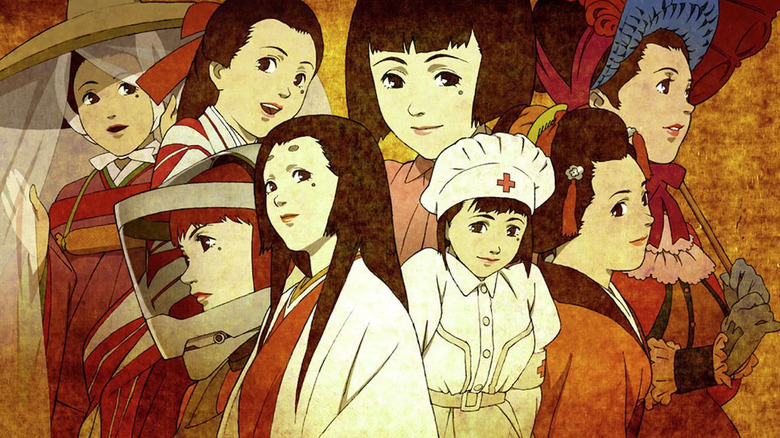 KlockWorx
Directed by the late filmmaker Satoshi Kon, "Millennium Actress" is a remarkable tribute to the movies and the history of Japanese cinema. In the film, viewers follow the fictional biography of Chiyoko Fujiwara, a fading film actress. As two documentary filmmakers interview her about her life, they relive incredible memories along with her. Yet, as her stories progress, a mysterious part of Chiyoko's past begins to unravel, resulting in one of the most romantic and heartbreaking stories to ever be animated.
Though many anime fans know of Kon's small yet fantastic filmography, not enough people have taken the time to see "Millennium Actress." Sure, it doesn't have the over-the-top visuals of "Paprika" or the Hitchcock-inspired thriller elements of "Perfect Blue," but "Millennium Actress" is a personal, down-to-earth movie from Kon, one that flourishes both in the small details of both its narrative and also its stunning animation. Yet nothing quite compares to its final sequence, a moment that will remind you of the magic of lost love, the movies, and everything in between.