Nightmare Alley Has A Hidden Easter Egg Referencing An Earlier Guillermo Del Toro Movie [Exclusive]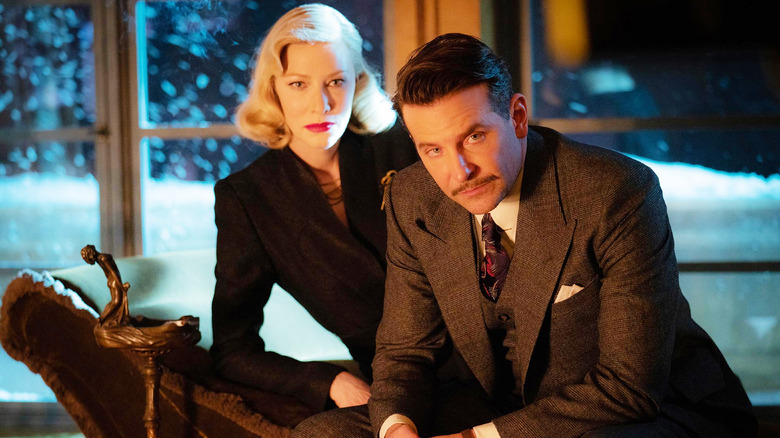 Searchlight Pictures
Guillermo del Toro has seen his directing career flourish since he first set foot in Hollywood in the 1990s. He's gone on to win a pair of Oscars (including one for Best Picture) for his 2017 monster romance "The Shape of Water" and garnered a loyal fanbase for his efforts on movies as varied in scope and genre as "Pacific Rim," "Crimson Peak," and most recently "Nightmare Alley." 
Yet, it didn't start that way. 1997's "Mimic," which marked del Toro's first English-language movie, bombed at the box office and left del Toro disillusioned after producer Bob Weinstein (brother of Harvey Weinstein) walked on set and berated him about how to make a film during production. In a 2018 interview with The Independent, del Toro described his time working on "Mimic" as being a "horrible, horrible, horrible experience."
As bad as the experience was for him, del Toro never held any ill will against his "Mimic" production team and went on to collaborate with many of its members on other projects. Case in point: "Mimic" art director Tamara Deverell served as the production designer on del Toro's vampire series "The Strain" (which he co-created with Chuck Hogan) in the 2010s and reunited with del Toro yet again on "Nightmare Alley." What's more, the noir drama even includes an Easter egg commemorating their efforts on "Mimic" in the form of a "Jesus Saves" neon sign that shows up at one point.
Jesus Doesn't Save Everybody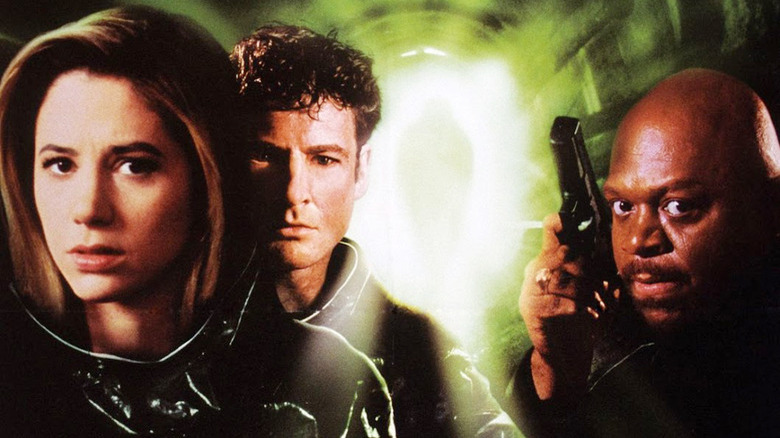 Miramax Films
Deverell revealed the story behind the "Mimic" Easter egg in an interview with /Film's Jack Giroux. She also explained how it turned out a little differently than planned, yet unexpectedly wound up serving "Nightmare Alley" for the better.
"The 'Jesus Saves' neon that we built was actually a little bit of an Easter egg. Years ago, I worked with Guillermo on a movie called 'Mimic.' We built that same cross, that same 'Jesus Saves,' very similar. It played where this priest is running away from the creature monster and falls with this big neon sign in the background. When Guillermo said, 'Let's do that sign again,' I was like, 'Oh my God, I can't believe I'm designing and building that sign again.' It was fun to do it again. 

"On the night they were shooting it actually fritzed. They had rain towers and a lot of rain and it fritzed and I was getting calls from the set, having already opened the set and gone home for the night, 'The sign's not working!' I'm like, "Well I'm not an electrician. I don't know!" So apparently it went on the fritz and they shot the scene without it. They said, 'Okay, the VFX will shoot it and they'll fix it after.' And then as soon as they finished shooting the scene, one of the electricians took the plug and fiddled with it and it went on. The whole thing was working the whole time. So I was like, 'Oh my God, I can't believe this happened.' We all felt really bad. 

"Then I noticed in the film last night, he left it off. He let it fritz and go off and I thought, 'Oh my God, that is so brilliant because, really, it shows sort of the demise of religion and the demise of morality, bringing this dead guy down and Jesus saves, but who's Jesus saving?" Really, you're asking that question and [Bradley Cooper's character] Stan is beyond saving at that point. It's one of those moments in the film where you go, 'Morally, this guy, he's going down a deep dark alley now.'"
Between this "Nightmare Alley" Easter egg and the release of his "Mimic" director's cut in 2011, it seems del Toro has not only gotten some closure on his "horrible, horrible, horrible experience," he's even able to look back fondly on the better parts of his otherwise unpleasant introduction to Hollywood.
"Nightmare Alley" is now playing in theaters.