Brazen: Release Date, Cast, And More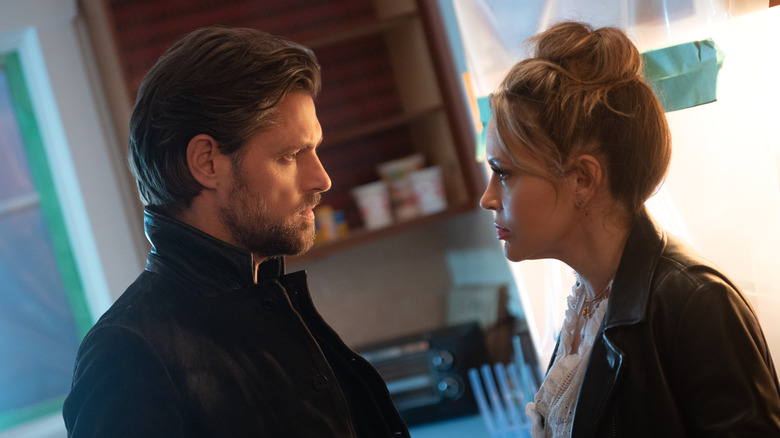 Netflix
(Welcome to ...And More, our no-frills, zero B.S. guide to when and where you can watch upcoming movies and shows, and everything else you could possibly stand to know.)
What makes crime scenes such great spots for romance? For some reason, many a romantic thriller begins with a death that sends two determined sleuths on a careening crash course into each other's lives. This situation plays out in "Brazen," an upcoming crime thriller with a steamy, romantic premise. The story pairs a detective with a novelist, two people attempting to unearth the secrets behind a mysterious murder — and based on our glimpses at the promo material, their relationship may go well beyond the professional. And that's just the tip of the iceberg when it comes to what this Netflix original has in store: After all, what's a romance without a serial killer and a complex conspiracy to accompany it?

Brazen Release Date and Where To Watch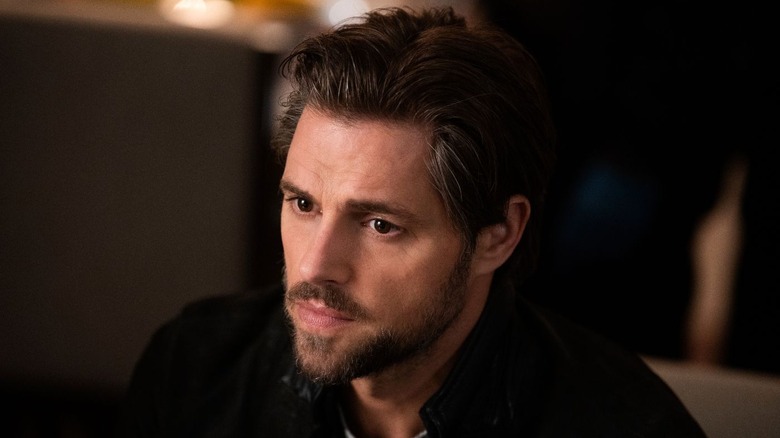 Netflix
Per The Hollywood Reporter, plans for "Brazen" were announced in January of this year alongside news of Alyssa Milano's casting in the main role. Filming took place in early 2021, and now the film is set to arrive exclusively to Netflix on January 13, 2022. The film has pretty similar company on the streamer, especially in terms of recent Netflix originals like "Behind Her Eyes" and even the upcoming series, "The Woman in the House Across the Street from the Girl in the Window." The latter pokes fun at the tropes of mystery unraveling of psychological thrillers, while "Behind Her Eyes" added a supernatural twist to the genre. "Brazen" shares many of the same tropes and approaches — steamy romance and perilous crime solving — but appears much more earnest.
What is Brazen?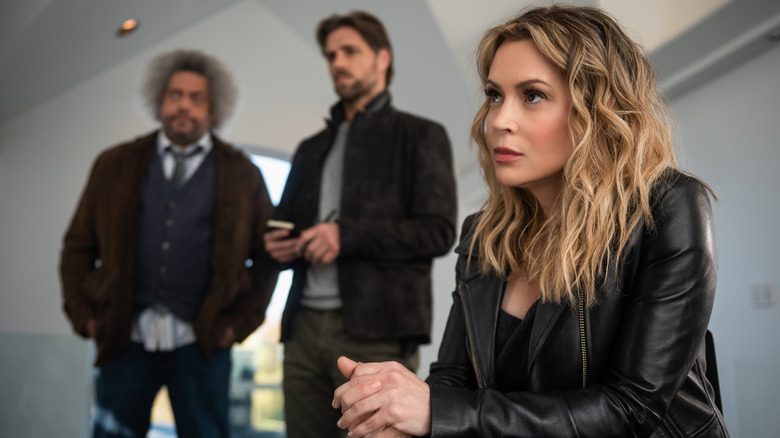 Netflix
"Brazen" promises to take its audience down a mysteriously winding rabbit hole as Alyssa Milano steps into the role of Grace McCabe, a mystery novelist wrapped up in a real-life murder investigation. Per the official logline from Netflix, "Prominent mystery writer and crime expert Grace hurries back to her family home in Washington, D.C. because her estranged sister summons her. When her sister is killed and her double life as a webcam performer is revealed, Grace ignores the warnings of cool-headed detective Ed and gets involved in the case." The film is based on the novel "Brazen Virtues," a mystery thriller from Nora Roberts — a name you may recognize because her many thrillers and romance novels tend to climb The New York Times bestsellers list. As the Netflix description indicates, the story follows Grace home to discover her sister's unfortunate fate. From there, she becomes obsessed with cracking the case and quickly goes down a dangerous path towards the answers.
Brazen Director, Writer and More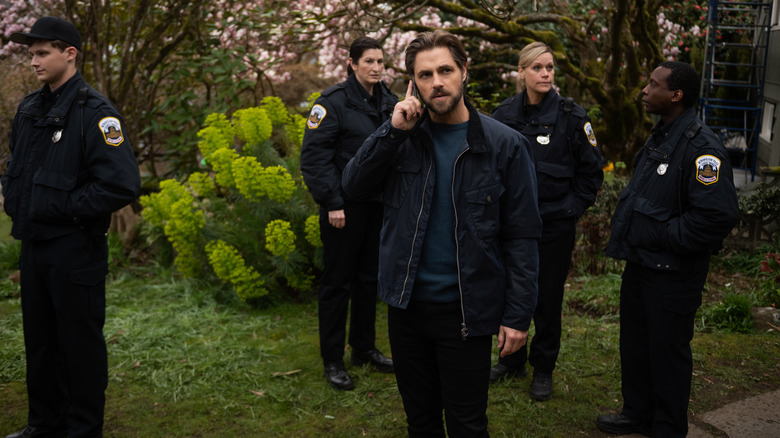 Netflix
"Brazen" comes from director Monika Mitchell, whose previous work for Netflix includes the Vanessa Hudgens Christmas flick "The Knight Before Christmas" and several episodes of "Virgin River," a romantic drama now three seasons into its run, with a fourth and fifth season on the way. Both projects show off Mitchell's experience when it comes to onscreen romance, though "Brazen" injects a lot more tension into the equation. Donald Martin ("Queen Bees," "Milton's Secret") and Suzette Couture ("Conspiracy of Silence") penned the screenplay for the film, adapting its story from the Nora Roberts novel.
Brazen Trailer and Synopsis
"After a demanding book tour, superstar mystery novelist Grace McCabe (Alyssa Milano) decides to visit her sister, Kathleen, who's embroiled in a custody battle after a bitter divorce. Arriving in D.C., Grace is shocked to find Kathleen living in a run-down neighborhood and, hoping to afford a hotshot lawyer, supplementing her meager teacher's salary by moonlighting as a phone sex operator. According to Kathleen, Fantasy, Inc., guarantees its employees ironclad anonymity. But Grace has her doubts—which are confirmed one horrifying cherry-blossom-scented night when one of Fantasy, Inc.'s operators is murdered. As Grace is drawn to help solve the crime, her life turns into a scene from one of her own books. Yet as one of her biggest fans, investigator Ed Jackson, warns her: This isn't fiction. Real people die—and Grace could be next. For she's setting a trap for a killer more twisted than anything she could imagine. And not even Ed may be able to protect her from a rendezvous with lust and death."
Brazen Cast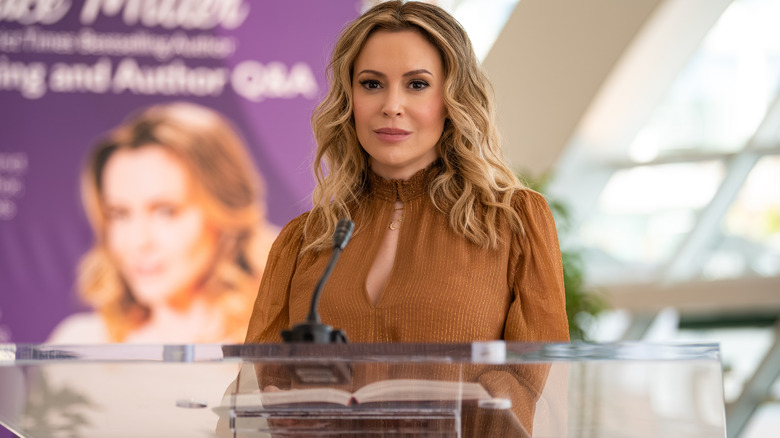 Netflix
Alyssa Milano — known for her roles in "Charmed," "Who's the Boss," "Melrose Place" and more — is the star of "Brazen" as Grace McCabe, a superstar novelist in search of peace and quiet who finds herself embroiled in a murder investigation. Milano's casting was actually the source of some backlash as conservative fans levied complaints about her openly liberal social media posts. But author Nora Roberts offered her support of the casting choice, saying "I'm delighted Ms. Milano's been cast in the adaptation of Brazen Virtue for Netflix." Roberts added,
"To say I was stunned and appalled by some of the comments regarding the announcement on my Facebook page is a wild understatement. I spoke my piece, posted it publicly, and stand by it and Ms. Milano. To those who state they'll never read my work again due to differing political viewpoints and opinions, or because a talented, experienced actor will play a role, I can only say that's their choice. I believe Ms. Milano and I will survive it."
Starring opposite Milano is Sam Page, an actor I'll forever remember as Joan's awful husband for an unfortunate couple seasons of "Mad Men." Page has a solid TV resume, also known for roles on "Gossip Girl," "Unbreakable Kimmy Schmidt," and "House of Cards," among others. In "Brazen," he'll play a detective named Ed, who repeatedly warns Milano's Grace not to get involved with the investigation — warnings which clearly go ignored. The cast also includes Malachi Weir, Barry W. Levy, Colleen Wheeler, Lossen Chambers, and Matthew Finlan.