Cool Stuff: Cobra Kai Launches Merchandise Line Including Funko Pops And Specialty Coffee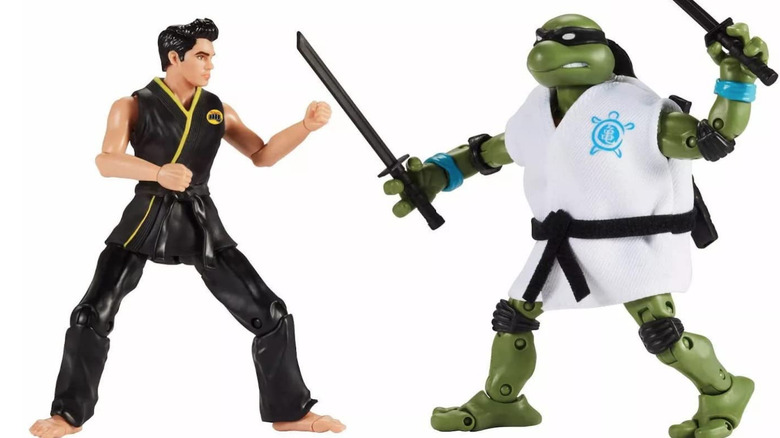 Amazon
Put a hash brown on it and send it to the internet! Sony Pictures announced some rad news just before the anticipated fourth season premiere of "Cobra Kai" that includes a line of top-notch merchandise. They're slated to have anything from Funko Pop characters to Halloween costumes and comic books. 
One of the most exciting products includes a Playmates 2-pack doll (or action figure if you want to sound like more of a badass) set featuring a notable "Cobra Kai" character and one the Teenage Mutant Ninja Turtles. For example, Michelangelo squares off against Daniel LaRusso of Miyagi-Do, Leonardo battles against Miguel Diaz, Raphael is paired with John Kreese and Johnny Lawrence takes on Donatello. Each pair comes beautifully packaged and positioned ready to fight. Since Playmates is known for their exquisite sculpts and flexibility, these action figures will be a lot of fun to play with. And did y'all see how clean and detailed those costumes are? 
Once you've worked up a thirst reenacting scenes from your favorite "TMNT" or "Cobra Kai" episode, you can help yourself to a beverage that is being released before the season 4 premiere as well. Sony partnered with HERO Beverage Co. to produce a specialty coffee brand centered around the HERO (Help Everyone Remain Operational) brand and "Cobra Kai". That'll surely put a kick into your day! Alright, that's not my finest line, but I'm channeling my boy Johnny Lawrence here. 
Cobra Kai Never Dies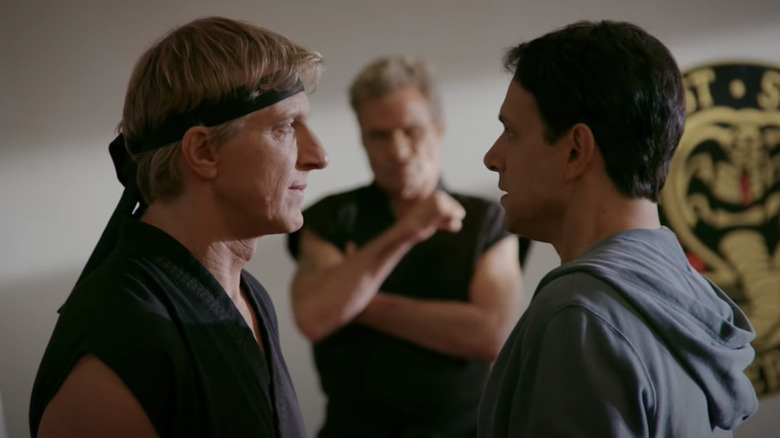 Netflix
As a huge fan of the series, I'm stoked that there are some exciting merchandise coming out ahead of season 4. You're damn right that I will binge "Cobra Kai" as soon as it drops on Netflix. The Playmates action figure mash-up makes me reminiscent of my childhood and all the action figures that I would play with as a kid. Yes, I had a few TMNT ones as well as a lot of Batman and Terminator figures. This style of action figure brings back a lot of fun memories, and it's cool to see the "Cobra Kai" universe expand in such a nostalgic way. While Funko Pops are really popular and adorable, there's something about having a tangible fight between two action figures and being able to play with them by moving their limbs and utilizing their accessories. So, I think kids are going to love these! Adults will probably love to stare at them but be apprehensive to ever take them out of the box, since they are limited edition.
Since I'm somewhat of a recluse these days, I could easily settle for a "Cobra Kai" novelization and coffee mug (with that HERO blend to try out). Or maybe a pillow of Johnny Lawrence's face on it because I'm definitely part of that fan club. Regardless, I can't wait for "Cobra Kai" season 4 and it makes total sense to cross this series over into the TMNT universe given the '80s nostalgia and love of martial arts.
Find out what happens between Cobra Kai and Miyagi-Do on December 31st when "Cobra Kai" season 4 releases on Netflix.