Legion Of Super-Heroes Animated Series In The Works At HBO Max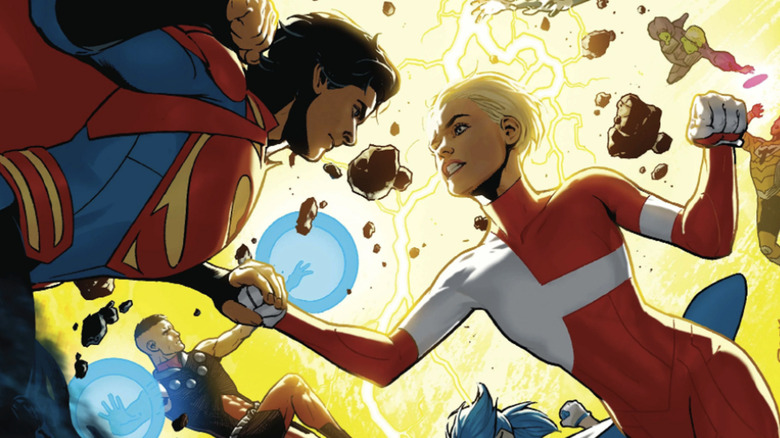 DC Comics
We may receive a commission on purchases made from links.
"You're about to experience a very rare thing in my newsletter, some actual news." 
That's how Brian Michael Bendis, the Eisner Award-winning comic book writer and artist, opened a recent edition of his Jinxworld newsletter this week, wherein there are farewells, new beginnings, and a bit of well-earned humble-bragging for the Ultimate Marvel Universe custodian. Eisner confirmed that "Justice League 74" will be his final contribution to the main series run, through a double-sized "Justice League Annual" which heralds Wonder Woman's return to the League and the appearance of O.M.A.C. (the One-Man Army Corps). Bendis further confirms that the annual "ties very significantly" into the Justice League/Legion of Superheroes crossover, "The Gold Lantern Saga." It's an exciting time for JL fans, indeed.
But that's not the big news.
After handing in a "well-received" pilot for the animated adaptation of Bendis and David Mack's spy comic "Cover," HBO wanted to know what else the 2010 Inkpot Award winner had up his sleeve, and he blurted out "Legion!" before he could control himself. It happens to all of us. But the television network didn't balk at the idea. Consequently, Bendis made an announcement:
HBO Max has put me to work on a LEGION OF SUPERHEROES TV SHOW.

At the moment it is being developed as an adult animated show. Can you tell I am jumping up and down about this? I've been working on it for a while and last week I was sent to the next phase.

"Hey, bald dude! Didn't you just last newsletter tell us that you were anti-bragging? That you had somehow matured out of bragging? How is this not bragging?" That's an excellent question, voice in my head. But I'm a die hard Legion fan! I know Legion news can be... infrequent. So many diehard Legion fans follow me so I asked special permission to update all of you on this project in development.

Facts: its very early goings but I can tell you this will be an adaptation of the "Legion of Super-Heroes" that Ryan Sook and I have been working on the last few years.
The Future Is Not What It Used To Be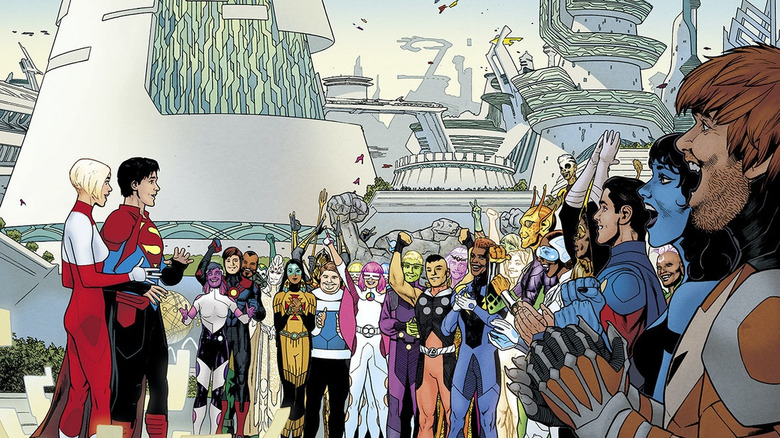 DC Comics
Bendis is referring to the "Legion of Super-Heroes Vol. 1: Millennium" he created with artist Ryan Sook, released in October of 2020 and offering a new iteration of the DC franchise. The collection includes "Legion of Super-Heroes: Millennium" #1-2 and "Legion of Super-Heroes" #1-6.
For the uninitiated, here's the synopsis for "Millennium" to give an idea of what to expect:
One thousand years into the future, a new generation of young heroes has gathered, inspired by the actions and lessons of the greatest heroes of the past. They are the Legion of Super-Heroes, and they're here to stop the universe from repeating its past mistakes.

But by inducting the 21st century's Superboy, Jonathan Kent, into the Legion, they've broken the United Planets' cardinal rule: never, ever mess with the time stream. Now, they've placed themselves in the crosshairs of the powers that be.

Origins will be revealed. Secrets will be uncovered. Friendships will be forged–and shattered. New members of the Legion will be inducted–including Superboy's best friend Damian Wayne, a.k.a. Robin!

And one thing's for certain: the future is not what it used to be!
So there you have it: a new animated "Legion of Super-Heroes" series is coming down the pike for HBO Max. It seems like every other month there's a new Marvel or DC adaptation, so Bendis cautions fans to be patient because, as the writer tells us, "animation takes a loooong time." So stay out of Dad's office and let him work, mmkay?