Dark Horse, Company Behind Hellboy, Sold To Video Game Group Embracer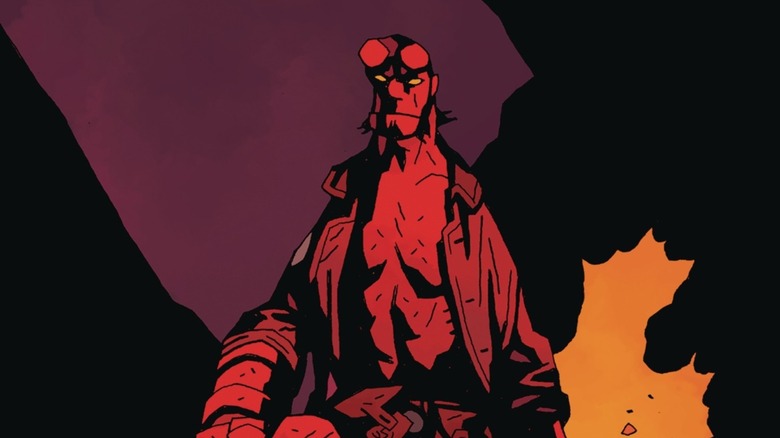 Dark Horse Comics
A big media merger has just been announced, and it is going to position one of the biggest comic book companies not named DC or Marvel as a much larger multi-media player. We reported just a few weeks ago that Dark Horse was said to be looking for a buyer and, wouldn't you know it, they found one. It has been announced via a press release that Embracer Group has agreed to purchase Dark Horse for a price that was not revealed, but it appears to be a stock-purchase deal.
When it was first revealed that Dark Horse, the company behind the likes of "Hellboy" and "The Umbrella Academy," among many other properties, was on the sale block, it seemed like a streaming service such as Netflix or perhaps Amazon might line up to buy. Instead, Embracer, primarily a video game company, has stepped up. Embracer's stable of brands includes THQ Nordic, Koch Media, Coffee Stain, Amplifier Game Invest, Saber Interactive, DECA Games, Gearbox Entertainment, and Easybrain, and they control franchises such as "Saints Row," "Dead Island," "Borderlands," and, perhaps most importantly, "Goat Simulator." Dark Horse is said to control more than 300 various intellectual properties, giving Embrace a big boost.
Mike Richardson, founder and CEO of Dark Horse, had this to say in a statement:
"I can't express the excitement I feel as Dark Horse moves into this new chapter in our history. The synergies that exist with the Embracer network of companies promise exciting new opportunities not only for Dark Horse, but also for the creators and companies we work with. I've had a number of compelling conversations with Embracer CEO Lars Wingefors and I'm very impressed with him and what he and his team have built. I have to say, the future for our company has never looked brighter."
Unrestricted Opportunity
Netflix
Dark Horse is right up there with the biggest publishers outside of Marvel and DC alongside Image Comics. What's interesting about this deal is that it doesn't restrict them from creating projects for various studios, which is seemingly good news as Netflix, Amazon, Syfy, Sony, MGM, Universal, and Warner Media have all worked with them in the past. Embracer, for its part, boasted that the sale will boost its "transmedia capabilities by adding expertise in content development, comics publishing, and film & TV production."
Importantly, Richardson is staying in place as head of Dark Horse, along with the current management. It sounds like Embracer is not trying to mess with the business as it exists. So, why make the purchase? The press release states that there is "untapped potential in creating games based on Dark Horse IP and substantial opportunity for synergies within the Embracer group." To that end, Dark Horse actually launched Dark Horse Games earlier this year looking to do exactly that. Now, they have the backing of a massive company.
While movies and TV shows based on comic book properties are big business, video games are an even bigger business in North America, especially thanks to the pandemic. There could be a lot of money in a "300" video game, for example. Or, perhaps most obviously, a "Hellboy" video game. Plus, Dark Horse can continue making shows like "The Umbrella Academy" for Netflix, or "Resident Alien" for Syfy.
It marks the latest in a long line of recent media mergers, along with Amazon buying MGM, Netflix buying Roald Dahl's library, and many others. The idea is that companies are desperate for franchise content, and it's created a seller's market. Dark Horse picked the right time to cash in. The deal is expected to close in early 2022, at which point we might learn more about the value placed on the deal. If Marvel sold for $4 billion in 2012, what is Dark Horse worth now? A great question that needs answering.