The 20 Most Romantic Christmas Movie Moments, Ranked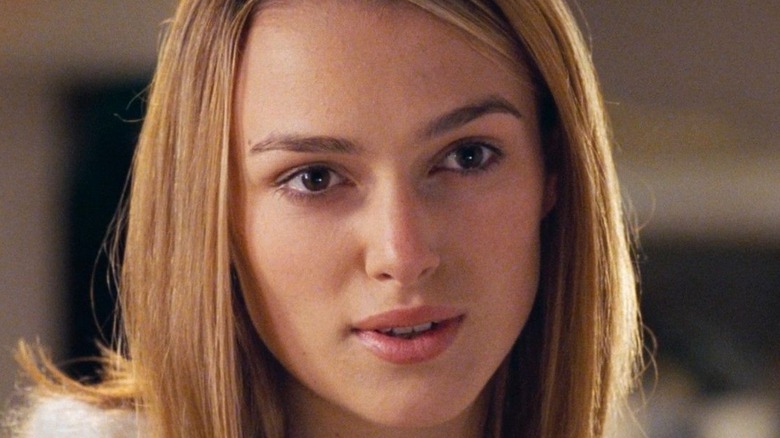 Universal Pictures
While most audiences watch Christmas movies for yuletide splendor, the ever-growing genre always seems to have a romantic trick or two up its sleeve. From madcap comedic adventures to dramatic epics, holiday films almost find time for a good love story somewhere along the way. In a cinematic landscape that features Christmas stories starring everyone from the Muppets to Buddy the Elf to Batman, it's fascinating to see how these lovey-dovey elements continually sneak into even the most unexpected holiday media.
But, after pushing the Hallmark-type content to the side, what are the most romantic of these sequences? Which movies continue to inspire audiences to kiss under the mistletoe? From the mushiest, over-the-top love scenes to the more intimate down-to-earth holiday affairs, let's take a look at the greatest romantic moments in some of the most beloved Christmas flicks.
20. Clark and Ellen smooch — National Lampoon's Christmas Vacation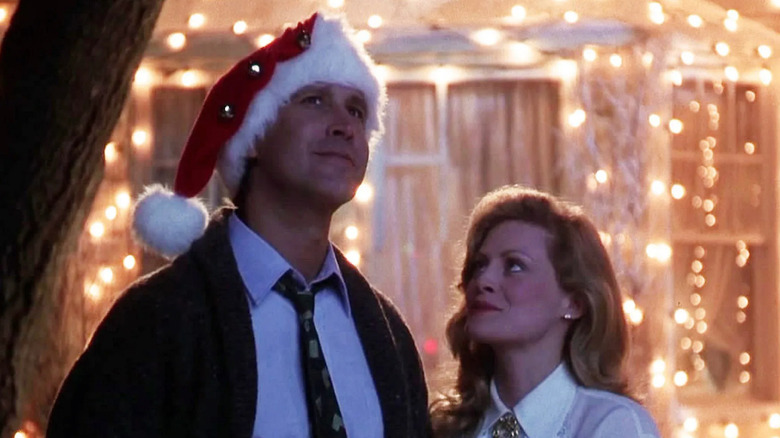 Warner Bros. Pictures
Though the National Lampoon's Vacation franchise is not known for its romantic moments, "Christmas Vacation" features one that deserves a place on this list. In the scene, the Griswold family runs outside as Rocky and Ruby Sue spot a light in the sky, thinking it's Santa Claus. Clark proclaims that it's the Christmas Star, but it turns out to be a light shining from the sewage treatment plant. This results in an explosion, a performance of "The Star-Spangled Banner," and everyone (even the SWAT team) coming together for some holiday cheer. But the best part is the kiss that Clark and Ellen share outside.
It only lasts for a few frames, but this tiny bit of romance is the perfect note on which to end this madcap piece of Christmas media. Chevy Chase and Beverly D'Angelo have always had fantastic chemistry as the Griswold parents, and the smooch between the two of them is the perfect cherry on the movie's comedic sundae. While it's over-the-top in the way it turns from a simple kiss on the cheek to a passionate embrace, it's the genuine sweetness between the two — something that's fairly rare in the Vacation movies — that really sells it.
19. Slipping on the ice — While You Were Sleeping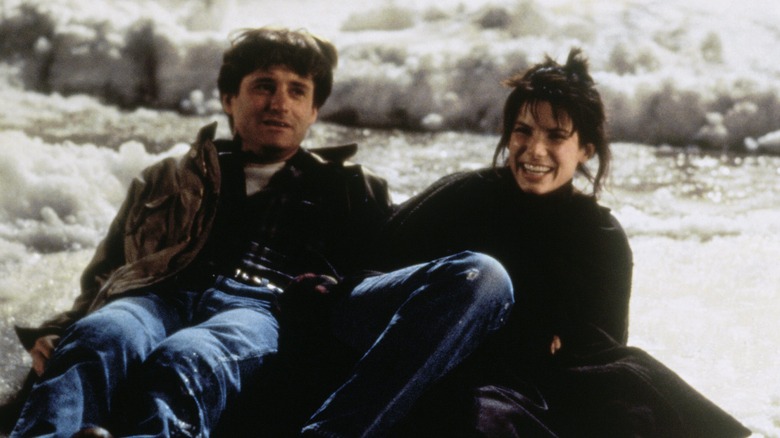 Buena Vista Pictures
One of the more underrated rom-coms of the '90s, "When You Were Sleeping," stars the unlikely (yet fabulous) pair of Sandra Bullock and Bill Pullman as Lucy and Jack. The two meet when Lucy saves Jack's brother, Peter (Peter Gallagher), from an oncoming subway. In the aftermath, Peter falls into a coma while his family becomes convinced that Lucy is his fiancée, but the real magic is the chemistry between Bullock and Pullman and the film's Christmas aesthetic, both of which come together during a jaunt around town.
In the scene, Jack and Lucy are getting to know each other better when they walk across a slippery patch of ice, resulting in some hilarious and adorable rom-com hijinks. The best aspect of this scene (and why it makes this list) is how this moment genuinely changes Jack's feelings toward Lucy. During the shenanigans, Jack sees the spark that makes Lucy unique, and Pullman wonderfully sells his character's change of heart. With the complimentary twinkling lights, captured so wonderfully by cinematographer Phedon Papamichael, Jr., it's easy to be enchanted by the yuletide charm of this adorable moment.
18. Holly and John reunite — Die Hard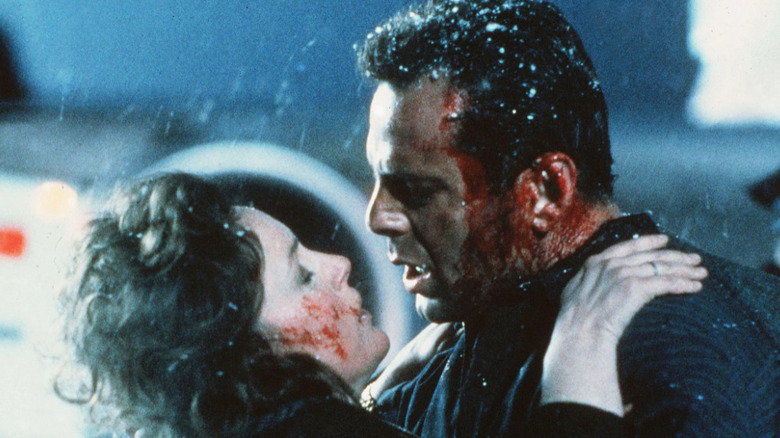 20th Century Studios
Though many still debate whether or not "Die Hard" is really a Christmas movie, when it comes to this list, it absolutely fits the bill. After all, the relationship between John (Bruce Willis) and Holly McClane (Bonnie Bedelia) is one of the main reasons why this classic action flick works so well, although the scene that truly sells John and Holly's bond doesn't occur until the film's final moments.
After Hans Gruber is defeated, Holly and John exit the destroyed Nakatomi Plaza, with paper falling like snowflakes. As John finally thanks Sergeant Al Powell (Reginald VelJohnson), he introduces his new friend to Holly. But when Holly says her full name, she refers to herself as McClane, instead of using her maiden name, Gennero. Considering that the film started with both John and Holly feeling fairly bitter (and Holly resorting to her old surname), this unique resolution is lovely. Sure, their marriage doesn't go down the most pleasant of paths — by the fourth installment in the Die Hard franchise, they're divorced — but here, they get an odd yet extremely satisfying happily ever after.
17. Jefferson at the piano — Christmas in Connecticut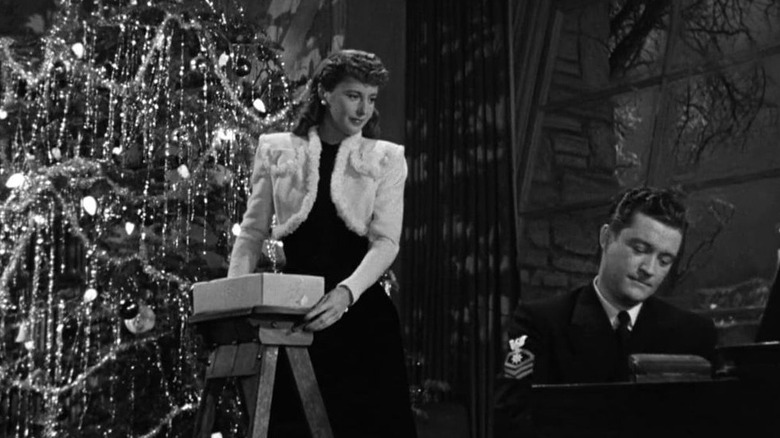 Warner Bros. Pictures
When it comes to Barbara Stanwyck's filmography, none of her films predicted the future of the Christmas rom-com quite like "Christmas in Connecticut." Not only did this adorable movie forecast the rise of influencers nearly seven decades before they became an actual thing, but it also contains the types of hijinks that would go on to become Christmas movie staples.  
"Christmas in Connecticut" revolves around Elizabeth Lane (Stanwyck), a popular food columnist who writes about her perfect — and completely fictitious — life in Connecticut. But, when Elizabeth's publisher pushes to host a Christmas celebration for Jefferson (Dennis Morgan), a war hero who is a fan of her work, her life turns upside down, especially when she starts to fall for him.
In one of many memorable scenes, Elizabeth decorates her scenic Christmas tree while Jefferson plays the piano. As Jefferson performs various songs, including "The Wish That I Wish Tonight," Elizabeth's feelings towards her house guest become evident, making the tension surrounding the two even more intense. Stanwyck expertly sells her character's conflicting emotions, while Morgan really plays up Jefferson's charisma. It's simple moments like this that make this movie a holiday classic in many viewers' hearts.
16. Bruce and Selina dance — Batman Returns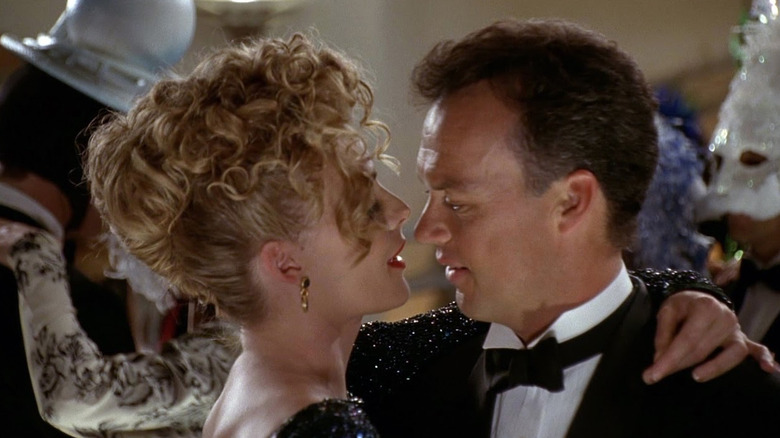 Warner Bros.
With its Gothic aesthetic, "Batman Returns" doesn't get enough credit for its hauntingly beautiful depiction of yuletide celebrations. Often thought of as the too-scary-for-its-own-good Batman flick, "Batman Returns" doesn't just feature some delicious holiday visuals, but also a fascinating romantic subplot. The players? Why, Selina Kyle (Catwoman) and Bruce Wayne (Batman), of course. As one can guess, the pair share many memorable scenes together, but none of them carry as much narrative weight as when the two dance cheek-to-cheek at a charity ball.
The sequence starts with the two characters, unmasked, immediately embracing on the dance floor. However, by the end, the pair have guessed each other's secret identities, making for quite a tragic discovery. From the sorrowful look on Michelle Pfieffer's face as she gazes at the mistletoe to Michael Keaton's calm demeanor, there's nothing quite as devastatingly romantic as these two foes coming to grips with reality as their Christmas-lit fairytale comes crashing down before their very eyes.
15. Jamie proclaims his love — Love Actually
Perhaps the most traditionally romantic Christmas movie ever made, "Love Actually" has many lovey-dovey moments to choose from. One of the top contenders, though, is the scene where Jamie proposes to Aurelia. After trying to learn Portuguese to win Aurelia's heart, Jamie travels to France to find her. He bumps into her family, and has the entire town follow him as he tracks her to the restaurant where she works. The rest is movie history.
From the comedic beats provided by Aurelia's family to Jamie's adorable linguistic mistakes, Jamie and Aurelia's love story is truly one for the ages. The chemistry between Colin Firth and Lúcia Moniz is the best part, of course. While they start off on an awkward note, the couple's dorky energy makes them a charming duo to watch. So, when their relationship is wrapped up in this absolutely thrilling proposal, it's hard not to adore Jamie and Aurelia as an on-screen pair. Plus, when such a love story is combined with the music of Craig Armstrong, the results are pure cinematic bliss.
14. Sara and Jonathan's ice skating dance — Serendipity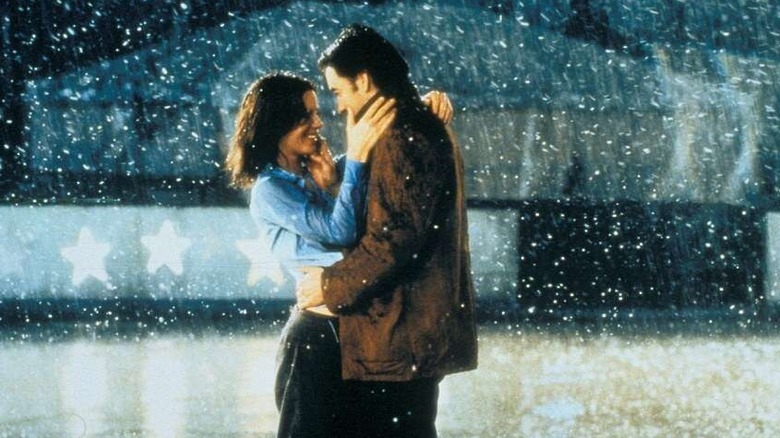 Miramax
In the beloved New York-based romantic comedy "Serendipity," Jonathan Trager (John Cusack) and Sara Thomas (Kate Beckinsale) fall in love amidst the city's holiday charms. Whether they're accidentally meeting at Bloomingdales or having dessert at the titular restaurant, this couple visits many of the most romantic spots in Midtown Manhattan. However, there is one sequence in the film that surpasses all others: the famous ice-skating scene.
After spending the entire movie searching for each other, Jonathan finally spots Sara's abandoned coat at Central Park's ice-skating rink. Even though he's wearing remarkably inappropriate shoes for such a cold activity, he decides to sit in the middle of the ice, coat in hand. When Sara returns to the rink, snow falling to the ground, the two finally have the romantic moment viewers have been waiting for. With Cusack and Beckinsale's acting talents on full display, it's easy to see why this scene has become a staple of both the Christmas and rom-com genres.
13. Steve and Connie meet up on the train — Holiday Affair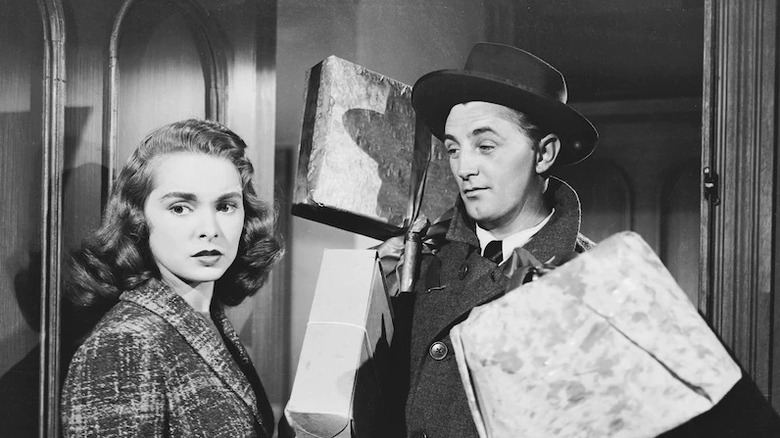 RKO Radio Pictures
In the underrated Christmas classic "Holiday Affair," store clerk Steve Mason (Robert Mitchum) falls for the beautiful yet complicated shopper, Connie Ennis (Janet Leigh). While much of their relationship is built upon typical holiday romance tropes, there's something special about these two. That becomes incredibly clear during the film's finale, which recalls the symbolic use of trains throughout the movie. After all, the two met while Steve was selling toy trains, so it makes sense that their romance would really blossom during a train ride.
As soon as Connie realizes that she has feelings for Steve, the heroine and her son board the same Midnight Special that he's riding. Once Steve learns that Connie is on board, brilliant camera work by director Don Hartman and cinematographer Milton R. Krasner follows the trio as they run through the cars in order to meet up with one another. While the sequence takes place during New Year's Eve, considering the Christmas-y vibes of the entire film, along with the comforting winter aesthetics, it would've been impossible not to put this scene on the list.
12. Karl visits Sarah's Apartment — Love Actually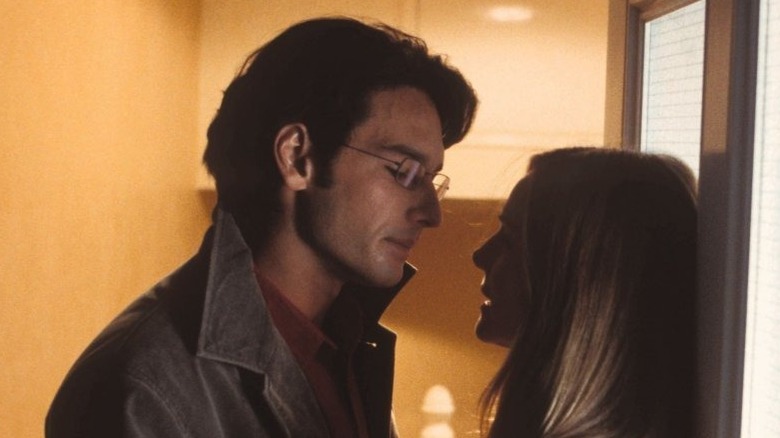 Universal Pictures
Though many "Love Actually" fans focus on the movie's more heartwarming moments, there's something to be said of the sensual yet tragic nature of one particular scene: the moment when Karl (Rodrigo Santoro) visits Sarah's (Laura Linney) apartment. After years crushing on Karl, Sarah's colleagues encourage her to flirt with him during various Christmas events. Finally, Karl asks Sarah to dance at the company Christmas party, leading the two of them to venture off to Sarah's apartment.
From Sarah's adorable silent dance to the tension-filled smooches, the chemistry between Linney and Santoro practically shimmers on screen, but the best aspects are actually the more tender elements: the way Karl delicately touches Sarah, for example, showing how much he respects her, or Sarah's awkward, relatable flirting. However, the sequence's unfortunate conclusion, when Sarah must pick up the phone to help her mentally ill brother, makes this moment the most bittersweet on this list. We've all had moments when real-life obstacles get in the way of our fairytale romances, and they never get easier to deal with.
11. Belle and Scrooge sing in The Muppet Christmas Carol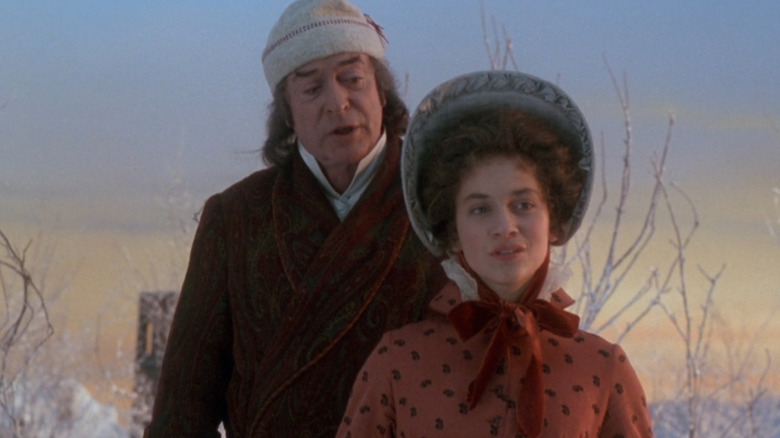 Buena Vista Pictures Distribution
Speaking of romantic scenes of a tragic nature, few moments in holiday films are quite as devastating as this one from "The Muppet Christmas Carol." This puppet-filled movie is a unique retelling of Charles Dickens' classic tale, one that is arguably more accurate to the original novel than any other adaptation. In particular, the scene in which Scrooge's one true love, Belle, sings of their ill-fated romance is a moment that will live in both Muppet and cinema infamy for years to come.
Known by many as the scene that was famously removed from the film's theatrical cut, the "When Love is Gone" sequence remains a fan-favorite for many reasons. Not only does it add a bit of melancholy to the otherwise wholesome movie, but the entire scene perfectly depicts the bittersweet feelings that Belle (Meredith Braun) has towards young Scrooge. As Michael Caine sings a duet with the ghost from his past, the regretful nature of the lyrics and both actors' captivating performances really reel you in. Though other "Christmas Carol" adaptations do many things right, none of them capture the heartbreaking nature of Scrooge's past quite like this one.
10. Buddy and Jovie's Date — Elf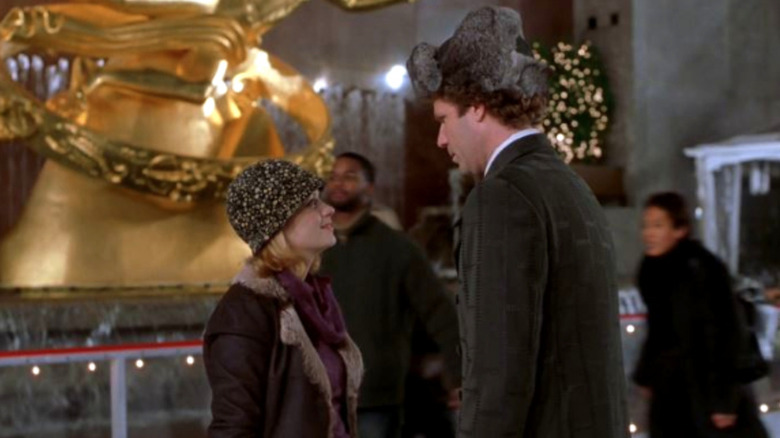 Warner Bros./New Line Cinema
Some of the best romantic sequences in film work because of their over-the-top elements. However, in the case of Buddy and Jovie's first date in "Elf," it's the dorky vibes that really elevate the material. Starring the unlikely but weirdly adorable pair of Will Farrell and Zooey Deschanel, the date starts off normal enough, but what follows is nothing short of comedy gold.
Whether they're tasting the "world's best cup of coffee" or looking through the windows of an office building, watching romance blossom between this odd pair is utterly charming. What earns the sequence a spot on this list, however, is how genuine both characters are. While Jovie doesn't understand everything about Buddy, she falls for him because he appreciates the finer details of both Christmas and life in general. Bravo to director Jon Favreau and everyone else involved in "Elf" for capturing exactly why we fall in love with certain people: their unique quirks.
9. Sam runs through the airport — Love Actually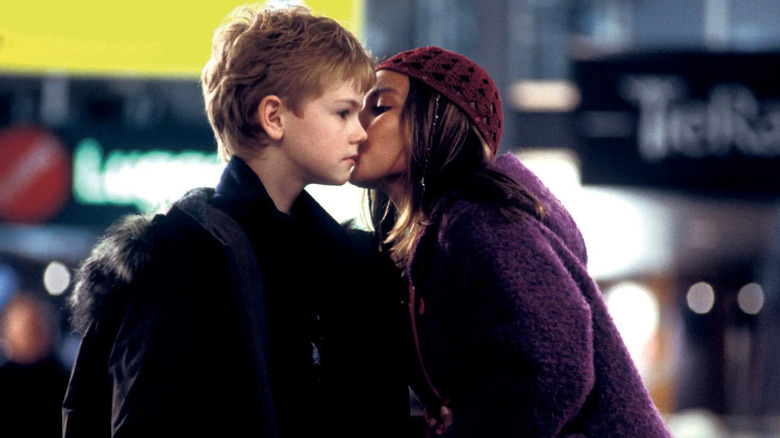 Universal Pictures
Yet another "Love Actually" scene that needs to be on this list is the airport chase sequence. In it, Sam (Thomas Sangster) searches for his American classmate, Joanna (Olivia Olson), who is about to go back to the United States for Christmas. He ventures with his stepdad, Daniel (Liam Neeson), to the airport to find her, but, when it seems that Sam has run out of time to proclaim his feelings, Daniel encourages the young boy to run through security to tell Joanna how he really feels. The result? A classic rom-com moment.
Although it's absolutely unrealistic (especially given today's airport security rules), it's impossible not to get caught up in the innocent romance. Much of the time, child actors can be fairly annoying, but Sangster and Olson's work still rings true almost 20 years later. Yes, this scene is silly, and it's the sort of thing that only happens in movies as corny and precious as "Love Actually," but that's what makes it such a gem to begin with. Just like the best sugar cookies, it's a delicious flavor full of Christmas sweetness.
8. Doris believes in second chances — Miracle on 34th Street (1947)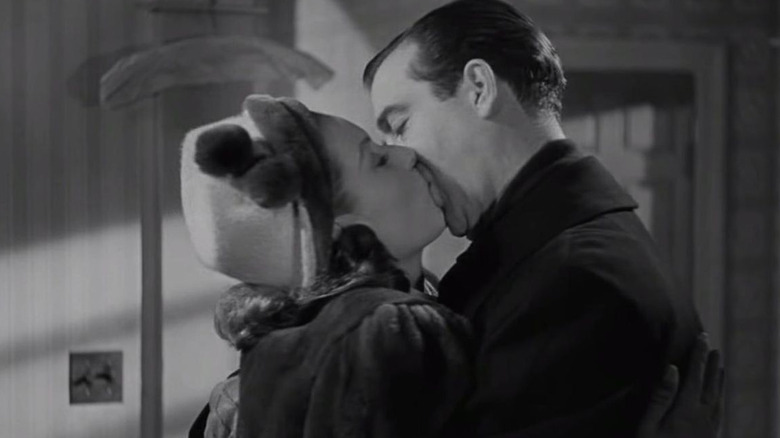 20th Century Studios
Though most viewers remember the original "Miracle on 34th Street" for Santa Claus, the relationship between the cynical Doris Walker (Maureen O'Hara) and the optimistic attorney Fred Gailey (John Payne) is just as important. From the beginning, Fred is infatuated with Doris, despite her resistance towards embarking on a real relationship. But, as the plot progresses, it becomes clear that Doris' reluctance has begun to fade away, thanks mostly to the Christmas cheer around her.
Finally, Doris' daughter, Susan (Natalie Wood), spots the house she asked Kris Kringle for. As Doris and Fred follow her into the home, Susan proclaims that her mother was right to believe in second chances. Fred then asks Doris if that is true. She confirms it and the two embrace, quickly offering up one of cinema's sweetest smooches. Between O'Hara's perfect facial expressions and Payne's fantastic delivery, it's a treat to see these two great actors do such enchanting work, and may just end up making you believe in holiday magic, too.
7. Miles and Iris talk about movies — The Holiday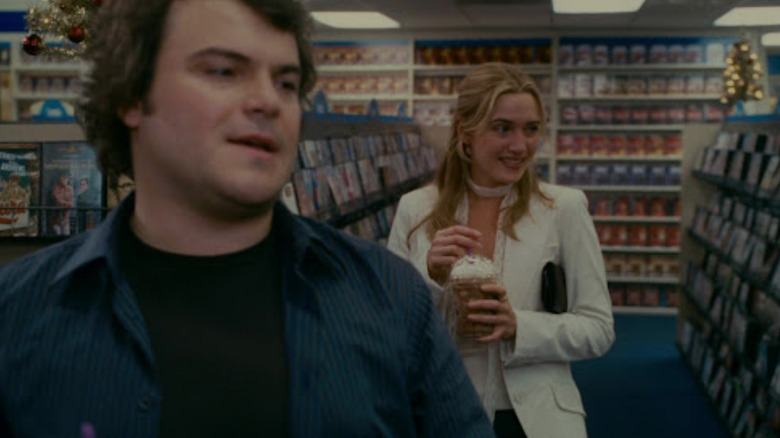 Universal Pictures
Though most of the moments on this list are fairly traditional, cinematic love can come in many forms. Just check out this hilarious and unique scene from "The Holiday." The sequence starts in the ever-magical (and much missed) Blockbuster Video, where Iris (Kate Winslet) and Miles (Jack Black) are browsing the shelves. As Miles, a film composer, passes by each of the movies, he begins to perform a medley of his favorite film scores, resulting in some of the cutest flirting ever put to celluloid.
Jack Black has flawless comedic timing and Kate Winslet's reactions are precious, selling the blossoming romance between the pair. Iris is searching for a man who's honest down to his bones, and this moment proves that Miles is exactly who she's been looking for. Miles, meanwhile, needs someone who isn't ashamed to be seen next to him, and who embraces his quirks full on. Ultimately, this scene proves that these two, who have had their limits tested way too many times, are weirdly perfect for each other.
6. Jack and Sally's moonlight embrace — The Nightmare Before Christmas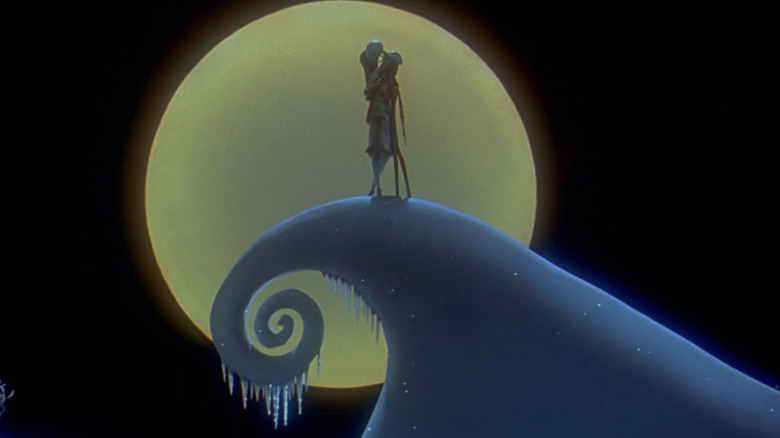 Buena Vista Pictures Distribution
Whether you think that "The Nightmare Before Christmas" is a Christmas movie or a Halloween one, it's hard to ignore the film's yuletide romance. After Jack returns safely to Halloweentown, he sees Sally sitting alone upon his snow-covered hill. As she picks the petals off of a flower, Jack begins to serenade her, allowing the pair to confess their feelings for one another. While this sequence has a short runtime, the details make it both unique and surprisingly emotional.
The stunning vocals from both Danny Elfman and Catherine O'Hara, as well as the delicate animation by director Henry Selick and his talented team of artists, make it easy to fall under this moment's spell. But this scene only works because it pays off the romantic tension that's been building throughout the movie. To audiences, it's quite clear early on that Jack and Sally are meant for each other, and while it takes far too long for Jack to get his act together, the payoff makes the wait more than worth it.
5. Julia sings I Believe in You and Me — The Preacher's Wife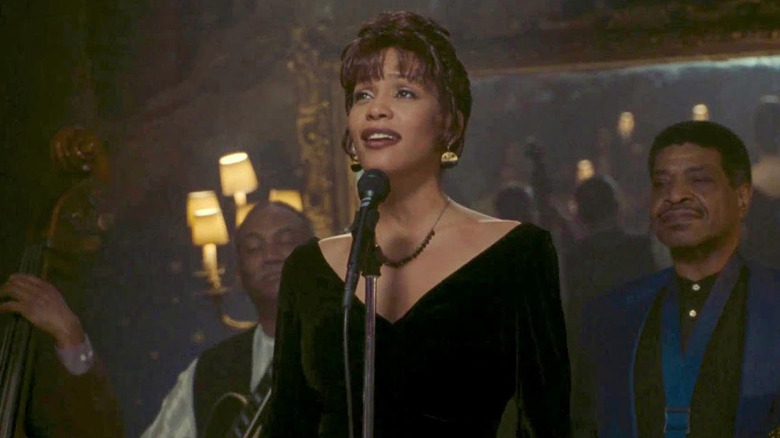 Buena Vista Pictures Distribution
While most people remember Penny Marshall's "The Preacher's Wife" (a reimagining of "The Bishop's Wife") for its silly plot, its incredible gospel numbers, and hilarious one-liners from Jennifer Lewis, the most impressive aspect of the film is, of course, Whitney Houston herself. This is particularly true during the scene in which her character, Julia, and Denzel Washington's angelic Dudley visit a jazz club. Julia meets with an old friend (played by Lionel Ritchie) and is encouraged to give an impromptu performance. What follows is a fascinating deep dive into the psyche of the film's three lead characters.
Starting with Houston's powerhouse vocals and moving on to Denzel's delightful reactions, it's clear that Dudley is falling madly in love with Julia. But when you pay attention to the song's lyrics (which were written by Sandy Linzer and David Wolfert), along with the editing, it becomes clear that Julia is really singing about her relationship with her husband, Henry. Deep down, she wants to believe that their love will last. As everyone knows, romance is complicated, even when one of the participants is a literal angel.
4. Mark's cue cards — Love Actually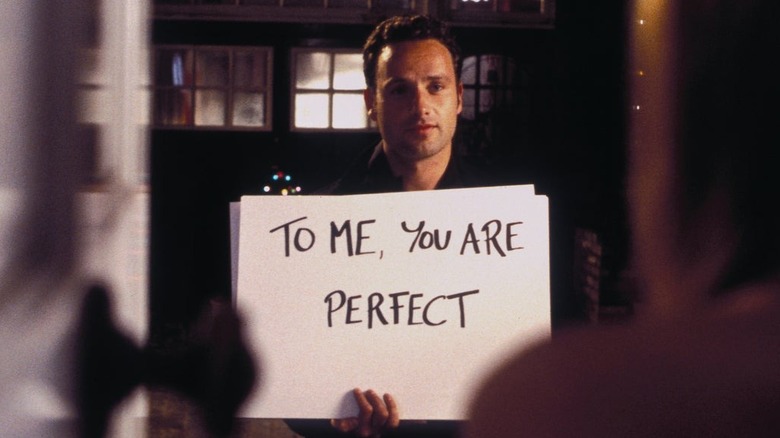 Universal Pictures
Look, did you really think this wouldn't be here? While many sequences from "Love Actually" are already on this list, the cue card scene is the most iconic moment in the entire movie. It has been parodied time and time again, and while it hasn't aged quite as well as some of the others, it's still a classic for a reason. 
Throughout the film, Juliet (Keira Knightley) and her husband's best friend, Mark (Andrew Lincoln) have had an awkward relationship. Things get even more complicated when Juliet sees that Mark was filming beautiful close-ups of her during her wedding, leading the young bride to realize that Mark has been in love with her the entire time. Since Mark isn't very good with words, their odd friendship becomes even worse.
But then, we arrive at the scene in question, in which Mark uses giant cue cards and a boombox to tell Juliet his real feelings, and audiences realize that Mark is actually quite romantic. Sure, if you think about it too much, this scene absolutely comes across as creepy, but there's a reason that it's still so beloved by so many. With the cheesy carols playing in the background and the snow-covered scenery, this moment perfectly captures the romantic (and somewhat heartbreaking) spirit of Christmas.
3. Bob and Betty kiss behind the tree — White Christmas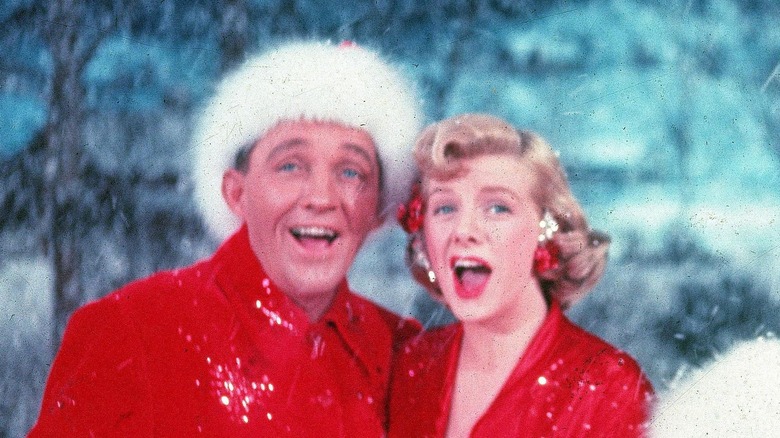 Paramount Pictures Studios
When it comes to classic Christmas movies, none are comfier than "White Christmas." From its soundtrack full of memorable Irving Berlin songs to its standout comedic moments, there's a lot of good in this tale of friendship, chosen family, and the importance of honoring those who have made sacrifices. While some aspects of the film haven't aged particularly gracefully, others continue to delight, particularly the romance between Bing Crosby's Bob and Rosemary Clooney's Betty.
For most of the movie, these two typically misunderstand each other's real feelings. But when Bob receives a present from Betty — a figure of a knight on a white horse — the love between the two snaps into clear focus. Betty has constantly doubted Bob's honesty, while Bob feels like he can't live up to Betty's romantic ideals. The gift signifies that the two finally, genuinely understand each other, and that kind of acceptance is one of the best presents you can find under your metaphorical Christmas tree.
2. Amanda runs back to Graham — The Holiday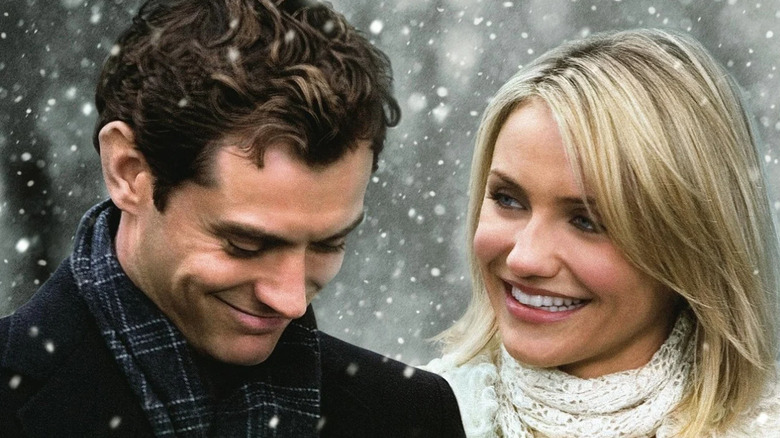 Universal Pictures
In the world of modern Christmas romances, "Love Actually" might reign supreme, but Nancy Meyers' "The Holiday" is perhaps even more entrancing. With nods to classic cinema and its over-the-top displays of emotion, it's a film that epitomizes end-of-the-year romance. No pairing in the movie proves that more than that of Amanda (Cameron Diaz) and her courtship of the handsome book editor Graham (Jude Law).
Earlier in the movie, Amanda admitted that she hasn't cried since her parents divorced when she was a teenager. And yet, when the rom-com heroine decides to return to America after her British vacation, she has to leave Graham behind. As Amanda faces the possibility of never seeing him again, the tears begin to fall, and she realizes that Graham is the one. And so, to the enchanting melodies of Hans Zimmer's score, she begins running up the snowy hillside in heels. From the moment it starts to the shot of Graham opening the door with tears in his eyes, this scene epitomizes everything that's great about snow-covered rom-coms.
1. George comes home to his new house — It's a Wonderful Life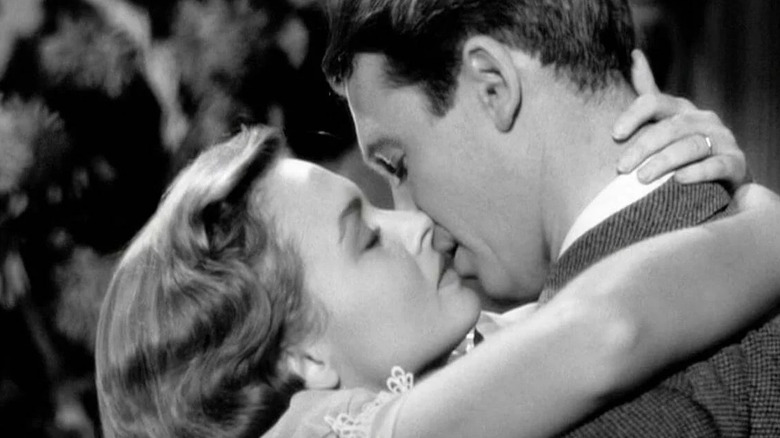 RKO Pictures/Paramount Pictures
Despite not taking place entirely during Christmas, "It's a Wonderful Life" has become the gold standard for holiday movies. Directed by Frank Capra, this classic tale has many romantic sequences to choose from. Every scene just seems to get better as the years go by. However, one moment that doesn't get talked about enough is the one when George (right after getting married) returns to his new home sweet home.
In the movie's first act, Mary mentions her love of an old house that's falling apart. To George, it looks like a wreck. To Mary, it's a domestic palace that just needs a little TLC. And yet, when George gets a call that his new wife wants him to leave the office and come home, he's still not prepared for what follows. As he walks into the old mansion, suddenly realizing that it's where he now lives, Mary's wish becomes clear, as does the fairytale romance that these two characters share. This scene, along with the rest of the movie, is a reminder as to why "It's a Wonderful Life" has been considered a classic for 75 years and counting.