Why We'll Probably Never See A Feature-Length Love Actually Sequel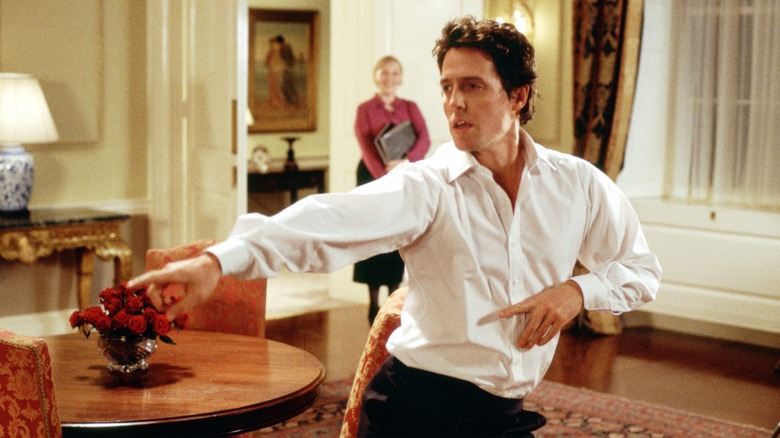 StudioCanal/Working Title Films/DNA Films
The festive season is fast approaching, which can only mean two things for movie buffs: the traditional debate about the merits of "Die Hard" as a Christmas film will be rekindled, and much blog space will be devoted to unpacking the questionable messages lurking beneath the twinkly surface of "Love Actually."
Some movies date far worse than others, while some apparently suffer from accelerated "Indiana Jones and The Last Crusade"-style aging. Just take "Mrs. Doubtfire", with its psycho protagonist who definitely should not be around kids, a film which is now more uncomfortable to watch than its contemporary psycho thrillers like "Single White Female" and "The Hand That Rocks the Cradle." Similarly, "Love Actually" has dated so badly that it's hard to believe that it is less than 20 years old. Richard Curtis's bloated, wonky romantic comedy increasingly feels like a Christmas movie written by Neil LaBute, and has faced accusations of crass sexism in recent years.
Despite this revisionism in some quarters, "Love Actually" remains a perennial festive favorite that also gets trundled out any time of year, and its devoted fans have long been yearning for a sequel. Here is why they will probably (actually?) never get one...
But First, a Recap...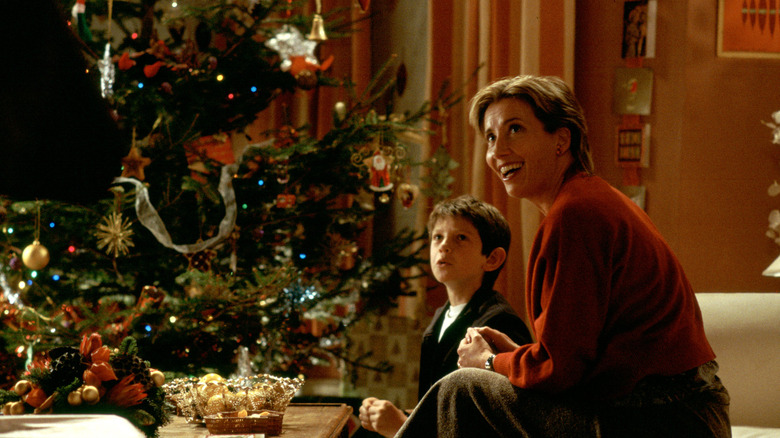 StudioCanal/Working Title Films/DNA Films
Set in Richard Curtis's smug white middle-class wonderland in a fairytale London, "Love Actually" tells the interconnected stories of several relationships in the run-up to Christmas. To name a few, there is Hugh Grant's stammering Prime Minister, who falls for his Cockney assistant (Martina McCutcheon as the film's token working-class person); Kiera Knightley's newlywed, who is stalked by her husband's best friend, and apparently likes it; Alan Rickman's curmudgeonly managing director, who risks his marriage to Emma Thompson when his head is turned by an attractive young co-worker; and Colin Firth's cuckolded writer, who retreats to a French cottage and becomes smitten with his Portuguese housekeeper. In between these scenes, we also follow washed-up rock star Billy Mack, played so wonderfully by Bill Nighy, grasping one last shot at the big-time with a tacky cover of "Love is All Around." Can they all resolve their romantic issues, and will Billy score that Christmas No. 1 hit, before the Big Day?
Some stories in "Love Actually" feel strong enough to warrant a feature of their own, while others could have been cut without damaging the overall tone and structure of the film. In fact, it probably would have benefited from a prune — who would really miss Martin Freeman and Joanna Page as the awkward couple who meet while acting as body doubles for sex scenes? Meanwhile, the most emotionally wrenching scene, where Emma Thompson's character heartbreakingly finds out her husband has eyes for someone else, could play out as a full-length marriage breakdown movie.
Dotty, overbearing and overstuffed, "Love Actually" takes pride in its cumbersome, shamelessly sentimental style. It feels like the kind of movie Bridget Jones would enjoy watching in her PJs while drinking a bottle of wine and stuffing her face with chocolates.
Isn't There Already a Sequel?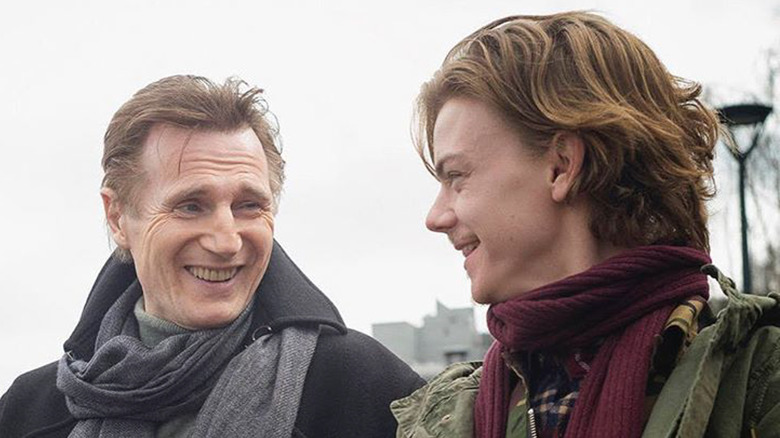 BBC Films
"Love Actually" received a sequel of sorts in 2017 with "Red Nose Day Actually," a short film for Comic Relief. The charity, aka Red Nose Day, was co-founded by Richard Curtis and comedian Lenny Henry back in 1985, with the purpose of raising money for good causes while also making the public laugh. Over recent years, one of the features of the telethon has been increasingly high-profile versions of popular films and TV shows, so it is perhaps no surprise that one of Curtis's biggest hits would feature at some point.
For the film, Curtis reassembled much of his original cast to catch up with the characters 13 years on from the first film. Mostly it's just an excuse to rehash famous scenes — Andrew Lincoln is back with his "Subterranean Homesick Blues" stalker cards while Hugh Grant treats us to another dance around 10 Downing Street — and to plug the charity itself. Even at less than 20 minutes, its pace drags a little and it's low on laughs. However, there is quite some poignancy to it. Some of the stars have aged visibly more than others and there is a rather large Alan Rickman-sized hole, as the actor sadly passed away the previous year. "Red Nose Day Actually" is a strangely sad insight into what "Love Actually 2" might have been like.
Wasn't There Some Backlash, Actually?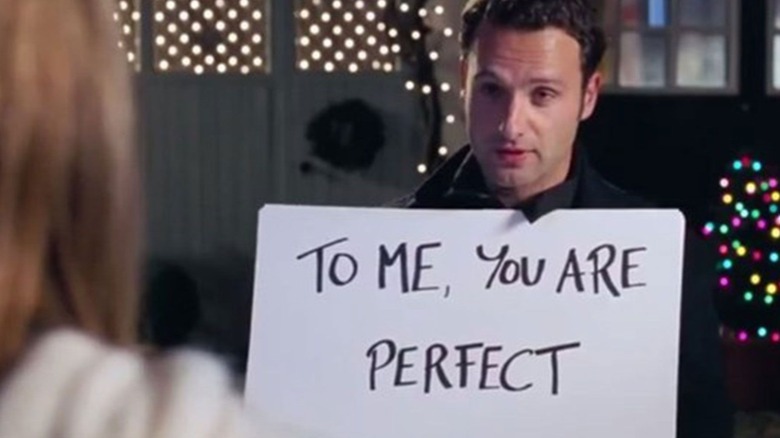 StudioCanal/Working Title Films/DNA Films
In recent years, as people have become more conscious about how relationships are portrayed in film and other media, there has been a steady stream of articles picking up on the dodgy messages in "Love Actually," with one of its stars even going so far as to label it "cheesy and sexist."
Lulu Popplewell, who played the daughter of Emma Thompson and Alan Rickman's characters in the film, labeled the film as "cheesy and sexist." She told Cosmopolitan:
"Look, softly be it spoken I think it's a s*** film. I think it's aged badly. All the women in it are sort of passive objects. I think that there was an article describing them as passive objects to be acquired. On re-watching it's not great. You have to remember that he [Richard Curtis] was writing in the context of the time... I mean I don't know how he excuses more recent work."
Ouch! Watching again in our more enlightened times, it's hard to disagree. It's also kind of creepy watching Hugh Grant, Colin Firth, Alan Rickman, and Liam Neeson sniffing around attractive women far younger than themselves. The selfish message that the film sends is stacked in the guy's favor — don't worry if you get dumped or your wife gets too old and crinkly, there's always another woman waiting just around the corner. The men barely speak to the objects of their affections — just take Colin Firth and his maid. They literally can't communicate due to the language barrier, but once he spots her in her bra and panties, he's head over heels.
So while "Love Actually" is certainly nowhere near being canceled, people are definitely taking a closer look at what the movie is really saying, inadvertently or not.
So What About Love Actually 2?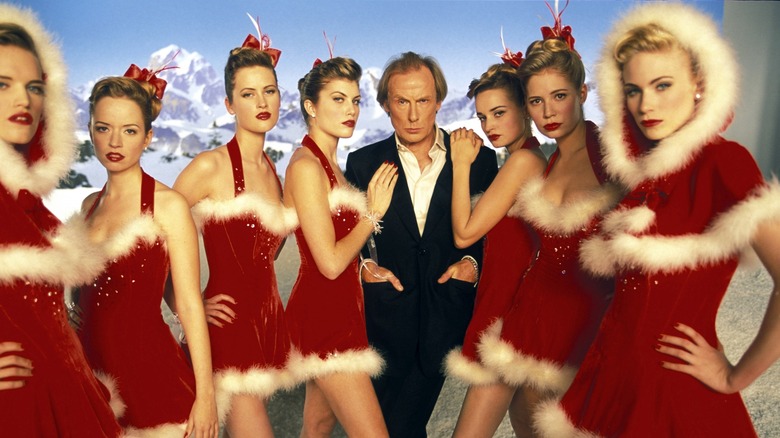 StudioCanal/Working Title Films/DNA Films
Despite being an unexpected box office hit and becoming a popular holidays classic, it appears that "Love Actually 2" has never been a realistic prospect from the perspective of its creator, Richard Curtis.
Firstly, he wasn't totally satisfied with the original film. In an interview with Radio Times in 2014, he said that it had very nearly been a disaster:
"The only nightmare scenario that I've been caught in was Love Actually... which worked at the read-through, and when we finished the film and I watched it edited it was... a catastrophe. Because there were twelve stories, [finding the right order] was like three-dimensional chess... And that was enormously difficult to finish or get right."
Curtis was also under a lot of pressure due to the film's evident seasonal appeal, and didn't have as much time as he wanted to get it perfect. In the same interview, he went on to say, "You could have played with it for all time — but it had to be out by Christmas."
More recently, in his 2017 conversation with Paul Feig about the film for Empire magazine, he mused about what a "Love Actually" sequel would be like:
"I did toy with the idea of doing a proper Love Actually sequel. But I wonder what I think now about love, because I've experienced a lot of deaths and illness. I think therefore I would make a sadder film, and I'm not sure that would be great."
So the prospect of a "Love Actually" sequel looks like a complete non-starter, at least with Curtis involved. Perhaps, given its increasing status as a museum-piece of a different time and sensibility, that could be a good thing.