Daily Podcast: How Spider-Man: No Way Home Broke Box Office Records & What It Means For The Future Of The Spider-Verse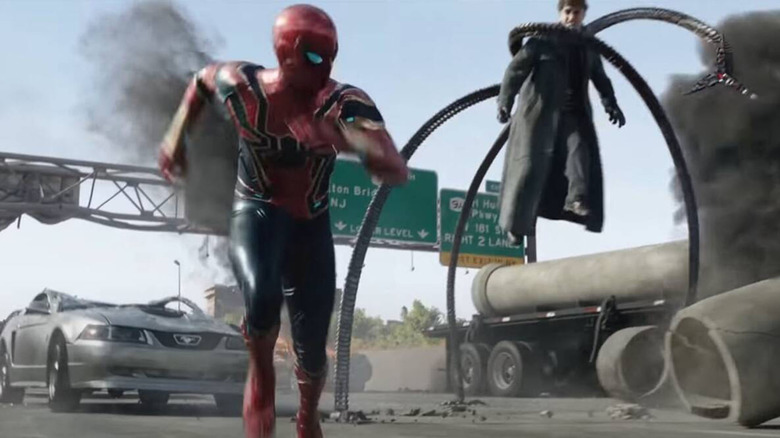 Sony
On the December 20, 2021 episode of /Film Daily, /Film editorial director Peter Sciretta is joined by /Film news writer Ryan Scott to discuss the reason why "Spider-Man: No Way Home" had a record-breaking box office debut.
Opening Banter: Lots of people liked Ryan on last week's episode, so he's back!
In The News:
Ryan: Spider-Man: No Way Home Box Office Saves Theaters, Smothers The Competition

Shockingly breaks box office records

Why do you think this happened?

(spoiler warning)

Peter's insane theory

Covid possibilities?

Good news: movie theaters aren't dead

Nightmare Alley (and Everything Else) Suffers Tragically

Can only big blockbusters make money in the new Hollywood?

Would Spielberg ever direct a Marvel movie?

Does this box office give Rothman more leverage to cut the deal with Disney or does this give Disney more leverage to complete the new Spider-Man trilogy Pascal envisions.

What about continuations (Spin-offs) of the other characters?
Also mentioned:
All the other stuff you need to know:
You can find more about all the stories we mentioned on today's show at slashfilm.com, and linked inside the show notes.
/Film Daily is published every weekday, bringing you the most exciting news from the world of movies and television as well as deeper dives into the great features from slashfilm.com.

You can subscribe to /Film Daily on Apple Podcasts, Google Podcasts, Overcast, Spotify and all the popular podcast apps (RSS).

Send your feedback, questions, comments and concerns to us at peter@slashfilm.com. Please leave your name and general geographic location in case we mention the e-mail on the air.

Please rate and review the podcast on Apple Podcasts, tell your friends and spread the word!

Thanks to Sam Hume for our logo.