Spider-Man: No Way Home Producer Amy Pascal Explains How Past Actors Were Convinced To Return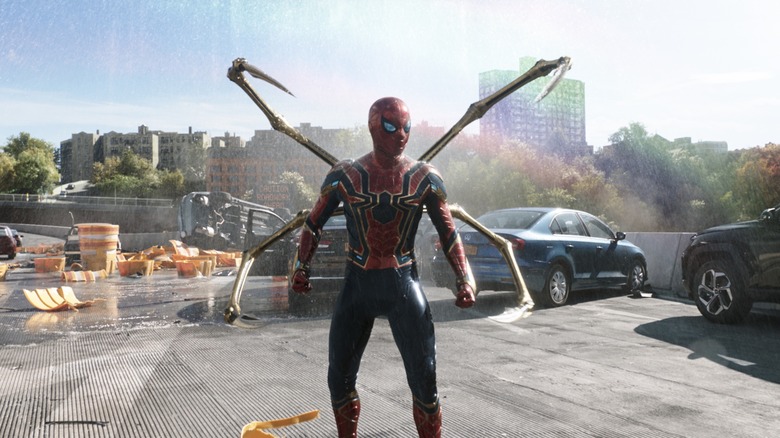 Sony Pictures Releasing
It's clear that one of the cornerstones of making "Spider-Man: No Way Home" was that several of the hero's villains from past incarnations of the character return to fight another battle. But how do you convince an actor to give time to a cameo of their past character — especially in a superhero tentpole film where it could end up being a waste of that actor's time? According to Amy Pascal, Sony Pictures chairwoman and "Spider-Man" producer, it was all about building on the past.
"[T]hese weren't going to be cash-grab cameos. The parts were real," told The New York Times in an interview published on Saturday, December 18. "That I was there with them the first time and would be again, that I have too much respect for them and all the work we did together over the years."
While the film is chock full of cameos — in fact, it's basically "Spider-Man: Cameos" — it was a specific choice to not have the past female Spidey leads rejoin the story, like Emma Stone's Gwen Stacy and Kirsten Dunst's Mary-Jane. According to Kevin Feige, the president of Marvel Studios, that choice serves the direction they're taking the iconic character's story.
"When people see the movie, they will understand. It's about the story. It was a big goal for all of us — Amy and Jon and our writers, Chris McKenna and Erik Sommers — that Peter Parker's senior year in high school didn't get lost amid the insanity that ensues thanks to his encounter with Doctor Strange. That easily could have happened. And that's the reason there's not another 20 people in the movie."
So, who took the bait first? "Not who you think," Feige told the outlet, unwilling to give more details. "It's not worth talking about, but not who you think."
So, Who DID Make Spider-Man: No Way Home Cameos After All?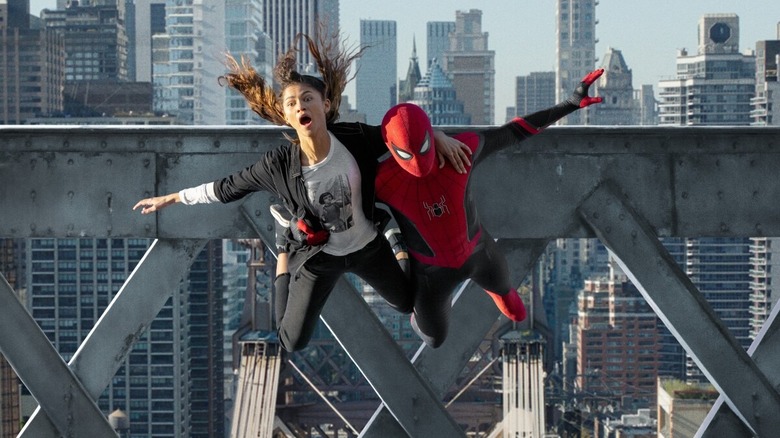 Sony Pictures Releasing
In case you haven't gone out to see the film yet — and aren't afraid of a few spoilers, of course — allow me to fill you in. Be prepared, though. It's a pretty long and solid list.
Again, spoiler warning here for "Spider-Man: No Way Home"!
The movie is a bonafide villain party: Jake Gyllenhaal's Mysterio makes an appearance, as does Tom Hardy's Venom. Next up, Rhys Ifans' Lizard slithered into the film alongside Jamie Foxx's Electro. Thomas Haden Church's Sandman rounds up the list of villain cameos — at least when it comes to the small game players.
Then we have our heavy hitters: Alfred Molina's Doctor Octopus shows up in the film alongside Willem Dafoe's original Spidey villain, the Green Goblin. Needless to say, fans have been gearing up for these cameos since official key art was released for the film, which showed small glimpses of the Goblin and Doc Ock's mechanical tentacles.
But that's not all: Both Andrew Garfield and Tobey Maguire's Spidermen make appearances in the film, much to everyone's "surprise." It had been speculated for a long time that the two Peter Parkers who preceded Tom Holland would show up in the film — so it's cool to see them be utilized in a way that is both fan service and service to the greater Spidey universe's story.
Lastly, the internet has been aflame with talk of one of the most exciting and surprising cameos, one who is not a villain at all — and knows a thing or two about the law. Yep, our boy Matt Murdock (AKA Daredevil himself) also makes an appearance in the film as Peter's lawyer, because duh. Marvel die-hards have been waiting to see how Matt would make his MCU debut, and honestly, there's no better place for it than in a Spidey movie. After all, we know from the comics that these two are buddies, and with all the trouble Pete gets himself into, he needs a good lawyer.
"Spider-Man: No Way Home" is in theaters now.