Scream 2022 Tickets Now On Sale, Special Fan Event Announced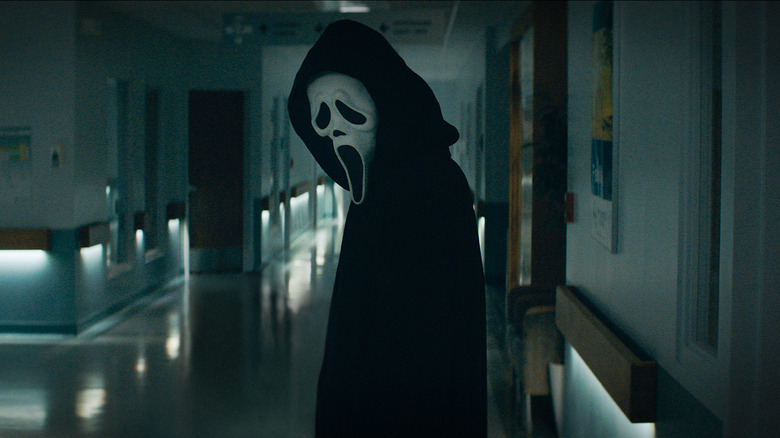 Paramount Pictures
Alright horror fans, bust out those wallets and carve out some time on the ol' calendar because tickets for the new "Scream" have officially gone on sale. Indeed, Paramount Pictures has released advance tickets for what might be the most-anticipated horror movie of 2022, as the franchise has been away for a decade but is finally ready to make its return, with the original cast in tow.
Don't miss the scariest night of the year. 😱 Get your tickets to #ScreamMovie now – Only in theatres January 14. https://t.co/8wq978FUoj pic.twitter.com/lQSQUFukKT

— Scream (@ScreamMovies) December 17, 2021
As we can see in the above tweet there, the movie's official social media channels have started pushing tickets, which are now available through most retailers. The movie's official website also has local showtimes laid out for those who want to go that route. But wait, there's more! For the major "Scream" fans out there, special fan event screenings have been announced as well.
You ready? Get tickets now to see the NEW #ScreamMovie on Thursday, 1/13 at the special 1-day, 1-show Fan Event showing with a Live Stream Q&A with @DavidArquette and our filmmakers @BettinelliOlpin, @tylergillett, & @KevWilliamson: https://t.co/RazoNLggXB pic.twitter.com/MXeId0Qfme

— Scream (@ScreamMovies) December 17, 2021
These showings will come with some bonus content, as well as a live-streamed Q&A featuring cast member David Arquette, who returns as Dewey Riley, as well as directors Matt Bettinelli-Olpin and Tyler Gillett. Plus, original writer Kevin Williamson is on board. These special screenings will be taking place the night of Thursday, January 13, the same night the regular preview screenings will be rolling out across the country. Plan accordingly.
Hello Again, Sidney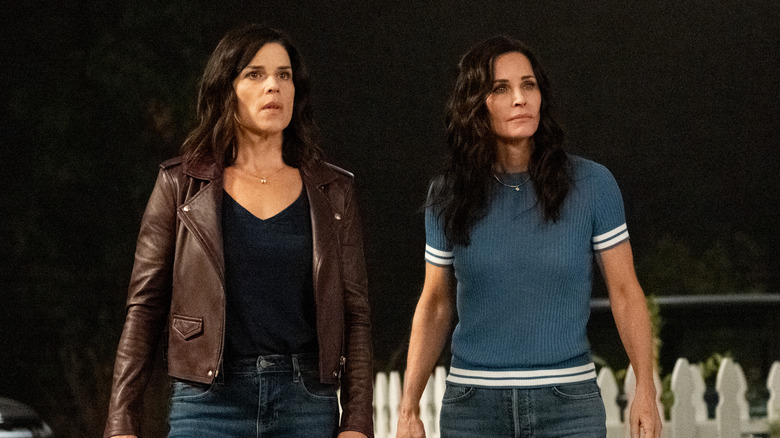 Paramount Pictures
"Scream" remains one of the most successful horror franchises in history, kicking off its run with the 1996 meta classic, directed by the late, great Wes Craven. The legendary filmmaker directed all four previous entries in the series before his passing, with 2011's "Scream 4" being the last time we saw Sidney Prescott and Ghostface grace the silver screen. While a TV show did help fill the void for a few seasons, it didn't seem to truly scratch that itch properly for many fans.
Luckily, this latest entry is bringing the old band back together, as Neve Campbell (Sidney Prescott) and Courteney Cox (Gale Weathers) are also returning for more slasher goodness. The ensemble for the fifth entry also includes Melissa Barrera, Kyle Gallner, Mason Gooding, Mikey Madison, Dylan Minnette, Jenna Ortega, Jack Quaid, Marley Shelton, Jasmin Savoy Brown, and Sonia Ammar.
The marketing, up to this point, has kept much under wraps. So much so that the directors have assured fans that the previously released trailer didn't actually spoil anything. Plus, we had a recent poster that surfaced online which had a little bit of fun with its tagline.
"Scream" hits theaters on January 14, 2022.
Twenty-five years after a streak of brutal murders shocked the quiet town of Woodsboro, a new killer has donned the Ghostface mask and begins targeting a group of teenagers to resurrect secrets from the town's deadly past.