Scream Directors Promise The Trailer Doesn't Spoil Anything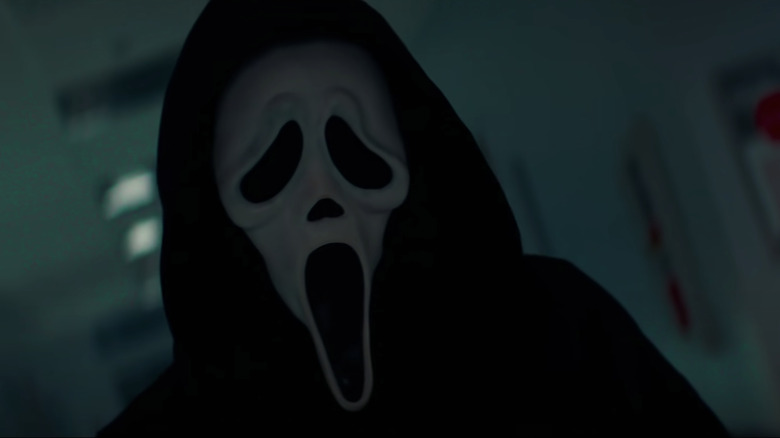 Paramount Pictures
If you're anything like me, yesterday marked an important day in which you watched the trailer for 2022's "Scream" (or is it "5cream?") no less than 64 times in an attempt to figure out just what we're in for with the new film. The highly anticipated trailer was the first real look at the fifth installment of an iconic franchise, introducing audiences to the new faces of Woodsboro and reuniting us all with our beloved favorites, Sidney Prescott, Gale Weathers, and Dewey Riley.
The new "Scream" is directed by Matt Bettinelli-Olpin & Tyler Gillett and Executive Produced by Chad Villella of the filmmaking collective Radio Silence ("Ready or Not," "V/H/S," "Southbound") from a screenplay by James Vanderbilt ("Murder Mystery," "Zodiac," "The Amazing Spider-Man") and Guy Busick ("Ready or Not," "Castle Rock"). The film was produced by William Sherak, James Vanderbilt, Paul Neinstein, with executive producers Kevin Williamson (who also wrote "Scream," "Scream 2," and "Scream 4"), Chad Villella, Gary Barber, Peter Oillataguerre, Ron Lynch, Cathy Konrad, and Marianne Maddalena.
Every time a trailer drops, hordes of people cry out "they showed too much," and "Scream" was no exception. However, thanks to an interview with Meagan Navarro of Bloody-Disgusting, the directors have assured fans that the trailer doesn't spoil a damn thing in the new installment.
"There are Misdirects Within the Trailer"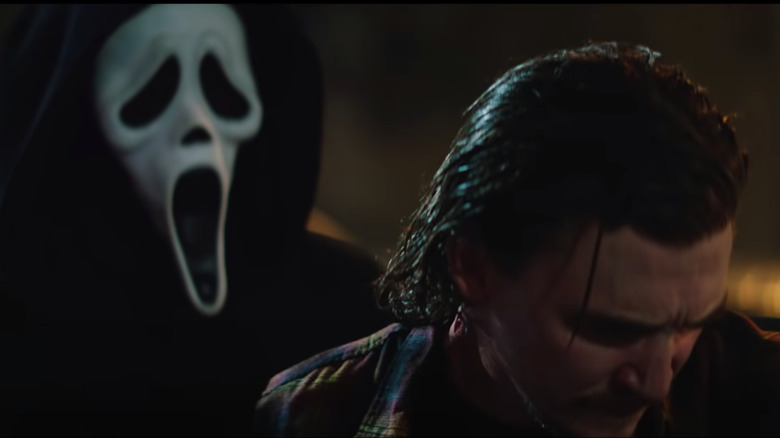 Paramount Pictures
Navarro correctly assumed that the trailer likely includes as many misdirections as it does plot points, which Bettinelli-Olpin confirmed by saying the following:
"That is a very safe assumption. This was a hard trailer for [marketing] to put together, and I think one of the things we're happy with is that anything that you might think is a spoiler in this, there's a good chance you're wrong. There are misdirects within the movie. There are misdirects within the trailer. For us, that's just the fun of the whole thing to make this a big whodunnit. Spoilers suck, but the fun as fans is to talk about who might be the killer. Then to go through it forensically to try and find out and see if you can win the game, basically."
All bets are off when it comes to trying to predict the killer(s) in a "Scream" movie. We've historically watched Ghostface stab someone only for it to be revealed that the victim was in on it. Tyler Gillet noted in the interview:
"Part of what we love about the 'Scream' movies, and what we love about the 'Scream' fandom is just how deep people watch these movies. We think some of the fun of this experience is this forensic watching of things and trying to figure out who the killer is. It's all a part of what's so unique and so special about this franchise to us. As deep, deep fans of the original four, we took pains to populate the world of this movie, and certainly the materials with as many fun nods and Easter eggs and misdirects as possible."
Flipping Expectations Upside-Down as Many Times as Possible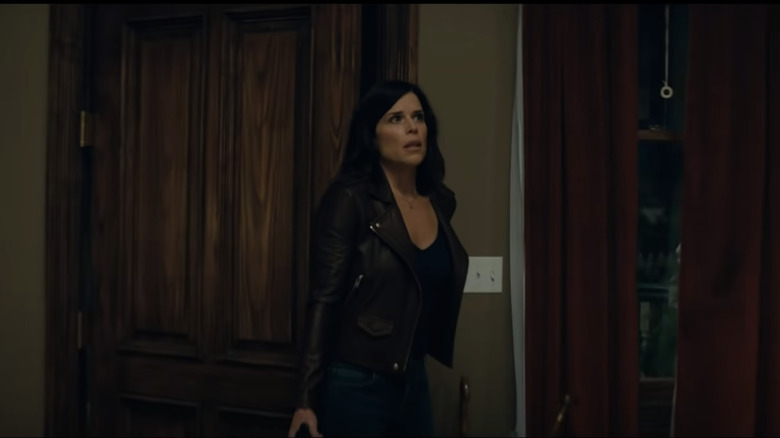 Paramount Pictures
When "Scream" first debuted in 1996, Wes Craven and Kevin Williamson's willingness to subvert slasher tropes and provide a level of meta-horror commentary won over horror fans everywhere. Gilett noted that this is something they all kept in mind when working on the new project. In discussing screenwriters Jamie and Guy, he said, "They're so aware of what you, as an audience member, are probably aware of going into the experience, so it's the job of the story to flip those expectations upside-down as many times as possible. And it's begun."
Regardless of the direction Radio Silence goes with "Scream," it's fun to be this excited for a horror release. They have a solid track record when it comes to crafting clever horror, and knowing they chose to respect and honor the franchise's legacy is worth celebrating. Don't mind me, I'll be over here fantasy booking the return of Kirby from "Scream 4" and Billy from "Scream" in my head.