Eternals Blu-Ray Arrives In February Following Disney+ Debut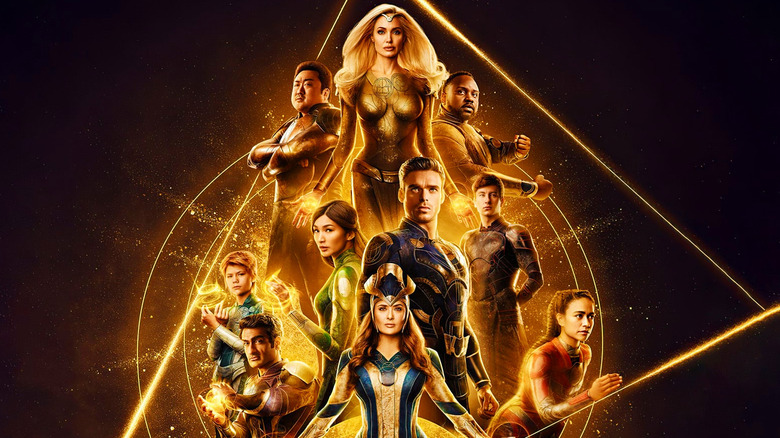 Marvel Studios
Director Chloé Zhao's "Eternals" managed to divide critics and audiences in a way no Marvel Studios movie before it has, which is kind of an accomplishment in and of itself. Along the way, Zhao's millennium-spanning cosmic epic also took in $396 million at the box office, which was a blip (see what I did there? Moving on) compared to the hauls for MCU films past, but enough to crack the top 10 at this year's pandemic-era box office going into the release of this week's "Spider-Man: No Way Home."
Marvel Studios has now confirmed that "Eternals" will debut on all major digital platforms on January 12, 2022, which is the same day it becomes available for streaming at no added cost on Disney+. Those planning to buy the film on home media may do so on February 15, 2022, when it becomes available on 4K Ultra HD, Blu-ray, and DVD.
As is customary for MCU tentpoles, the "Eternals" home media package will include bonus features like audio commentary by Zhao and visual effects supervisors Stephane Ceretti and Mårten Larsson. Among its other goodies are the standard behind-the-scenes clips, a handful of deleted scenes, and a gag reel for all those who can't get enough of actors in superhero costumes flubbing their lines.
The MCU Will Never Be the Same (Or Will It?)
Marvel Studios
It will be genuinely interesting to see how time treats "Eternals." Will it attract a loyal fanbase that argues it was under-appreciated when it first hit theaters (much to the confusion of its detractors), like fellow comic book tentpole "Batman v Superman: Dawn of Justice"? Or will it continue to be remembered as an admirable gamble for Marvel Studios that didn't pay off the way it hoped, in part because it wasn't weird enough (as /Film's Max Evry has argued)?
With the next two years' worth of MCU movies already making their way down the assembly line, the response to "Eternals" won't have an immediate effect when it comes to Marvel Studios' willingness to take creative risks going forward. But therein also lies the problem with the studios' approach to designing an interconnected cinematic universe: to keep its films coming at a steady pace, it has to moderate its bigger swings, in case one misses so badly it causes issues for the projects behind it. (Warner Bros. learned that lesson the hard way back when it tried to use the MCU model for the DCEU.) So long as that remains the case, it's going to stay difficult for movies like "Eternals" to realize their wilder ambitions and fully break the MCU mold.
To reiterate: "Eternals" debuts on Disney+ and other digital platforms on January 12, 2022, before arriving on 4K Ultra HD, Blu-ray, and DVD on February 15, 2022.