Moon Girl And Devil Dinosaur Teaser: Marvel Drops First Footage Of Disney Channel Animated Series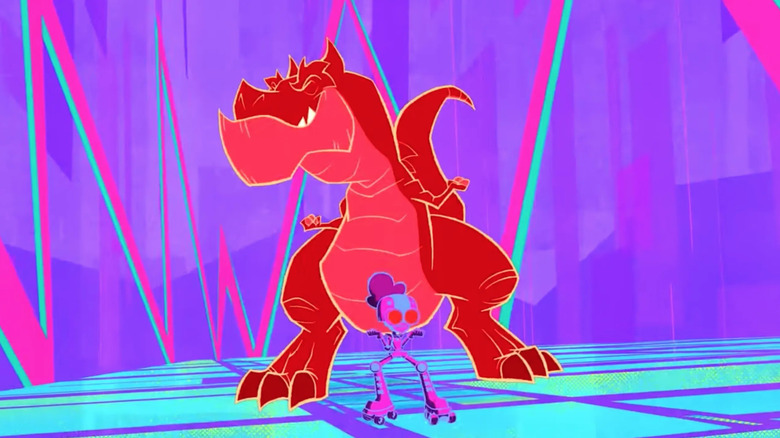 Marvel Entertainment
"If you didn't know it then, now you know." Marvel has just dropped a teaser for its newest animated series, "Moon Girl and Devil Dinosaur," introduced by executive producer Laurence Fishburne (the "John Wick" film series) who also provides voice work for the character known as The Beyonder. The teaser begins with Moon Girl, AKA Lunella Lafayette, ripping it up on her yellow-laced roller skates through the city before Devil Dinosaur tag-teams with her to kick some bad guy butt (with the skates on!). The footage concludes with Moon Girl keeping watch over the Big Apple streets, her trusty cassette tape in hand and her helmet secured. Finally, a hero who prioritizes personal safety precautions.
Here's the synopsis for "Moon Girl and Devil Dinosaur":
After 13-year-old super-genius Lunella accidentally brings ten-ton T-Rex, Devil Dinosaur into present-day New York City via a time vortex, the duo works together to protect the city's Lower East Side from danger.
Check out the teaser below.
There's a New Hero in Town
Based on the comic book of the same name by Brandon Montclare, Amy Reeder, and Natacha Bustos, "Moon Girl" looks like a cross between a vivid Gorillaz music video and the visual punch of Jack Kirby's comics. The star heroine is voiced by Diamond White (CBS's "The Bold and the Beautiful," "The Lion Guard"), while Devil Dinosaur is voiced by Fred Tatasciore (the Hulk in the "Ultimate Avengers" films and "The Avengers: Earth's Mightiest Heroes").
Rounding out the cast is Alfre Woodard ("The Lion King" 2019) as Lunella's grandmother Mimi, Libe Barer ("Those Who Can't") as bestie Casey, Sasheer Zamata ("Tuca and Bertie") as Lunella's mom Adria, and Jermaine Fowler ("Sorry to Bother You") as father James Jr. As a special treat, prolific voice actor Gary Anthony Williams plays Lunella's grandfather Pops; kids may know Williams as the voice of Doc McStuffins' dad or Bebop in the 2016 "Teenage Mutant Ninja Turtles" movie, but adults know him as Uncle Ruckus in "The Bookdocks."
The series is executive produced by Fishburne, Cort Lane, Steve Loter, and Helen Sugland, with Lisa Muse Bryant acting as a consulting producer. Also producing are 
Rodney Clouden, Pilar Flynn, Jeffrey M. Howard, and Kate Kondell. In addition to Disney and Marvel, Fishburne's Cinema Gypsy produces alongside Flixzilla Aura.
Marvel's "Moon Girl and Devil Dinosaur" is scheduled to premiere on Disney Channel in summer 2022.