15 Underrated War Movies You Need To Watch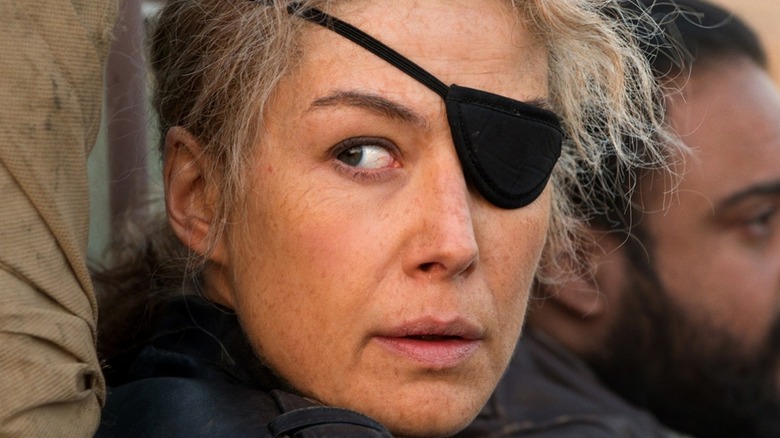 Aviron Pictures
War films have an important place in cinema history, and the genre itself is much more diverse than some may expect. War films are exciting because they don't all fit under a single label. Throughout the course of cinematic history, there have been many films based on numerous conflicts. Some of these battles actually happened, some are only inspired by actual history, and some are completely imaginary, but regardless, it's always fascinating to see history play out on screen, as well as to watch filmmakers wrestle with the ramifications of the life-or-death events their films depict
There's a very fluid definition to what is considered a "war film," as it's a genre that often intersects with others. Sometimes, a comedic perspective is the best way to approach the subject material. Other war films incorporate elements from documentaries, science fiction, horror, fantasy, westerns, or romance. For example: Is "Star Wars" a war movie? The title certainly indicates that it is.
For both war movie buffs and film fans who love a good story, these 15 underrated war films are definitely worth watching.
The Zookeeper's Wife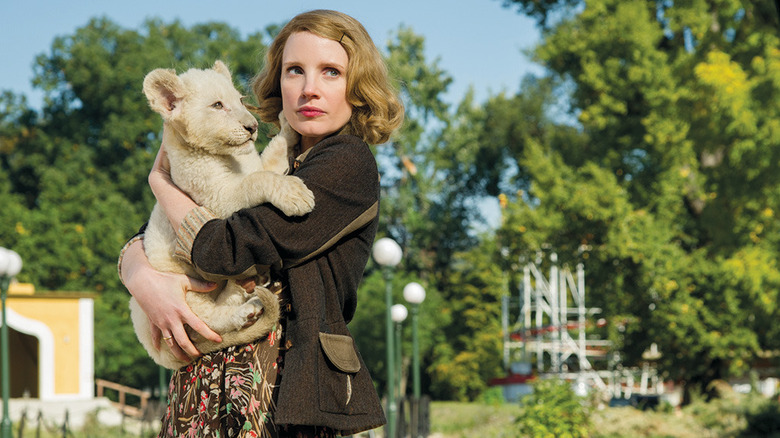 Focus Features
World War II is probably the most well-documented war in film history. Newsreels that played at theaters during WWII helped keep civilians informed of what was happening abroad, while films like "The Great Dictator," "Casablanca," and "The Mortal Storm" were actually produced during and touch on the conflict. More modern filmmakers often return to World War II, and some of the greatest films of all time highlight the achievements of the brave soldiers who put their lives on the line.
However, the complex nature of WWII also means that there are many heroes whose stories aren't as well known, and historical films have since helped spotlight these underrepresented figures. "The Zookeeper's Wife" is a fascinating film about the reality of living under fascism. Based on the novel by Angela Workman, it tells the true story of Jan (Johan Heldenbergh) and Antonina Żabińska (Jessica Chastain) as they operate the Warsaw Zoo in Poland during the 1930s. During the Nazi invasion, the zoo is occupied by Third Reich officer Lutz Heck (Daniel Bruhl). Heck intends to use the animals for Nazi experiments, but the two zookeepers try to protect the innocent creatures; before long, they begin to help escaping Jews as well. When Jan departs for the war, Antonina must stay behind with Heck.
Chastain delivers one of her most underrated performances in the film, capturing the struggles that Antonina goes through as she deceives Lutz. In a genre that is often dominated by men, it is refreshing to see a female perspective from director Niki Caro.
Official Secrets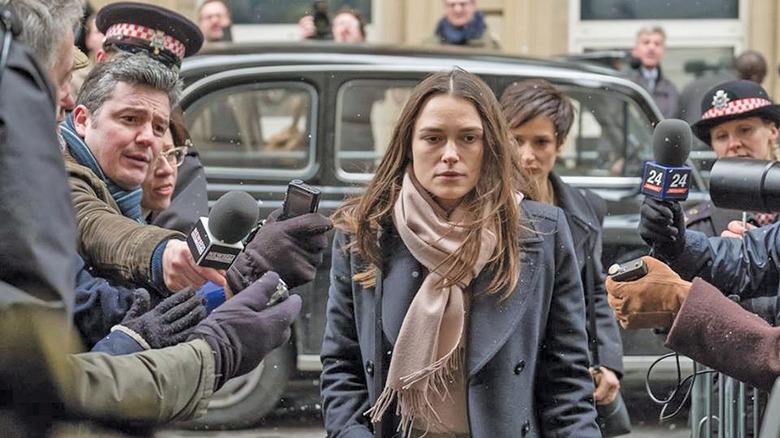 IFC Films
Films about modern warfare tackle the challenges of capturing an ever-growing definition of what a "war" even is. The fragile state of international politics creates a world in which many violent conflicts are either underreported or not officially recognized, and great films have explored the grey morality of these complex topics. Films about whistleblowers are particularly fascinating, and while the political thrillers of the 1970s best define the subgenre, plenty of new classics deal with more recent events.
2019's "Official Secrets" explores the incredible true story of GCHQ analyst Katharine Gun (Keira Knightley). Gun discovers a report that reveals a joint espionage operation into Cameroon, Chile, Bulgaria, and Guinea by United States and British spies. The purpose of the operation was to uncover suspicious details that could support the movement to invade Iraq and influence the United Nations Security Council's decision to support the war. Gun is shocked by her discovery and becomes burdened by the weight of the secret information. Feeling helpless as she watches the war continue, she leaks the information to journalist Martin Bright (Matt Smith).
Gun immediately finds herself targeted by government forces that attempt to silence her, and Bright must find the best way for the story to be taken seriously. The extent of the government cover-up that appears in the resulting court cases is so extreme that it would feel ludicrous in an original film; thankfully, "Official Secrets" director Gavin Hood helps highlight these shocking true events.
13 Hours: The Secret Soldiers of Benghazi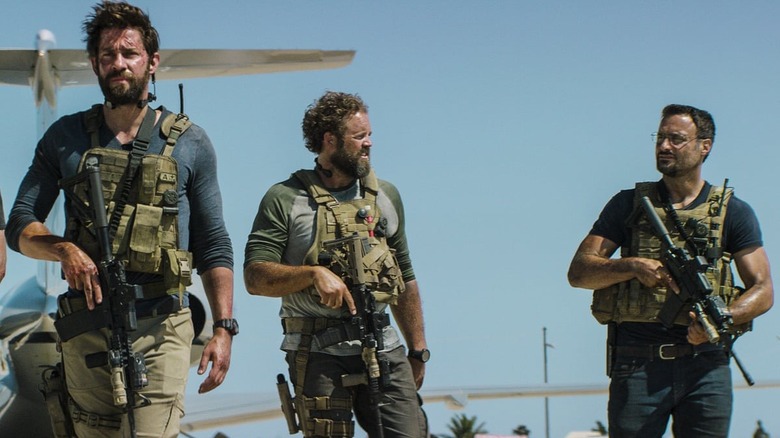 Paramount Pictures
Michael Bay is often the butt of jokes, but, despite his reputation, he is a talented filmmaker. Bay is unquestionably a director who understands spectacle, and who can create astounding action sequences even in his worst films. Despite the success of "The Rock," "Bad Boys," and "Armageddon," Bay's later career became dominated by the "Transformers" franchise, films that are, unfortunately, known for their terrible characters, confusing storylines, and cartoonish sense of humor.
Bay had attempted to make a serious war drama earlier in his career with "Pearl Harbor," but, unfortunately, his three-hour World War II epic was a critical failure that only disrespected the real heroes of the conflict. However, Bay tried his hand at the war genre again in 2016 with "13 Hours: The Secret Soldiers of Benghazi." The film tells the real story of the Annex Security Team that defended the American diplomatic base in Benghazi during the infamous 2012 attacks.
Surprisingly, Bay's bluntness helps cut back on the surrounding political controversy and focuses on the conflict itself. Working on a lower budget, Bay creates realistic action sequences that capture the chaotic frenzy of the situation. In addition, ahead of his later performances in "A Quiet Place" and "Jack Ryan," John Krasinski showed his range as a dramatic actor with his role as U.S. Navy Seal Jack Silva. Silva is a new member to the team, and proves his merit as he chooses to stay with the other soldiers to defend the base.
Man Down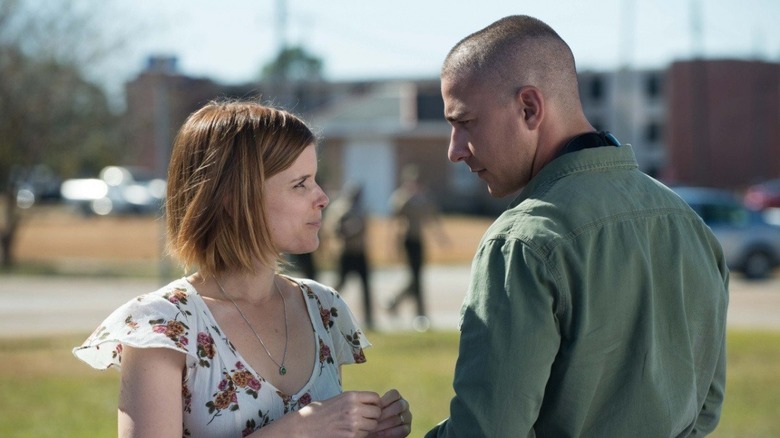 Lionsgate
Although some war films lionize military service, others show the devastating consequences that some men and women face as they deal with post-traumatic stress disorder. This sensitive subject material can easily be mishandled, but when dealt with successfully, these films capture how wartime experiences shape the soldiers' points of view in powerful detail. Dito Montiel's 2016 film "Man Down" takes a unique approach to the subject by utilizing elements of science fiction.
The film follows U.S. Marines Gabriel Drummer (Shia LaBeouf) and Devin Roberts (Jai Courtney) as they train together while stationed overseas in Afghanistan. Gabriel struggles with leaving his wife Natalie (Kate Mara) and their young child, and the situation grows even more complicated when Gabriel learns that Devin convinced Natalie to have an affair. While Gabriel wants to trust his best friend, he only gradually learns the details of his wife's infidelities. 
LaBeouf delivers one of his best and most nuanced performances in the film, and Gabriel is very different from the eccentric characters he generally plays. The tension only increases in the not-so-distant future, when Gabriel returns home to a war-torn post-apocalyptic landscape and searches for his family amidst the chaos.
Buffalo Soldiers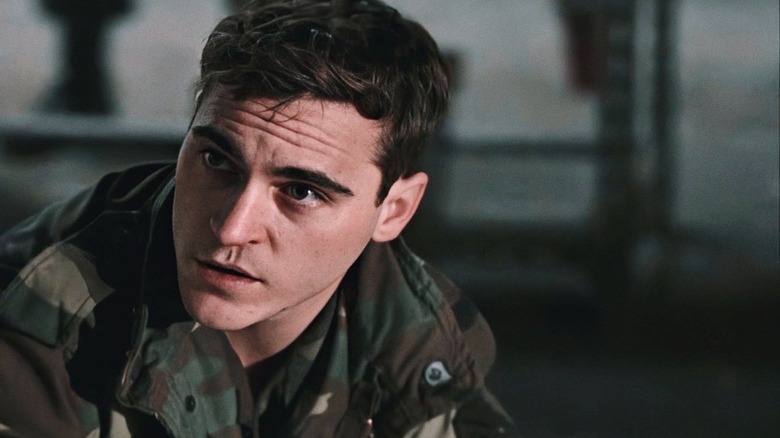 Miramax Films
"Buffalo Soldiers" is an underrated war film that unfortunately suffered from one of the worst release windows in history. The film debuted to strong reviews at the 2001 Toronto International Film Festival, but given the close proximity to the 9-11 attacks, its satirical approach to American military service was seen as insensitive and unpatriotic. "Buffalo Soldiers" was unfortunately held from official release for two years, and debuted to low box office and underwhelming responses when it finally made its way to general audiences.
It's unfortunate that the film suffered from so many setbacks, because its comedic look at military spending and government indifference is an interesting way to tackle an issue that has unfortunately grown all too relevant. The film centers on Specialist Ray Elwood (Joaquin Phoenix), who is stationed at an American supply base in West Germany in 1989. Elwood enjoys partying, drinking, and acquiring illicit substances, and is able to get away with some wild behavior thanks to the ignorance of Colonel Berman (Ed Harris). Elwood's behavior grows more extreme as he begins illegally selling military technology, producing devastating results.
Force 10 From Navarone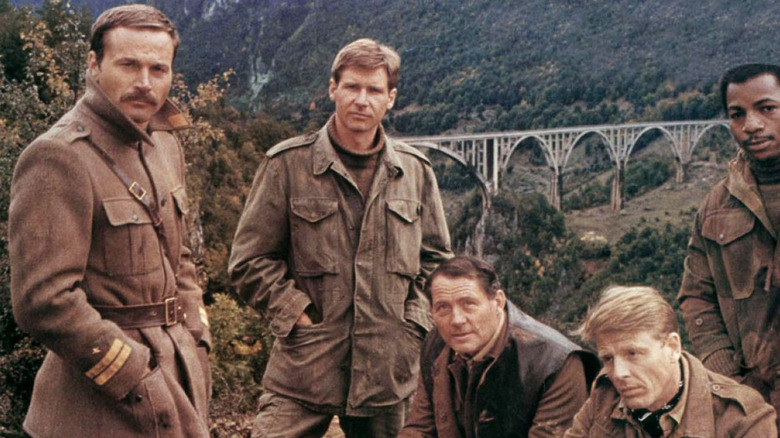 Columbia Films
1961's "The Guns of Navarone" is one of the quintessential World War II films. While many films tackling the conflict take a more serious approach, "The Guns of Navarone" was a throwback to classic serial adventures that portrayed the American soldiers as action heroes. Enough time had passed since the actual war that audiences were able to accept a more fun-spirited approach to the recent events, and "The Guns of Navarone" was considered untouchable within the genre. Thankfully, the belated sequel "Force 10 From Navarone" was a follow up worthy of the original film's reputation.
"Force 10 From Navarone" follows British Commandos Major Keith Mallory (Robert Shaw) and Lieutenant Colonel Mike Barnsby (Harrison Ford) as they search for a German spy in enemy territory. Shaw perfectly fits the template of a grizzled commando who delivers pithy one-liners, and it's particularly interesting to see Ford in this early role, which came shortly after the success of "Star Wars."
Operation Finale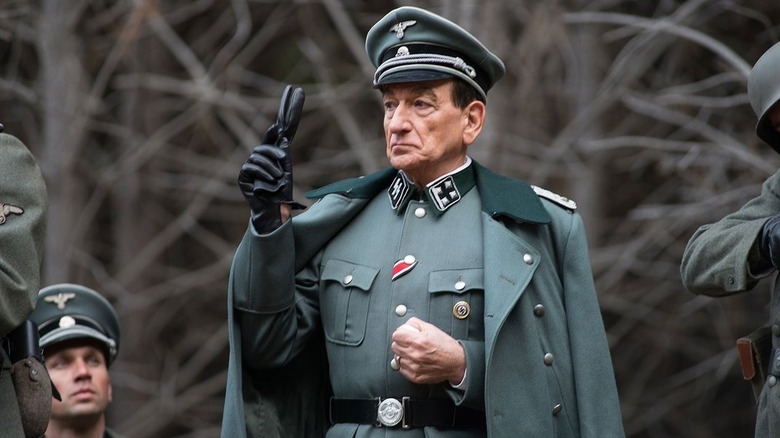 MGM
Great war films don't necessarily have to take place during the actual conflict itself, as the post-war experience can be just as fascinating. The entire course of world politics was foundationally changed by World War II, as the public learned more about the Holocaust and survivors began to tell their stories. Chris Weitz's 2018 film "Operation Finale" follows Israeli military operatives who searched for the former Nazi officer Adolf Eichmann (Ben Kingsley) in 1960. The archival footage of Eichmann's actual trial shown during the film's ending is particularly powerful.
Eichmann's capture is of the utmost importance; he was a member of Adolf Hitler's inner circle, and was the architect of the "Final Solution." Mossad agent Peter Malkin (Oscar Isaac) has been hunting former Nazis in South America, and is eager to bring Eichmann to justice by trying him in Israeli courts. Kingsley delivers a terrifying performance as a real monster, and Malkin is a similarly nuanced character. He struggles not to kill Eichmann, even though he's charged with bringing him in alive.
Green Zone
Universal Pictures
Director Paul Greengrass and Matt Damon changed the course of action movie history with the "The Bourne Supremacy" and "The Bourne Ultimatum," infusing realistic stunt choreography and relevant political commentary into adaptations of Robert Ludlum's novels. Their approach proved to be just as successful when used to tell a story of 21st century warfare. "Green Zone" doesn't only boast the types of excellent action sequences that one would expect from the pair, but it also tackles the weighty topic of American intervention in foreign conflicts.
In 2003, U.S. Army officer Roy Miller (Matt Damon) is tasked with a mission to find terrorists linked to weapons of mass destruction in Baghdad. Miller is shocked to find little evidence to justify American involvement, and, when he attempts to ask questions, his search is blocked by U.S. Department of Defense official Clark Poundstone (Greg Kinnear). While the events are fictitious, they were inspired by a real mission undertaken by Army Chief Richard Gonzales.
The Outpost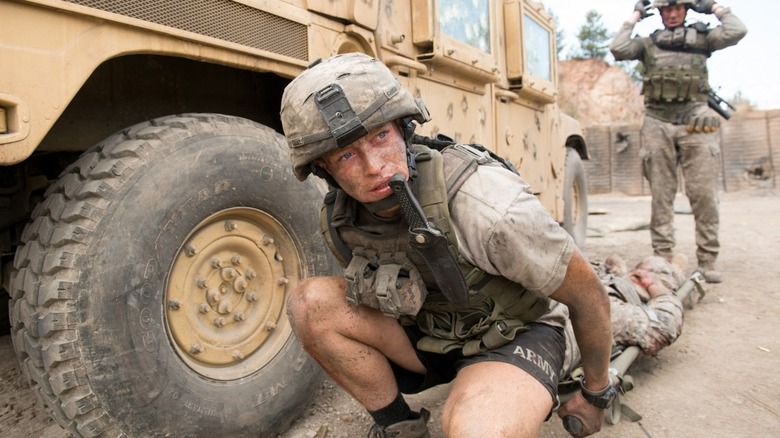 Screen Media Films
War films have the power to spotlight real, underreported stories. Rob Lurie's 2020 film "The Outpost" chronicles the Battle of Khamdesh, a conflict between American and Afghanistan insurgents in 2009 during which a small group of soldiers were tasked with defending an outpost from over 300 enemies. The film was inspired by Jake Tapper's 2012 nonfiction book "The Outpost: An Untold Story of American Valor," and the specifics of Tapper's writing help capture a gut-wrenching story of real heroism.
The film does a great job at making each of the characters feel individual, including Staff Sergeant Clint Romesha (Scott Eastwood), Specialist Ty Michael Carter (Caleb Landry Jones), and Captain Benjamin D. Keating (Orlando Bloom). Lurie captures the anxieties that the characters feel as they are forced to bide their time and remain at their post, only gradually learning that they won't receive any additional assistance. Jones delivers a particularly powerful performance as Carter deals with post-traumatic stress disorder.
The Yellow Birds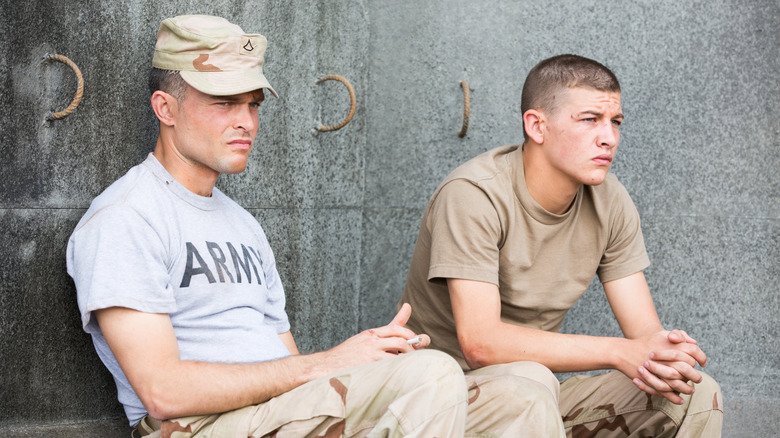 Saban Films
The 2017 war film "The Yellow Birds" debuted to very strong word of mouth at the Sundance Film Festival, but unfortunately the film's official release was held for over a year, and it was only released in select theaters and on-demand services. That's unfortunate, because the film is a sensitive look at how the idealism of young men who enlist changes throughout their service. "The Yellow Birds" is also one of the rare films that pays equal attention to the parents who watch their children engage in violent conflicts.
John Bartle (Alden Ehrenreich) and Daniel Murphy (Tye Sheridan) have been best friends since childhood, and choose to enlist together in the middle of the Iraq War. Bartle is three years older than Murphy, and feels particularly protective after Murphy's mother (Jennifer Anniston) urges him to bring her son home safely. However, Bartle finds it difficult to watch out for his friend when they're placed under the command of untraditional Staff Sergeant Sterling (Jack Huston).
A Private War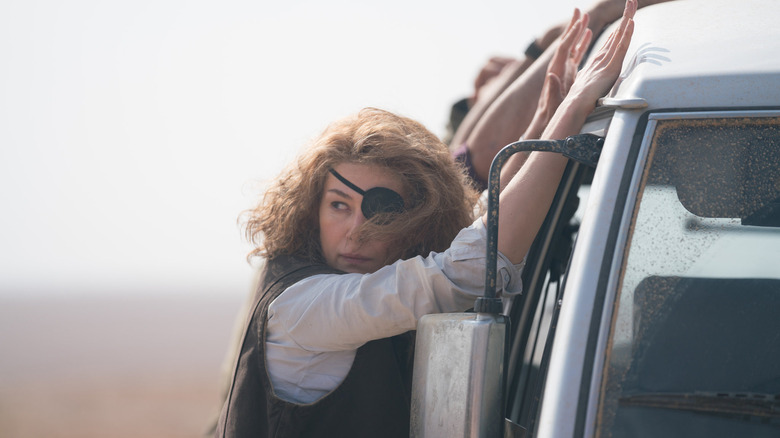 Aviron Pictures
The role of journalists is often undervalued in war films, and it's important not to take the value of good reporting for granted. Journalists often risk their lives to keep the public informed, and to spotlight important issues when official reports can't be trusted. The 2017 film "A Private War" tells the incredible true story of Marie Colvin (Rosamund Pike), a Sunday Times reporter who traveled to Sri Lanka, Iraq, and Libya to cover battles that were ignored by the mainstream media.
Pike delivers a physically transformative performance, as Colvin was injured during a skirmish with the Sri Lankan Army and forced to wear an eyepatch. Colvin's work helps expose the horrible experiences of child soldiers to international viewers, but leaves her scarred. Colvin also struggles to adjust to her role when returning home, as she's compelled to continue her work despite the frequent danger. Jamie Dornan delivers one of his best performances as Colvin's longtime photographer Paul Conroy, one of the only characters who can understand what she is going through.
Valkyrie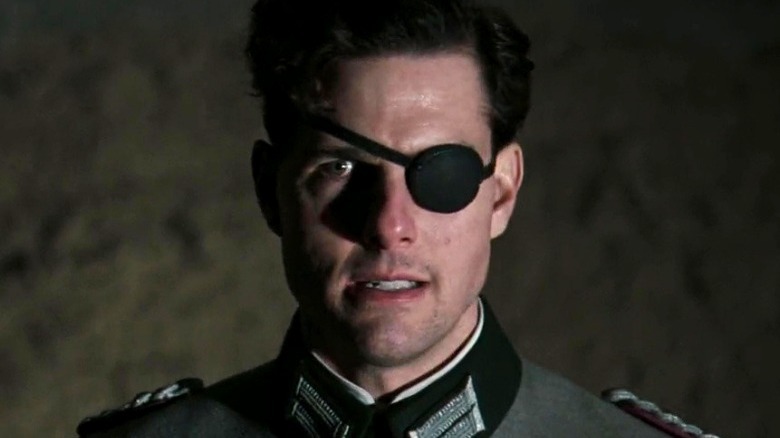 MGM
It's important to recognize the bravery of the Germans who stood up to the Nazi Party. Confronting fascism takes incredible courage, and many of the resistance efforts by German heroes have been buried by history. Bryan Singer's 2008 film "Valkyrie" explores the failed mission to assassinate Adolf Hitler by top members of the German military. Although Operation Valkyrie was obviously unsuccessful, it's fascinating to consider the political turmoil that was going on behind enemy lines in 1944.
Tom Cruise delivers one of his most underrated performances as Wehrmacht Colonel Claus von Stauffenberg, who grows skeptical of Hitler's tactics and comes into contact with the German Resistance movement. Despite the fact that he is one of the most famous movie stars on the planet, Cruise is able to shed his onscreen persona and fully assume the role of a grizzled veteran. The screenplay hails from Cruise's frequent collaborator Christopher McQuarrie, who is a master of creating suspenseful sequences through sharp dialogue.
The Book Thief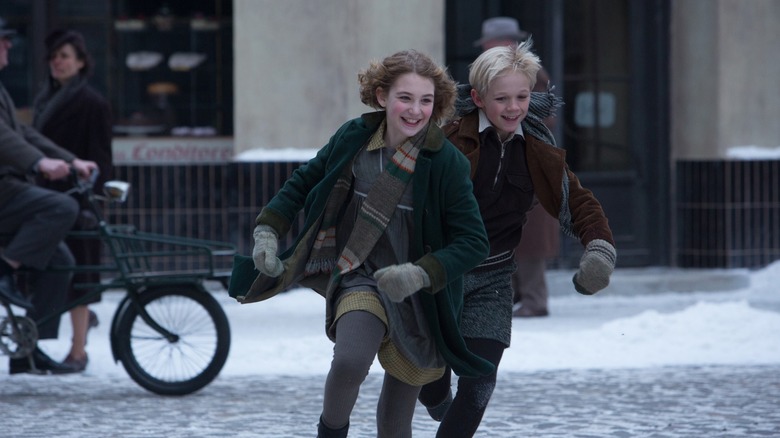 20th Century Fox
Markus Zusak's novel "The Book Thief" explores the horrors of war from a child's point of view. Films that explore a youthful perspective on war walk a difficult line, as they're often called on to show a loss of innocence as children are forced to grow up quickly. Elegantly written as both a historical adventure and a coming-of-age story, Zusak's novel offers heartbreaking insights into the lives of German civilians during World War II and the Holocaust.
"The Book Thief" was adapted for the big screen in 2013 by director Brian Percival, and follows the novel's story about young orphan Liesel Meminger (Sophie Nélisse). Liesel is adopted by the kind Hans (Geoffrey Rush) and Rosa Hubermann (Emily Watson), who silently detest the fascist presence within their home country. Although Liesel is shy and introverted, Hans bonds with her as they learn to read together. However, the family comes under threat when Hans decides to hide a Jewish boy, Max Vanderburg (Ben Schnetzer), from authorities.
War Machine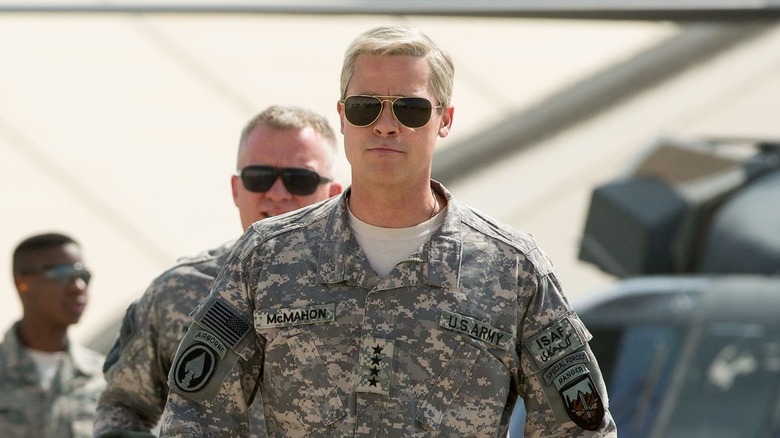 Netflix
It's hard for some war films to shake the reputation that they are "message" movies, as few audience members want to have a political argument slammed in their faces. That's why films that take a satirical approach to war are often successful, as exploring the ramifications of disturbing topics can be more palatable if they're approached from a comedic perspective. In addition, real events are often so unbelievable that they feel like satire, as is the case with the 2017 Netflix film "War Machine."
The film explores the leadership of U.S. General Glen McMahon (Brad Pitt), inspired by the actual behavior of General Stanley McChrystal during the Afghanistan War. McMahon is tasked with justifying the continued fighting in Afghanistan over the course of two presidencies, and becomes overwhelmed by the political complications, which differ from his more black-and-white perspective. Pitt captures a particular comic sadness in McMahon's lack of control over the situation.
Eye in the Sky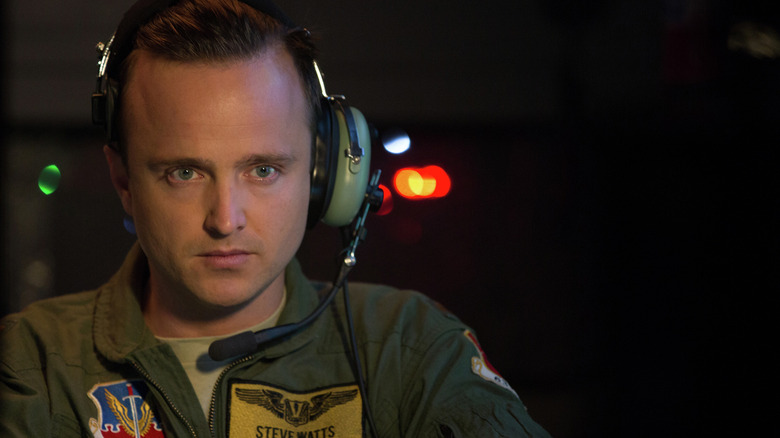 Entertainment One
War is dependent on critical decisions made during the height of conflict, and the rise of the modern surveillance state has only made these choices more stress-inducing. The underrated 2015 film "Eye in the Sky" explores a plethora of ethical decisions that must be made while utilizing drones. Director Gavin Hood doesn't offer any easy solutions, instead forcing the audience to put themselves in the characters' shoes.
While tracking terrorists in Libya, USAF pilot Steve Watts (Aaron Paul) observes a child playing outside of a compound that is about to be raided. He conveys the information to the British Lieutenant General Frank Benson (Alan Rickman) and Colonel Katherine Powell (Helen Mirren), who are forced to decide whether or not to continue with a planned bombing. In his final screen performance, Rickman delivers the film's most devastating line: "Never tell a soldier that he does not know the cost of war."