Why Adam Driver Was Hesitant To Take The Kylo Ren Role
Lucasfilm
When Adam Driver's Kylo Ren was first introduced as the newest "Star Wars" villain on the block in "The Force Awakens," some fans weren't entirely convinced. This guy with the perfect hairdo? A villain? 
Adam Driver didn't look like a quintessential "Star Wars" bad guy, even in his all-black wardrobe. Kylo Ren didn't have a frightening facial tattoo such as Darth Maul's, his power hadn't distorted his face like Emperor Palpatine's, and he wasn't half-machine like Darth Vader, even if he tried to emulate his presence with a signature helmet and vocal distortion. Instead, Kylo Ren had engaging eyes and that glorious mane of hair which made him look like a deeply flawed prince. Kylo Ren's actions, however, proved otherwise, and it's the character's story that convinced Driver to take the role, even though he was admittedly hesitant about being part of a galaxy far, far away.
Taking On The Role Of Kylo Ren Wasn't Easy For Adam Driver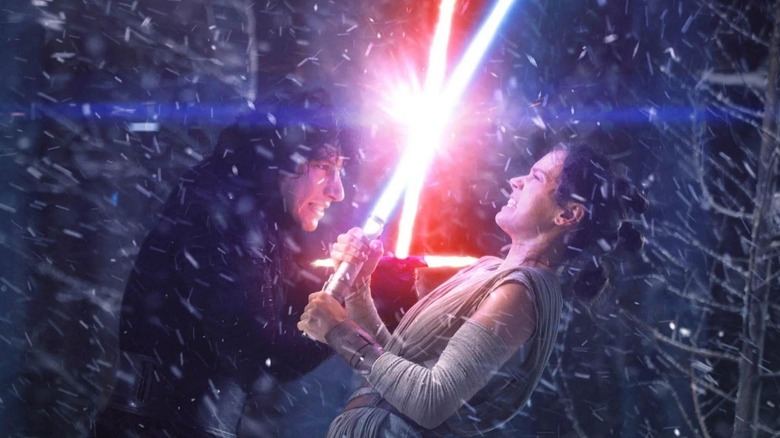 Lucasfilm
Adam Driver embodied the brooding and formidable antagonist in three "Star Wars" movies, displaying Kylo Ren's angst and rage to his very best. But before that, Adam Driver wasn't particularly thrilled about big-budgeted movie franchises, especially since they didn't always take care of their characters and stories. Thankfully, writer and director J.J. Abrams' plan for "The Force Awakens" helped convince the actor to come on board.
In 2015, Adam Driver shared with Rolling Stone that accepting a role in the space opera franchise was "not an easy yes." The actor was concerned about his character and the story not being at the heart of the film, and he was holding himself back because he was worried about messing it up. When director J.J. Abrams spoke with Driver about Kylo Ren's role in the movie, the actor was able to brave his apprehensions and chose to move forward with the part. Driver recalled:
"Just because people can remake something, or revisit a world, doesn't necessarily mean they should. I've seen a lot of bigger-budget movies that sacrifice character and stories for spectacle, and I had no idea what it was going to look like or what the script was. But the first words out of J.J.'s mouth were about character and story. It was all really cool. And even then, you have doubts. Can I live up to that? I'm a fan of the movies. You don't want to f**k it up, by any means. It seemed that because I was scared of it, maybe it was a good reason to do it."
Driver went on to portray Kylo Ren in "The Last Jedi" (2017) and "The Rise of Skywalker" (2019). Despite mixed feelings from fans for each of the sequels, Driver's performance was well-received, and fans were fascinated by his intricate performance of the villain. Plus, he ended up getting some trademark battle damage like his fellow Sith, thanks to a scar across his face and body caused by the slice of a lightsaber at the hands of the defected Stormtrooper named Finn (John Boyega).
Kylo Ren was never a character who was easy to root for. He committed his fair share of crimes, including the murder of his own father, the smuggler-turned-hero Han Solo, and was somewhat responsible for Luke Skywalker's death. Kylo Ren also ordered the death of many innocent villagers and probed the minds of his victims against their will. But his consistent struggle between his desire to rule the dark side and his legacy that tied him to the light never went unnoticed, and it made him one of the most complex and satisfying characters in the new "Star Wars" trilogy.