Rumble Star Terry Crews Talks Playing A Heel And Overcoming Self-Doubt [Interview]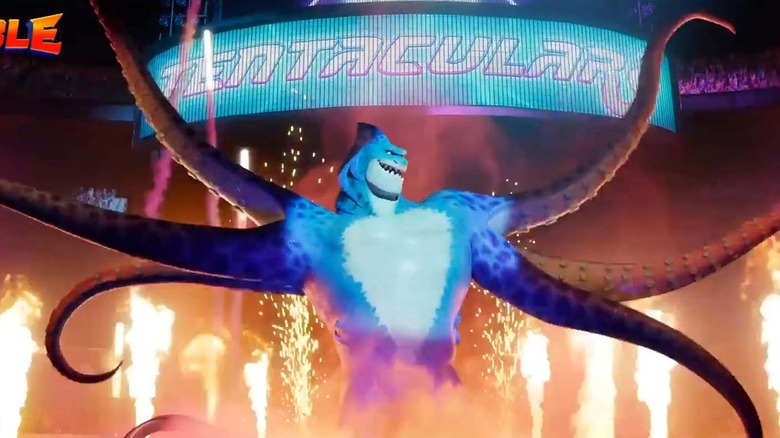 Paramount+
Terry Crews is one of those actors who has made a name for himself through a variety of different mediums, and everyone seems to know him from something different. Whether it's his run as Julius Rock on "Everybody Hates Chris," his forever meme-able moments in "White Chicks," his frequent appearances in nationally syndicated commercials, ruling the country as President Dwayne Elizondo Mountain Dew Herbert Camacho in "Idiocracy," or supervising the precinct of "Brooklyn Nine-Nine," Terry Crews is one of the most recognizable and identifiable performers working today.
With great visibility also comes great scrutiny, something that Crews knows first-hand and touched on in our discussion about playing a character who is viewed as a beloved champion by some, and a major heel by others. The NFL player turned actor is no stranger to playing hoss roles, and his latest venture finds him voicing the larger-than-life kaiju wrestling champion, Tentacular, in Paramount Animation's "Rumble." 
I sat down with Crews and had a surprisingly deep conversation about voicing children's entertainment, overcoming self-doubt, and of course, those Old Spice Commercials.
"He's A Heel"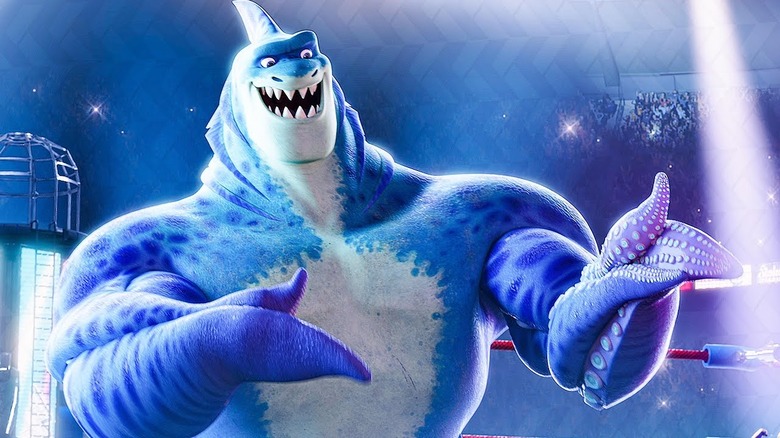 Paramount+
You are currently the voice of, in my opinion, the most wonderful dad in animation as Duane on "Craig of the Creek."
Yeah, I love that show!
Oh, it was my comfort food during the start of the pandemic! Comparing that character with your role in "Rumble," Tentacular is a bit of a heel, so I'm curious if there were any other heel characters that you looked toward for inspiration?
First of all, you got to know both of those characters are me. You can ask my wife, [she'll say] "He's a heel." You know, this is the reality of what even social media is, and the whole thing is that they're realizing that celebrities are real people. And the problem is that sometimes they're good and sometimes they're bad. You know what I mean? I acknowledge that. And one thing I always wanted to be is a real person. This is why I've been very vulnerable about my own things, about who I am and what I've been through, because something about hiding behind that mystifying image thing has always been... I think it's a problem just in that people tend to deify guys and put them up and all this stuff.
Totally.
But when I look at Duane, I love that character because that is me. I mean, with my 32 years of marriage and all my five kids, I get in that booth and I'm right back there. Because my kids are grown. I mean, they're all adults now, but I go back to that time of my life when they were that age. But also when I'm playing Tentacular, I go back into the bravado and a lot of the narcissism that was necessary to play in the NFL. You know what I mean?
"You Had to Believe That You Were The Best in the World"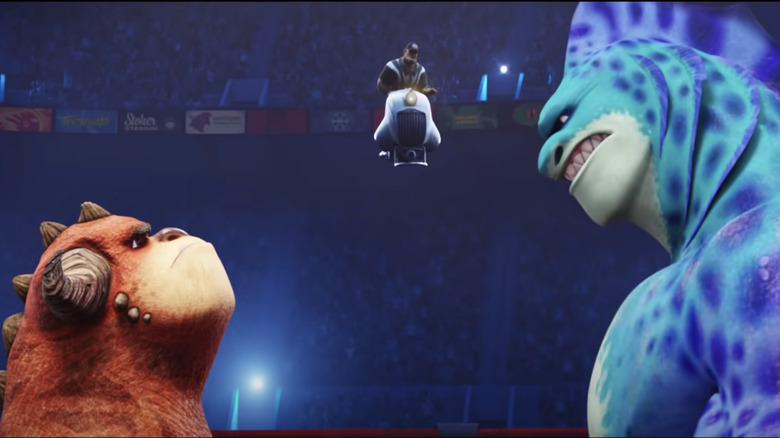 Paramount+
You see, it's kind of like the things that help you in these sports and in this kind of world–like if I was an MMA fighter, all the stuff that helps you there, doesn't help you when you're walking around as a real person. And that's the problem. A lot of times, these are the issues that a lot of athletes have when their careers are over. So I can definitely say I'm both characters and have been at different points in my life. Because being [like] Tentacular helped me when I was in the NFL, even when I was starting out in entertainment, because you had to really believe that you were the best in the world and you deserve this in order to overcome all of your self doubt, you know what I mean?
Absolutely.
So it's so wild, but we're all human. And a lot of times I can say I missed things and I goofed that up, I didn't get that. I sometimes I have to have it told to me like, "Oh man, maybe I should have tried something else." You know what I mean? So that's the new age of what this social media thing is, and the new age of celebrity is pretty much putting everything out there. You know, I like what Will Smith is doing, he's just kind of showing everybody who he is, all day, and you know what, I think it's refreshing. I think it truly, truly is.
"You Have to Do Things Your Own Way"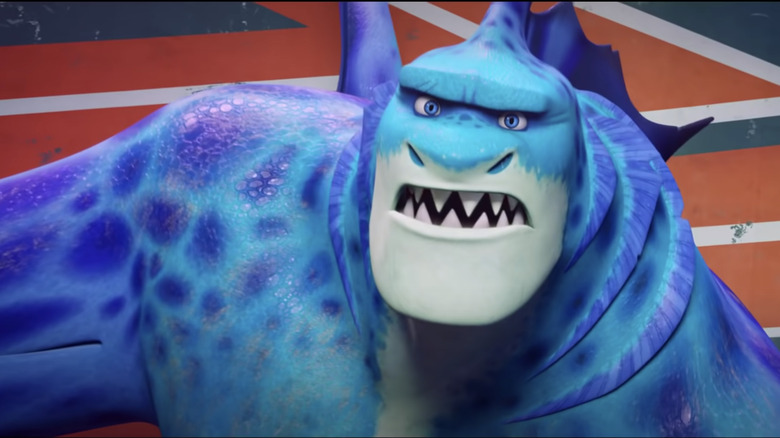 Paramount+
That's such a necessary nuanced approach to it all. Just to pivot a bit, my other question for you is that Tentacular does a bit where he's trying to be the spokesman in a commercial and it has a very similar energy to your Old Spice commercial. Was that intentional or is that a happy accident?
Oh no, that was intentional, of course! [laughs] You know, first of all, after 10 years with Old Spice, that was, it was literally an iconic campaign. You know what I mean? Because it actually made fun of the hyper masculine things that people normally took as serious and it took it to a level of cartoonery, and I love the fact that they really added that, and there's a lot of me in this role. I mean, the director, Hamish [Grieve], just let me roll a lot of it, just because I just blasted into these characters and who I was as an athlete and this kind of stuff. And it was really, really cool, but like I said, at the same time, Tentacular doesn't think he's a bad guy. You know what I'm saying? He's just doing what he needs to do, he's trying. First of all, these are the rules. He didn't make the rules. He's trying to play the game the way it's supposed to be played and he's playing to win. I love the whole WWE part of it. It's just big and it's giant, but it's heels and villains and heroes. But the message is you have to do things your own way. You have to find your way to win. I love that.
"Rumble" is currently available to stream exclusively on Paramount+.