Reservation Dogs Co-Creator Is Making A Heist Series For FX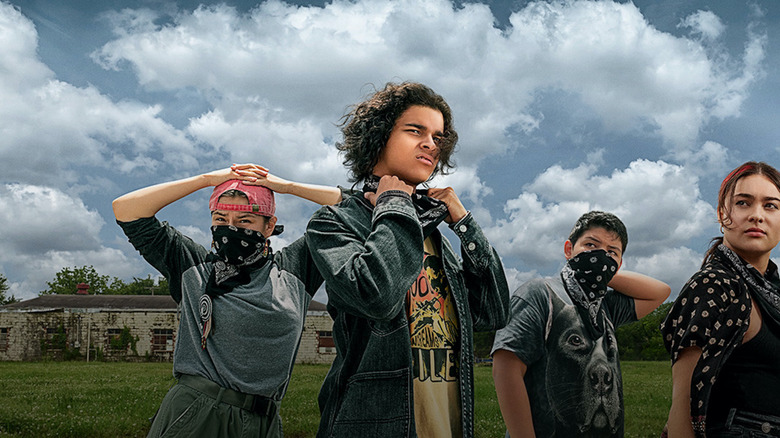 FX
Collider announced that Sterlin Harjo, the co-creator of "Reservation Dogs" alongside Taika Waititi, secured a deal with FX Productions to develop new content for the network. Harjo served as the hit show's executive producer, showrunner, writer, and director. Before his extensive work on "Reservation Dogs", Harjo directed and produced the films "Mekko"  in 2015 and "Barking Water" in 2009. Both feature narratives about Indigenous communities and struggles surrounding death, love, and healing in both the past and present. Harjo is a citizen of the Seminole Nation of Oklahoma with Muscogee heritage. He primarily tells stories set in his home state of Oklahoma and his resume consists of various shorts, feature films, and documentaries about Indigenous communities. His latest documentary, "Love and Fury" was released in 2020 and follows Native artists exploring their complex identities while advocating for their art to be recognized in a post-colonial world. 
While discussing the announcement, President of FX Original Programming Nick Grad stated:
 "We believe in Sterlin's unique vision and welcome this opportunity to continue to partner with him in bringing more great TV to FX. I'm excited to continue growing my collaboration with FX and have the opportunity to champion more Indigenous voices and stories." 
I'm sure that Grad is not alone in his excitement since "Reservation Dogs" received several positive reviews and has been picked up for a season 2.  
Harjo is now spreading his wings at FX by working on a new untitled TV series with Jonathan Lee, an award-winning author, editor, and screenwriter. Lee's most recent novel "The Great Mistake" is a dramatization of the life and murder of Andrew Haswell Green, a historical figure primarily known for his contributions to the creation of such landmarks as The Met, Central Park, and The New York Public Library. The new FX series from Harjo and Lee is described as a heist thriller centered around a Native woman. Harjo is set to direct as well as co-write with Lee. He will also serve as executive producer alongside Garrett Basch through the label Dive. 
More Harjo, Please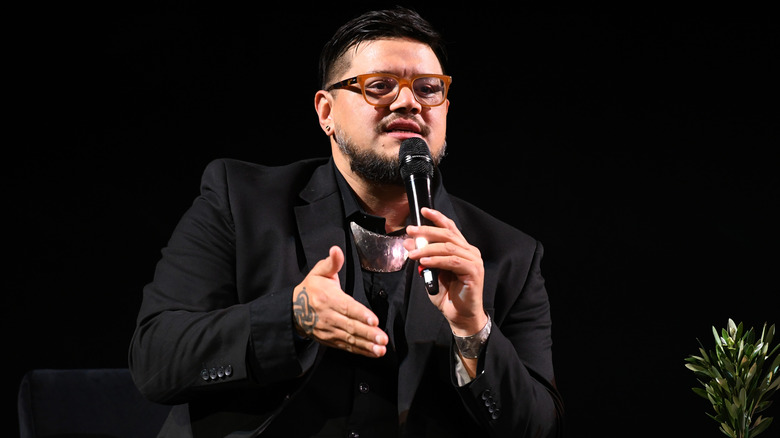 Jc Olivera/Getty Images
I'm all for more Indigenous stories in film and television. This news is really exciting because Harjo is not only incredibly talented but he is very conscious about delivering authenticity with his work. There is an obvious difference when viewing stories created by individuals who truly know what they are talking about in terms of culture and identity. Harjo also subverts Native stereotypes in his films and therefore entertains as well as educates audiences. The voices of Indigenous communities have been silenced for way too long so it's a really exciting time for creatives to expand their art form and shine light on people that many have forgotten. If you don't agree with that sentiment, all you need to do is look up the news and history surrounding Native American boarding schools or just simply drive through a reservation; the desolate and dire conditions speaks for itself.
With behind-the-scenes talent telling relatable and accurate stories comes more representation on camera as well. This was seen in "Reservation Dogs" with Native casting and many who are not entirely well-known in the industry. Honestly, it's one of the reasons that the show works so well and it lends the opportunity for more diversity and representation on screen. I may get some hate for this, but I will always champion more stories like that over a new Marvel or DC movie. There's something about capturing authentic experiences that is more emotionally palpable and impactful from a marginalized perspective. It resonates on a deeper level to me rather than the latest comic adaptation.
So, I can't wait for this new series and a heist plot sounds amazing! We've already seen a glimpse into the dramatic and comedic layers to scamming people in "Reservation Dogs" so I'm very curious to see how this story about a Native woman and a heist will pan out. I'm stoked for all of this and applaud FX for continuing to champion Harjo's work.