The Morning Watch: Venom: Let There Be Carnage Honest Trailer, Bloopers, Rom-Com Remix & More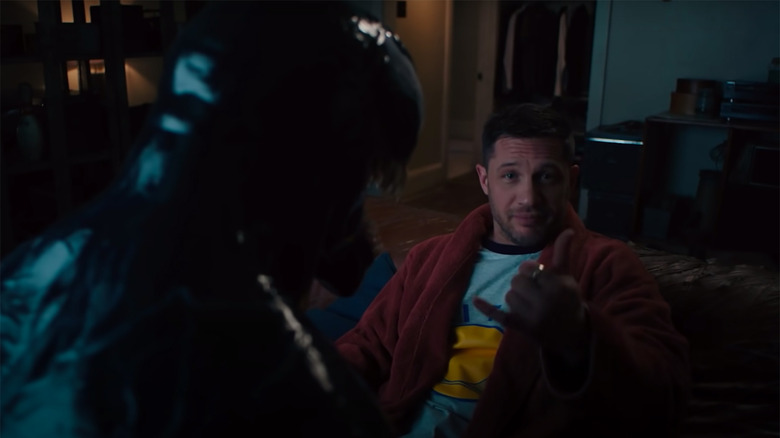 Sony Pictures
(The Morning Watch is a recurring feature that highlights a handful of noteworthy videos from around the web. They could be video essays, fan-made productions, featurettes, short films, hilarious sketches, or just anything that has to do with our favorite movies and TV shows.)
In this "Venom: Let There Be Carnage" edition, check out the Honest Trailer for the completely bonkers sequel starring Tom Hardy and Woody Harrelson. Plus, watch as the two co-stars and the rest of the "Venom" sequel's cast flub their lines and crack each other up. Get a look at a VFX breakdown for all the symbiote goop that gets thrown around between Venom and Carnage. And finally, see what "Venom: Let There Be Carnage" might look like if it were a holiday romantic comedy.
Venom: Let There Be Carnage Honest Trailer
First up, the "Venom: Let There Be Carnage" Honest Trailer doesn't hold back when pointing out the full-on romance in this sequel that has gone way beyond your average bromance. However, where the Honest Trailer really succeeds is proving how weird it must be for everyone else to wait for Eddie Brock to be finished with the little inner-monologue arguments that he's always having with his parasite companion. 
Venom: Let There Be Bloopers
Next, Sony Pictures has released a little round-up of bloopers with "Venom: Let There Be Carnage" stars Tom Hardy, Woody Harrelson, Stephen Graham, Michelle Williams, and more. First of all, it's hilarious to see Tom Hardy acting opposite an on-set maquette of Venom. Second, it's interesting to hear Hardy seamlessly go from his Eddie Brock performance back into his normal voice. And finally, we see Harrelson's emotional side get some artificial assistance from a crew member. See a few more bloopers over here too.
Venom: Let There Be Visual Effects
Even more "Venom: Let There Be Carnage" movie magic comes in the form of a new visual effects breakdown from DNEG. Obviously, Venom and Carnage are the most prominent visual effects throughout the film, but here you also get to see the entirely digital environments created for some of the film's biggest set pieces, including the church from the sequel's climax, and much of the prison in which Cletus Kasady was being kept.
Venom: Let There Be Smooches
Finally, while fans are loving the romance between Eddie Brock and Venom, Sony Pictures had a little trouble reading the room when creating a romantic comedy parody trailer for "Venom: Let There Be Carnage." Instead of crafting a trailer surrounding the love between Eddie and Venom, this holiday rom-com trailer focuses more on Eddie and his ex-flame Anne Weying, with only a nod to the romance blooming between Eddie and the alien symbiote. Weird!