How To Watch Encanto At Home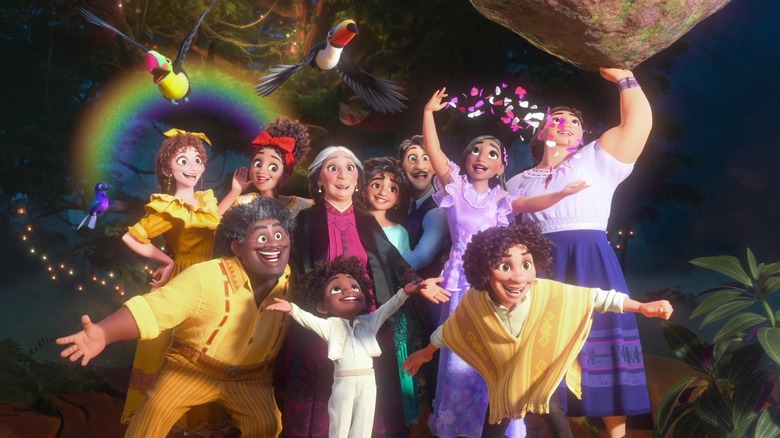 Disney
(Welcome to How to Watch, where we get down to brass tacks and tell you "Hey, here's how you can watch this thing.")
Disney partnered with Lin-Manuel Miranda several years back on "Moana," which proved to be a gigantic hit. As Disney is not one to step away from a good thing, they once again got in the saddle with Miranda for this year's "Encanto," yet another enchanting musical directed by Jared Bush and Byron Howard, with Charise Castro Smith serving as co-director. It proved to be a winning formula and has been performing well at the box office thus far.
But for those who have been waiting to watch the animated musical set in Colombia from the comfort of home, there is good news. Disney isn't going to make you wait too long on that front, and it will be widely available just in time for Christmas, no matter how you choose to watch it, be it through a major streaming service or a physical copy. We're here to go over all of your options in detail.
Encanto Arrives On Disney+ for Christmas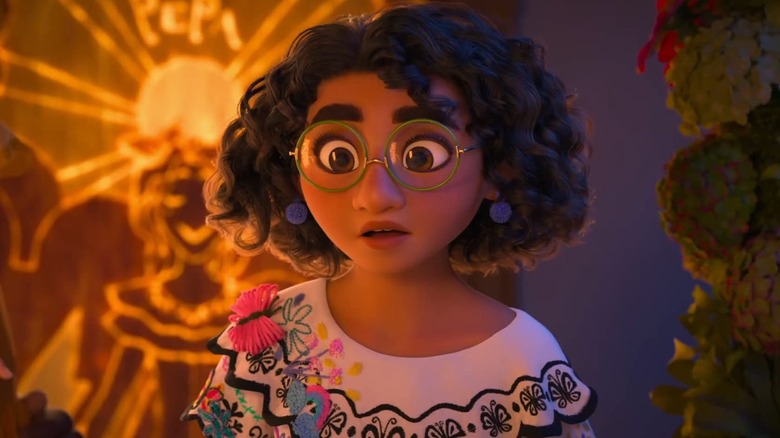 Disney
Disney opted to give "Encanto" a 30-day exclusive theatrical release, which began on November 24. The studio is then making the movie available on Disney+ on December 24, just as that window expires. This means anyone with an active Disney+ subscription will be able to watch the movie starting on Christmas Eve. Simple as that.
This is not a situation like "Black Widow" where it will first be a Premier Access release. Subscribers will not have to pay an additional fee to stream the film on that date. Rather, Disney is opting to make the movie available at no extra charge on that date. A Christmas gift of sorts for subscribers. This will likely be the easiest, cheapest, and most accessible option for most people who wish to watch "Encanto" at home. It will not be available on any other major streaming service. It's a Disney+ exclusive as of December 24, 2021.
However, it will be available to rent or purchase through most major digital retailers. So, those who aren't subscribed to Disney+ will still have the opportunity to rent it through an online store such as Google Play or Apple. This gives viewers plenty of options next week.
Blu-ray, DVD, and 4K Ultra HD Release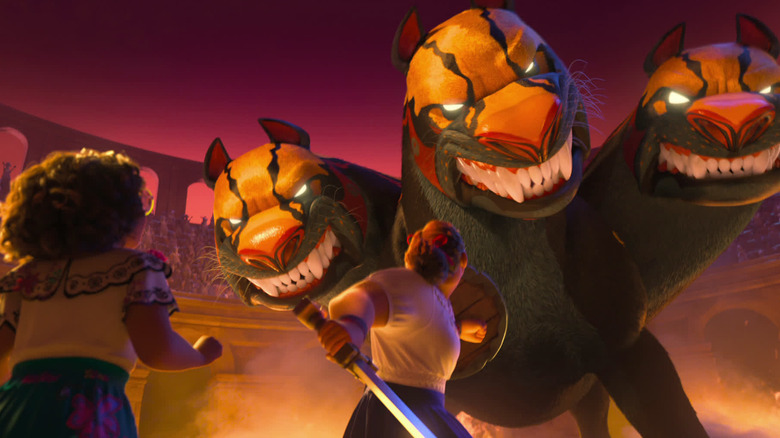 Disney
On February 8, "Encanto" will be available on Blu-ray, DVD, and 4K Ultra HD. Those who are still into the idea of a physical release will be able to scoop early next year. It is available for pre-order through most retailers right now, such as Amazon, Best Buy, or Target. One of the big benefits of the Blu-ray release is the robust selection of bonus features included, which are as follows:
Bonus Features
Sing Along with the Movie – Sing along with your favorite songs with on-screen lyrics as you watch the movie.

Familia Lo Es Todo – Members of the Disney Animation "Familia" cultural trust share real-life experiences in this exploration of the lovable Madrigal family members. We learn what inspired each character, and about how the artists' designs bring realism to their personalities.

Discover Colombia – The filmmaking team discusses how the multiple cultures, biodiversity and vibrant colors of Colombia are expressed in Encanto. They describe how satisfying it was to fully celebrate this beautiful country and support the theme of magical realism.

A Journey Through Music – The filmmakers invite us to discover how each character came to be represented musically. We follow the creation of Encanto's Colombian-inspired music, featuring Lin-Manuel Miranda's songs and Germaine Franco's score, from concept to final recording.

Let's Talk About Bruno – Learn how the song "We Don't Talk About Bruno," with its intriguing undertones, was created. Discover the extensive collaboration between Lin-Manuel Miranda, choreographer Jamal Sims, the voice cast and animators in bringing it to the screen.

Our Casita – La Casa Madrigal is alive with magic, and its emotional state is affected by other family members. From its colorful doors to its fine stonework, the magical house was designed using principles of Colombian tradition.

Outtakes – From the thrill of "nailing" a take in the presence of an entertainment industry icon to the hilarity of losing a wrestling match with tongue-twisting dialogue, join the cast for some good-natured fun from behind the microphone.

Journey to Colombia – With the help of the Colombian Cultural Trust, a dedicated team of consultants, the filmmakers of Encanto embark on a journey of discovery to learn more about Colombia and how best to reflect the country's cultures and environments on the big screen.

An Introduction to Far From the Tree – Writer and director Natalie Nourigat introduces the Walt Disney Animation Studios short film Far From the Tree.

Far From the Tree – Parenting is hard, especially when curiosity tugs at a young raccoon whose parent tries to keep them both safe. In the Walt Disney Animation Studios short Far From the Tree, this youngster learns to live with an open heart... even as danger lurks.

Deleted Scenes
Song Selection – Jump to your favorite musical moments, with on-screen lyrics.
While some Blu-ray releases have been a bit thin in terms of bonus features lately, Disney did not skimp on the goods for this one. That may make it worth the purchase for those who were particularly big fans of the movie.
Walt Disney Animation Studios' Encanto, with all-new songs by award-winner Lin-Manuel Miranda, tells the tale of the Madrigals, an extraordinary family living in a magical house in the mountains of Colombia. But when Mirabel, the only ordinary Madrigal, discovers the magic surrounding their home is in danger, she may be her family's last hope.