Why Veronica Mars Was Canceled (Both Times) – Here's What We Know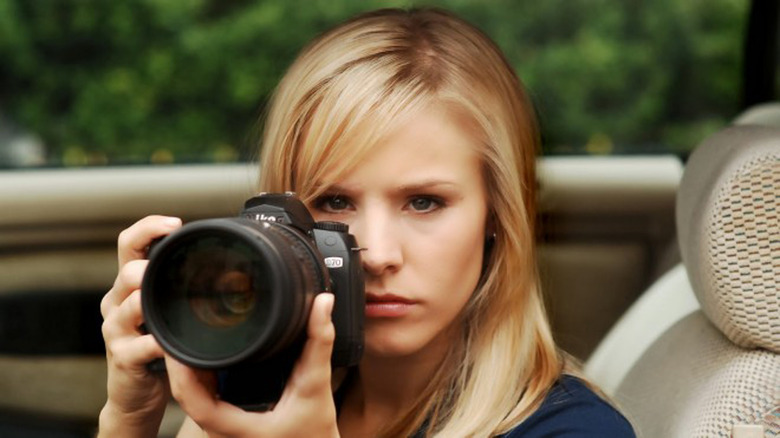 Warner Bros.
Hey Marshmallows, it's time to reopen the case of the twice-canceled "Veronica Mars." Created by Rob Thomas, the show centered on the teen sleuth (played by the amazing Kristen Bell), who was the daughter of former sheriff-turned private investigator Keith Mars. Veronica solved weekly cases, while slowly putting together the pieces of who murdered her best friend — though subsequent seasons would give her a different overarching mystery to solve. The series takes place in Neptune, California, a fictional town with the socioeconomic divide akin to "The Outsiders," but "Veronica Mars" also calls to mind a project like "Twin Peaks" with its central mystery of figuring out who killed Lilly Kane (Amanda Seyfried). The show also featured the best father/daughter dynamic on television, thanks to an inspired performance from Enrico Colantoni as Keith Mars.
The series aired its first two seasons on the now-defunct UPN beginning in 2004 and (seemingly) wrapped up in 2007 on the newly-formed The CW. "Veronica Mars" is the only series that ever really came close to filling that Buffy-shaped hole in my heart, and at the time, I was absolutely crushed by the show's cancellation. However, at this point, the series has had more than one second chance. It not only secured a feature film continuation, but also returned for a highly-anticipated fourth season on Hulu. Sadly, the show was canceled once again shortly thereafter. So, what happened exactly? How did this critically-acclaimed series get the axe not once, but twice?
The Case Of The Low Ratings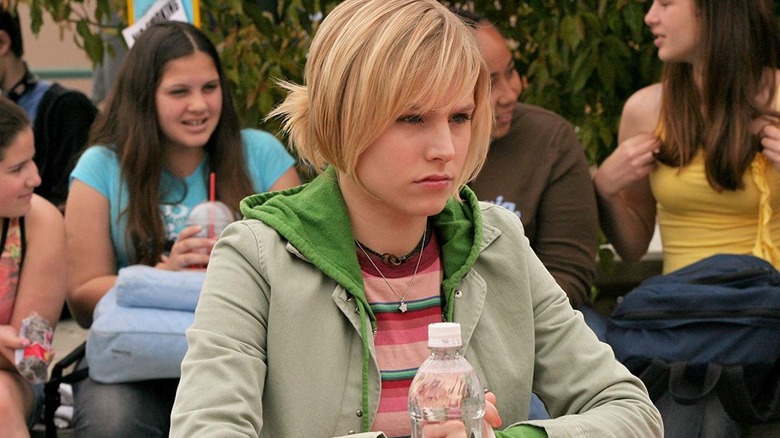 Warner Bros.
Much like many other TV shows canceled long before their expiration date, "Veronica Mars" struggled to attract viewers. Part of the issue was certainly in UPN's marketing approach. The show may have ostensibly been a series for teens, but it was also a whip-smart neo-noir that never underestimated the intelligence of its viewers. Unfortunately, none of this came across in the ads for "Veronica Mars," which was packaged as just another teen drama.
Branding was hardly the only issue. Season 3 wasn't quite as strong as the first two and one could almost feel the behind-the-scenes squabbles as the network struggled to make the serialized story more easily digestible to new viewers. It didn't save the series. The network failed to understand that the show's intricate plotting and the attention to detail it required were strengths, not weaknesses. According to The CW president Dawn Ostroff (via IGN), "We really tried every single year to bring in more viewers and we just weren't able to crack it."
Thomas knew there was a chance "Veronica Mars" wouldn't get picked up for season 4 and took a major gamble by leaving plenty of loose threads dangling at the end of season 3. He made a presentation for the network (included as a DVD extra) that flashes forward several years and centers on Veronica as a rookie FBI agent. This teaser had a lot of potential to take the show in interesting new directions ... but The CW still passed.
Back From The Dead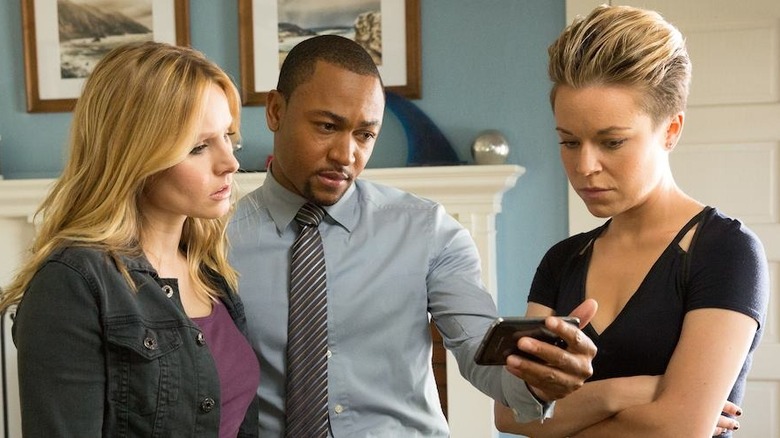 Hulu
Thanks to an incredibly successful Kickstarter campaign that met its $2 million goal in record-breaking time (less than 11 hours) and eventually raised close to $5.7 million, the "Veronica Mars" movie was released in 2014. The story picked up with the cast nine years after the events of the season 3 finale, and while it could've served as a satisfying conclusion, fans were still left hungry for more. Two "Mars" novels by Thomas and Jennifer Graham, "The Thousand Dollar Tan Line" and "Mr. Kiss and Tell," came out after the movie and were set after the events of the film. However, that still wasn't the end of the line for Veronica.
Veronica Mars Lives And Dies (Again)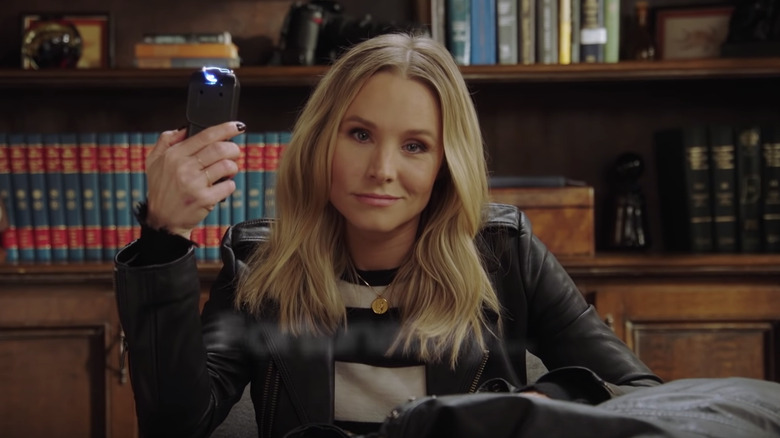 Hulu
"Veronica Mars" made its triumphant return on Hulu with an eight-episode fourth season which aired in 2019. This seemed like it could be a new beginning for the series. But sadly, despite the fact that the show's bingeable nature alone proves how ahead of its time "Veronica Mars" actually was, season 4's divisive ending is likely the only one we'll ever get. This is a bummer on multiple levels, since once again, Thomas chose to end the series as if he'd have more episodes to wrap it up properly.
The 2014 movie was funded by fans and existed, in large part, to indulge them. It gave Veronica the happiest ending we could hope for while still keeping the show's noir sensibilities intact. However, Hulu's revival owed viewers no such debt. Still, Thomas never wanted that soul-crushing death in season 4 to define the show's return, instead hoping it would open up a wealth of new possibilities for future episodes of "Veronica Mars." Spoilers ahead, but here's what he told Vox:
"What I really want to do, and the intention in these eight episodes was sort of a bridge to that, is to make 'Veronica Mars' more a strictly mystery show. I fear that leaning into the high school soap that the show started out as is a losing proposition, that it will start feeling nostalgic rather than vital. If Kristen [Bell] and I want to make more of these Veronica Mars mysteries, I think it's going to survive best as a true mystery show with a badass PI at the center of it, and I think that works better if the PI doesn't have a boyfriend."
Thomas makes an interesting point about the noir genre, though he is perhaps overlooking the fact that the tightrope "Veronica Mars" walked between teen soap and neo-noir is part of what made it so exciting in the first place. Thankfully, the revival managed to keep most of what was so great about the show intact without making it feel like there was nothing new to be mined. I really enjoyed the new season, but the ending did sour it for me a bit. That said, I do agree that more episodes could've changed those feelings for the better.
What Happened To Season 5?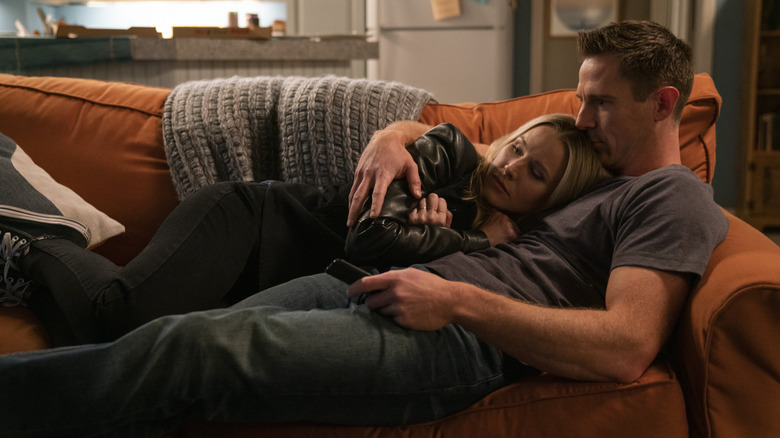 Hulu
Thomas may have felt that more episodes were necessary, but Hulu was finished with "Veronica Mars" after season 4. As Hulu SVP of Originals Craig Erwich explained:
"We were thrilled with the entire 'Veronica Mars' experience that we brought to our viewers. It was a really unique set of content in terms of having past episodes and then a new season. It was really interesting to see. We watched a lot of new people discover the show for the first time. For fans of the show, the opportunity to check back in and see where she is in her life was very exciting. That collection, that journey of 'Veronica Mars' in terms of the television episodes and in terms of her life as a character exists on Hulu and will exist for a long time. There's still a lot of Veronica Mars for people to check out. Right now we think that's a really satisfying narrative experience for them."
Clearly for Hulu, bringing the first three seasons over to the platform and reviving "Veronica Mars" for one more was enough. Unfortunately, that doesn't take into consideration where fans have been left by the show. Of course, there's always a chance the series will rise from the ashes again, but if not, it's already had way more chances than most canceled shows ever get. However, that won't stop us from hoping that eventually Veronica Mars will be back on the case.