The Book Of Boba Fett TV Spot Reveals New Footage As Boba And Fennec Prepare For War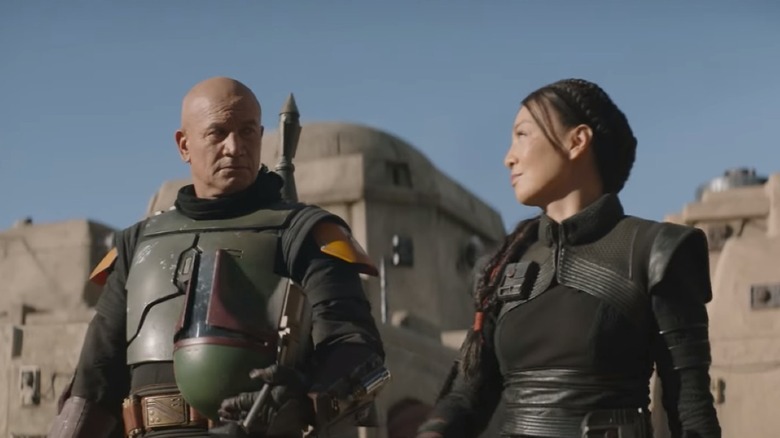 Lucasfilm
Today brings us yet another new look at "The Book of Boba Fett," the latest "Star Wars" show making its way to Disney+ in a couple of weeks. Temuera Morrison is back as Boba Fett, providing the beloved bounty hunter with a long-awaited solo story decades after his live-action debut in "The Empire Strikes Back." After returning in the second season of "The Mandalorian" last year, a new TV spot offers some fresh glimpses at Boba Fett's new show, including plenty of action, a bit of new dialogue, and some hints at the show's mysterious plot.
The Book of Boba Fett - Ready TV Spot
Much of what we are seeing in this spot is reverse shots or other angles of sequences we've already seen in the full trailer. There's brawling in the streets of Tatooine, peeks at Jabba's palace now that Boba has taken charge, and plenty of other impending fights. But this trailer does offer some insightful new dialogue, with Ming-Na Wen's Fennec Shand saying, "These are just the first wave, they're going to war." Boba replies, in badass fashion, "Then we will be ready." We're not sure who Fennec Shand is talking about, but it seems the Kajain'sa'Niktos seen riding on the speeder bikes might be the answer.
Turf War On Tatooine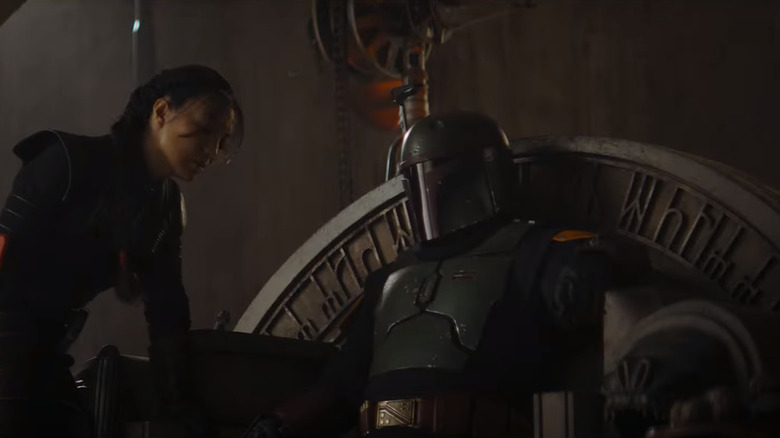 Lucasfilm
As one might expect, the creative team behind "The Book of Boba Fett," namely Jon Favreau, Dave Filoni, and Robert Rodriguez, have been tight-lipped in terms of specifics with the show. This bit of dialogue may be setting up a major plot point, with a turf war emerging on Tatooine following Boba's power grab. In the criminal underworld, it's not as though a major shake-up such as that would just go over smoothly, so that makes perfect sense. But one gets the feeling that something bigger is hiding beneath the footage we've been shown thus far.
Favreau and Filoni, who are also behind "The Mandalorian," serve as executive producers alongside Rodriguez, Lucasfilm President Kathleen Kennedy, with Colin Wilson Karen Gilchrist and Carrie Beck serving as co-executive producers. John Bartnicki is producing and John Hampian is on board as co-producer. Morrison and Wen are the only two confirmed cast members, reaffirming that we may well be in for plenty of surprises on that front.
"The Book of Boba Fett" debuts on Disney+ on December 29.
"The Book of Boba Fett," a thrilling Star Wars adventure teased in a surprise end-credit sequence following the Season 2 finale of "The Mandalorian," finds legendary bounty hunter Boba Fett and mercenary Fennec Shand navigating the galaxy's underworld when they return to the sands of Tatooine to stake their claim on the territory once ruled by Jabba the Hutt and his crime syndicate.