The Matrix Resurrections Clip: 'Nothing Comforts Anxiety Like A Little Nostalgia'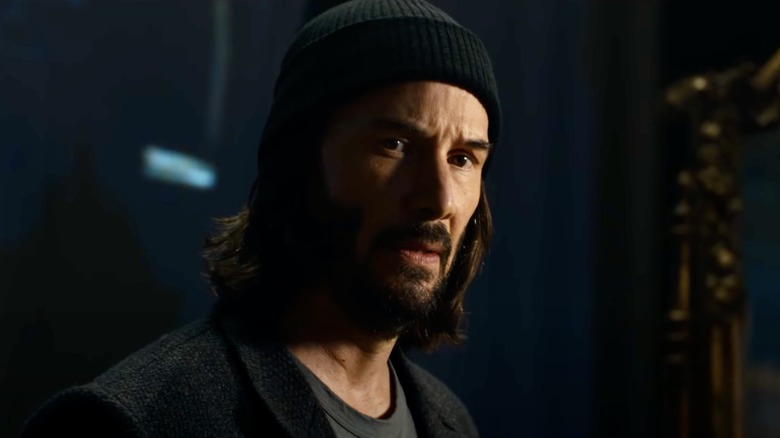 Warner Bros.
Get ready to take a bullet train into the heart of "The Matrix Resurrections." Warner Bros. has released a new clip from the movie in conjunction with the Game Awards 2021, and it is a doozy, this clip.
Ever since the studio revealed (or, should I say, finally confirmed) the title of the movie back in August, questions have swirled about the approach that director Lana Wachowski would take with "The Matrix Resurrections." The reason for that is that the title reveal came with a description of the first trailer for "The Matrix Resurrections," which had only played at the CinemaCon convention at that point. Eventually, the trailer made its way online, and we were all able to see that it did indeed conjure some familiar old beats, "dead-leaf echoes," as Vladimir Nabokov might call them, of the first "Matrix" movie.
Would "The Matrix Resurrections" just be a knock-off and carbon copy of the original, blue-pilling us with nostalgic callbacks, hitting us with copious déjà vu glitches, like so many other inferior movie sequels we've seen? Well, it's certainly possible that it might still be that and do that in the end, but for now, at least, this clip inspires hope that we're in for something a little more special this time around.
Since "The Matrix" pioneered the visual effect of "bullet time" in 1999, it makes a certain sort of sense to have Neo (Keanu Reeves) and Jessica Henwick's blue-haired new character, Bugs, riding the bullet train, or Shinkansen, in Japan. Does Yahya Abdul-Mateen II make an appearance as Morpheus in the clip below? You'll just have to watch it to find out.
The Matrix Resurrections - 'Elements of Your Past'
That's definitely an idealized Matrix version of Tokyo, with cherry blossoms blooming and Mount Fuji looming impossibly large in the background of the world's most populous metropolis. I say this as someone who lives there and who will be seeing "The Matrix Resurrections" there next Friday (and spoiler-reviewing it for /Film after its U.S. premiere a few days later).
Spoiler alert: Tokyo is not right in the shadow of Mount Fuji like that, despite what ridiculous blockbusters like "Pacific Rim: Uprising" would have you think. What gives me hope — and in fact, makes me much more excited about "The Matrix Resurrections" than I have been up to this point — is what this clip has to say about the intersection between blockbusterism and nostalgia porn in modern movies.
With "Ghostbusters: Afterlife," we are coming off yet another recent tentpole ("Terminator: Salvation" being one more semi-recent example) that has drawn comparisons to "Star Wars: The Force Awakens" and its method of remixing ingredients from previous movies, playing on our nostalgia for franchise glory days. My biggest fear with "The Matrix Resurrections" was that it would be no better than "The Matrix Awakens."
This clip, however, would seem to indicate that Wachowski is engaging with her previous work in a more thoughtful manner. Seeing Neo walk through a ripped movie screen where scenes from the first "Matrix" are showing is meta and mind-bending—all too appropriate for a "Matrix" movie.
"After our first contact went so badly, we thought elements of your past might help ease you into the present," Bugs says.
As a "Star Wars" character once said, "Let the past die." And bring on the future.
"The Matrix Resurrections" is in U.S. theaters on Wednesday, December 22, 2021.