The 20 Best Action Movies Of 2021 Ranked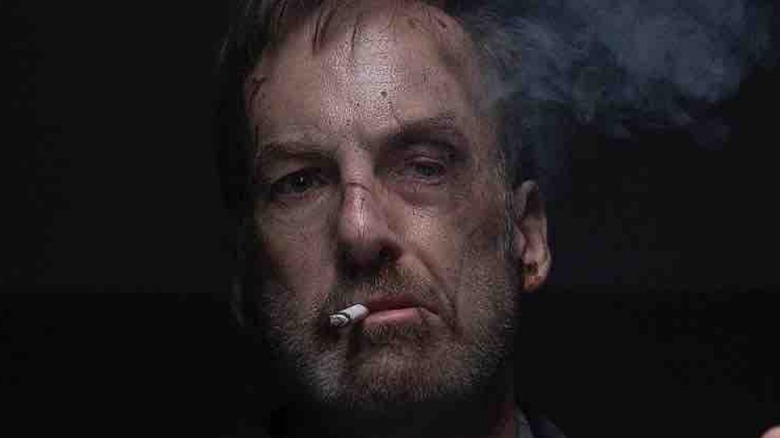 Lionsgate
Before we cover the 20 best action films of 2021, let's begin with two qualifiers. One, this list is being written and published before "The Matrix Resurrections," "Spider Man: No Way Home," and "The Kings Man" arrive in theaters. So, sadly, none of them qualify for this list. Two, the fact that there are 20 other face-meltingly great action films released in 2021 speaks volumes about how stellar action movies were this year. The genre offered a smörgåsbord of violent riffs in which no limb went un-ripped and no big idea was ignored. If you wanted ecstatic gun ballets, you got them. Ludacris in space? Yes, that too. 
What's more, action movies were important this year. It was the sight of Saul Goodman going full John Wick that ushered audiences back to theaters last February. The debut of "Shang-Chi" broke box-office records in September. "Below Zero" was an early Netflix smash, and "Red Notice" (which does not appear on this list) was the company's biggest hit to date. After a year and change of lockdown, a genre that hinges on acts of fearlessness reminded us why moviegoing matters. So, grab some popcorn and strap in, because here, without adieu, are the 20 best action films of 2021, ranked.
20. Sentinelle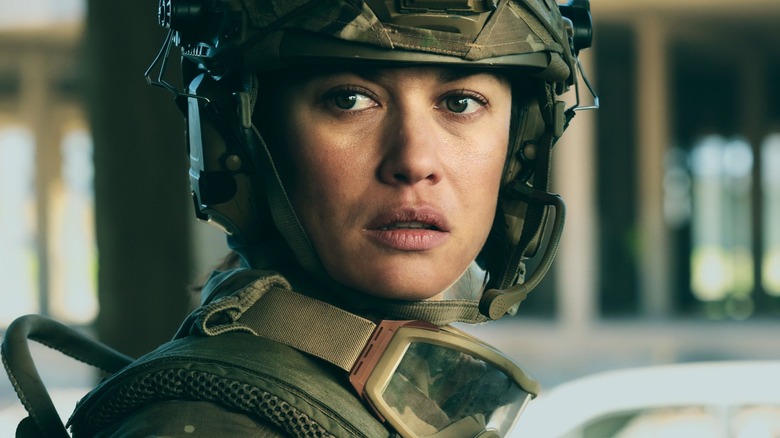 Netflix
Some great action films are bangers from front to back, while others have single moments that are so visceral that they vault the entire film into the conversation. That's the case for Julien Leclercq's "Sentinelle," a movie that is generally very good but is particularly great when it's dispatching Olga Kuryelnko upon unassuming thugs in close quarters brawls. To call these fights nasty is an understatement. They're tendon-snapping tête-à-têtes in which anyone could wind up dead, including Kuryelnko herself. 
That unpredictability helps offset the film's generally rote plot (an officer suffering from PTSD threatens to cross multiple lines while taking vengeance on the scum who hurt her sister). And yet, one could argue that it's the simplistic story and scalding action that make "Sentinelle" an ideal Netflix action film. "Red Notice" failed as both a cultural event and sweeping heist pic. Ditto "6 Underground." But "Sentinelle" doesn't carry either film's blockbuster baggage. Load it up on your preferred viewing device, ideally with as few expectations as possible, and be pleasantly surprised by the excellent punishment it dishes out.
19. Hell Hath No Fury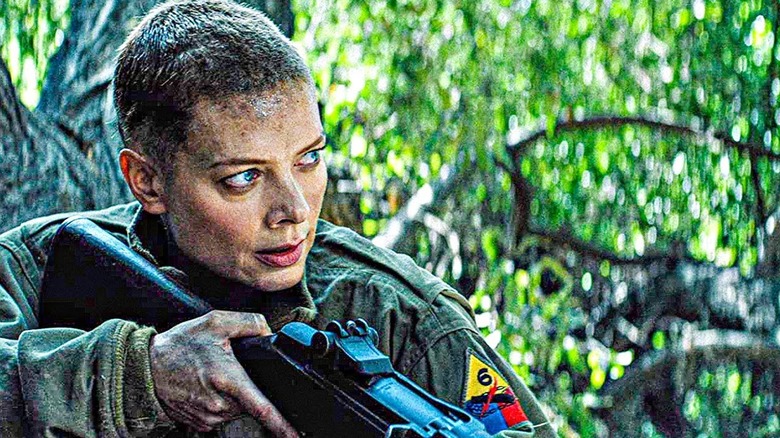 Well Go USA Entertainment
It is easy to laud a low-budget film for what it does with its limited resources, even if it's not entirely effective. That proves especially tempting in the case of "Hell Hath No Fury," which is the latest from direct-to-video mainstay Jesse V. Johnson ("Avengement," "Accident Man"). It's a World War II film made for $5 million dollars (at least according to IMDb, so take that figure with a grain of salt), which would mean it cost at least $60 million less than both "Saving Private Ryan" and "Inglorious Bastards" while covering the same blood-soaked territory.
But make no mistake, "Hell Hath No Fury" starts in as grim a spot as any film and just gets grimmer. Characters meet horrifying ends, and those who don't test the audience's sympathy from the jump. That is, however, what makes it singular. "Hell Hath No Fury" is miles removed from the military propaganda of early World War II films, or modern flag-waving efforts like "Midway," telling the story of characters who clamor for more rope in the face of steep odds. That's a stellar premise for an action film, regardless of budget, and "Hell Hath No Fury" executes like it was scorned into doing so. Check it out.
18. Army Of The Dead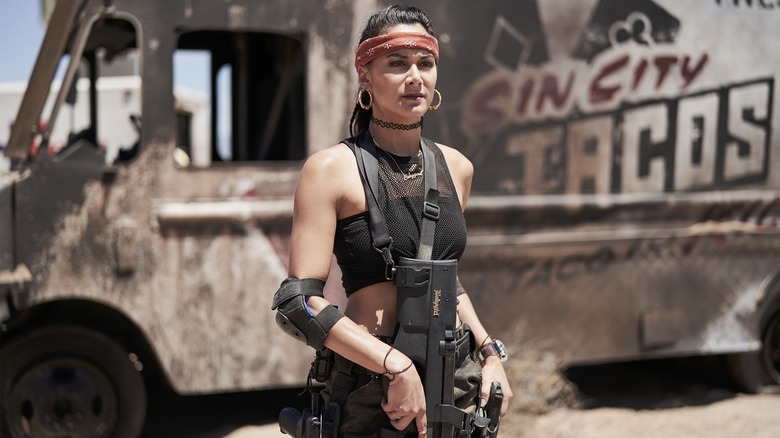 Netflix
Zach Snyder has never come up with a concept that he wouldn't shoot in slow motion. It's his Rosetta Stone for cinema. That said, it's hard to imagine that a young Snyder ever imagined that he would open one of his films with under-tempo shots of zombies ripping Las Vegas to shreds. But I'm happy to report that's exactly how 2021's "Army of the Dead" begins — with a symphony of goofy violence extreme enough to render any Rosetta Stone useless.
Even better? Things get even sillier — and more violent — from there. "Army Of The Dead" is simultaneously Snyder at his least self-serious and his most ambitious, marrying the throuple of playful fun, low-key pretension, and cinematic verve into an unholy but awesome union. At its best, the movie is some of the year's best beatdown cinema. At its worst, it's utterly confounding. But when it's making stars out of Samantha Win and Matthias Schweighöfer as Sin City becomes blood and ash in the background, it's hard to have too many qualms. "Army of the Dead" lets Snyder, and the good times, roll (in slo-mo, natch). That's reason enough to see it.
17. No Time to Die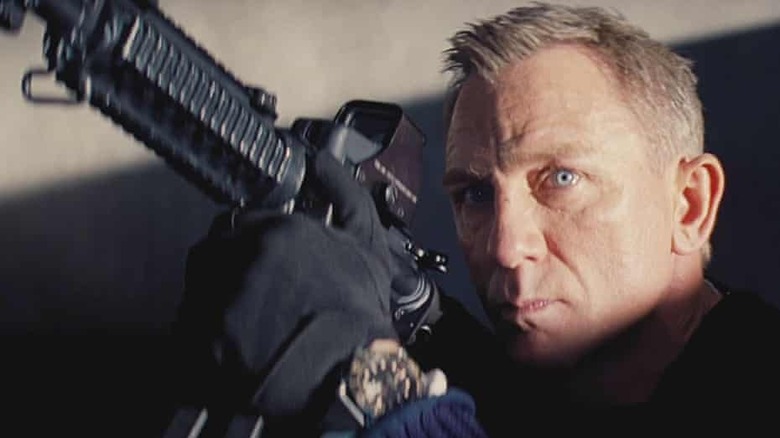 MGM Studios
Critiquing "No Time to Die" is tremendously difficult. One the one hand, the film is a magnificent sendoff to Daniel Craig's James Bond, replete with all the lush action and old-fashioned spycraft the franchise has relied on for decades. (It even adds tremendous new blood in Lashana Lynch's Nomi.) As a movie, it's messy and tied far too closely to the lackluster "Spectre" to stand on its own two feet. 
In some ways, the best comparison point for "No Time to Die" is "Avengers: Endgame," which asked if saga-concluding films could correct the wrongs of lesser efforts in their franchises. "No Time to Die" is no "Avengers: Endgame," but the fact that it is more in conversation with that film than "Quantum of Solace" or "Die Another Day" tells you that Cary Fukunaga stuck the landing, however ungracefully. This movie would change spots on this ranking given my mood on any given day, so see "No Time to Die" for the unreal stunt work and adjust your other expectations appropriately.
16. F9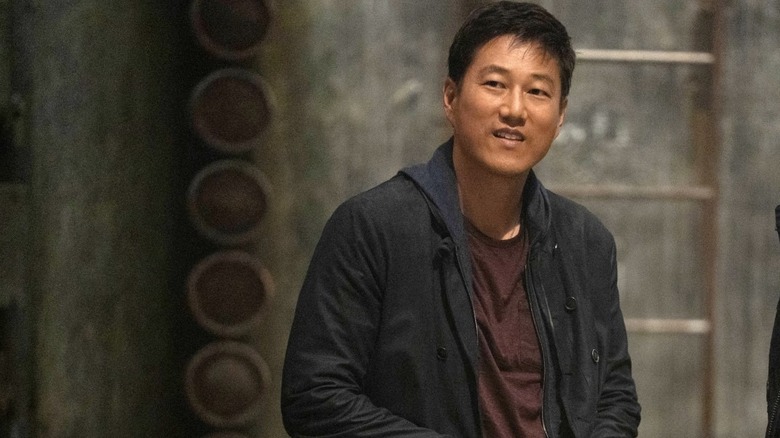 Universal Pictures
There was no world in which a movie that features cars being pulled through multiple buildings by massive magnets wasn't making a "best of action" list. That the movie in question also sends Tyrese and Ludacris on a mission to space and features Helen Mirren and Vin Diesel capital-F Flirting is just icing on the cake. And if this all sounds kind of ridiculous — have you even seen a "Fast and Furious" movie? 
To be honest, "F9" is a flawed and bloated film. It's also a peak latter-day "Fast and Furious" effort. These ideas aren't mutually exclusive. By the time that "Furious 7" was serving as both a dream-like eulogy for Paul Walker and careening Lambos through Dubai skyscrapers, the series had evolved past normal criticism. Instead, "F9" is best measured against the franchise that birthed it and the canon of ridiculous action cinema. On both of those fronts? It slaps. 
You don't come to "F9" because it's perfect. You come because Charlize Theron is going to call someone Qasar Kahn, John Cena will punch someone on top of a moving vehicle, and Vin Diesel will gravely intone the word "family" approximately a thousand times. "F9" reshapes the world into one where all those moments feel like true cinema.
15. Black Widow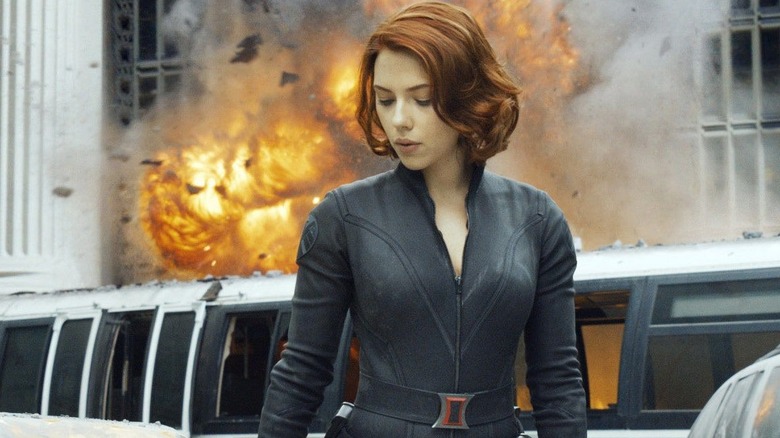 Marvel Studios
Natasha Romanoff, aka Black Widow, has a tendency to go too far, especially in the Marvel Cinematic Universe. This Nat filled her ledger with red (in more ways than one). This Nat makes the big heroic play that Cap thought Tony couldn't (even if it results in her demise). So, it's hardly any wonder that the "Black Widow" finale, which ambitiously aims to blend a chamber play with "Mission: Impossible"-like spycraft, is a bridge too far for director Cate Shortland and crew.
And yet, the first two thirds of "Black Widow" hit as hard as anything Marvel has ever made. Shortland stages every single brawl sharply and dynamically, attuning herself to her players' feelings as much as their flying fists. The result is a movie that makes room for Red Guardian's joy as he escapes a maximum security prison and gets to be a hero again, a blockbuster that makes a game of chicken between cops and a propeller plane feel strangely maudlin. "Black Widow" is a better film than the narrative that surrounds it, and one that easily slides onto this (and hopefully other) best of 2021 lists.
14. Godzilla vs. Kong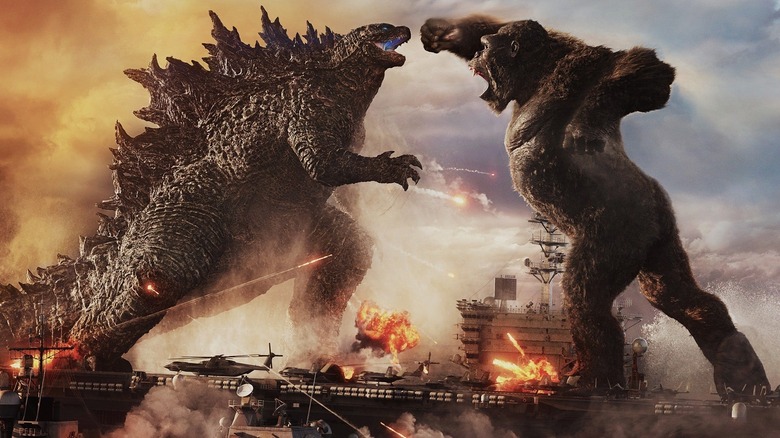 Warner Bros.
My favorite moment of "Godzilla vs. Kong" didn't appear in the actual movie. It comes from the film's trailer, when Godzilla emerges from the ocean's depths onto a quaking battleship to smack a defiant King Kong in the face while Chris Classic's "Here We Go" revs to life to underscore it. Classic literally screams "Yeah!" and "Come on!" while two massive kaijus go at it. Fantastic choice. No notes.
Classic has penned themes for WWE wrestlers; "Godzilla vs. Kong" director Adam Wingard is on record as saying Kong reminds him of "Die Hard" legend John McClane. These facts reveal "Godzilla vs. Kong" for the bruising action pic it is, albeit one as rooted in the Toho films of old as it is modern blockbusters. The three-way battle between Godzilla, Kong, and Mecha-Godzilla stacks smackdown on top of smackdown, achieving a euphoric high worthy of this decades-old rivalry. It may be heavy on the CGI and hokey mythology, but "Godzilla Vs Kong" is a knockdown, drag-'em-out good time at the movies. Yeah. Come on.
13. Space Sweepers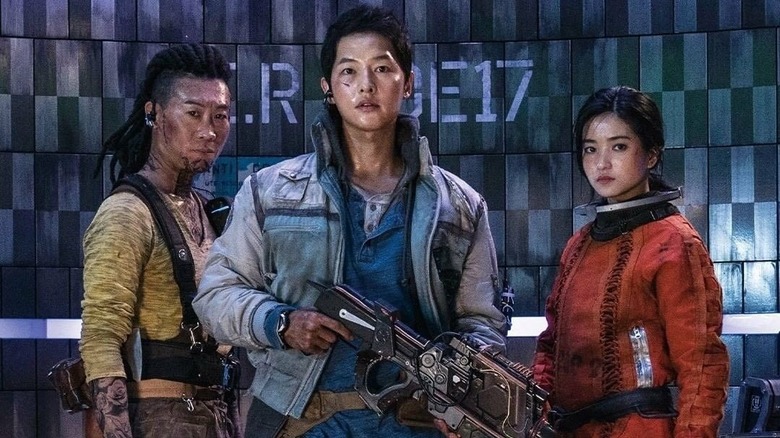 Netflix
2021 may go down as the year in which Netflix and Korean genre movies and TV shows formed a beautiful, lasting friendship. Recently, "Hellbound" was the platform's number one show. Before that, "Squid Game" became a worldwide sensation. But all the way back in February, Netflix dropped "Space Sweepers," a grandiose space opera worthy of both those shows' acclaim, and then some. 
Netflix pitched "Space Sweepers" as Korea's answer to "Guardians of the Galaxy." As it turns out, that is inordinately reductive. "Space Sweepers" skewers the eco-friendly posturing of global corporations while building its universe from the smoldering ruins of environmental carelessness. The result? A film full of garbage that's anything but trashy. 
The space combat is clear and visceral. All of the film's performances are great, particularly Kim Tae-ri as the hard-drinking, cynicism-battling Captain Jang. By the time the film reaches its quietly devastating conclusion, you're reminded how emotionally solvent action films can be. Uneven patches aside, "Space Sweepers" is a win for Korean cinema, Netflix, and movie fans everywhere.
12. Free Guy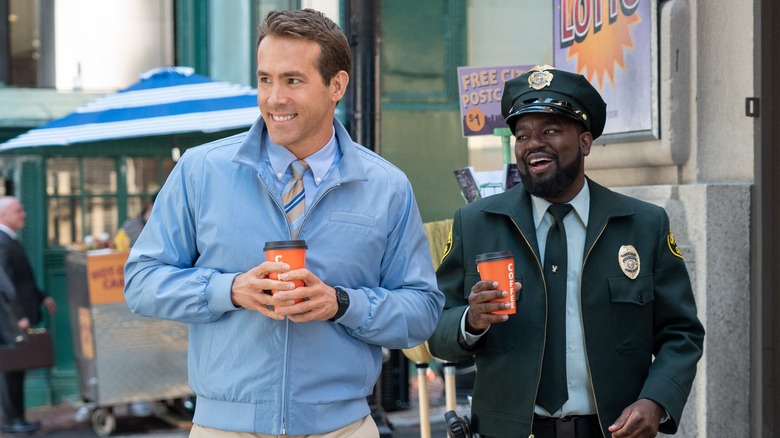 20th Century Studios
It's time to stop sleeping on Shawn Levy. The man made a serviceable family film in "Cheaper by the Dozen." He channeled his inner Spielberg, however unsuccessfully, with the "Night at the Museum" films. And then, with little warning, he refined that Amblin-centric strain of hero worship into an existentially harsher, more broadly appealing strain of blockbuster cinema. Shawn Levy made the darkest episodes of "Stranger Things," the oddly heart-tugging "Reel Steel," and "'The Truman Show" meets "Grand Theft Auto" free-for-all that is "Free Guy." Tough but tender is just what he does.
That's also why the action scenes in "Free Guy" are stellar. Neither Levy nor his special effects team shy away from the fact that the film is set in a video game, meaning that fights defy the laws of gravity and human anatomy and arefunnier for it. "Free Guy" is a genuinely good family action film that will serve as a gateway to more adult fare down the road. Whatever Levy wants to unleash on cinemas next, let's anticipate it properly.
11. Shadow in the Cloud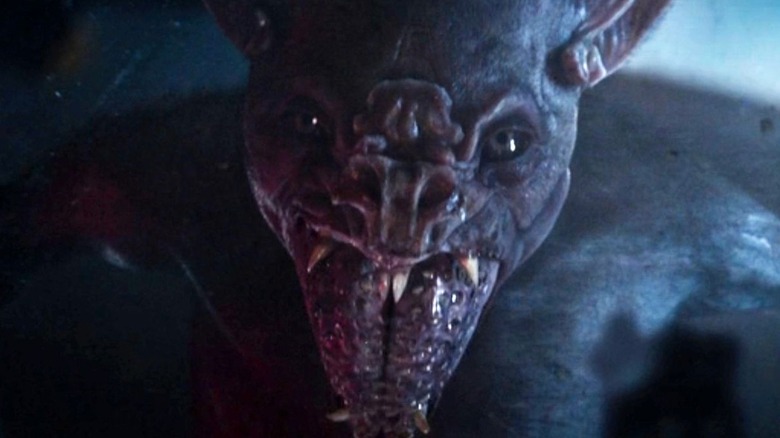 Automatik Entertainment
When speaking with ComicBook.com's Jamie Jirak about "Shadow in the Cloud" on my podcast "And the Best Picture Is...", Jamie mused, "What if my favorite film of 2021 came out on January 1st?" "Shadow in the Cloud" did indeed release that day and, while I can't speak for Jamie, 11 months later, it's still one of mine.
The word "gonzo" gets tossed around a lot, but Rosanne Liang's hybrid of a World War II epic, horror film, and chamber play is the real deal. The story of a bomber pilot (Chloe Grace Moritz) who encounters an actual gremlin on a not-so-routine mission is packed with more ridiculous sequences than you can shake several sticks at. What's more, they're all far too gasp-worthy to spoil here. 
So, I'll just offer this: Action films, like cinema, are meant to translate life (or life as we imagine it) into recognizable art. We thrill at seeing bodies both defying gravity and succumbing to it, and we love to see new, thrill-inducing stories. "Shadow in the Cloud" gives us all three, and then some. Stream it ASAP.
10. The Suicide Squad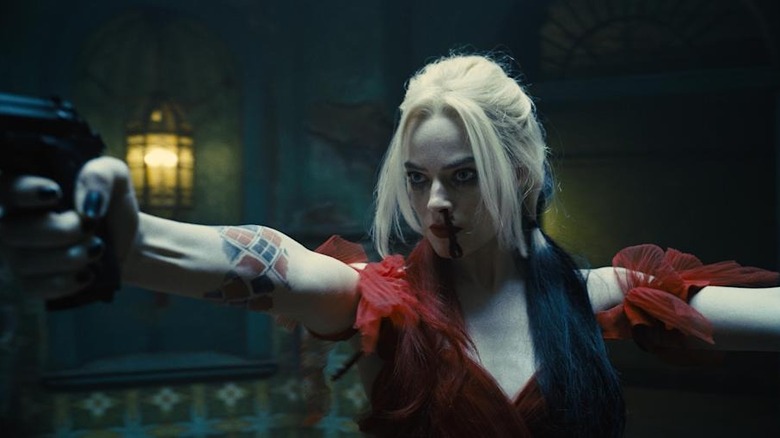 Warner Bros.
James Gunn's "The Suicide Squad" does so many things well that it's easy to overlook half of them. Case in point: an early set piece in which Bloodsport and Peacemaker have a pissing contest determined via body count. Each takes to offing bad guys in increasingly violent fashion, using progressively excessive weaponry. It's very violent. It's kind of funny. And then, all of a sudden, the punchline: The bad guys they've been killing are heroic rebels. Cue the rimshot. 
It's a very good joke, but it's an even better action sequence, one that's impeccably orchestrated and one in which every bloody beat hits. The catch? You remember it for the laughs. "The Suicide Squad" features the best scenes of Gunn's directing career, the most ambitious structure of any of his scripts, and the most diverse lineup of characters he's ever tackled. But it's that large ensemble and the assemblage of amazing actors who bring them to life that live largest in the audience's memory. "The Suicide Squad" is an unbelievably fun comic book film that's one of 2021's 10 best action films. Don't overlook its bonafides.
9. Copshop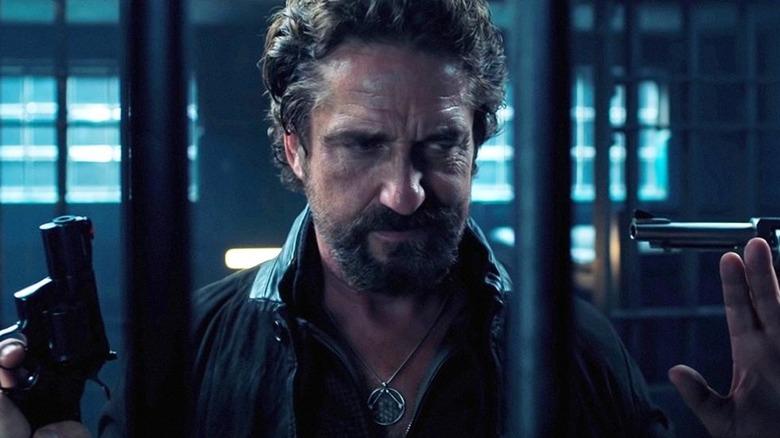 WarParty Films
Anyone who's been a connoisseur of action cinema for more than a minute knows that the Gerard Butler revival is real. "Den Of Thieves" is a classic. The "White House Down" films are trashy gut-level pleasures. And now there's "Copshop," a movie that drops Butler into a nest of other grizzled actors and gives each permission to go HAM for 90-plus minutes.
The setup of "Copshop" is simple: A very bad man gets delivered to a corrupt police precinct and mayhem ensues. The execution of "Copshop" is gloriously complicated. Director Joe Carnahan sticks to his usual, narrative-twisting guns but adds a massive dash of Walter Hill to his arsenal, staging the third act like it's "Last Man Standing" on steroids. Add in Toby Huss doing career-best work and a dash of the surreal, and you have one of the more ignored but wonderful action films to hit theaters all year. One more win for the Butler renaissance.
8. The Harder They Fall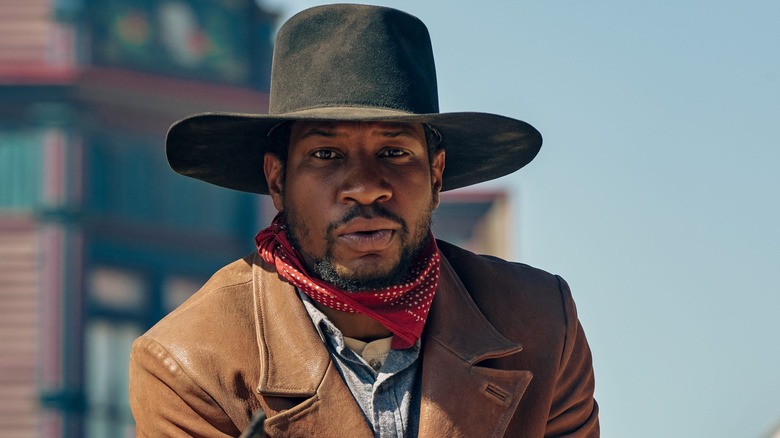 Netflix
"While the events of this story are fictional... These. People. Existed." With that 10-word opening crawl, "The Harder They Fall" lays down its gauntlet. Director Jeymes Samuel hasn't come to make a great western so much as take on an anthropological task — show the world that people of color belong, and have always belonged, in both a genre and the history that inspired it. And, reader, does he ever succeed. 
Yes, "The Harder They Fall" is more of a western than an action film, but its action beats are righteous and exceptional. Its swagger and style are of a caliber that every action film wants under its hood, helping the film race over the finish line while the competition is still miles behind. The best action films render their casts absolutely mythic. "The Harder They Fall" does that, and more. If you didn't know that everyone involved is already a movie star when you started watching, you'll never forget by the time that "The Harder They Fall" is finished.
7. The Paper Tigers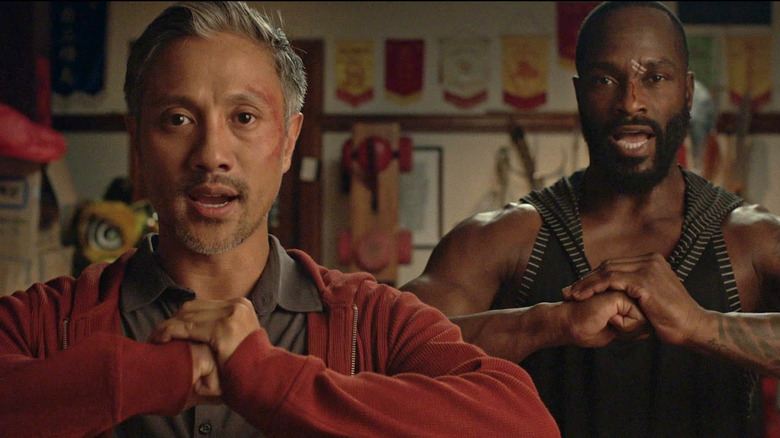 Netflix
I've already written volumes about why "The Paper Tigers" rips. What I haven't elucidated clearly enough (because I couldn't if I tried) is just how much it rips that "The Paper Tigers" works overtime to eradicate the "I'm too old for this s***" ethos from existence. There are two great action films featuring elder statesmen on this list; "The Paper Tigers" is the only one in which age is more than just a number. Age is stasis. Age is the acceptance of everyday mediocrity. Age is what happens when wonder dies for good. 
Part of what makes "The Paper Tigers" such a youthful, life-affirming film is that it finds just as much wonder in martial arts touchstones as in movies like "Space Cowboys" and "Wild Hogs." It laughs with, not at, its aging protagonists. What's more, it posits that relearning old tricks creates just as much grace as learning new ones. When "The Paper Tigers" lets its heroes rediscover how to honor each other through impeccable fight choreography, it honors the genres that birthed it while giving hope that we, ever-aging, can stay youthful and awesome and butt-kicking with every passing year. That's why "The Paper Tigers" rips.
6. Dune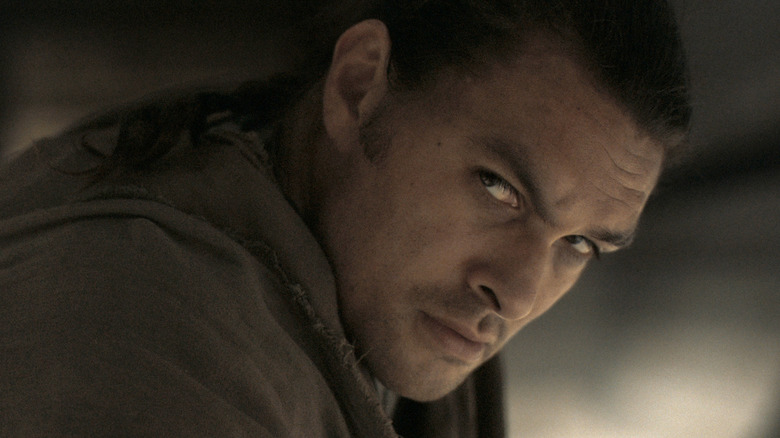 Warner Bros.
To those who reflexively think that "Dune" isn't an action film, I would offer that any movie that features Jason Momoa fighting for his life with nothing but daggers can't not be an action movie. That's just science.
But, if you remain unconvinced, it's worth noting that Denis Villeneuve's blockbuster epic lives or dies by its fight scenes. They are as integral to its character development as any of the film's hallucinogenic visuals or brain-expanding world building. Paul doesn't move onto "Dune Part 2" without besting a swath of soldiers in close combat. Its second half is nothing but skirmishes. And the execution of almost all of these scenes hinges on communicating a combat language that was once considered unfilmable.
"Dune" isn't just a groundbreaking blockbuster. It's grand and mind-bending action cinema that elevates the genre's sci-fi contingent to greater prominence in this new decade.
5. Shang-Chi and the Legend of the Ten Rings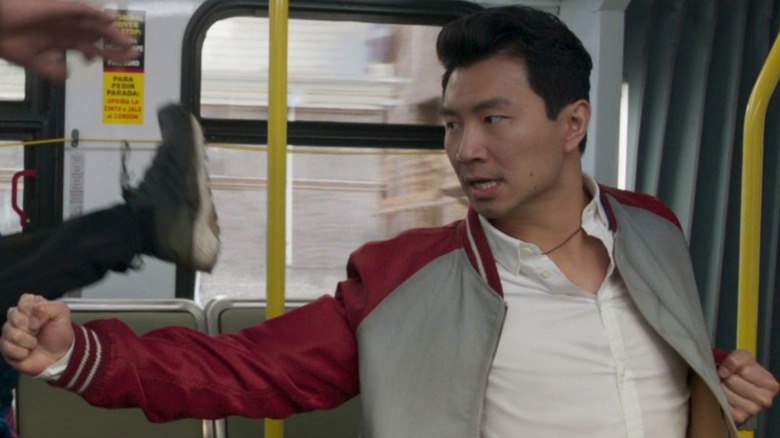 Marvel Studios
The MCU leveled up its action scenes across the board this year. The Brooklyn Bridge battle from the Disney+ series "Hawkeye" is a contender for 2021's best. In "Eternals," the siege of Druig's hideout proved both electrifying and heartbreaking. But from its very first trailer, it was clear that "Shang-Chi" was on a whole other level.
Watch this bus fight, and dazzle at not only its crisp choreography but the way each dodge, punch, and swerve of an out-of-control vehicle is more about Shang-Chi or Katy than "awesomeness." The best action films put characters first. "Shang Chi never forgets to do so — and does so, in fact, for its heroes, villains, and minor players alike. (In the film's conclusion, Shang and his sister Xailing literally harness the archetypal power of a dragon to both best a demon and come into their own.) This is what makes "Shang-Chi" not only one of the year's best action films, but one of the best movies Marvel's ever made.
4. Riders of Justice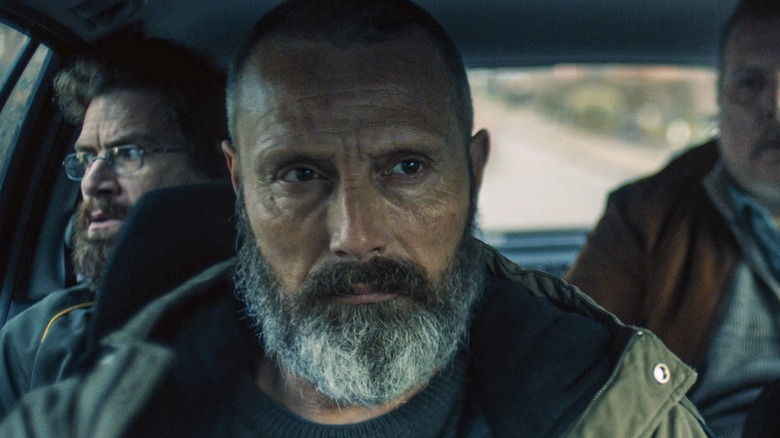 Nordisk Film
I imagine this list already has some readers wondering what my definition of an action movie actually is, and "Riders of Justice" will only confuse the issue. The latest film from Academy Award-winner Anders Thomas Jensen is ostensibly a thriller starring Mads Mikkelsen that runs headlong into an existentialist comedy featuring some of Denmark's finest actors without either picture giving the other any quarter. 
What results is something of a tonal shock to the system in which action beats occur, but are still surprising. Laughs come, but are often maudlin, and the end product is unclassifiable but weirdly satisfying on almost every imaginable front. It's the equivalent of hearing Frank Zappa for the first time and realizing that, yes, this is rock music. Here's the other thing about Frank Zappa, though: He's great. And "Riders of Justice" is a great movie, arguably the best one on this list, even if it isn't the most action-packed one.
In a piece about moviegoing for the Guardian, Walter Murch described what cinema achieves as a "paradoxical mass-intimacy," one that comes from every audience member having an idiosyncratic experience that is also universal. "Riders of Justice" asks questions that viewers can only answer quite personally, but it intersperses them with huge thrills, big laughs, and all the other things we love action movies for. To paraphrase "Star Trek," it's action cinema, Jim, just not as we know it. "Riders of Justice" belongs on this list, and high up to boot. Don't be surprised if it nets Jensen another Oscar next year.
3. Nobody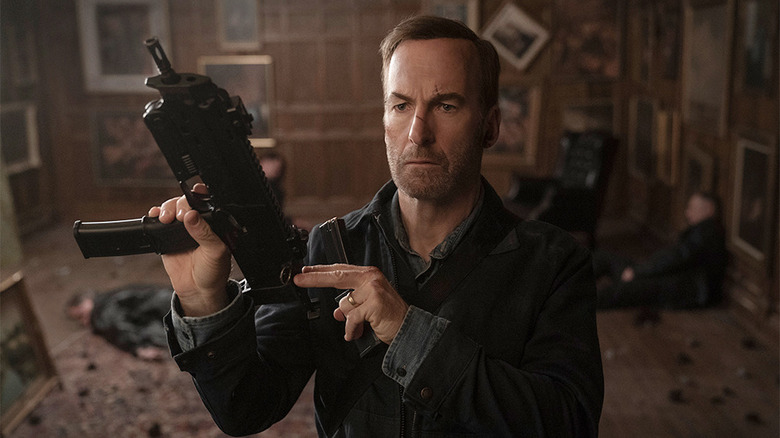 Lionsgate
There are multiple American dreams. One of them is suburbia. For many, the promise of a white picket fence and financial security is Elysium on Earth. What "Nobody" asks in between its electric shootouts and bus beatdowns: What good is that dream if it doesn't serve who you are? Hutch Mansell (Bob Odenkirk) is a killer. He was raised to be an assassin, and he's great at being one. By contrast, Yulian Kuznetsov is a monster who'd rather be a lounge singer. By the time these two men butt heads, leaving countless bodies in their wake, one of them has embraced who he is, while the other is still fighting it. 
If a treatise on nature versus nurture sounds like heavy stuff for a bloody shoot 'em up, know that "Nobody" is also as thrilling as they come, a perfectly contained and particularly rich slice of whoop-ass that only grows more delectable on repeat viewings. "Nobody" is a dream of action cinema that eviscerates the mythology of the country that birthed it. It owns, full stop.
2. Wrath of Man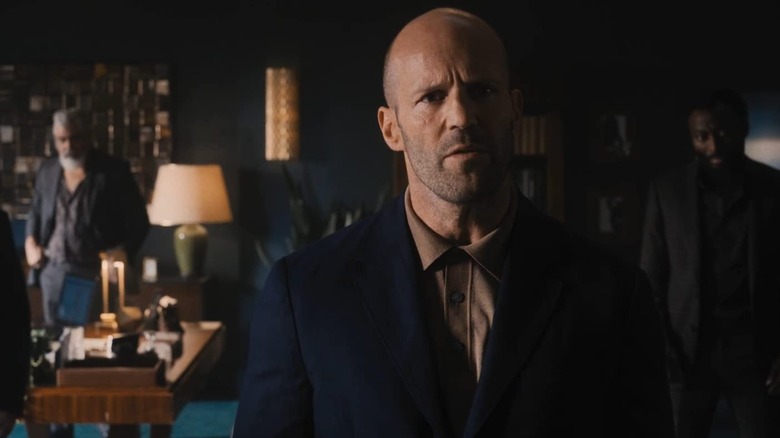 Lionsgate
The experience of watching "Wrath of Man" is to wait for it to become a typical Guy Ritchie movie. It never does. Yes, some of the British director's hallmarks are there — sophomoric banter, audacious music cues — but they're downplayed and mostly absent. In their place? A relentlessly grim tale of murder, robbery, and armored truck driving set in the City of Angels.
You keep waiting for the film to not work. Yes, the score by Chris Benstead is manifesting voids underneath you. Yes, the action is above average. Most importantly, the story doesn't pull any of its punches. Still, you wait until the final frame for "Wrath of Man" to fall apart. Then you reach the final credits, and need to see it again immediately. That's what happened to me, and it's what will likely happen to you, because "Wrath of Man," God bless it, is a new kind of Guy Ritchie movie. As a fan of his classic stuff? I hope he makes many more just like this.
1. Raging Fire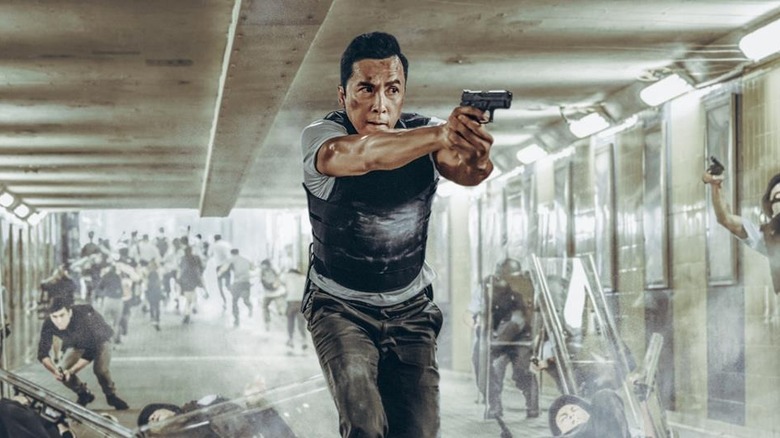 Well Go Entertainment
When it comes to the best action film of 2021, it's not really a contest. There's more glorious action in the first 20 minutes of "Raging Fire" than in entire movies on this list. In fairness, that's because the first 20 minutes of "Raging Fire" can go toe-to-bloody-toe with any in the history of Hong Kong action cinema. Late director Benny Chan (who passed away shortly after filming) distills the essence of the genre he helped form into 120 blood-soaked, operatic minutes. That means a dynamite turn from Donnie Yen. It means gun ballets both brutal and beautiful. Most of all, it means zero chill and white-hot fights that brim over with cinematic badassery.
You could show "Raging Fire" to both cinema neophytes and recently landed aliens and they'd both fall in love with it — and Hong Kong action in general — forever. That doesn't just make "Raging Fire" one of the year's best action films. It makes it important. Few works of art can serve as an ambassador for an entire genre. This massively entertaining film absolutely can. Watch it before year's end, and send 2021 out on a high note.