Halo Trailer: The Legendary Video Game Is Now A Paramount+ Series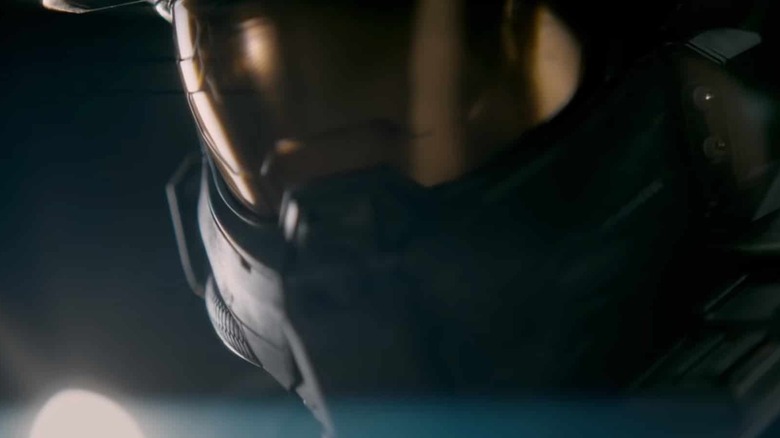 ViacomCBS
He's not finishing the fight ... this time, it's only just beginning. Thanks to the Paramount+ "Halo" streaming series, everybody's favorite futuristic super-soldier is officially making the jump from video games (and a frankly absurd amount of extensive lore in various books and graphic novels) to live-action. Microsoft, Bungie, and eventually 343 Industries' incredibly popular "Halo" series revolutionized the gaming industry with 2001's "Combat Evolved," and continued to up the ante with each subsequent installment. 
Yes, that includes "Halo 4," you plebeians! 
Even so, the reception to both "4" and "Halo 5: Guardians" has been somewhat of a mixed bag, culminating with the release of "Halo Infinite."
"Halo" fans can now feast their eyes on the first extended footage for the Paramount+ series, which puts the Master Chief right in the center of the action. Check out the official trailer below.
Halo Trailer
Cue the choir singers and nifty guitar riffs! The instantly recognizable and legendary "Halo" theme is just one of the many joys in seeing Spartan John-117 back in action, this time in live-action. Today's footage dwarfs the very brief tease we received last month, which almost came across as a proof-of-concept reel for anyone still on the fence about this project. It's hard to imagine that remaining the case now, as Paramount is clearly going all-in on the potential of this franchise. "Halo," which was originally meant to air on Showtime at one point, follows the genetically altered Master Chief and his fellow Spartans as they face the ultimate threat in the 26th Century — the alien Covenant Empire.
Master Chief is portrayed by Pablo Schreiber ("First Man"), who is joined by co-stars Natascha McElhone ("Californication") as Doctor Halsey, Jen Taylor reprising her voice role in the games as Cortana, Danny Sapani ("Killing Eve") as Captain Jacob Keyes, Olive Gray ("Save Me") as his daughter, Miranda Keyes, Bokeem Woodbine ("Spider-Man: Homecoming") as fellow Spartan soldier Soren-066, Shabana Azmi ("The Empire") as Admiral Margaret Parangosky, Bentley Kalu ("Stairs") as Vannak-134, Natasha Culzac ("Men In Black: International") as Riz-028, Kate Kennedy ("A Midsummer Night's Dream") as Kai-125, and Yerin Ha ("Reef Break") as Quan Ah.
"Halo" will consist of 10 episodes in total, with Kyle Killen ("Lone Star," "Awake," "Mind Games," "Fear Street: Part One – 1994") and Steven Kane ("The Closer," "American Dad!," "The Last Ship") serving as co-showrunners and executive producers. Rupert Wyatt, Scott Pennington, Justin Falvey, and Darryl Frank are all attached to the project as executive producers, as well.
"Halo" comes to Paramount+ in 2022.