Superhero Bits: Tyler Hoechlin's New Superman Suit, Kate Bishop Ant-Man 3 Rumors, & More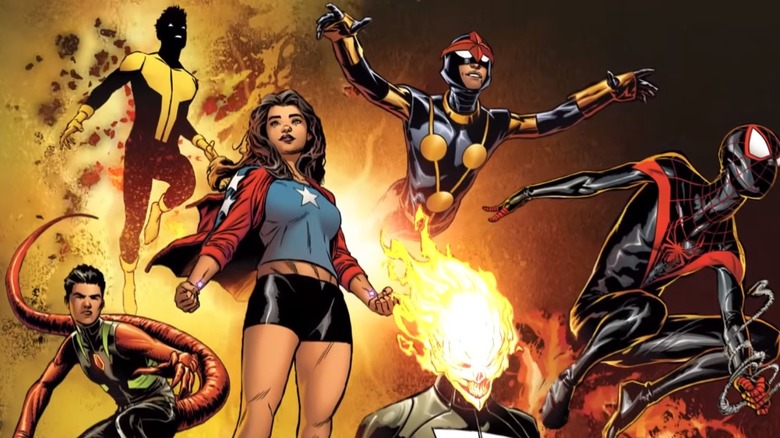 Marvel
(Superhero Bits is a collection of stories, updates, and videos about anything and everything inspired by the comics of Marvel, DC, and more. For comic book movies, TV shows, merchandise, events, and whatever catches our eye, this is the place to find anything that falls through the cracks.)
In this edition of Superhero Bits:
Kate Bishop might show up in a big Marvel sequel.
Kevin Feige discusses Venom joining the MCU.
Tyler Hoechlin's new suit for "Superman & Lois" season 2.
Spider-Man's early Marvel Comics adventures get a fancy new collection.
Comic Book Legend George Perez Has Terminal Cancer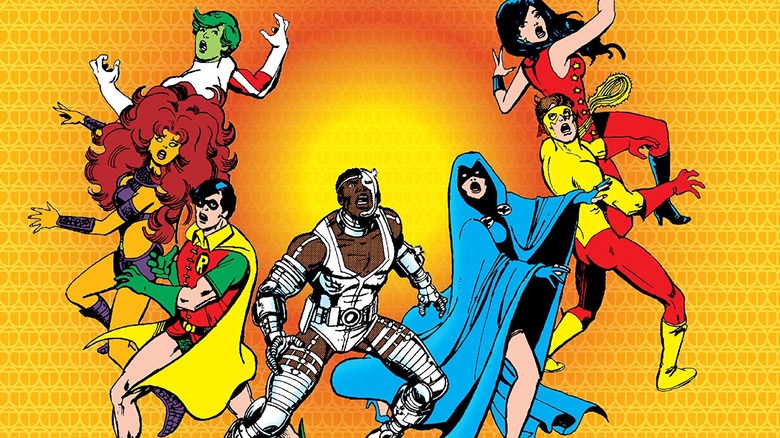 DC
We have to start off with some sad news today, as legendary comic book artist George Perez has revealed that he has terminal cancer. Perez had already retired from comics due to health issues, however, in a recent post on his official Facebook page, the icon of the art form revealed that his prognosis is not good, and he is letting nature take its course.
Comic book legend George Perez has announced through his FB page that he has Stage 3 pancreatic cancer and has six months to live.

You cannot begin to describe the impact this man had as an artist for DC and Marvel and who by all accounts is an incredibly nice guy too. pic.twitter.com/fbMlCHcFut

— Bitter Script Reader (@BittrScrptReadr) December 7, 2021
It sounds like Perez, above all else, wants to spend as much time with his family and his fans as he can before his time comes. We wish Perez all the best and thank him for his immense contributions to pop culture, and the joy he has provided to so many people over the years.
Hawkeye Becoming Maya Featurette
Last week's episode of "Hawkeye" introduced us to Alaqua Cox as Maya Lopez, AKA Echo. Marvel has released a featurette detailing Cox's journey to becoming the character. It's remarkable, as Cox is deaf in real life and had no real acting gigs before taking on a huge role in the MCU. And, considering that Marvel is planning to release a full "Echo" series on Disney+, it appears they have a lot of faith in her abilities. Check out the full video for yourself above.
Is Hawkeye's Kate Bishop Appearing In Ant-Man 3?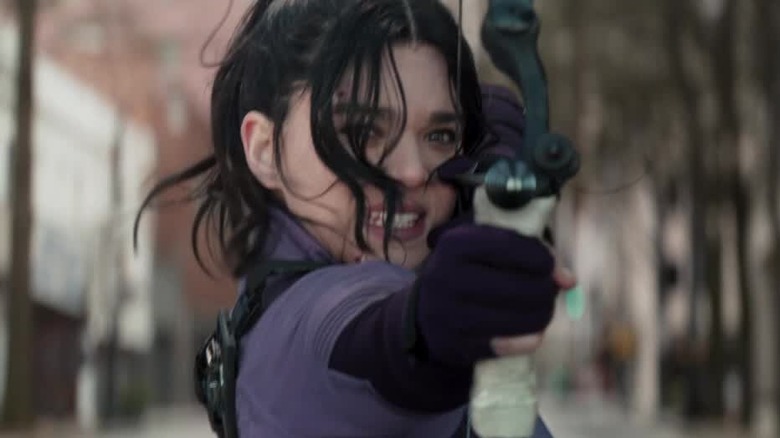 Marvel Studios
What's the time? It's rumor time! Let's say right up top that this rumor appears to be coming from unproven sources, and for the moment I'm using this as an opportunity to tell anyone who has read this elsewhere to calm down, and wait for confirmation one way or the other. That said, a site called the Midgard Times is reporting that Hailee Steinfeld's Kate Bishop will reprise her "Hawkeye" role in the upcoming "Ant-Man and the Wasp: Quantumania." On the surface, this doesn't seem that unbelievable, as Marvel's Kevin Feige has confirmed that characters from these Disney+ MCU shows will also make the jump to the big screen. But, for now, this exists firmly in the rumor mill with little to actually back it up.
Taschen Kicks Off Marvel Comics Library Series With Incredible Spider-Man Collection
Marvel Comics has announced a new partnership with Taschen that will see the company releasing a series of premium collections over the next decade. Dubbed "The Marvel Comics Library," the first volume in the series will be a collection of early "Spider-Man" stories. You can check out some of the artwork in the Instagram post above. Per Marvel, here's what to expect:
The inaugural volume of 'The Marvel Comics Library', Spider-Man. Vol. 1. 1962–1964, features the first 21 stories of everybody's favorite web-slinger, meticulously honoring the original vision of Spider-Man creators Stan Lee and Steve Ditko. An in-depth historical essay by Marvel editor Ralph Macchio, an introduction by uber-collector David Mandel, original art boards, rare photographs, and other never-before-seen gems make this book the ultimate tribute to the teen who redefined what it meant to be a hero, right ahead of Spider-Man's 60th birthday.
The first 5,000 copies of Spider-Man. Vol. 1 will be numbered and released as a "Famous First Edition." The book is also available as a Collector's Edition, limited to 1,000 copies featuring an aluminum print cover tipped into a leatherette-bound spine, foil embossing, and housed in a slipcase. The editions retail for $200 and $600, respectively. Those interested can pre-order a copy now by clicking here.
Marvel's Avengers Will Get New Content In 2022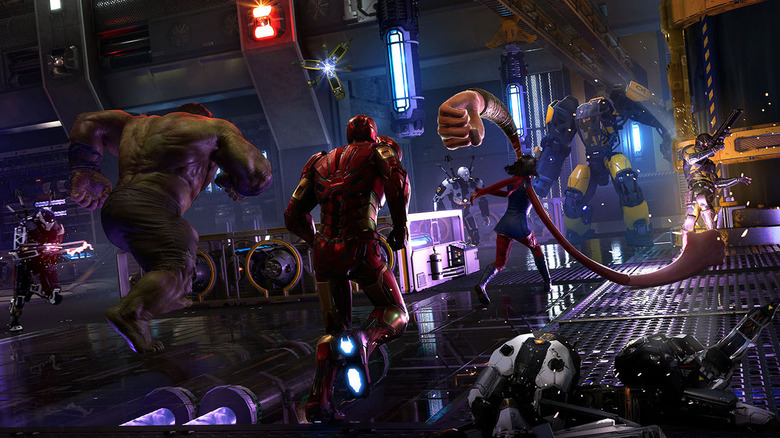 Marvel
Recent comments made by "Marvel's Avengers" Game Director Phil Therien had fans thinking that the game wouldn't be getting any new content in 2022. Now, as reported by Comic Book Resources, that is not the case. Crystal Dynamics Senior Brand Manager Nick Edwards has assured fans that more goods are coming to the game saying, "If the core question is: Will there be content in 2022 after this roadmap? Yes. There is not currently any version of any internal plan where we stop updates at the end of the current roadmap." The comments were made on Reddit but, given Edwards' role within the company, this seems pretty concrete. As for what that content will be? It's anyone's guess at this point.
Tyler Hoechlin's Superman & Lois Season 2 Suit Revealed
Tyler Hoechlin will be back as our small-screen Man of Steel in "Superman & Lois" season 2, which arrives on The CW in January. Recently, former "Power Rangers" star Amy Jo Johnson, who is directing an episode in the upcoming season, revealed a behind-the-scenes photo of herself with Hoechlin. In the process, it offered a better look at Superman's new suit. Granted, it's without any post-production or effects to polish it off, but it certainly looks fitting for the character.
Vincent D'Onofrio Congratulates Charlie Cox On Being MCU's Daredevil
Vincent D'Onofrio, who portrayed Kingpin on Netflix's "Daredevil," has congratulated his former co-star Charlie Cox on some recent news regarding the character's future. Specifically, Marvel Studios head Kevin Feige has confirmed that Cox will be The MCU's Daredevil when the character inevitably makes his return to the screen. D'Onofrio, exercising a whole lot of class, had nothing but love for Cox. He also singled out Deborah Ann Woll, in a separate tweet, for her work as Karen Page.
Let's not forget about @DeborahAnnWoll and the depth she brought to the character of Karen Page an incredible Marvel character. https://t.co/rPxyAKptfC

— Vincent D'Onofrio (@vincentdonofrio) December 7, 2021
Whether or not Woll will make the jump to the MCU as well remains to be seen. To that end, many have speculated D'Onofrio's return could be coming sooner rather than later, but that is a surprise Marvel is at least attempting to keep under wraps, assuming it is indeed happening.
Kevin Feige Discusses Bringing Venom Into the MCU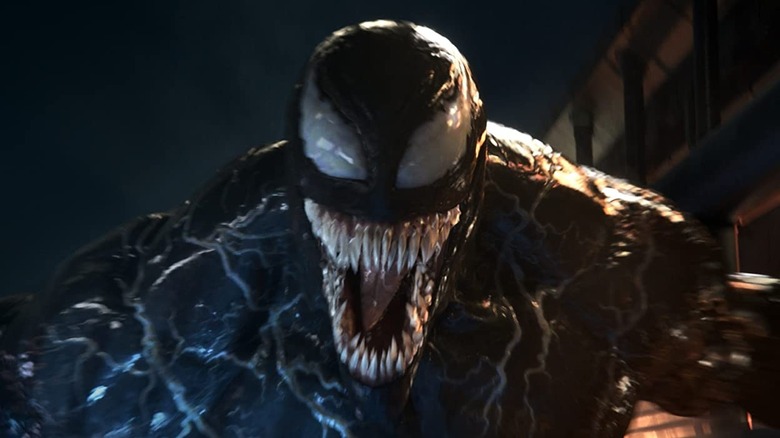 Sony Pictures
The multiverse is opening up in a big way with "Spider-Man: No Way Home" next week, as well as "Doctor Strange in the Multiverse of Madness" next year. But it was the "Venom: Let There Be Carnage" post-credits scene that truly kicked that door wide open, particularly for those who want to see Tom Hardy's Venom in the MCU. Now, in an interview with Collider, Marvel Studios head Kevin Feige has explained how the decision to mesh these two universes was arrived at.
"You look at the obvious comic connotations between Venom and Spider-Man and it is inherent. So the minute Sony made their Venom movie and it worked as well as it did, and Tom Hardy became as iconic as he has become as Venom, then the obvious question is then, 'How do we start to merge them?'"
Regardless of commercial performance, there is no question that the "Venom" movies are not as critically well-liked as the MCU films, generally speaking. In any case, Sony and Marvel Studios working together with the "Spider-Man" franchise all but assured this was going to happen at some point.
Marvel's Voices: Comunidades Trailer
Lastly, today brings a trailer for the upcoming special "Marvel's Voices: Comunidades" #1. The latest in the publisher's "Marvel Voices" series looks to highlight Latinx heroes and creators from the Marvel Universe. The trailer gives an overview of the many stories contained within the oversized issue, which is hitting stands on December 8, 2021. Here is the synopsis for the book:
Spider-Man! White Tiger! Ghost Rider! And so many more heroes get their moment in the sun as new and fan-favorite creators continue to expand the world outside your window in MARVEL'S VOICES: COMUNIDADES (Community)! Featuring an introduction by renowned scholar Frederick Luis Aldama! PLUS, an all-new hero takes the stage in a whirlwind adventure you won't want to miss.
The huge list of contributors includes writers Daniel José Older, Karla Pacheco, Terry Blas, Juan Ponce, Leonardo Romero, Amparo Ortiz, Alex Segura, Nico Leon, and Edgar Delgado, with art by Enid Balám, Vanesa Del Ray, Adriana Melo, Leonardo Romero, Nico Leon, Alitha E. Martinez, and Joe Quesada.