Official Christmas Movie The Green Knight Is Returning To Theaters This Friday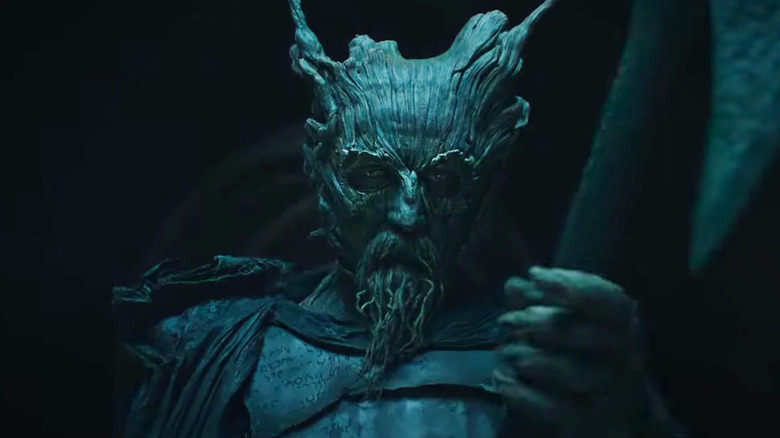 A24
In case there was any doubt, let's now officially declare "The Green Knight" to be a Christmas movie. In honor of the holiday season, A24 is bringing David Lowery's fantastic, fantastical adventure back to the big screen this weekend. Sure, the movie is already on Blu-ray and digital, so you could watch it from the safety of your own home. But if you wanted to see Dev Patel's jizz on the big screen, this is your chance. And what could be more festive than that?
Adapted from the 14th-century poem "Sir Gawain and the Green Knight," "The Green Knight" stars Dev Patel as Gawain, a knight who agrees to partake in a friendly Christmas game. That game: chopping the head off a giant supernatural knight. This kicks off a series of events that will lead Gawain on a quest to prove himself a man of honor or fail in disgrace. Happy holidays! Watch a Christmas-themed teaser for "The Green Knight" below. 
The Green Knight Returning to Theaters
"The Green Knight" is one of the year's best movies. It's also set during Christmas, which makes it the perfect holiday season watch. And if you'd like to see David Lowery's pic on the big screen again, you're in luck: it's headed back to theaters on December 10, 2021. You can find tickets here. In "The Green Knight," 
King Arthur's headstrong nephew embarks on a daring quest to confront the Green Knight, a mysterious giant who appears at Camelot. Risking his head, he sets off on an epic adventure to prove himself before his family and court.
I haven't stopped thinking about the movie since I saw it during the summer, and I was already planning a holiday-season rewatch before the year was out. Now I have the option of that happening on the big screen, and you do, too. And if you haven't even seen the movie yet, this might be a good opportunity to remedy that! But don't take my word for it alone. Here's what /Film's Hoai-Tran Bui had to say in her review: 
The enormity of this film intimidates me. And it hypnotizes me, and seduces me, and captures me until it feels as if the green has grown like moss over my entire body. But rather than threatening to choke, The Green Knight injects a new source of oxygen into the sword-and-sorcery genre. But in reality, The Green Knight is something much stranger and much more primal, as if Lowery — who has flirted with the relentless trudge of time before in his exquisite A Ghost Story — has unearthed some ancient magicks from within this enigmatic author-less medieval poem. It's a story not crafted by human hands, but one that simply emerged from the ether, as if it had always existed. And we should be so grateful that it does.