Why Bill Murray's Nothing Lasts Forever Never Got A Theatrical Release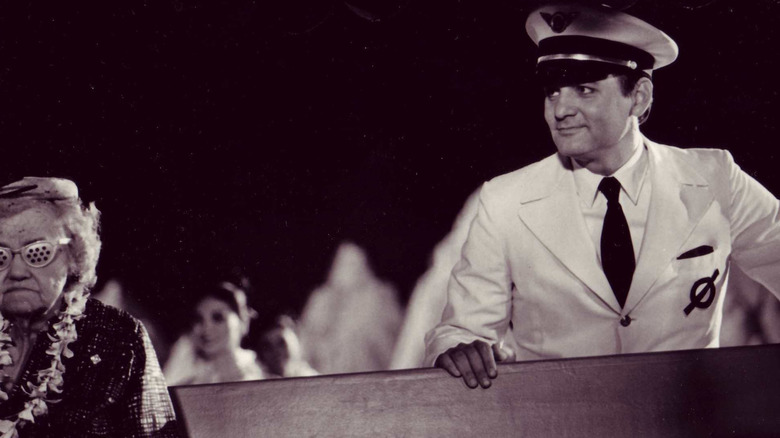 MGM
Bill Murray was one of the undisputed kings of comedy in the 1980s, and became one of Hollywood's brightest stars. A few years following "Meatballs" and "Caddyshack" and the same year as "Ghostbusters," Murray performed in a surreal science-fiction comedy film called "Nothing Lasts Forever," a film that has never been given a proper release, and likely never will. Directed by "Saturday Night Live" writer and director Tom Schiller in his sole feature outing, "Nothing Lasts Forever" stars Zach Galligan, who would become a household name the same year for his leading role in "Gremlins," as a young artist who travels to a retro-futuristic version of New York City to prove his artistry through a totalitarian test but fails and is required to direct traffic. Through his time at work, he discovers that those cast out by society are actually in control of the city, and after taking a trip on a lunar cruiser to the moon, he falls in love with Eloy (Lauren Tom).
Bill Murray plays the bus conductor and his "Ghostbusters" and "Saturday Night Live" co-star Dan Aykroyd plays Galligan's hard-headed boss. With Murray, Aykroyd, and Galligan all poised to explode in 1984, "Nothing Lasts Forever" had the potential to be a huge success on name recognition alone. The film is apparently pretty good, with Pierre-Henri Deleau of the Cannes Film Festival inviting MGM to screen the film two festivals in a row. MGM said no, and the film was never given a theatrical release.
Why Didn't MGM Release Nothing Lasts Forever?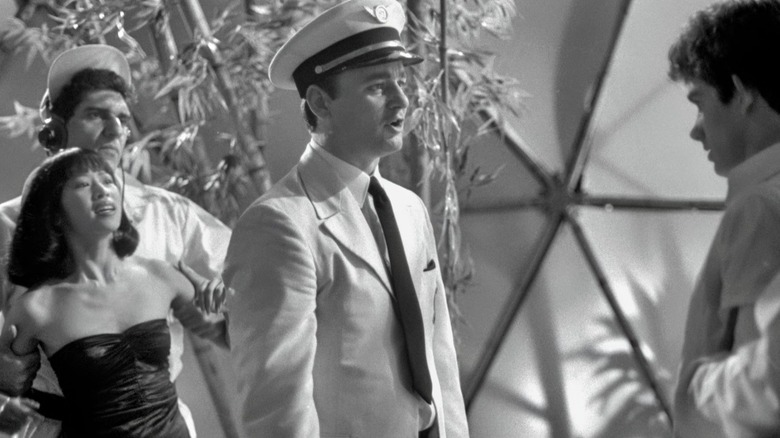 MGM
There's never been an official statement made regarding the film's lack of release, but many have speculated it was shelved because it was completely out of the commercial wheelhouse for all involved, and much more of an "art film" than a blockbuster comedy. To release this black and white film the same year as "Ghostbusters" and "Gremlins" could have had disastrous results, with audiences possibly expecting a tone similar to those films and getting something entirely different.
Others have speculated that since "Nothing Lasts Forever" features clips from classic films, there may be a copyright issue, which would make sense for home distribution but doesn't seem to explain the lack of a theatrical release. Over the years, the film has been broadcast on television, including its American television debut on Turner Classic Movies as part of their "TCM Underground" programming block. The movie also pops up on YouTube from time to time before getting hit with a copyright strike, so some have managed to see it that way. Now that Warner Bros. owns the rights to the pre-1986 MGM film library, plenty have begun hoping the film will get a release, but WB has gone on record multiple times to say the film cannot be released on DVD due to unspecified "legal difficulties." These days, the film plays in random festivals and Schiller frequently attends to offer Q & A sessions after screenings. 
Will "Nothing Lasts Forever" ever get a proper release? Probably not in this lifetime.