Leonardo DiCaprio's Dad Has A Cameo Role In Licorice Pizza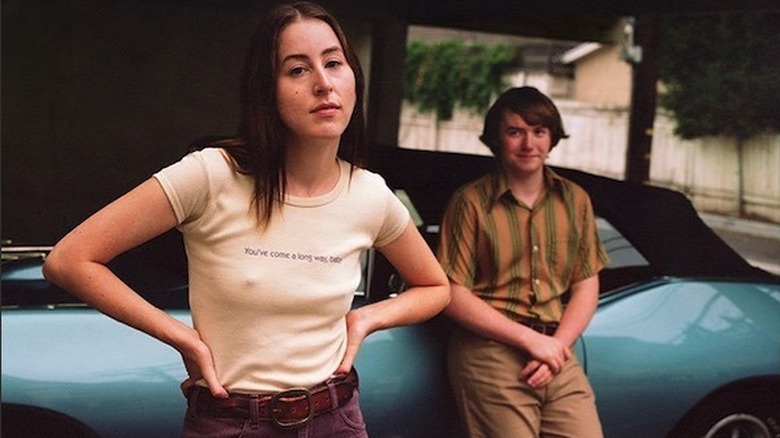 MGM Press site
Paul Thomas Anderson's film "Licorice Pizza" is getting all kinds of Oscar buzz right now. It's a coming-of-age story set in the 1970s and it's got a fantastic cast. Here's the info for you if you haven't seen it yet: 
"Licorice Pizza" is the story of Alana Kane and Gary Valentine growing up, running around and falling in love in the San Fernando Valley, 1973. Written and directed by Paul Thomas Anderson, the film tracks the treacherous navigation of first love.
"Licorice Pizza" stars Alana Haim, Cooper Hoffman, Sean Penn, Tom Waits, Bradley Cooper, and Benny Safdie. That's not all! According to a tweet from New York Times reporter Kyle Buchanan, it's also got a cameo from Leonardo DiCaprio's dad, George DiCaprio. 
DiCaprio the elder is a writer/producer/performance artist who also worked in underground comics. The info comes from an interview Buchanan did with director Paul Thomas Anderson that he speaks about in a Twitter thread. 
Foggy Bottom
In the tweet thread, which you can check out below, Anderson spoke about the role George DiCaprio played. He said:
"I created a picture of a guy who owned a wig shop that sold these water beds, and I couldn't put my finger on it. I kept saying, 'Who do I know that looks like this?' And like a bolt of lightning, I remember, like, 'Leo's dad looks exactly like this.' So I tracked him down, asked him if he'd ever be interested in being in a film. He said, 'Sure.' I explained the scenario to him. He said, 'Sounds great. Did Leo tell you that I owned a water bed company?' It was called Foggy Bottom"
He continued: 
"It was one of those things. I said, 'Well, you're the right man for the job.'"
Here's how Leonardo DiCaprio's dad landed a LICORICE PIZZA cameo as an eccentric hippie in a waterbed store pic.twitter.com/cUKyEkkgcW

— Kyle Buchanan (@kylebuchanan) December 1, 2021
Buchanan also posts in the thread about why a big moment from the trailer featuring Bradley Cooper (smashing car windows and doing a delightful pose on the ground between them) wasn't in the film and the first scene they actually shot with Cooper. 
"Licorice Pizza" opened in select theaters on November 26, 2021, and will receive a wide release on December 25, 2021. With all the Academy Award talk this film is getting, and from the spectacular trailer, this one is worth seeing. "Licorice Pizza" is rated R for language, sexual material, and some drug use. (Listing what ratings are for is a big draw for the film, no?)