Peacemaker Promo Introduces The New BFF Team Of Peacemaker & Vigilante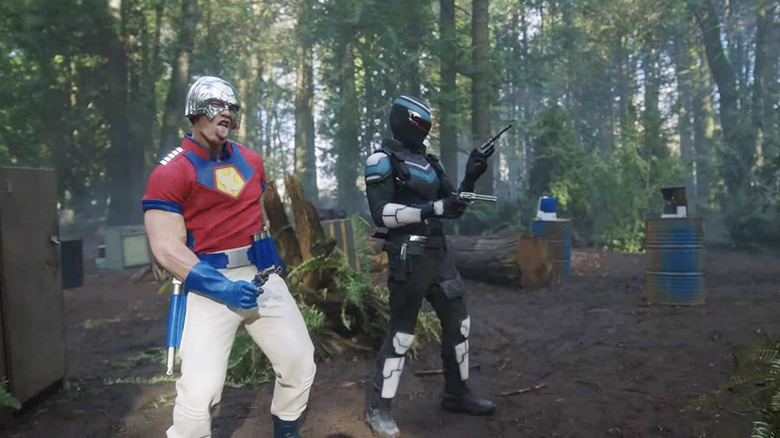 HBO Max
Christopher Smith, aka Peacemaker (John Cena), from "The Suicide Squad" was many things, but a good friend was not one of them. The tighty-whities wearing government-sanctioned assassin, who's so devoted to peace he's willing to kill most anyone to get it, bonded with the rest of Task Force X over the course of their mission to Corto Maltese in James Gunn's DCEU movie, yet didn't blink an eye about having to murder his teammates to keep the U.S. government's involvement in Project Starfish under wraps. His co-workers in Gunn's upcoming "Peacemaker" series will understandably be all the less inclined to trust or befriend him after that stunt — with one exception.
That would be Adrian Chase, aka Vigilante (Freddie Stroma), a character created by George Pérez and Marv Wolfman for DC's "New Teen Titans" comic books in 1982. "Peacemaker" will mark the costumed hero's... er, vigilante's debut in the DCEU, where he starts out as a restaurant bus boy who's convinced he's already Peacemaker's BFF, as seen in the promo below.
Peacemaker & Vigilante Featurette
The featurette has Cena, Gunn, and Stroma breaking down the relationship between Peacemaker and Vigilante on the series, as well as footage that shows the pair joyfully blowing up various items (like stuffed animals and broken ovens) out in the woods. Their relationship looks to be a complicated one. As Stroma notes, Peacemaker seems to regard his self-appointed buddy as one would an "annoying younger brother," yet (as Cena points out) they're both willing to do "atrocious" things in the name of justice. Will Vigilante act as a mirror for Peacemaker, leading him to realize that maybe, just maybe, his jingoistic "Freedom At Any Cost" philosophy isn't so great?
Gunn wrote all eight episodes of "Peacemaker" Season 1 while splitting up directing duties with Brad Anderson ("Session 9"), Jody Hill ("The Righteous Gemstones"), and Rosemary Rodriguez ("The Walking Dead"). Joining Peacemaker and Vigilante on the show are Amanda Waller's not-so-loyal cohorts Emilia Harcourt (Jennifer Holland) and John Economos (Steve Agee) from "The Suicide Squad," as well as DCEU newcomers Chukwudi Iwuji ("John Wick: Chapter 2") and Danielle Brooks ("Orange Is the New Black") as Peacemaker's untrusting new teammates Clemson Murn and Leota Adebayo. Stroma, who's perhaps best known for playing Cormac McLaggen in the "Harry Potter" movies, actually replaced Chris Conrad ("Patriot") as Vigilante after the latter stepped down over creative differences.
"Peacemaker" begins streaming weekly on HBO Max on January 13, 2021.