The Daily Stream: The Clovehitch Killer Will Make Your Daddy Issues Seem Pretty Chill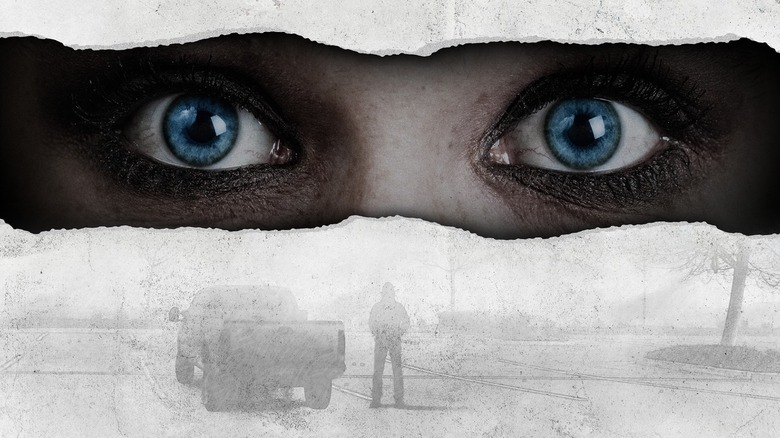 IFC Midnight
(Welcome to The Daily Stream, an ongoing series in which the /Film team shares what they've been watching, why it's worth checking out, and where you can stream it.)
The Movie: "The Clovehitch Killer"
Where You Can Stream It: Hulu
The Pitch: The holidays lure families out of their mundane daily lives to gather and spend quality time with one another. But how well do you really know your family? Have you ever seriously questioned their morality or had cause for concern about your relation to them, either socially or genetically? 
There exists a large volume of movies about atypical family dynamics, but few push the boundaries within a realistic context like director Duncan Skiles' 2018 film "The Clovehitch Killer." Written by Christopher Ford, the film follows sixteen-year-old Tyler Burnside (played by Charlie Plummer) who begins to have disturbing doubts about his father, Don's (Dylan McDermott) involvement with the murders that have occurred in his hometown. Despite being raised in a devout Christian family and Don being the leader of his Boy Scout troop, evidence begins to pile up suggesting that Tyler's dad may not be the loving father that he appears. Taking matters into his own hands, Tyler joins forces with a fellow social outcast to reveal the truth about his father. 
Why It's Essential Viewing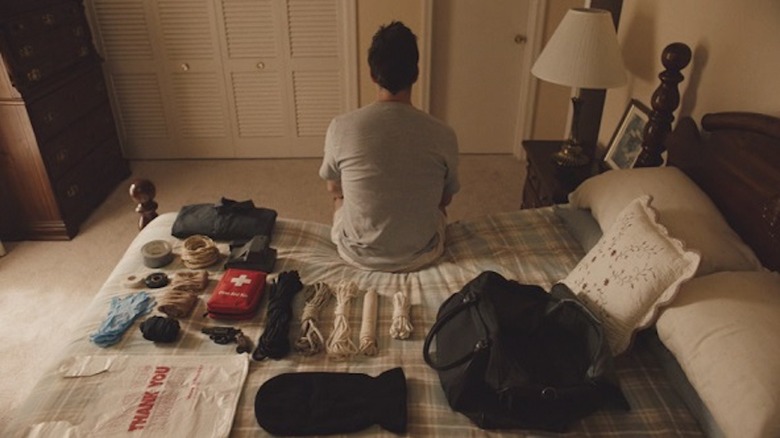 IFC Midnight
"The Clovehitch Killer" found its inspiration from serial killer Dennis Rader, better known to the public as BTK (an abbreviation that stands for Bind, Torture, Kill). BTK murdered ten women and had an affinity for sexual sadism. His crime spree spanned seventeen years until he was apprehended and sentenced to multiple life terms in prison back in 2005. Up until then, he hid in the public eye similar to John Wayne Gacy and Ted Bundy. He got married, held down a job, and had two children in order to mask his deviant streak. 
Since true crime stories tend to focus on the killers and their victims, they don't often think about or even empathize with the family members related to these psychopaths. "The Clovehitch Killer" brings up questions of identity, purpose, and responsibility that not many other films approach when discussing a serial killer narrative. As Tyler is trying to piece together clues and debunk theories about his father, there is this internal struggle about what that would mean for their relationship. In a way, his father is still his father and he loves him — but if he is the murderer, how would that love change? And is there something hereditary that would make Tyler more susceptible to becoming a killer himself? His entire world is collapsing and his views on family, sex, violence, and responsibility are all uprooted.
This kind of identity struggle is evident with people whose parent is a serial killer. For example, BTK's daughter in real-life actively speaks out about her experience with him and her own struggles finding out as a teenager that her father was a sadistic murderer. There's also the daughter of the Happy Face Killer, who is an activist for those in similar situations and will have her story soon told on the small screen with an adaptation of a podcast she hosts. 
"The Clovehitch Killer" explores these complicated emotions extremely well within a tense and simplistic setting. There are also several scenes with a hypocritical sense of dichotomy, where Don will lecture Tyler about gun safety and silence while pretending like his own actions pale in comparison. These scenes further add to the complexity between father and son or even the line between right and wrong. The film also explores empathy in a unique manner with a large amount of the guilt, remorse, and moral responsibility being left on the shoulders of those within the killer's circle. After all, people can forget that they are victims and survivors in their own right. 
It may not be a merry family film, but if you're into true crime and complex evaluations of self-identity and belonging within a familial context then pull up a chair (and maybe pour yourself a drink) because this one is for you.