Happy Face: The Creators Of Evil And The Good Fight Are Making Another Paramount+ Show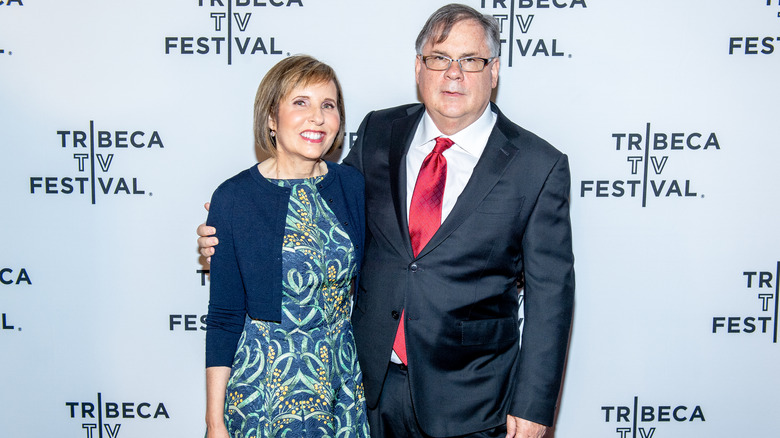 Roy Rochlin/Getty Images
The Hollywood Reporter disclosed that husband and wife showrunner duo Robert and Michelle King are bringing a new true crime story to Paramount+. After being in the works for over a year, the series will be a live-action, scripted original adapted from the "Happy Face" podcast. Its inspiration comes from a book titled "Shattered Silence" which eventually led to the creation of the "Happy Face" podcast. Both tell the true-life story of Melissa Jesperson-Moore, who, at age 15, discovered her father (Keith Hunter Jesperson) was the serial killer known as Happy Face. This name was given to him due to the smiley faces he would draw on letters mailed into the police and media. For obvious reasons, Jesperson-Moore later changed her name as an adult and kept her life a secret. She also cut off all ties to who father who is currently serving life in prison for murdering eight people, although, Jesperson confessed to killing as many as 185 over the span of 5 years from 1990-1995.
The Kings will approach "Happy Face" by using Jesperson-Moore's story as a jumping off point. From there, they plan to explore what happens when her father contacts her to take credit for another victim and how Jesperson-Moore is subsequently pulled into an investigation of her father and his heinous crimes. The series will follow Jesperson-Moore as she uncovers the devastating impact her father's crimes had on the families of his victims, which later leads to a reckoning with her own identity. In a joint statement, the Kings said, "We're obsessed with true-crime podcasts, and 'Happy Face' is the best we've heard. Melissa's story screams out to be dramatized, and Jen is exactly the showrunner to do it." Jennifer Cacicio, who previously worked with the Kings on "Your Honor," will write the script and executive produce alongside the King couple and Liz Glotzer ("Bernie, "Castle Rock"). Jesperson-Moore will also serve as an executive producer alongside iHeartMedia's Bob Pittman and Conal Byrne. 
Truth Is Stranger Than Fiction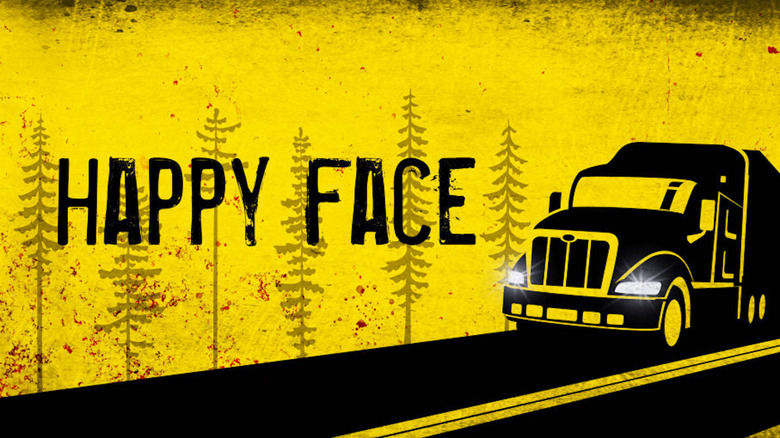 Happy Face Podcast
CEO of iHeartMedia's digital audio group, Conal Byrne, stated, "Melissa's experience — and her bravery in sharing it with world — was one of the most remarkable partnerships we've been able to support here at iHeart. And we know that audiences will be just as moved by the onscreen adaptation of 'Happy Face' as they were with the hugely successful podcast. Paramount+ has quickly built a fantastic reputation, with some of today's most exciting content. It's the perfect home for this incredible story."
Melissa Jesperson-Moore herself chimed in at the announcement of "Happy Face" saying:
"It's been an incredible journey that I couldn't have ever foreseen — how I've transcended being raised by a serial killer and now am helping survivors tell their stories. "Happy Face" gives me the chance to share the intense internal conflict, fear and peril felt by those affected by true crime. It also inspires me to share the strength that has allowed me to step up in front of the camera so that other survivors will not feel alone in their experience." 
Raised By A Murderer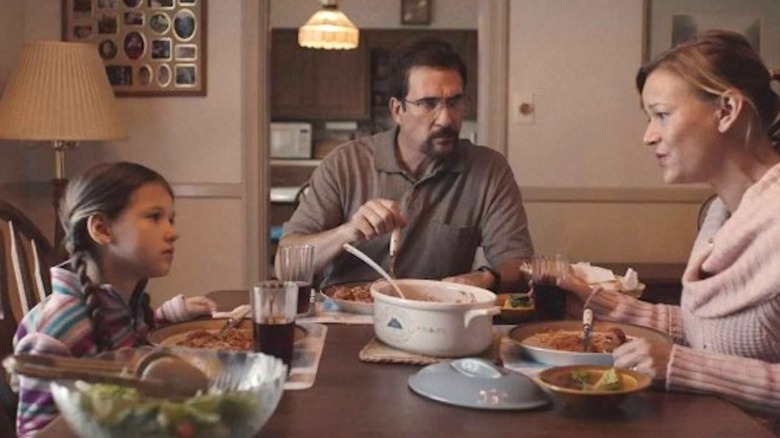 IFC Midnight
There is a large selection of true crime content out there these days, but very few address crimes from those who may or may not know the murderer best: their family. Being raised by a murderer is a deeply disturbing thought, but it happens. John Wayne Gacy, Ted Bundy, and Dennis Rader (aka BTK) are all fathers. Adhering to that parental role is almost part of an attempt to blend into society and mask their true deviant actions. I can only imagine how damaging it would be to one's one identity and reputation to have a serial killer as a parent. The fact that this person helped give you life but stole that from so many others. There has to be a deep level of guilt and shame there. So, "Happy Face" definitely sounds interesting and I love how Melissa is using her experience to help others by sharing her story. 
This series, and Melissa's experience in general, reminds me of director Duncan Skiles' 2018 film "The Clovehitch Killer." The film follows a teenage boy named Tyler (Charlie Plummer) who starts to suspect that his father is a serial killer. With the help of a friend who is obsessed with the killer's crimes, the two closely follow his father (Dylan McDermott) to find out the truth. Along the way, Tyler examines his internal conflict as well as the complicated relationship with a man that he doesn't know whether to love or hate. It's really well done and a great film to check out leading up "Happy Face."
The release date for "Happy Face" has not been announced yet.