DC's Metal Men Animated Movie Coming From Two Disney Legends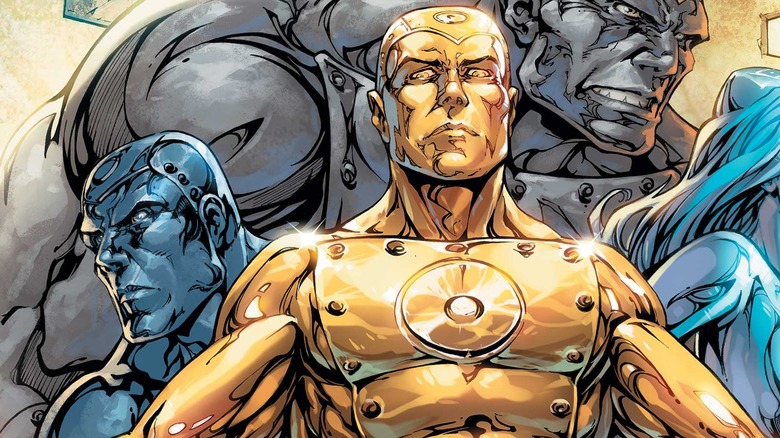 DC
Warner Bros. is finally giving us the DC movie we've all been waiting for — "The Metal Men!" Okay, it's safe to say not everyone has been waiting for this movie, and odds are most casual comic book fans only have a passing familiarity with the group. In any event, the property is getting the feature film treatment in animated form, with a pair of Disney legends heading up the project.
According to The Hollywood Reporter, Ron Clements and John Musker ("The Little Mermaid," "Aladdin") are producing "The Metal Men" for DC and Warner Bros. The duo has written a treatment, with Celeste Ballard ("Space Jam: A New Legacy") on board to pen the screenplay. Details remain scarce for the time being, as the project is described as being in the early stages. It isn't clear if Clements and/or Musker are being eyed to direct, or if they will merely produce. Per THR, here is what we can expect from the movie, at least in vague terms:
Based on DC Comics heroes created by Robert Kanigher and Ross Andru in 1962, the concept revolves around a brilliant scientist, William Magnus, and his creations: six highly advanced robots who have powers and personalities associated with their respective metals — gold, iron, lead, tin, mercury and platinum.
Craig Peck is executive producing as well, with WAG head Alison Abbate heading up the film for Warner Bros. It is not clear at this time if this will be a theatrical release or if it will go directly to streaming on HBO Max. Though that would seem like a better fit, at first glance.
Who Are The Metal Men?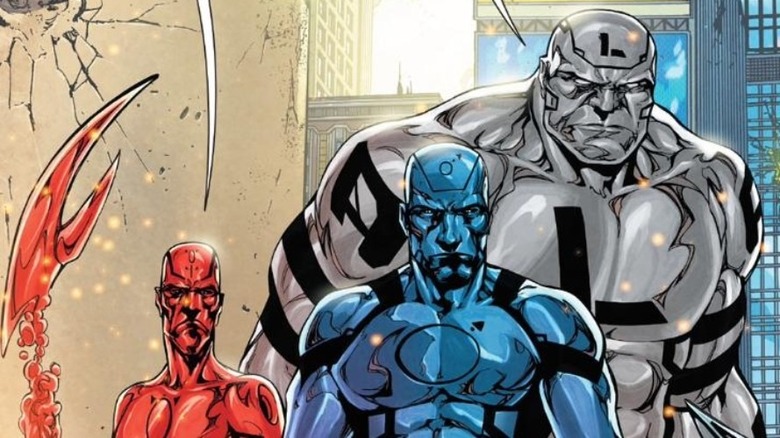 DC
DC's Metal Men date back to 1962 when they appeared in the pages of "Showcase" #37. They went on to have a solo title in the '60s, and have popped up in other stories throughout the publisher's lineup in the ensuing decades. They've also shown up in TV shows such as "Batman: The Brave and the Bold," as well as animated flicks such as "Justice League: Gods and Monsters." Mostly recently, DC gave the group a 12-issue miniseries in 2019, simply titled "Metal Men."
As for Clements and Musker, they are animation royalty. Aside from directing "The Little Mermaid" and "Aladdin," they also helmed "Hercules," "Treasure Planet," and "The Princess and the Frog." Not to mention "Moana," one of Disney's biggest animated hits of recent memory. So the fact that they're boarding a DC project, let alone one so curious, is a big deal.
Interestingly, this is a property that has been eyed as a movie for some time. At one point, Barry Sonnenfeld ("Men In Black") was attached to direct a live-action version. Even more interesting, Sonnenfeld said in an interview with ComicBookMovie.com earlier this year that he was still developing a version of it:
"I am developing Metal Men with Warner Bros. We're actively working on a treatment for that. For me, it's not so much a superhero thing as it is world-building. If you look at the work I've done, whether it's The Addams Family, Men in Black, Pushing Daisies, Schmigadoon!, or A Series of Unfortunate Events, it's all about creating a world. An unusual, slightly off-kilter quirky, different kind of world; that's what I love doing."
It's worth noting that Sonnenfeld is not listed as a producer on this project, but he may end up boarding in some capacity. We'll be sure to keep you up to date as any further details come our way.