Star Wars Bits: The Book Of Boba Fett, Ahsoka, HasLab Rancor, Galactic Starcruiser, And More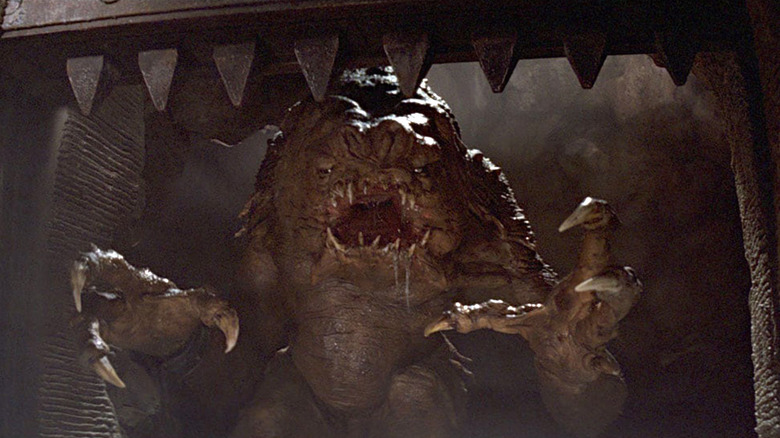 In this edition of Star Wars Bits:
"The Book of Boba Fett" TV Spots
Ivanna Sakhno and Natasha Liu Bordizzo Join "Ahsoka"
Updates to Hasbro's HasLab Rancor Campaign
Star Wars: Galactic Starcruiser Early Look
And More!
The Book of Boba Fett TV Spots
Disney+ and Lucasfilm are kicking off the one month countdown to "The Book of Boba Fett" with two new TV spots, "Reign" and "Message," which you can watch above and below!
We also received two awesome posters featuring Boba Fett and Fennec Shand, along with confirmation that "The Book of Boba Fett" is a a seven-episode Original Series.
Witness the rise of Boba Fett and Fennec Shand in one month. #TheBookOfBobaFett, a seven-episode Original Series, begins December 29 on @DisneyPlus. pic.twitter.com/sKtqVQZEQq

— The Book of Boba Fett (@bobafett) November 29, 2021
Additionally, the latest issue of Empire confirms that Steph Green (HBO's "Watchmen," "The Americans") and Kevin Tancharoen ("Agents of S.H.I.E.L.D." and "Mortal Kombat: Legacy") have directed episodes of the series alongside Jon Favreau, Dave Filoni, Robert Rodriguez, and Bryce Dallas Howard.
"The Book of Boba Fett" debuts on Disney+ on December 29. Barring any breaks, the finale will stream on February 9. Here is the official synopsis:
"'The Book of Boba Fett,' a thrilling Star Wars adventure teased in a surprise end-credit sequence following the Season 2 finale of 'The Mandalorian,' finds legendary bounty hunter Boba Fett and mercenary Fennec Shand navigating the galaxy's underworld when they return to the sands of Tatooine to stake their claim on the territory once ruled by Jabba the Hutt and his crime syndicate."
Ivanna Sakhno and Natasha Liu Bordizzo Join Ahsoka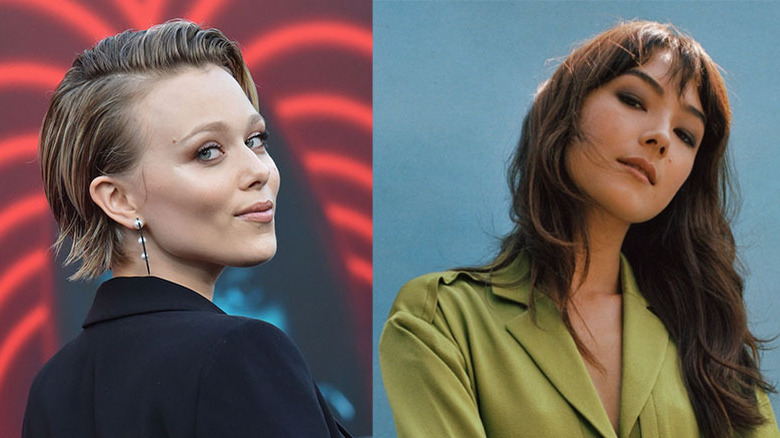 Deadline is reporting that Ivanna Sakhno and Natasha Liu Bordizzo have been cast in Disney+'s "Ahsoka" limited series, set to join Rosario Dawson in the title role and Hayden Christensen as Anakin Skywalker. Bordizzo is set to play Mandalorian Sabine Wren — a beloved character from the "Star Wars Rebels" animated series — while Sakhno will be playing a brand-new character. 
The Ukrainian actress Ivanna Sakhno is most known for her work in "Pacific Rim: Uprising," "The Spy Who Dumped Me," and the Hulu series "High Fidelity." Bordizzo, an Australian actress with a black-belt in Taekwondo, has starred in "Crouching Tiger, Hidden Dragon: Sword of Destiny," "Guns Akimbo," and the Amazon Original Movie "The Voyeurs."
In an interview with Empire, executive producer and writer Dave Filoni talked a little bit about writing the upcoming series:
"It's thrilling, I gotta tell you. It's something you imagine doing for a long time. And then it's kind of startling when you're sitting there, and now you have to do it."
He added:
"I thought of this adventure for Ahsoka for a long time, and it's interesting to see how it's evolved. Years ago, I never would have imagined that it was sprung from a branch of a tree that had anything to do with a guy [like] Din Djarin, or a child that looks like Yoda. It's a great lesson for me on how, when you have other creatives like Jon Favreau, they can help lend such dimension and depth to what you're doing."
Production on "Ahsoka" is set to begin in March 2022. Here's the synopsis:

"Ahsoka Tano is on the hunt for the evil Grand Admiral Thrawn in the hope it will help her locate the missing Ezra Bridger, the young Jedi that disappeared with Thrawn many years ago."
Updates to Hasbro's HasLab Rancor Campaign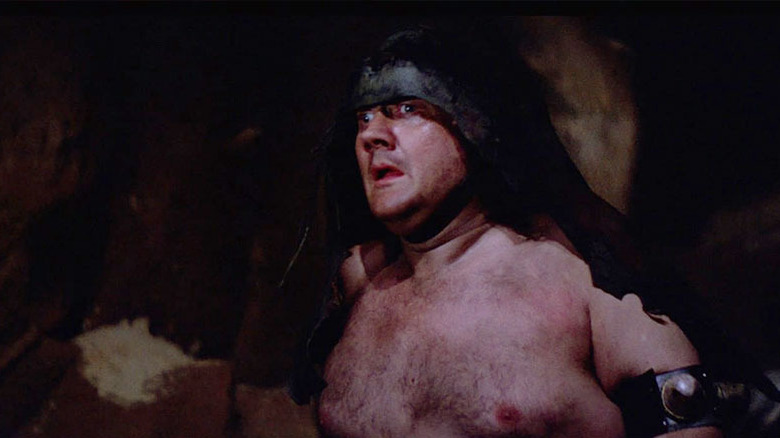 Lucasfilm
If you've been following the ongoing Haslab Black Series Rancor campaign, you may have wondered where Malakili, better known as the Rancor Keeper, was after not appearing as part of any of the tier goals. 
Hasbro released a statement via their HasbroPulse Instagram account with news that the Rancor Keeper will now be included with the Rancor — if the giant creature hits its target goal of 9,000 backers. Malakili will not be an additional tier, but instead part of the whole package if the Rancor funds.
The statement reads:
"We really appreciate all the feedback we've received in an effort to make the HasLab Rancor the best possible dream product. With that, we realize we can't leave the most dangerous creature, the rancor, roaming the galaxy without its keeper. We will be adding a fully newly-tooled Star Wars: The Black Series Malakili figure to the base offering, funding at 9K units."
The addition of the Rancor Keeper comes after an underwhelming reaction to the reveal of the final tier goals a couple weeks ago. Since then, the Rancor campaign has lost backers, decreasing from approximately 5,150 to around 4,700 just before the announcement of Malakili. The campaign is at 5,036 backers at the time of writing this article.
Star Wars: Galactic Starcruiser Early Look
In a new video from Disney Parks, Disney Imagineer Ann Morrow Johnson gives Sean Giambrone of "The Goldbergs" an early look at the new Star Wars: Galactic Starcruiser immersive experience, where guests embark on a first-of-its-kind Star Wars adventure at Walt Disney World Resort. 
On the tour, we're briefed on the lightsaber and bridge operations training experiences aboard the vessel before we meet Gaia, a twi'lek pop-star who will be entertaining guests on their two-night visit.
Voyages begin March 1, 2022. For more on the upcoming Walt Disney World experience, check out StarWars.com!
Marvel's Upcoming Star Wars Comics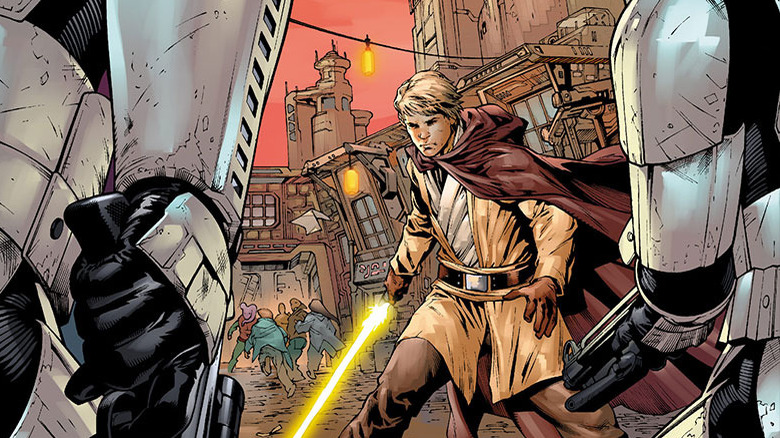 Marvel
In "Star Wars" #19, written by Charles Soule and illustrated by Marco Castiello with a cover by Carlo Pagulayan, Luke Skywalker continues his journey to learn the ways of the Force. StarWars.com has an exclusive first look at the upcoming issue, which arrives December 8 and is available for pre-order now on ComiXology.
Check out StarWars.com for a look at all the Marvel "Star Wars" titles coming this month, including "Star Wars: The High Republic: Trail of Shadows" #3, "Star Wars: The High Republic" #12, "Star Wars" #20, "Star Wars: Doctor Aphra" #17, "Star Wars: Bounty Hunters" #19, and "Star Wars: Darth Vader" #19.
Tempest Runner Gets Hardcover Release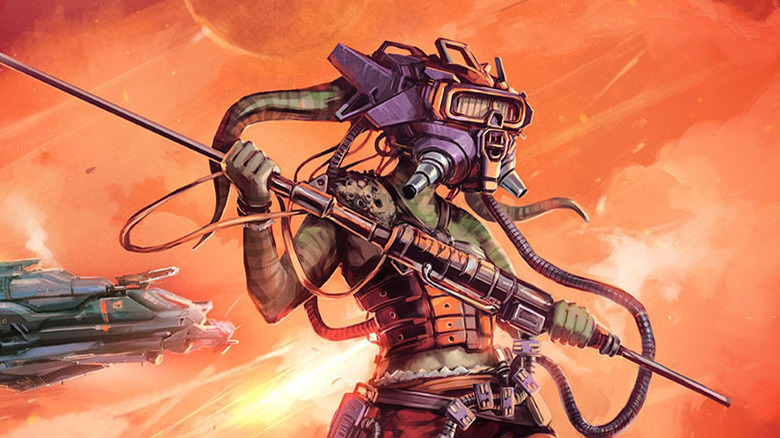 Lucasfilm
"Star Wars: The High Republic: Tempest Runner," Cavan Scott's thrilling audiobook original, will be released as a script in book form on March 1, 2022. The hardcover version will include Scott's stage directions, written sound effects, and notes to the audio team. Here's the official synopsis:
The Nihil storm has raged through the galaxy, leaving chaos and grief in its wake. Few of its raiders are as vicious as the Tempest Runner Lourna Dee. She stays one step ahead of the Jedi Order at the helm of a vessel named after one of the deadliest monsters in the galaxy: the Lourna Dee. But no one can outrun the defenders of the High Republic forever.

After the defeat of her crew, Lourna falls into the hands of the Jedi–but not before she hides her identity, becoming just another Nihil convict. Her captors fail to understand the beast they have cornered. Just like every fool she's ever buried, their first mistake was keeping her alive.

Lourna is determined to make underestimating her their last.

Locked onto a Republic correctional ship, she's dragged across the galaxy to repair the very damage she and her fellow Tempest Runners inflicted on it. But as Lourna plans her glorious escape, she makes alliances that grow dangerously close to friendships. Outside the Nihil—separated from her infamous ship, her terrifying arsenal, and her feared name—Lourna must carve her own path. But will it lead to redemption? Or will she emerge as a deadlier threat than ever before?
"Star Wars: The High Republic: Tempest Runner" hardcover edition is available for pre-order now; the audiobook original is available now.
New Droids & Food Items at Star Wars: Galaxy's Edge
Our pals Peter and Kitra at Ordinary Adventures recently visited Batuu to check out some new arrivals, including droids, food items, and merchandise!
This Week! in Star Wars
And finally, on This Week! in Star Wars, host Kristin Baver gives us the lowdown on all the latest news from that galaxy far, far away!
This week in Star Wars, we get a look at two new character posters for "The Book of Boba Fett" coming to Disney+, head to a hidden planet with "LEGO Star Wars: Castaways," and flip through some exclusive High Republic reveals. Plus, we turn back to 2018 when "Star Wars Galaxy of Adventures" debuted with the launch of StarWarsKids.com and the Star Wars Kids YouTube channel.