The Morning Watch: Creating The Shang-Chi Bus Fight, Reviewing Nunchuck Combat In Movies & More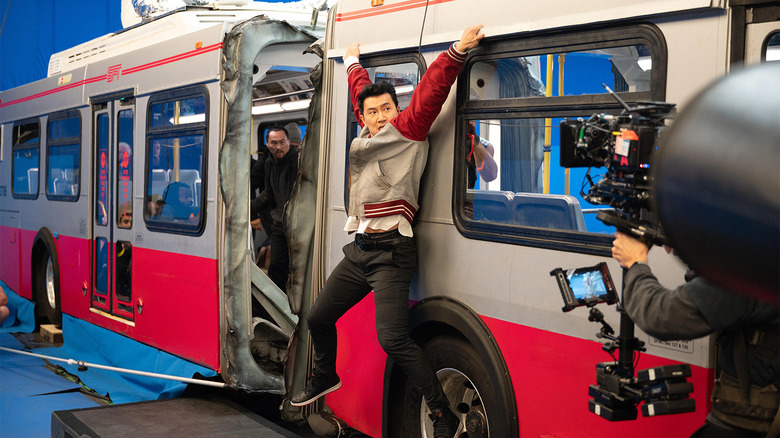 Marvel Studios
(The Morning Watch is a recurring feature that highlights a handful of noteworthy videos from around the web. They could be video essays, fan-made productions, featurettes, short films, hilarious sketches, or just anything that has to do with our favorite movies and TV shows.)
In this edition, see how Marvel Studios created a seven-minute fight sequence on the bus in "Shang-Chi and the Legend of the Ten Rings." Plus, hear what a nunchuck expert and stuntwoman thinks about how the martial arts weapons have been used in action movies like "Teenage Mutant Ninja Turtles," "Enter the Dragon," and more. And finally, listen as "House of Gucci" star Jared Leto breaks down a few of his prominent characters from different periods in his career.  
Creating the Bus Fight in Shang-Chi
First up, Insider takes a closer look at how the bus fight from Marvel's "Shang-Chi and the Legend of the Ten Rings" was executed. With a sequence that includes intense martial arts choreography and a speeding bus through San Francisco, this was a complicated shoot, and it took an entire year to complete. From a real-life bus that crashed into cars on-location to a bus rig created to maximize stunt work and camera movement, there's some very impressive work done here.
Reviewing Nunchuck Combat in Movies
Next, Insider also took a different look at martial arts with nunchuck expert, world champion, and stuntwoman Thekla Hutyrova rating nearly a dozen scenes in movies with nunchuck combat. See what she thinks of the legendary Bruce Lee's work in "Enter the Dragon" and Michelangelo's fighting in the original "Teenage Mutant Ninja Turtles" movie. The video also includes exminations of "Warrior," "Black Dynamite," "Kick-Ass 2," and more.
Jared Leto Career Breakdown
Finally, with Jared Leto chewing scenery like bubble gum in "House of Gucci," Vanity Fair brought in the actor to take a look at a handful of his most acclaimed roles. In addition to his work in the new Ridley Scott movie, Leto also reflects on "Requiem for a Dream," "Dallas Buyers Club," and "Prefontaine." It's a shame that they couldn't get him to talk about more. But I guess the speed with which he cruises through stuff like this is why it only takes him 30 seconds to get to Mars.