20% Of Fans Believe This Is The Best Clint Eastwood Movie - Are They Right?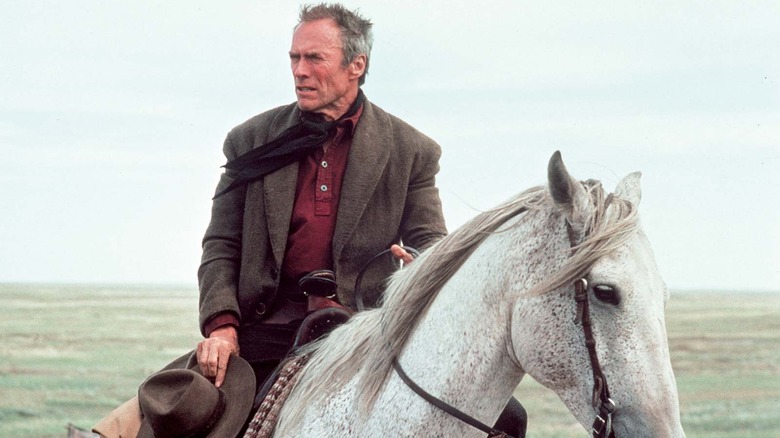 Warner Bros.
Clint Eastwood is a cinematic icon who has been starring, directing, writing, and composing films for over 50 years. He first rose to fame as the Man With No Name in Sergio Leone's spaghetti westerns. Known for his steely stare, raspy voice, and quick draw, Eastwood became a staple of the western genre. As a filmmaker he has not only puts his own spin on the western, but also explores other kinds of films such as war dramas, melodramas, and even romance. 
With over 40 titles under his directorial belt and over 70 as an actor, Eastwood has had an incredibly prolific career. We recently ran a poll with 590 respondents to determine Clint Eastwood's best movie. With such a substantial and remarkable output, it may seem hard to nail down Eastwood's best film. However, the results show that there is one exceptional film that clearly deserves the crown.
Eastwood's Westerns Are the Most Popular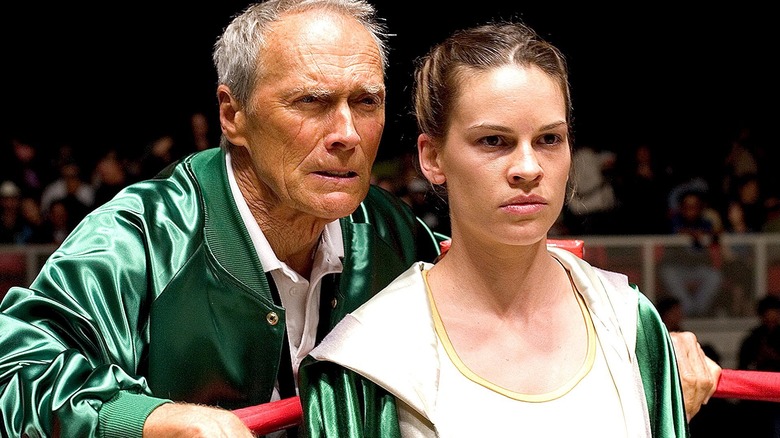 Warner Bros.
It may come as no surprise that "Unforgiven," which won Best Picture in 1993, takes the number one spot with 20.34% of votes. /Film writer Chris Evangelista hails the revisionist Clint Eastwood western as a "masterpiece." It is an emotionally complex and harrowing epic that subverts western genre tropes — ones Eastwood himself helped establish. 
Revenge drama "Gran Torino" takes the second spot at 18.47%, followed by the Oscar-winning "Million Dollar Baby" with 16.27% votes. Western and war films "The Outlaw Josey Wales" and "Heartbreak Ridge" are in the middle with 14.07% and 12.20% of the votes. The star-studded drama "Mystic River" is surprisingly low on the list, chosen by 8.81% of those polled. Perhaps moments like Sean Penn screaming for his daughter are considered too overwrought. Rounding out the list is another western, "High Plains Drifter," with 7.97% votes, and finally "Richard Jewell," selected by 1.86% of voters. Clint Eastwood's latest release, "Richard Jewell" was a box office flop and was panned by /Film writer Josh Spiegel as dull and obvious. 
Unforgiven Subverts Western Tropes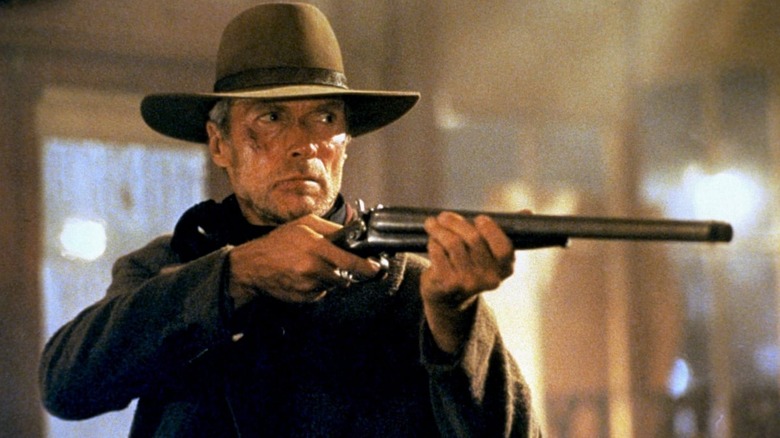 Warner Bros.
Directed by Eastwood, "Unforgiven" predictably takes the top spot because it subverts the western genre tropes that made him famous in fascinating ways. It is not an exciting adventure, but rather a haunting meditation on the ramifications of violence that demythologizes Eastwood's heroic star image. The story revolves around William Munny, an aging outlaw who takes on one final job years after he settling down on a pig farm. Munny is not a gallant savior but an aging former gunfighter haunted by the people he's murdered; he is apprehensive about seeking further vengeance and must face a sociopathic sheriff (played by Gene Hackman). Brian D. Johnson hails the film in his review for Maclean's Magazine:
"Eloquent and expansive, 'Unforgiven' is arguably the best film of Eastwood's career — a movie that could well serve as the last word on the western."
"Unforgiven" is unquestionably Eastwood's best because it actively deconstructs the conventions of westerns past to present them in a gritty new format, as No Film School explains in further detail. "Gran Torino" ranking as second accounts for its wide appeal as a gripping vigilante justice narrative that wields Eastwood's new grumpy old man persona, but it has been criticized for its racial politics and white savior narrative, as reported by IndieWire. "Million Dollar Baby" has lots of accolades and is a tear-jerking tragedy, but it is no match for the revenge tales Eastwood is known for. 
As someone who became known for his silence and stoicism as The Man With No Name, Eastwoods' heartfelt character studies are quite the opposite. Rather than retiring, Eastwood keeps creating his brand of passionate, feel-everything movies — frequently starring in narratives suitable for his older age. He directed "Richard Jewell" just before turning 90! Clint Eastwood is an enduring film legend who continues to make incredible work.