Danny DeVito Would Love To Play The Penguin Again In A New Batman Movie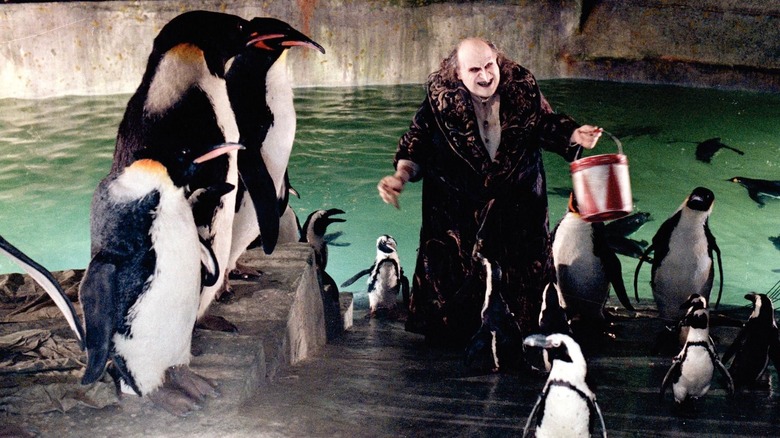 Warner Bros.
Danny DeVito perhaps doesn't get the credit he deserves as one of the truly distinct and great comic book villains we've ever had with his turn as Penguin in "Batman Returns." But the world being what it is, comic book movie-obsessed and all, it seems everything ultimately comes back around. To that end, the actor has revealed that he would be interested in revisiting the role once more, though it would seemingly only happen under the exact right circumstances.
DeVito has revisited Penguin in a roundabout way with the release of DC's "Gotham City Villains Anniversary Giant," which features a story co-written by him centered on none other than the iconic Batman villain. In a recent interview with Forbes, DeVito made it pretty clear he'd be open to taking another crack at Oswald Cobblepot, provided the opportunity.
"I feel like it's not out of the question that The Penguin will return someday, but this is all up to Tim [Burton], whether or not Tim wants to do this. I would say that could be in the cards because we ain't dead yet (laughs). We could do a continuation of what we had in the past because that was truly a brilliant movie. They afforded me that opportunity and I feel very grateful and would I like to revisit it? Why not! It was a really great moment in time for me."
So it seems DeVito is specifically interested in reuniting with Tim Burton, who directed "Batman" and "Batman Returns." Elsewhere in the interview, the actor circled back to the topic adding, "There is a little Oswald in me. And then there's Danny. I'm not a closed book, I'm pretty much an open book."
Penguin's Return is Certainly Possible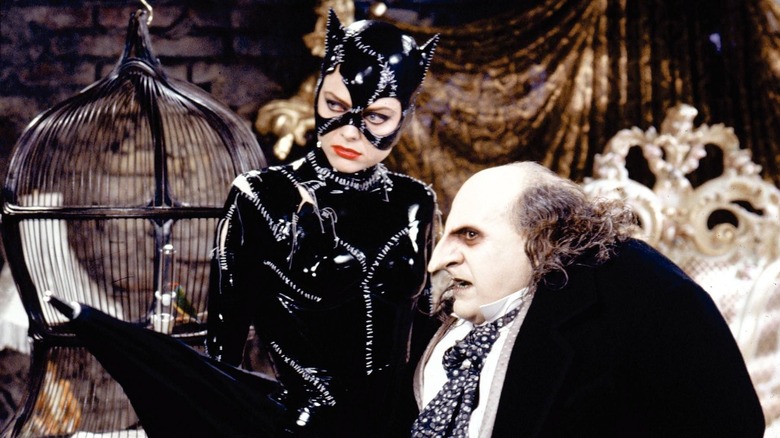 Warner Bros.
Even just a handful of years ago, the idea of anyone from the Burton era of "Batman" returning to the role on the big screen would seem downright impossible. Yet, so much has changed in the last couple of years that nothing seems out of the question anymore. Namely, studios with comic book franchises are embracing the idea of the multiverse. Marvel is doing this in a big way with "Spider-Man: No Way Home," as well as next year's "Doctor Strange in the Multiverse of Madness." DC, not surprisingly, is doing something similar.
Next year's "The Flash" movie, directed by Andy Muschietti ("IT") and starring Ezra Miller as Barry Allen, is going full-on multiverse as well. To that end, Michael Keaton's Batman from the Burton movies will be returning in the film. While Robert Pattinson's "The Batman," which takes place elsewhere in the larger multiverse, sees Colin Farrell taking on the role of Penguin, that doesn't rule out DeVito's return. Through the multiverse, all things are possible.
The ball now firmly sits in Warner Bros.' court. They could — and we stress could — talk to the actor and Burton to see if they would have any interest in doing something. It seems like a bit of a long shot, but stranger things have happened. Like Keaton returning as Batman alongside Ben Affleck's Batman in the same movie in 2022.
"Gotham City Villains Anniversary Giant" is available now.