The Morning Watch: How Venom 2 Should Have Ended, Remembering Stephen Sondheim & More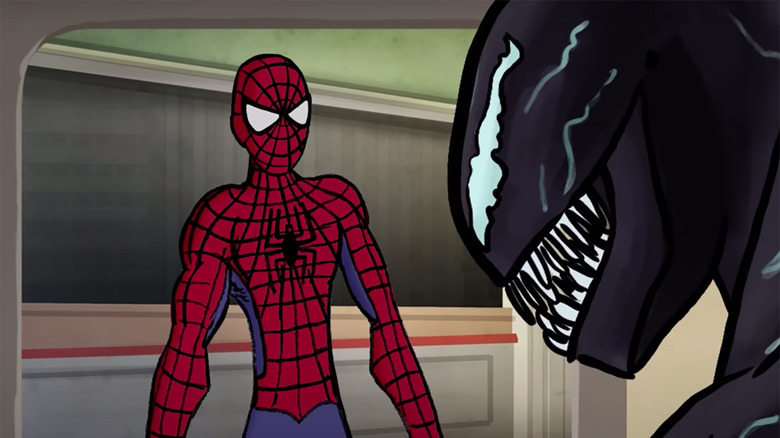 How It Should Have Ended
(The Morning Watch is a recurring feature that highlights a handful of noteworthy videos from around the web. They could be video essays, fan-made productions, featurettes, short films, hilarious sketches, or just anything that has to do with our favorite movies and TV shows.)
In this edition, find out how the satisfyingly goofy blockbuster sequel "Venom: Let There Be Carnage" should have ended. Plus, watch a never-before-seen interview with the late, great musical genius Stephen Sondheim. And finally, watch as the "Ordinary Adventures" checks out some of the new food, droids, and more that has arrived recently at Star Wars: Galaxy's Edge. 
How Venom: Let There Be Carnage Should Have Ended
First up, the latest edition of "How It Should Have Ended" takes a crack at "Venom: Let There Be Carnage." This one doesn't have to dig too deep to upend the entire movie. First of all, why did Eddie Brock take the risk of Venom doing something they'd both regret when meeting up with Cletus Kasady? But beyond that, why did the prison holding Cletus only have one alarm in the entire facility? And where the hell did Shriek learn how to drive? Does anyone really care? Either way, they have some fun with the credits scene too.
Remembering Stephen Sondheim
Next, following the passing of musical legend Stephen Sondheim, The New York Times released a never-before-seen interview from back in June 2008 to take a look back at his life, career, and accomplishments. We're talking about the man behind classic musicals such as "West Side Story," "Sweeney Todd," "Into the Woods," and any more, so there's plenty of history to recount in his extensive career on Broadway.
New Food, Droids, and More at Galaxy's Edge
Finally, our own Peter Sciretta and his "Ordinary Adventures" theme park channel on YouTube returned to Star Wars: Galaxy's Edge to try out a cargo ship's worth of new food, droids, merchandise and much more. If you're a fan of Life Day from the "Star Wars Holiday Special," then you'll find some cool new collectibles, but the treats are rather tantalizing as well. Check out everything they found in the full video!