Stephen Sondheim Wrote A Neo-Noir Film And You Probably Haven't Seen It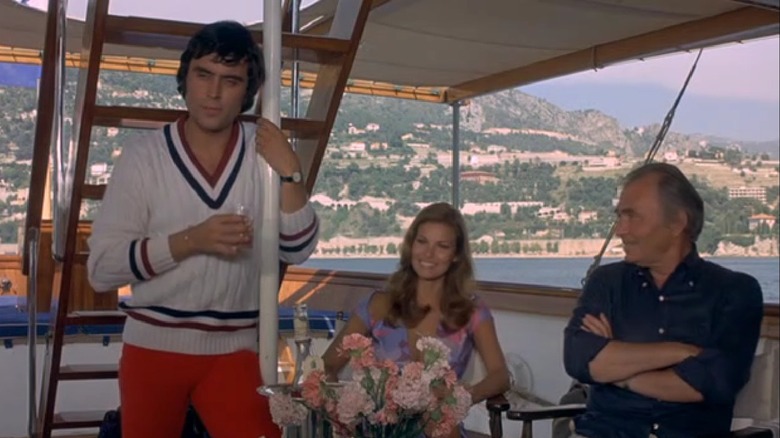 Warner Bros.
With the passing of musical theater genius Stephen Sondheim, many fans are looking to fill in any gaps in their knowledge of his incredible body of work. While everyone will be checking out "West Side Story" and "Sweeney Todd," few probably know about his 1973 neo-noir movie, "The Last of Sheila." Yes, that's a then-unknown Ian McShane in the picture above, wearing a gorgeous sweater and very tight pants. It's no wonder that "The Last of Sheila" is one of the primary inspirations behind Rian Johnson's "Knives Out," given the big cast of giant stars, the murder-mystery whodunnit fun, and of course, the sexy sweater.
A Neo-Noir that Blends Sondheim with Psycho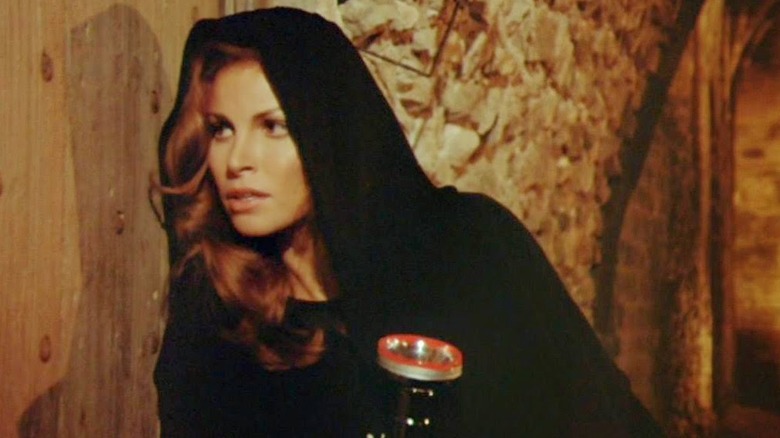 Warner Bros.
Not only is "The Last of Sheila" interesting because it's a Sondheim story that's not a musical, but he co-wrote it with "Psycho" star Anthony Perkins, and it's based on a murder-mystery party game that Sondheim created for his friends. It was directed by Herbert Ross, who would go on to direct the girls' night classic, "Steel Magnolias." 
The movie was inspired by real-life scavenger hunts Sondheim and Perkins would put on for their showbiz friends. Sondheim explained to the Chicago Tribune:
The idea for the movie grew out of two murder games I devised some time ago. One was for Phyllis Newman; the other for four couples just after I got out of college. A murder game? No, nobody gets murdered. With the four couples, I told each person to think of a way to kill one of the others over the weekend we would be spending together in the country. Then we passed out envelopes and inside one was an 'X'. That person was the only one who was to carry out his plan; the others were to spend the time avoiding being murdered.
That sounds like an interesting way to pass the weekend, and it gave the duo enough inspiration to write their screenplay, about a group of Hollywood friends who reunite on a Mediterranean pleasure cruise aboard a yacht one year after the accidental death of one of their own to play a macabre parlor game.
What is The Last of Sheila?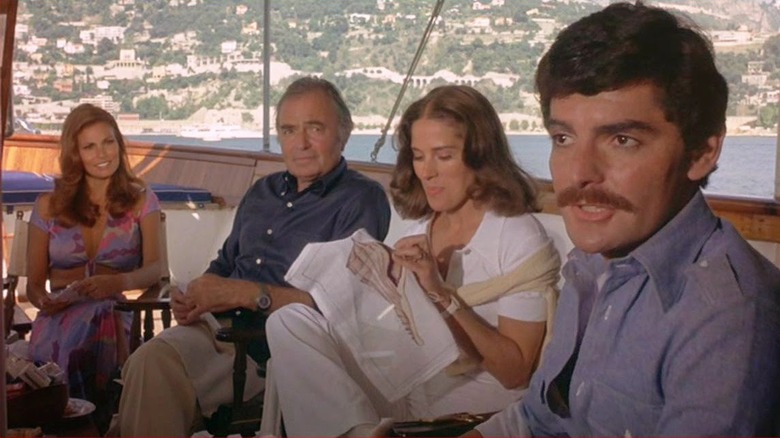 Warner Bros.
So what's the plot of "The Last of Sheila"? The film follows a group of friends who take a week-long Mediterranean cruise onboard the yacht of movie producer Clinton Greene (James Coburn). The guests include actress Alice Wood (Raquel Welch), her manager husband Anthony (McShane), talent agent Christine (Dyan Cannon), director Phillip Dexter (James Mason), and screenwriter Tom Parkman (Richard Benjamin) and his wife, Lee (Joan Hackett). Aside from Lee, they were all together at Clinton's home one year prior, on the night when a hit-and-run accident resulted in the death of his wife, gossip columnist Sheila Greene. 
Clinton has a little game prepared for everyone. Each of the six guests are assigned an index card containing a "pretend piece of gossip" that must be hidden from the others. The object of the game is to figure out everyone else's secrets while protecting their own. Of course, the cards turn out to not be pretend gossip at all, but instead are secrets that each guest has been harboring. One is even a murderer, responsible for Sheila's death a year before. 
Unfortunately "The Last of Sheila" isn't available to stream anywhere, but the curious can rent it on YouTube and Google Play for $3.99.