Stephen Sondheim Wanted To Turn Groundhog Day Into A Musical – Here's Why He Didn't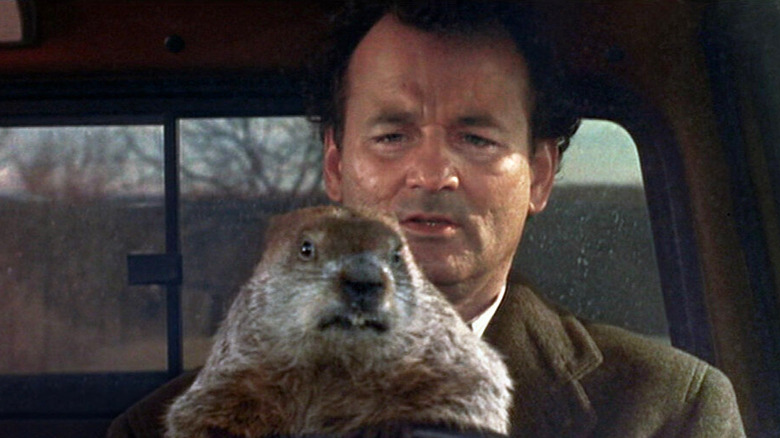 Columbia Pictures
The great Stephen Sondheim died over the holiday weekend, signaling a monumental loss to the world of theatre and art in general. Sondheim's staggering career includes writing the lyrics for "West Side Story," as well as writing the music and lyrics for such shows as "Company," "Follies," "Sweeney Todd: The Demon Barber of Fleet Street," "Sunday in the Park with George," "Into the Woods," and more. His legacy will live on forever, but Sondheim's passing has also reminded us of projects that could have been. For instance: at one point, Sondheim considered adapting the Bill Murray comedy "Groundhog Day" into a musical. A "Groundhog Day" musical eventually hit Broadway in 2017, but it wasn't written by Sondheim. So what happened? 
Perfect The Way It Is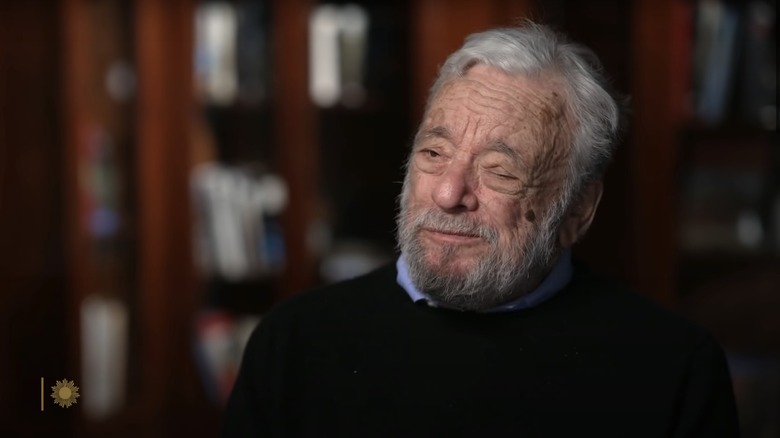 YouTube/CBS Sunday Morning
In 2008, Stephen Sondheim revealed that he had an interest in making a "Groundhog Day" musical. It never happened, though, because, in the end, the legendary composer decided the Harold Ramis-directed film was perfect as-is. In case you need a refresher, "Groundhog Day" stars Bill Murray as a curmudgeonly weatherman who gets trapped reliving the same day – Groundhog Day – over and over again until he changes his ways. It's one of Murray's best movies, a perfect showcase for his brand of wry, dry humor. And Sondheim loved it. "'Groundhog Day' is, in my opinion, a first-rate movie and it lends itself so clearly to musical treatment," he stated, adding:
"I'm not the first person who's thought of it. Many have. But, I feel to make a musical of Groundhog Day would be to gild the lily. It cannot be improved; it's perfect the way it is. I don't want to touch it, because it's perfect. Pretentious as that sounds."
Groundhog Day: The Musical
While Sondheim ultimately decided to leave "Groundhog Day" alone, the movie's creator thought differently. Danny Rubin, who wrote the "Groundhog Day" script, eventually adapted his idea into a book for a musical, with music and lyrics by Tim Minchin. You can even hear one of the songs above. The "Groundhog Day" musical had its world premiere at The Old Vic in London in summer 2016 before heading to Broadway in 2017. It was nominated for seven Tony Awards, but ultimately won none. 
The Broadway production ended that same year following 176 performances and 32 previews. There was talk of an 18-month national tour for the musical in 2018, but ultimately, it never happened. That same year, Music Theatre International acquired the rights to the show, which allows the musical to be performed at regional theatres all over the world. And you have to wonder how things might've been different if Sondheim ultimately decided to write the musical himself.