We Are Lady Parts Season 2 Is Happening At Peacock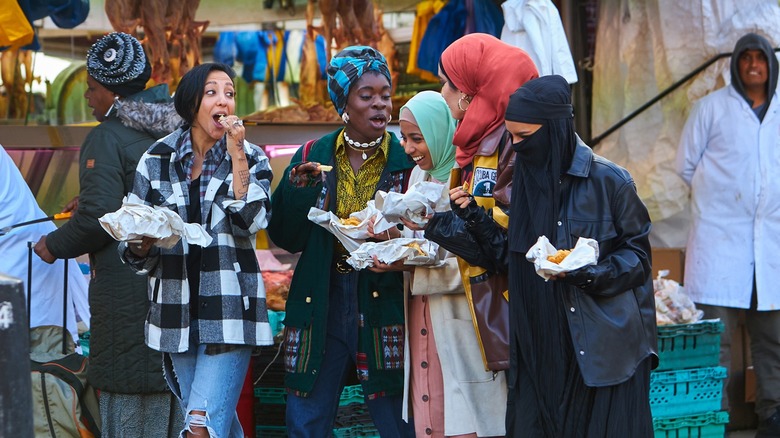 Peacock
Get ready to rock, because the best original show on Peacock has been given the green light for a second season. Originally conceived as a pilot for the Channel 4 Comedy Blaps showcase for new creators, "We Are Lady Parts" is about biochemical engineering Ph.D student Amina Hussein (Anjana Vasan) who becomes the unlikely lead guitarist of the all-female Muslim punk band known as Lady Parts. 
To convince Amina to join the band, frontwoman Saira (Sarah Kameela Impey) offers to set her up with potential husbands, knowing Amina is desperate to find a match. Now Amina finds herself trying to find her voice between the structured world of university and the rebellious rockers of Lady Parts. The show features semi-autobiographical elements from creator Nida Manzoor's own life, and original music written by Manzoor and her siblings. "We Are Lady Parts" was the breakout success story of the NBCUniversal-backed streaming servoce, currently boasting a 100% on Rotten Tomatoes.
"We Are Lady Parts exploded onto our screens and into our hearts with irreverent humor, original storytelling and boundary-pushing comedy," said Lisa Katz, NBCUniversal's president of scripted content. "We're incredibly proud that this fan-favorite series was heralded as groundbreaking for Muslim representation on TV and can't wait to continue on this journey with visionary creator Nida Manzoor and this beloved ensemble."
Peacock's Finest Original Show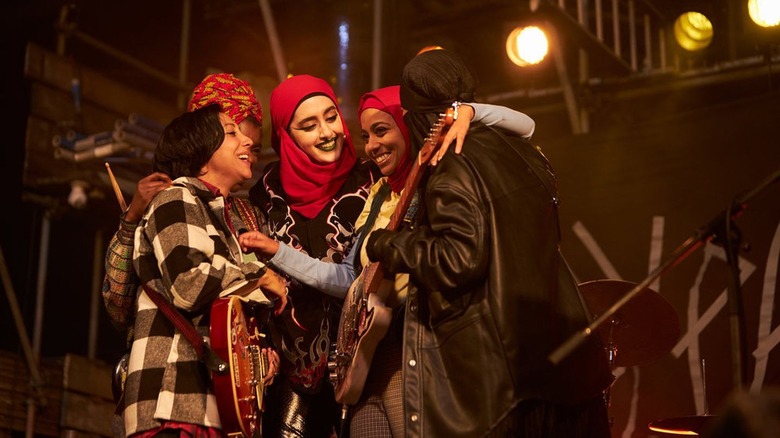 Peacock
The renewal of "We Are Lady Parts" for a second season is huge news for Peacock who reported a $520 million loss for Comcast just last month. While the streaming service appealed to subscribers with the existing catalog of NBC shows like "The Office" and "Parks and Recreation," original programming like "We Are Lady Parts," "Dr. Death," "Girls5eva," and "One Of Us Is Lying" has proved popular. 
"I feel so incredibly lucky and excited to have the opportunity to make a second series of We Are Lady Parts," Nida Manzoor said in a statement. "I can't wait to delve back into the world of the band and go deeper into their lives. Expect more high jinks, more music and more flights of fancy. SPARTA!" NBCUniversal International Studios has also commissioned a full album of the original music from Nida, Shez, and Sanya Manzoor and Benni Fregin.
"We Are Lady Parts" was nominated for Best Breakthrough Series at the Gotham Awards, with Vasan also nominated for Best Outstanding Performance in a New Series. The series won the Best Comedy Series award from the Edinburgh TV awards, and Manzoor is the 2021 recipient of the Rose d'Or Emerging Talent Award. Hopefully the name doesn't scare off casual viewers, because the British punk-rock comedy is the hidden gem of Peacock's original roster.